I was dog sitting at my parents over in Salisbury yesterday with the kids and we had no plans for today so we decided to stay Wiltshire way and set off for a day at Finkley Down Farm in Andover.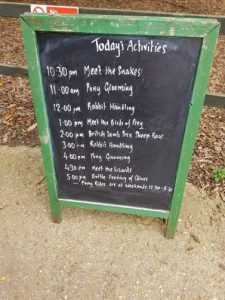 First impressions? The goats by the entrance absolutely stink! But we are on a farm so I guess that's to be expected, right. But really…it's bad.

It's not a huge place by all account but they do make the most of what they have. There's plenty of opportunities to handle the animals and they sell bags of feed for £1 which is suitable for goats, chickens and the alpacas.
During our day we went to both 'rabbit handling' sessions that they were doing which were great, into a gated area, grab an old bit of carpet and then await your fluffy bundle. Sofia was really mesmerised by this – thankfully she's not asked for a bunny for Christmas though, we are determined to be a no pet family!!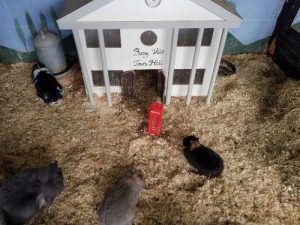 After the bunnies we met the Shetland ponies in their stables (they do pony rides from 12.30-3.30 but we ran out of time on this visit sadly), fed the chickens, went and oinked at the little spotty pigs and then Sofia spent ages milking the wooden cow!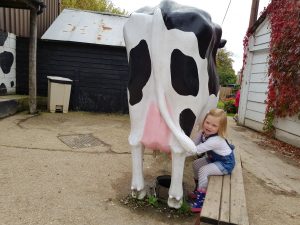 From there she ran about in excitement from the ducks, to the guinea pigs hopping on and off the vintage tractor and then…weirdly we bumped into my brother, his girlfriend and her little boy. It's probably the most time I've spent with him in years! It was great fun and Sofia absolutely loves her "uncle ween" and having a little mate to play with was even more of a bonus for her.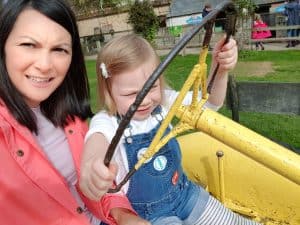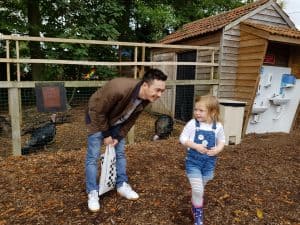 We all had lunch as Arlo's whinging signalled that it was most definitely time. As we're lazy buggers, no packed lunches were made beforehand so we ate at the cafe – it's reasonably priced and was pretty tasty (for the inquisitive in you – I had macaroni cheese and salad, LagerDad had peri peri wrap and chips and Sofia had chicken breast chunks, chips and beans). With drinks it all came to about £18 so not too bad.
There's plus and minuses to the cafe area – it's huge so there's plenty of seating inside and out, however the seats are within the large indoor soft play area which is so tempting for the kids to leg it mid-bite! Saying that, it is fantastic- there's areas for all ages and abilities and you could spend all day in there; if you were crazy enough to ever want to do that.
After lunch we watched the sheep racing, where aptly named sheep are names after supercars such as Lamborghini and Mitsubisheep, you get the idea…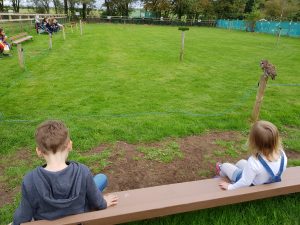 From the outside you can view the Bird of Prey area, the event area where we watched one of the Bird handlers teaching an owl to hop from post to post…though we were frowned upon as the kids got to excited watching this trick that they were calling out questions and apparently 'distracting the bird'. We moved swiftly on…
Once outside, the temptation of the parks, the tractor track and fuelling station, the 'Farmala 1' circuit, the free crazy golf and the trampolines got Sofia into a frenzy and she couldn't decide where to go first!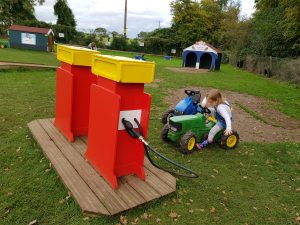 Overall the 'farm side' of it wouldn't take too long to get around but there is plenty to do to fill at least half a day.
The things I liked about Finkley were that once you'd paid to get in, that could be it if you wanted. There's not thousands of kiosks tempting the kids to want sweets, drinks and ice creams and the gift shop is not only small but really discreet too.
Another thing I noticed was that if you wanted to sign up for an annual pass, you can do this on a monthly direct debit to make the payments much more manageable.
The only disappointing thing from this trip was that the calf feeding wasn't until 5pm which was a bit late as we needed to head home for our own feeding time at our zoo, but we'll look forward to doing this when we return – as a local-ish place to visit, we will definitely be back!