Have you discovered the fab Emma from The Halcyon Years yet? I absolutely love her gorgeous IG grid, her house decor is to die for and her children….gorgeous!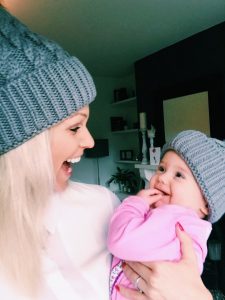 Hey I'm Emma, fire marshal, PA and all round general dogsbody to a scrummy little human, my year old daughter Ettie!
My blog, The Halcyon Years – formerly Ettie and Me, has the rather strange combined focus of home renovation and motherhood! I mean the two sit perfectly together right(??) I wasn't sure which route to go down when starting my blog and the advice I read said to just 'be yourself'! When I'm not parenting, I'm generally painting so I decided it might be interesting to combine the two. I'm sure there are others out there in the same boat as me!
On the motherhood side, The Halcyon Years  is about our adventures together. We love a good day out, so I offer a lot of advice on places to go with a one year old – obviously this will change as she gets older!
On the home renovation side, we are currently in the process of renovating our second home, a 1930 Semi, so I talk a little about that, and intend to feature our room makeovers – once we finally get any finished!
Finally, I'm an avid supporter of small brands, particularly those created and developed by mothers. I include a small section on my site dedicated to Amazing Mamas and their beautiful insta shops. This is an area I'm hoping to expand more in the future.
Q. Why did you start blogging?
I started The Halcyon Years (formerly EttieandMe) because I love to write and wanted to give the creative side of my brain a little workout! I've always kept a diary, particularly when we've been travelling as I  love to record our adventures. Unfortunately my travel diaries tend to be on scrappy pieces of paper or water damaged notebooks that have fallen into the sea! I figured I was much less likely to lose or damage a blog (I hope!) so here we are!
Q. Were you inspired by anyone to start blogging – if so, who?
I only really discovered blogs once I became a parent. I love Instagram and was practically glued to Instagram stories in the early days breastfeeding Ettie! Through that I discovered Katie from MummyDaddyandMe and Cara from WithinTheseWalls. Whilst very different, their blogs struck a chord with me so I decided to give it a go myself.
Q. How long have you been blogging?
I'm actually a blogging newbie and have only been blogging for three months! I didn't really know where it would take me when I first began, but once I got the bug I couldn't stop and now its something I work on almost every day now!
Q. Best parenting advice you've ever received (is there such a thing?!)
Funnily enough I remember this clearly, Ettie was only a couple of days old and one of my husband's cousins emailed me to congratulate me. Her closing line read;
'Don't worry about anything, Just do whatever makes your life easier…. even if it's all the wrong things that you're not supposed to do!! She'll figure it out in the end'
And she did! I liked this advice because it took the pressure off. I remember a lot of my new mum friends becoming quite obsessed with routines and their babies sleeping through. Because I'd had the 'nod' from another mum, I was a bit more laid back and let Ettie lead the way. She's still a rubbish sleeper but I'm ok with that. She's figured everything else out on her own so I'm sure she'll get there in the end.
Q. What are your parenting bugbears?
I detest Mums slagging off other Mums! I think this was more apparent in first time Mum circles, but I sometimes still hear it now. If I'm ever in a situation where I head a mum criticizing another Mum, I have to speak up or remove myself from the situation. Parenting is HARD and not everyone has it rosy 100% of the time. If Betty is criticizing Sue because her son Jamie isn't walking yet, then chances are Phillip (Betty's son)  will probably take ages to say his first word! It all comes in cycles and those in glass houses shouldn't throw stones!
Q. What advice would you give to new parents?
The same advice I received, try not to stress and enjoy it! Becoming a parent is the most incredible experience so enjoy it in your own way and don't let others tell you what you should be doing! I found I only really stressed when I was trying to implement the advice of others and get Ettie to do something she didn't want to do… i.e. sleep! Only you know your baby, so trust your instinct!
Q. What advice would you give to parents thinking of starting a blog?
Just go for it! I had absolutely NO idea what I was doing when I first put finger to keypad and I've still a long way to go, but I've learned soooo much along the way and learning is part of the fun.
Q. What are your favourite blogs (parenting or otherwise…)
I still love www.Withinthesewallsblog.com and www.MummyDaddyandMemakesthree.co.uk
But I've also found some lovely smaller blogs like lifewithboys.co.uk and dearlittledaisy.com.  The Frugality.com is on my daily reading list too!
Q. What are your tips for a successful blog?
These are taken right out of a book as I'm not really in a position to offer advice on blogging, but what I've read is:
1. Be yourself
2. Write good content and they will come
3. Don't forget to promote your site

Q. 4 things you don't know about me;
I can still recite the whole of the Fresh Prince of Bell Air rap
Walking into a messy room (in my own home) genuinely gives me a headache
I am absolutely incapable of making decisions and the minute I commit to anything, I instantly change my mind and go with the second option! This includes changing Etties name on her birth certificate!
I was once in a Stereophonics music video
You can find Emma at the following;