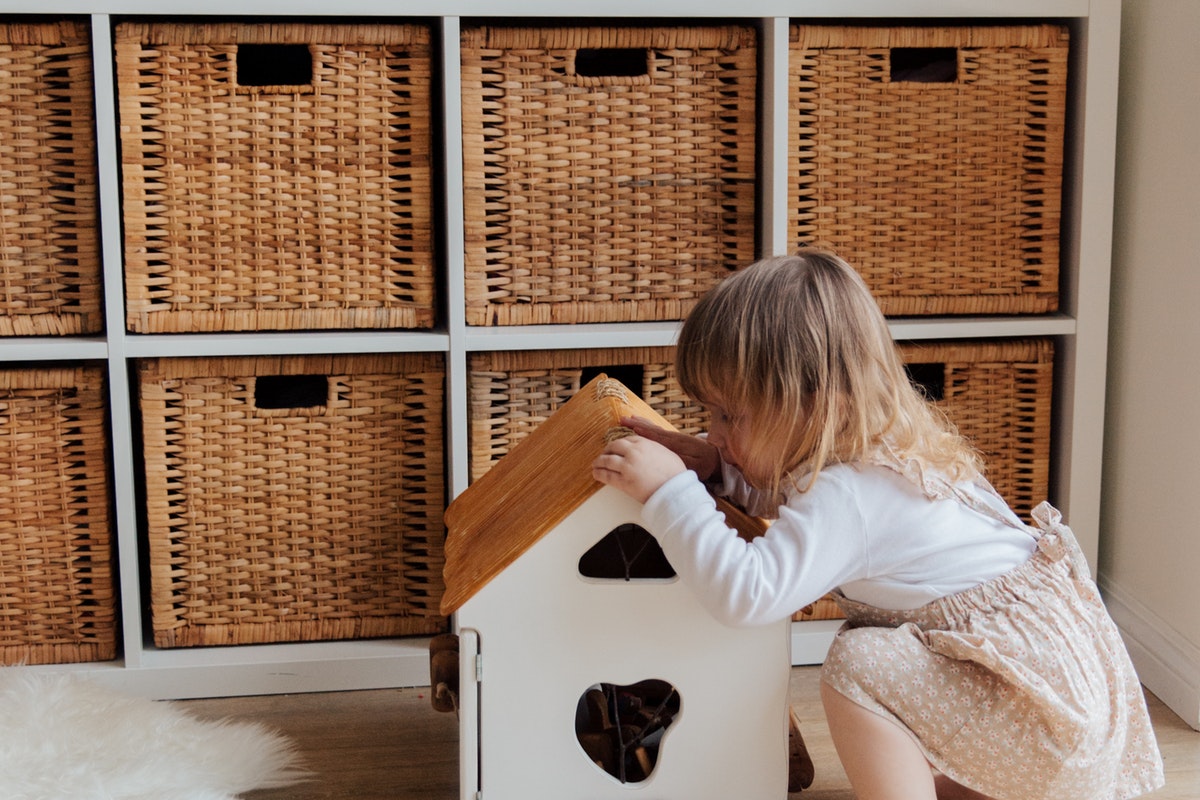 Kid friendly decor ideas for grown ups
I have learnt that a family-friendly home doesn't have to feel like the kids decorated it! With these child friendly
decorating
ideas, you can create a child-friendly home that still has a grown-up style too. 
Use Benches At Tables
A bench will let you fit more children on and give easy access for them to get up to the table on their own. If you have upholstered chairs, which aren't very child-friendly, the combo of these chairs with a bench for kids gives you a stylish alternative to ditching your nice chairs altogether. We actually have an outdoor wooden bench style table which we matched up with eames chairs. It's a good balance – and wipe clean!
Use An Ottoman Instead Of A Coffee Table
An ottoman can be the perfect, more child-friendly alternative to a traditional coffee table. Choose one that is safe, large and fairly lightweight. An ottoman is the ideal soft space for your baby to lean against while they're working on standing, a stage for older kids to stand on to show off their latest dance moves for you, and the ideal place to put a tray of drinks once they kids have been put to bed. Lots of ottomans have storage in too, which is even more useful in a family home.  Ours is actually housed upstairs on our landing full of towels and bedding!
Consider Indoor/Outdoor Chairs
If the bench idea doesn't work in your home, you could try some indoor/outdoor chairs instead. These work for kids as are they are lightweight, easy to wipe down, and are often easily stackable, so you can pull out extras when you need them. Chairs that can stand up to paint, yoghurt, and other mess that kids love will be invaluable to you. Metal chairs work well for this and still look stylish. 
Choose Neutral Colours For Smaller Furniture
If you need something child sized, like a play table then think about getting one in a neutral colour. This will blend into the rest of your decor much more seamlessly and still give your children a special spot of their own. 
Use Patterned Rugs
Perfect mum hack right here! Kids bring in spills, footprints and dropped toys. You can minimize the appearance of these with a patterned rug. No matter your decor style, you can find a rug to match. A Trusted Supplier of Carpets could be a good place to start looking for the right one. 
Add Pretty, Functional Storage
More kids mean more shoes, coats, and toys everywhere. Build-in attractive but functional storage, like wooden chests, to store away the clutter without making the house look like a playground. 
Create Assigned Storage
You don't have time to pick up after everyone. Assign each child their own storage space that they can reach, to help the house stay neater and teach your child some responsibility for their own things. 
Designate Closed Storage
Open shelves are great, but some things are better behind closed doors in an adult space. Your family might play a lot of board games, but battered, colourful boxes don't help with your decor if you want a stylish space. Store them in a cabinet that you can close the doors on to hide them out of the way when you're not playing with them. Choose something easily accessible, but that saves you from looking at them all the time. 

*This is a collaborative post.