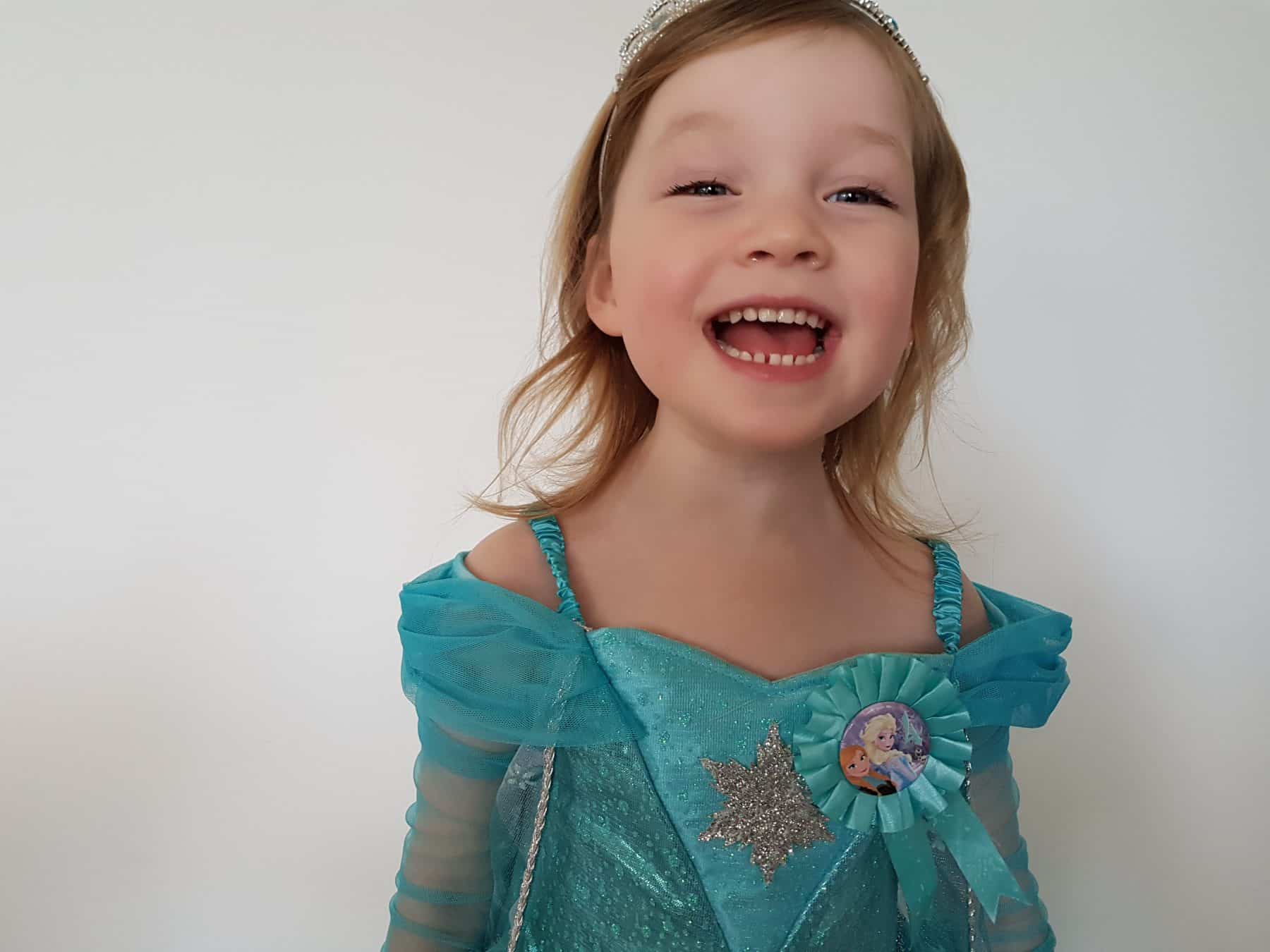 Planning a 4 year olds birthday party | What Sofia did
We were lucky enough to meet a great bunch of people at our antenatal class (I never thought I'd be saying that when that first letter landed on the doormat!). So being that our babies were all born within five weeks of each other, and nine of us have stayed in touch, it made sense to have their first birthday party as a joint one, then their second…and then their third. They see each other at least once a week and they are each other's oldest friends.
In the past we've had;
1st birthday – Baby Sensory Party  (and cake smash!)
2nd birthday – Soft Play Party
3rd birthday – Trampolining Party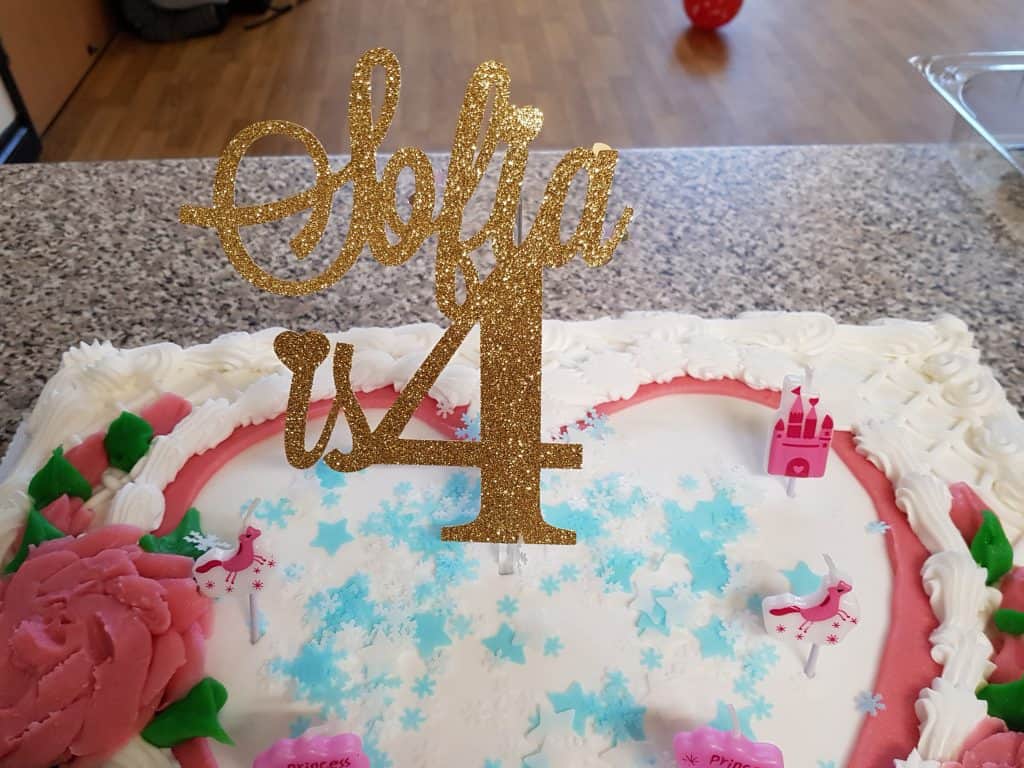 Then it came to the 4th birthday…and over the last year or two we've been invited to lots of nursery friends parties and as it's Sofia's last months at nursery before they all break away and hit the dizzy heights of Year R, we said she could have her very own 'Princess and Superhero' birthday party where she didn't have to share the candle blowing with anyone else!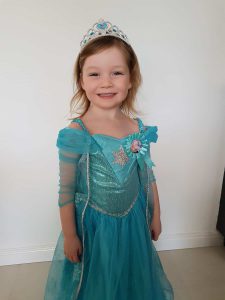 So what did we do?
We hired our local village hall and booked My Little Princess Parties to do the entertaining. Sofia's favourite princess is Elsa so we chose her as our princess of choice to bring all her magic and sparkle!
We got a big number 4 helium balloon, two frozen helium balloons and lots of number four ones scattered around the hall, Frozen bunting – and then Frozen tableclothes, cups, plates and napkins to make it a real frosty affair…
The party started at 3pm, as all the children  in their various fancy dress outfits arrived and started going crazy with balloons and generally just running about like crazy folk, Elsa remained hidden away for a further 10 minutes to make her grand entrance.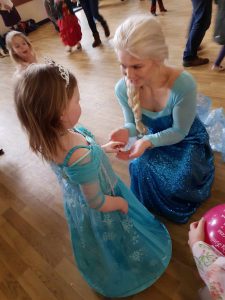 It was a mixed party but of course it was the girls who were absolutely mesmerised by the sight of Elsa gliding in. The boys glanced up for a split second before continuing to have baloon fights and tear around the room like a bunch of loons!
'Elsa' sat down with the children in a circle and made name and age badges for all the little ones, before they embarked on the old favourite 'What's the time Mr Wolf', then came some dancing, the parachute game which even got the boys interest (what is it about a parachute that drives kids wild?!) and then it was time for something to eat.
What food did we have?
We actually got all the food from Costco, which was super tasty!
To cater for the 25 children we ordered;
2 x children's sandwich platters
1 x 'gourmet' sausage roll platter
1 x fresh fruit platter
We then just got big bags of cheese football's, prawn cocktail shells (fake skips!), pink wafers and party rings – all washed down with orange or blackcurrant squash.
The cake was also courtesy of Costco. The grand sum of £14.99 got us a cake the size of a small house – it was soooo good. We added some 'Frozen' blue snowflake rice paper, pink princess candles and a personalised 'Sofia is 4' cake topper.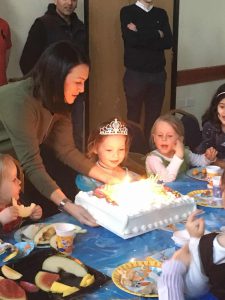 After the food it was back to the entertainment and Elsa did a few games of musical statues, sleeping lions, pass the parcel, a sprinkling of magical fairy dust, an opportunity for some photos and then ended with balloon modelling – swords or fairy wands – before she disappeared back to Arendelle.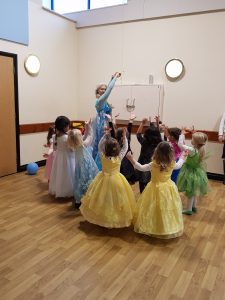 Would I recommend My Little Princess Parties?
Yes. Georgie, who was our Elsa, was great with the kids. Unlike some other companies I'd seen do similar, the costumes were really well made as opposed to a tacky shop brought frock! Also having someone to host the party for us took so much pressure of us and we could just watch at the sidelines taking photos, chatting with the other parents – or in Stuart's case, stuck in the kitchen making the teas and coffees!
The best bits?
Seeing Sofia and her friends faces when Princess Elsa appeared. What girl doesn't dream of meeting a princess?!
We literally turned up at the hall, set the tables and made tea and coffee for the parents. Everything else was all planned and taken care of by My Little Princess…they even provided the pass the parcel and prize which was a nice touch.
I'm not quite sure how we're going to top this one for her 5th birthday!