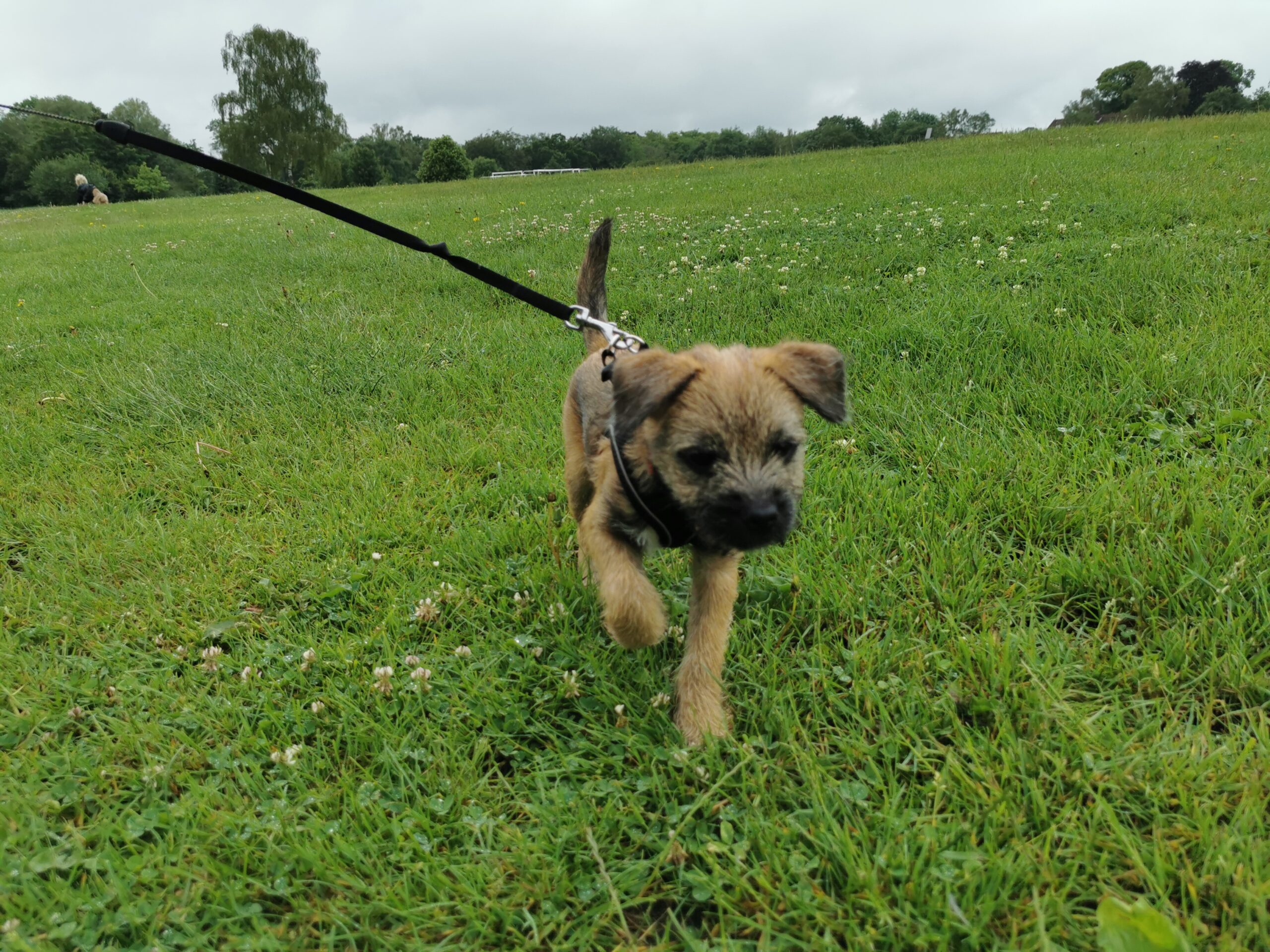 A month with Bert, our border terrier pup
At the end of May, we became a family of five – albeit with the fifth member being slightly hairier than the other four, as we brought our eight week old border terrier pup back to his forever home.
Over the first lockdown we started thinking about getting a dog. The daily walks felt there was something missing. And me working from home for the foreseeable meant the obstacles we'd come up against before were slowly being eliminated. So, we set to work into looking into breeds, and breeders.
As first time dog owners we didn't really know where to begin with our border terrier search so we started at The Kennel Club  so we could be assured we were contacting a reputable breeder. Our main concern was being taken in by the 'lockdown breeders' charging extortionate money and getting a sub-standard dog in return!
We were lucky enough to be 'matched' with the most wonderful lady who had four border terrier puppies – two girls and two boys (or bitches and dogs as they're called in the dog world) We went to meet our pup when he was just four weeks old – after a few prior facetimes – and we instantly fell in love with him.
After lots of cuddles we drove the 2.5 hour journey home with plans and countdowns being drawn up enroute!
We knew we wanted him to have a crate so we set up a small crate, brought some vet bed (this stuff is brilliant for small puppies if they can't hold their bladder all night), puppy pads, food bowls, poo bags, a whole load of toys and cosy blankets…and his collar, tag and lead.
Gradually the crosses got less and less on Sofia's special countdown calendar and it was time to go and collect our pup.
I didn't anticipate how emotional it would be to bring him home, removing him from his mum and siblings – and both us and the breeder were both crying as we drove away. The journey home felt like that drive home from hospital with a new baby. Bert didn't really settle – and it's no surprise as it was his first time in car.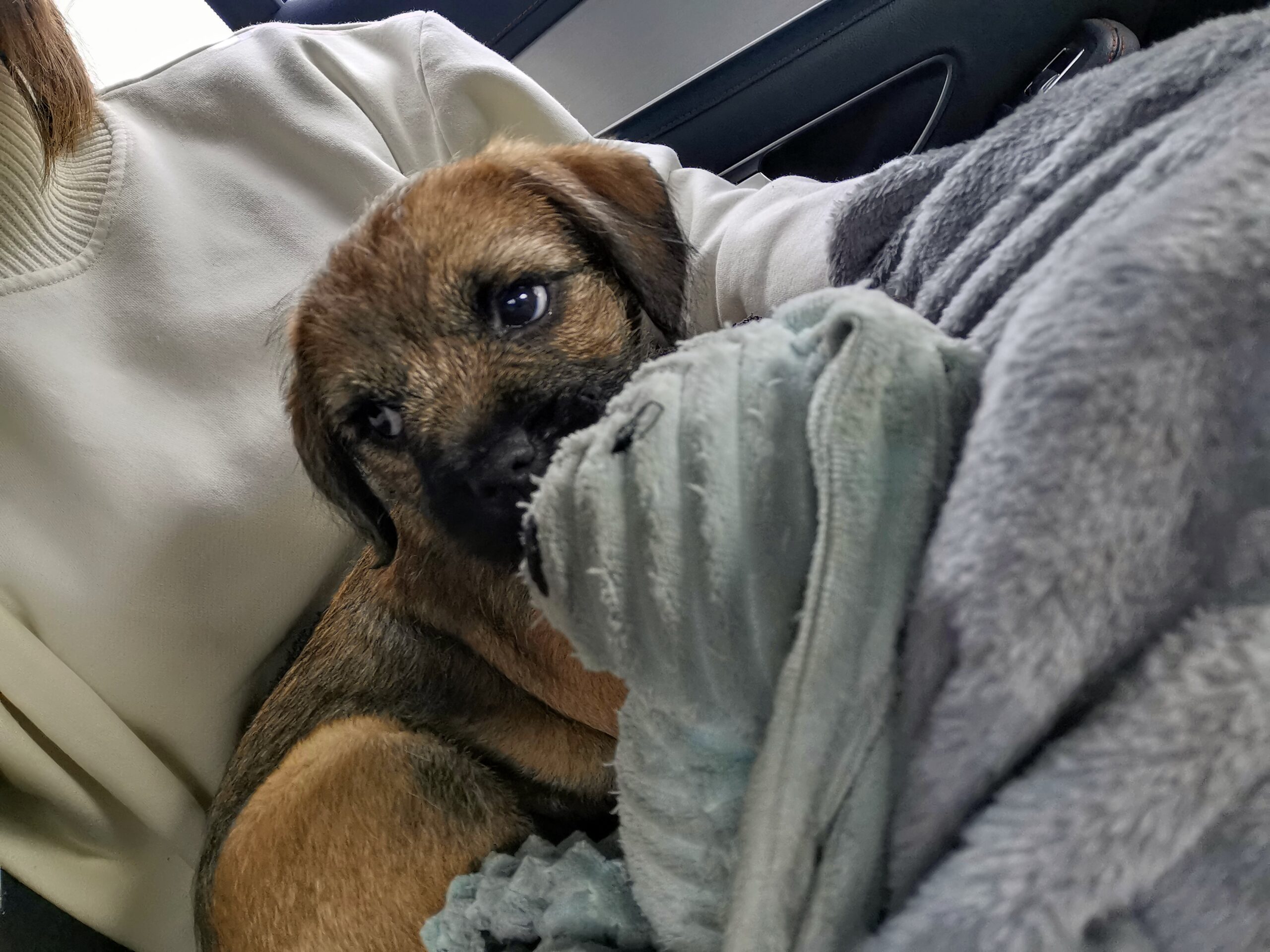 We arrived home and Bert seemed to settle in quite well, running around everywhere exploring his new home. Armed with a piece of 'family rug' and a comforter that we had left for him when we visited him, we popped them all into his crate to give him a familiar sense of 'home'.
We followed the same feeding pattern that the breeder had him on. He was on Royal Canin dry food, wet pouches and a dash of gentle organic goats milk. He's the most well fed family member in our house!
As puppies, they can't be walked until after their second jabs (the first is done prior to bringing him home) so he spent a lot of time enjoying our garden.
After his second injections at 12 weeks, we were able to explore a wider area. First stop though – puppy classes! We joined a six week class where we were taught the basics, which really helped us start the good habits.
Gradually we've been able to increase his walks – it's five minutes per month of his life – so we now take him out around our local recreation ground.
Bert has settled in to our family really well, it is honestly like he's always been here. He is so, so tolerant of the kids; their noise, their constant chasing of him, picking him up, dressing him in dolls clothes and general winding him up every time he attempts to relax.
I shall report more border terrier updates soon!