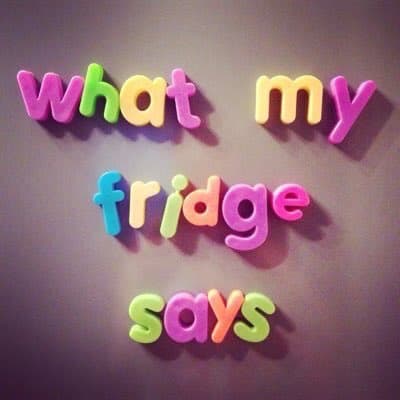 Interview with Lucy from What My Fridge Says..
Next up in my 'Interview With…' Q&A sesh is the lovely Lucy from What My Fridge Says. Here we find out why she started blogging and her parenting bugbears. Grab a cuppa (or a gin!) and take a read…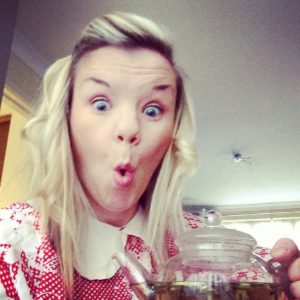 What my fridge says started by friends commenting on the quotes I put on my fridge at home using plastic letter magnets, this turned into a Facebook page and then I added my rants to hopefully inspire and motivated.
Spreading sparkle is my kind of thing.
Q. Why did you start blogging?
I started blogging because I realised the quotes only said part of the message, but actually it fulfills a need in me to be creative. Plus I've been blogging for three years and as someone who usually quits things quickly – that's impressive. I also can't imagine not blogging?
Q. Were you inspired by anyone to start blogging – if so, who?
If I'm honest I wasn't inspired by any particular blogger, in fact I'm not a fan of some of the big blogs out there. Like stormzy's track they seem to get 'way to big for your boots' and become very similar to each other, plus reviews often bore me and I'm not one for a shopping haul.
Q. Best parenting advice you've ever received (is there such a thing?!)
The best parenting advice I've ever been given is probably don't read anything whilst pregnant. As a teacher I'm a sucker for knowledge but actually I think my breast feeding journey was pretty easy because I wasn't stressed and did my best to resist the urge to google every thirty seconds. Going with your own instinct seems to be the key and I think J was pretty chilled out because we are as a family.
Q. What are your parenting bugbears?
Parenting bug bears? Hmmm… Well once I realised that that cute little bundle had ruined my body forever and that frankly toddlers are knobs, it's probably around how other mums tell the most horrific birthing stories to pregnant women. Which is just cruel, there you are either feeling like a whale surviving to reach the sea (me) or floating on air in a bubble of bump and then POP they announce how they nearly died, the baby nearly died and how they laboured for 16 days and survived on gas and air and a packet of Gary Baldies. So I guess my bug bear are other parents 🙁 #sorrynotsorry)
Q. What advice would you give to new parents?
My parenting advice is woven through most of my posts, simply chill and know that it will all work out in the end. Keep your tribe close – they will save you, bring you wine and give you perspective. Don't listen to anyone else, me included.
Q. What advice would you give to parents thinking of starting a blog?
I love getting out of my comfort zone and parenting gives you daily challenges, but if you think you can make time then starting a blog takes seconds and is a journey I'm blessed to have taken, plus if it doesn't work out they are pretty easy to delete so nothing to loose.
Q. What are your favourite blogs (parenting or otherwise…)?
Ohh, well my fav parenting blogs are Daddy Poppins because he makes me laugh, Just saying Mummy because her IG is beautiful – she is stunning and as a parent blogger with older children she gives me hope that I might make it! I also adore Mission mindfulness as her site instantly calms me and frankly anyone with two year old twins and a six year old who is peaceful wins in my book.
Q. What are your tips for a successful blog?
Tips for a successful blog are much like my parenting advice, do it your way and at your own pace. I love Instagram for reaching a new audience and Twitter is cool. I do have a Facebook page but my love for this died a long time a go and it lacks sparkle – as a result it doesn't create much traffic. Pinterest is something I've recently used with my blog and that's enjoyable…basically there are no rules. Do what you love and the rest will follow. Also write from the heart and not what you think people will want to read.
Five things you don't know about me…
Random is my middle name so….
1) I've had pet stick insects for as long as I can remember, I also have 2 African Snails that I rescued from a Science lab at school; Margaret and Elizabeth. Then there is Moët the Labrador who is super chilled and kid friendly.
2). I'm a nurture teacher in a secondary school, so I love the kids most teachers don't like to teach.
3). Sorry to the host but I don't like prosecco. I feel like I may be the only women in her thirties that doesn't?
4). Crisps are my favourite food and I don't have a sweet tooth.
5). I met Mr F in Barbados and we went back to fall in love, get engaged and my sons first holiday. It's so beautiful on the island that I plan on using this excuse for many holidays to come.