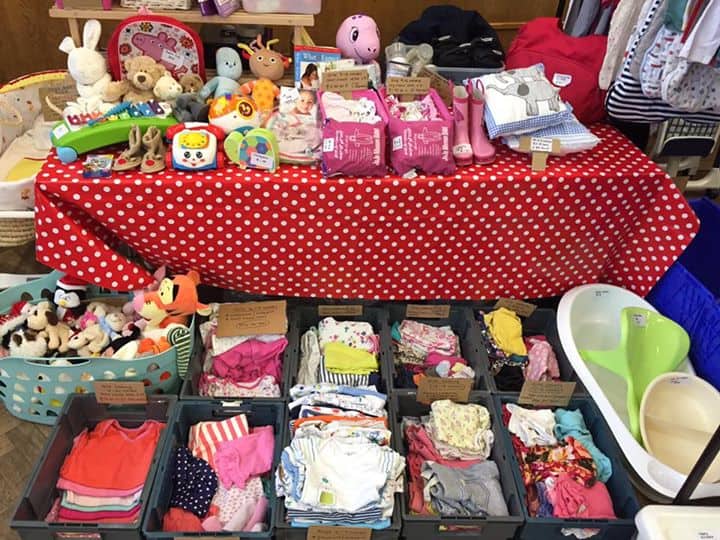 Nearly New Sales
One of the things I've learnt since becoming a mum are that babies don't tend to wear clothes for long before they suddenly go through those bloody 'growth spurts' and burst out of clothes quicker than you can say Michelin Man.
So I'm a huge fan of Nearly New Baby Sales where you can pick up new, or as good as new, bargains for a fraction of their original price!

I have sold at a fair few Little Pickles Markets now and when I do them, not only do I realise my children have a better wardrobe than me and are the new reason I teeter on bankruptcy each month but I realise how spoilt they are; rows and rows of clothes all hung on rails still with tags on, shoes that haven't even been unclipped and every gizmo and gadget, you can guarantee they've had it. Well, probably not quite so much with Arlo, poor second child, I learnt my lesson with him and he still parades round with pink muslins and pink bibs on. But gender neutral clothing's all the rage now isn't it?!

I don't tend to buy clothes at these things but the last time I was selling I had a quick peruse at some of the other stallholders bits before the frenzied buyers burst through the door, and I managed to pick up a Gro Clock (I'm glad I brought it second hand because it doesn't bloody work for Sofia she just bursts in at the crack of dawn saying "my clocks still blue mummy") and a Maxi Cosi Family Fix base – that was a real bargain. On other occasions I have picked up some nearly new Clarks shoes for Sofia for nursery and a brand new bike seat, even though neither of us own a bike…but, you never know, maybe one day – and it was a bargain!

Today I sold at the Eastleigh market which is held at Fleming Park leisure centre – it's a really busy market and ran from 10.30-12, so long enough to be constantly busy and not enough time to get bored or take up a whole day! The queue was out the door and around the carpark and I people's faces were peeping through the door at 10am, which heaped the pressure on as I frantically tried to unload my jumbo bags full of one man's treasure.
I had a great day today, I made over £200 and the best bit, is unlike carboot sales, people are all here for one thing; baby stuff so every person walking round is a potential buyer of your items. I was selling to make money, of course, but also to start ridding the house of bags and bags of bits that I'd accumulated over the past 3.5 years. By 11am my stall had quite literally been ransacked and I'd sold the big items such as the Sleepyhead, baby bath, baby carrier, stroller pushchair and shedloads of clothes. Also, unlike a carboot sale it's all inside which is a real bonus as it will never be 'rained off' and you'll always be warm and dry!
So what was the key to today's Little Pickles Markets success? 
Having a mixture of items – clothes, toys, books as well as some of the bigger items as mentioned 

It probably also helped that I had both boys

and

girls clothing; though obviously if you only have one, there's not much you can do about that!

Pricing the items right – in hindsight I probably did the Sleepyhead too cheap but it's gone now and no longer residing in the kids playroom, the clothes I marked anything from 50p (for leggings, tights and baby vests) up to £7 (for brand new with tags John Lewis/Gap/Ted Baker type items) and everything in between

Be prepared – I mark up all clothing labels with brand, size and price, it not only makes it easier for the people looking but also for me when selling!

Presentation – I always think that even though it's a second hand/nearly new sale, it doesn't mean that everything should look shabby….myself included! 

Good quality items – I only sell things I'd be happy to buy myself and I am fussy. So I do wash, iron and hang all of my clothes ahead of the sale.
Do you visit nearly new sales? Have you ever been to a Little Pickles market before?
You can see where your nearest market is by
clicking here
, and you never know I might see you at one if you're local!