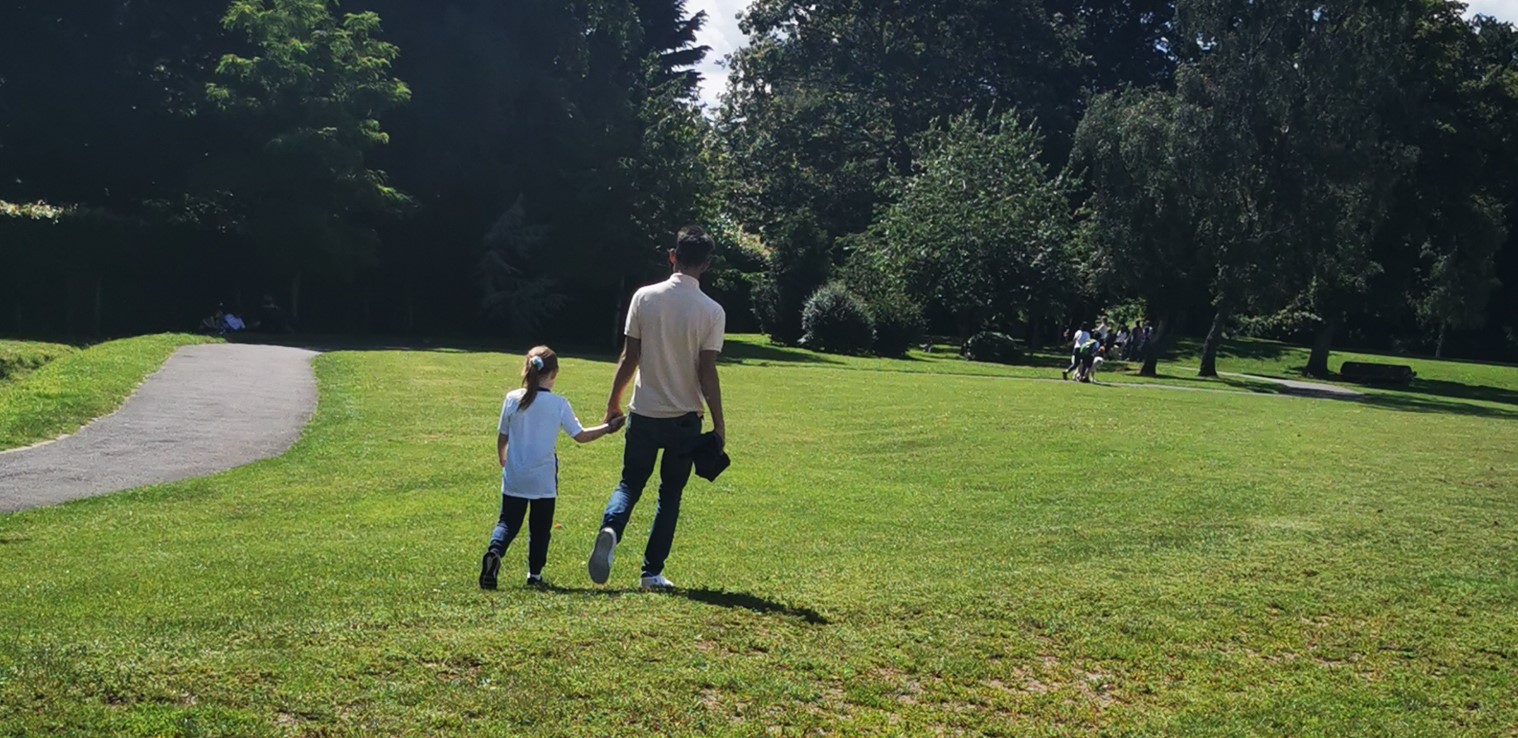 Never Too Young – Living with my terminally ill brother-in-law
I'm lying here typing this listening to the rattly sounds of breath. Wondering whether this will be the last one I hear my brother-in-law take. My brother-in-law who I have been with on this cancer journey for almost 18 months now.
The man who we have seen ravished by this god awful disease daily whilst he has been living with us in our family home over the last four months.
The man who has fought and fought with every ounce of his being, defying timelines as cancer just ate away at every organ and bone it could get to. It has all been his journey, he's shielded every body from it and gone stubbornly about it all with his own independent (some would say pig-headed!) way.
My brother-in-law, Tom.
He's the type of person who you hear before you see, a real jack the lad type, a truly handsome bugger, the youngest of four boys – and certainly the golden child of the family. It's hard to believe that as I type this that in a matter of days he will be gone. The loudest voice will have been extinguished leaving a trail of heartache – and to an extent, relief that he is free from this silent pain – for us all to pick up the pieces from.
Tom's Story
In August 2020, Tom was having stomach pains and had some irregular bowel movements. He went to the doctor on numerous occasions and was told it was nothing to worry about, he had blood tests and all came back clear. One week he was being really sick, in constant pain and again had irregular bowel movements. This time he was sent for a colonoscopy.
I clearly remember the day, it was a Sunday in the summer holidays and we were driving back from a day at Longleat when he called to say his bowel was so inflamed that they couldn't get the camera in for a good enough look, so he was booked in the following week for a CT scan. That was scheduled for the Friday, he went in and had the scan. Saturday morning at 7am the hospital called him back in. We knew then that something wasn't right. Stuart and the kids went to pick him up, I met them along with their other brother for a drink in a pub garden where Tom told us that he had Stage 4 bowel cancer with some shadows on his liver too. His prognosis was 18-24 months. I can't imagine what it feels like to know you're living on borrowed time.
Quite quickly he was undergoing chemo, the tumour was large and at the time, inoperable, so the best bet was to try and shrink it. He took on his 3 weekly infusions and daily tablet taking like an absolute champ – you wouldn't know he was battling this deadly disease.
At Easter, we were having a family get together when he told us that there was nothing that could be done regarding an operation but devastatingly it had also spread to his bones. It broke my heart that he had known this for a while and not wanted to tell everyone. He didn't want sympathy, always saying "it is what is is mate, just got to keep going" and even "we're all terminal". He took it like a champ and ploughed on with regular medical appointments.
Then, in July 2021, he started being sick and had developed a bit of a tremor down his left side. He was told this was just a side effect of the chemotherapy. At his next scan, I picked him up with a glove box full of dog poo bags (doubling up as sick bags!) he said his was the first appointment of the day so he'd only be twenty minutes, so I waited in the car. One hour passed, then another and I was really starting to panic. He called me with broken signal, to say that they were keeping him in as they had discovered tumours on his brain.
I was literally heartbroken. How I drove home without crashing my car is beyond me, it all just felt so unfair. I was due to have a zoom meeting with Arlo's new school teachers that afternoon but I had to ask the nursery to conduct that on my behalf (mum guilt on the highest level).
As the days/weeks went on Tom was getting more unsteady on his feet, coupled with the sickness it seemed to take the wind from his sails slightly. It was decided at this point that he would be taken off chemo to give his body a chance to get stronger. The good news about the brain tumour was that it was in a good place to operate.
So in August 2021 he was in for brain tumour removal, it went well but his parents had to move into his flat for a week or so after (with some shift work from friends in between). We were away in London for summer holidays when we got a call from Stuart's mum, she was in floods of tears. She had found Tom unconscious at home and he was blue lighted to hospital. It turns out he had an infection from the surgery, so a stent was fitted and more surgery was undertaken. We were getting calls at all hours of the day and night asking for various strange things or asking to be picked up to go to random places, I genuinely thought he would stay like that but after a couple of weeks he just went back to normal!
After some time in hospital he had recovered enough to be discharged and again the shift pattern of looking after him at home started. He was still upbeat and having friends round but he was clearly in pain and he didn't really get out of bed. His mobility was severely impaired. He went out for his last time, on foot in October 2021 and a couple of days later he couldn't feel his legs. He went back in to hospital and it was discovered that he had tumours on his spine which had rendered him paralysed from the chest down. With this, came the news that 'I'm never gonna get a boner again mate' but it also meant he was doubly incontinent too.
He called me one morning really early in floods of tears, the consultants had been round and there was nothing more they were going to do now and in his words 'he's being sent home to die', he asked if I would go and visit him. So I offloaded the kids and headed in to the hospital unsure of what I was going to see.
It was sunny and the nurse wheeled him out in this 80's wheelchair that had one mode – awkward. I was going to take him to the hospital Costa but after a short push/pull I realised we weren't going to make it that far so we plumped for a little coffee shop right near the ward, but how we laughed the whole way along the corridor, I've never been the best driver.
It felt so surreal, me pushing my active, super fit and healthy brother-in-law, opening his drinks and chocolate wrappers as he had no left hand grip and watching as his catheter filled with urine. I couldn't believe what it had come too. He broke down and sobbed in the middle of the un-atmospheric coffee shop and I've never wanted to cry with someone so much. As I hugged him and he sobbed into my shoulder, I knew this was it, it was the downhill road that none of us had wanted to get too. I told him that we would be back later to collect him.
But, and this is a real regret of mine, we seeked 'professional' advice and were warned not to go and collect him as there was nothing in place for his at home care, no bed, no carers arranged…and how would we even get him home, let alone look after him? He was paralysed after all. After a really tearful and guilt ridden night knowing we weren't going to collect him as promised, we were shunned and Tom didn't speak to any of us. He was, in fact, calling his whole phone book to get somebody – anybody – to come and collect him and get him home.
We had always said that he could come and live with us if he ever needed too but Tom has never faced the reality that he is dying. He has been in complete denial, even up to today when he was put on a syringe driver, he was furious that he was on it and kept saying 'I'm not dying, I'm not going anywhere' – and at 38 years old, why would you ever face that and be ok with it? It's totally incomprehensible.
We chatted to the local hospice and I called Macmillan and a couple of other charities and we were told it would be hard, may have an effect on the kids and we would in effect be the 'full time carers' in between the care visits. So, we made the hard decision to not go ahead with having him live with us.
We headed off for a weeks holiday in October half term with the weight of the world on our shoulders, Day two I was in the shower and I thought 'We have to have Tom with us' and as soon as the thought had come into my mind I felt lighter. I came straight out and told Stuart and he said 'I've been thinking exactly the same thing'. We messaged him telling him to get everything sorted and he's moving in with us. The rest of the holiday was amazing, we were so relaxed and it was down to the fact that actually we had gone with our heads not our hearts and I genuinely feel that you should always go with your heart.
We arrived home on the Tuesday, the hospital bed was delivered on the Thursday and then Tom arrived on the Friday morning. He sent a photo of him being stretchered out of the hospital and told us he was on his way, I told Stu to go out before he arrived as I didn't want him getting emotional. I was fine, until the reality kicked in that this would be the place that he would die. Our home was his final resting place and he would never leave it again.
Of course, there have been so many good times here, really special times and when you're caring for someone every day, you have really ordinary little chats and moments that are nothing, but big when you look back.
These last four months have been so hard, they've been rewarding and they've been filled with emotion on every scale. But I would not change a minute of it, as I sit here listening to this rattley breath, it's a sound I wish I could hear for ever.
#NeverTooYoung
Bowel Cancer UK have a Never Too Young campaign which was launched in 2013 and is leading the change for younger bowel cancer patients. It is shocking to know that Tom is just another one of their statistics.
Bowel Cancer UK surveyed over a thousand young people living with bowel cancer and found…
Half of younger people surveyed didn't know that they could develop the disease before their diagnosis.
Four in ten people had to visit their GP three or more times before being referred for further tests.
Nearly half of those diagnosed with bowel cancer after 2017 hadn't been offered testing for Lynch syndrome.