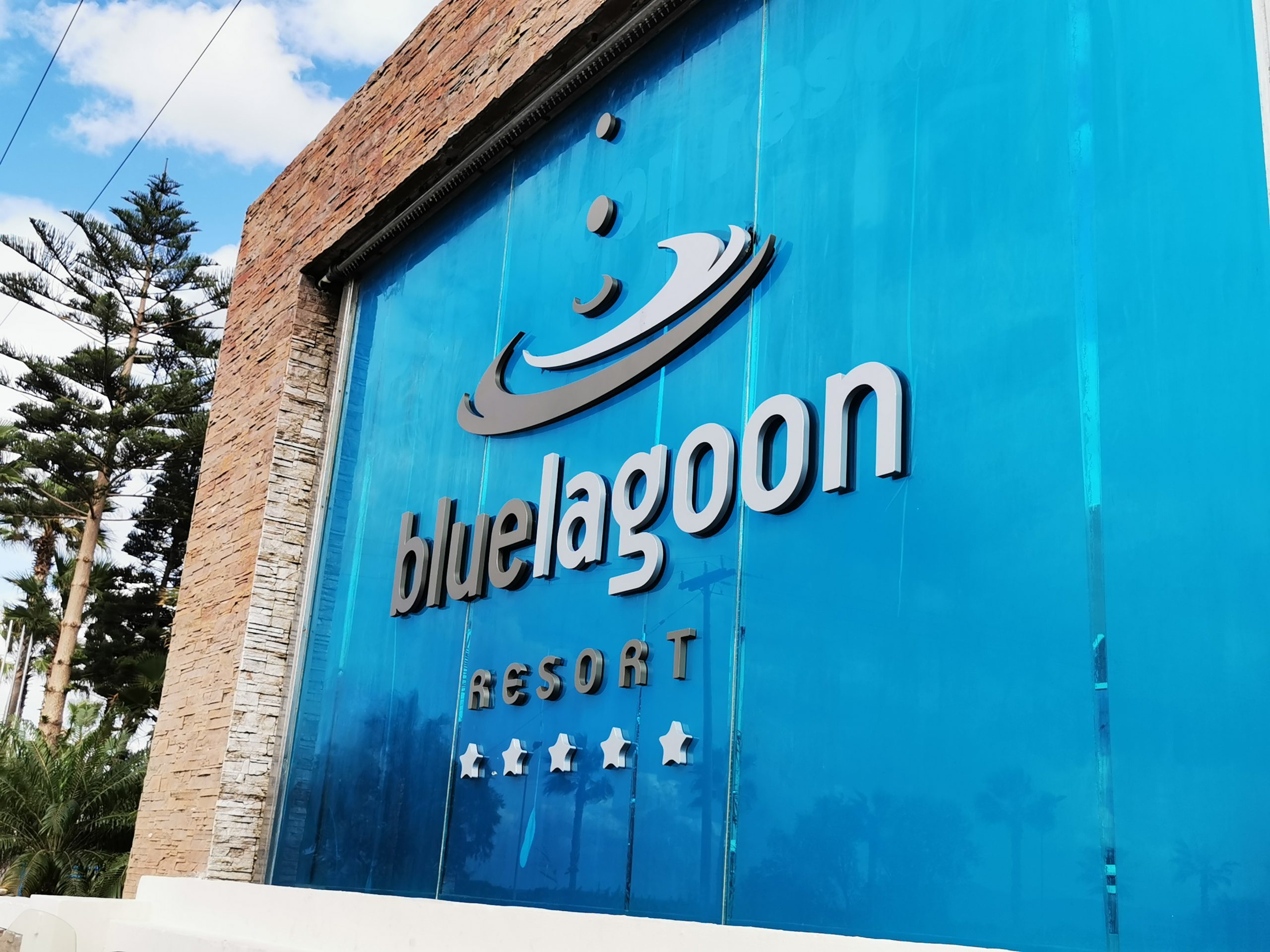 Our holiday to The Blue Lagoon Resort in Kos, Greece
We visited the stunning 5* Blue Lagoon Resort in Kos for October half term* – a much needed break from the four walls we had found ourselves staring at since March 2020.
The temperature was between 20-23 and when the sun shone it was lovely but there was a mix of cloud and wind too – which did mean the evenings were cool and you definitely needed an emergency throw on cardi/jumper for the afternoon and evening!
We booked our holiday (really last minute!) through TUI. Picking a holiday during 2020 has been a ral gamble and after having our holiday to France cancelled at the final hour, we booked this one five days before departure. Due to the time of year, the uncertainty of holidays and being half in/half out of half term – I believe we got a good deal. Two adults, two children a five star Platinum All Inclusive for just under £1900 (this included 24% discount and a free child place)
The Blue Lagoon is a huge resort and has 662 rooms spread across a huge complex. There's something for everyone there – whether you're on an adults only, singles or family holiday.
With five restaurants and a crepe station you'll never go hungry! The resort also has a hairdressers, supermarket, 10 bars, entertainment tent, mini golf, water park and the hotels own beach – complete with beach bar.
The resort is centred across one main swimming pool, which has varying depths, a separate children's pool, adults' only pool area and a waterpark complete with five flumes, a lazy river and a pirate play area. The pool bar does the best gyros too!
If you don't want to weigh down your suitcases with pool towels, the hotel provide a beach/pool towel service. They're lovely quality and thick too. Infact they're better than the ones they give you in the rooms!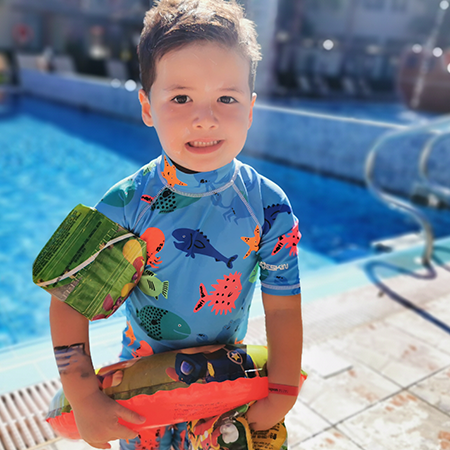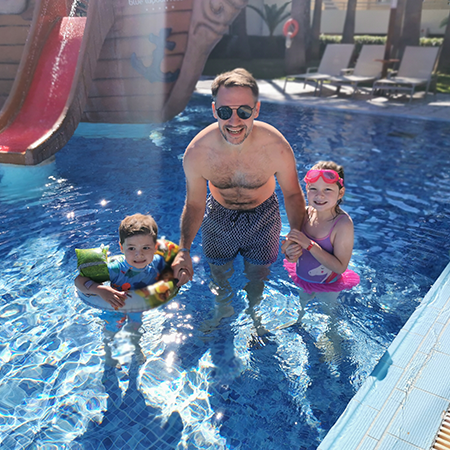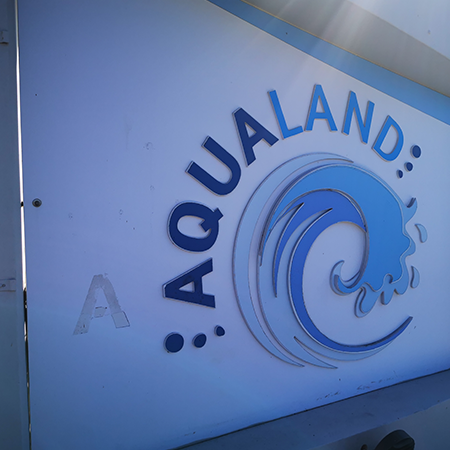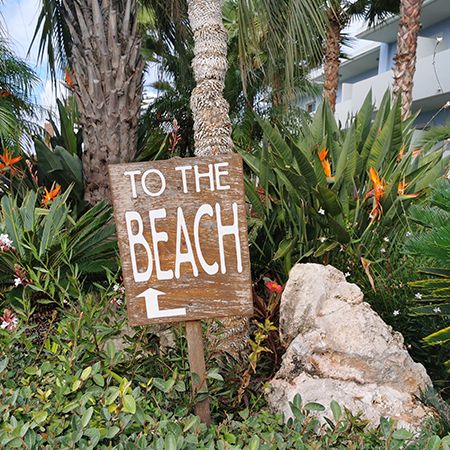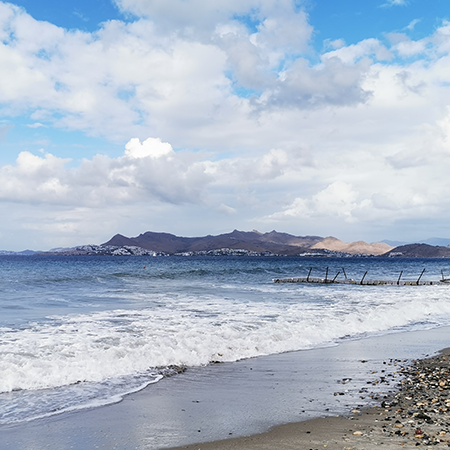 For an All Inclusive hotel, catering for so many, the food is really good (and I'm a massive buffet hater, germ freak!). It could do with being a bit hotter but when under hot plates it is to be expected. Due to covid, hygiene standards were high; we were greeted at the door with hand sanitiser and given a plastic glove which was compulsory to wear. As was following the floor markings around the restaurant. Drinks stations were removed and drink orders taken by the waiter/resses upon arrival to your table.
Blue Lagoon Resort boasts two a la carte restaurants, all bookable via the Exclusivi app. The best of the two, was by far, The Golden Sun chinese restaurant. Situated outside of the resorts main centre is a beautiful lantern-lit walkway which leads you to the restaurant. With choices of starters, mains and desserts, all served to your table its a real treat after a week of serving yourself at the hot plates! The Mongolian beef is one of the best Chinese dishes I've ever eaten!
The Kavari Italian, which is also an a la carte, is also nice but with starters and desserts served as help yourself buffet style, it all felt a bit like the main restaurant- just with a slightly better main. All drinks, except soft drinks, are chargeable at the a la carte restaurants.
Other eateries on the resort are the Nisos buffet, the Mythos Greek buffet, the Mesogios and the Athina Pool restaurants.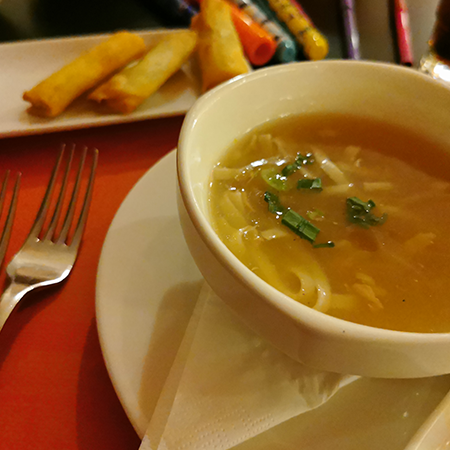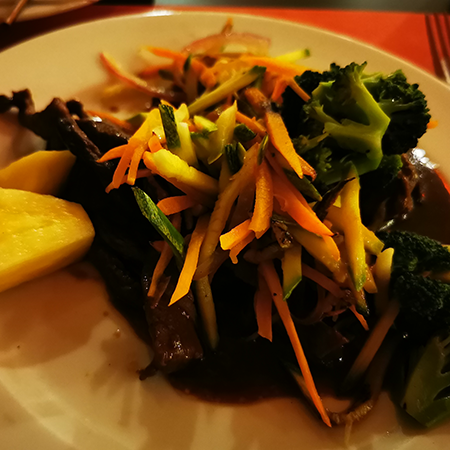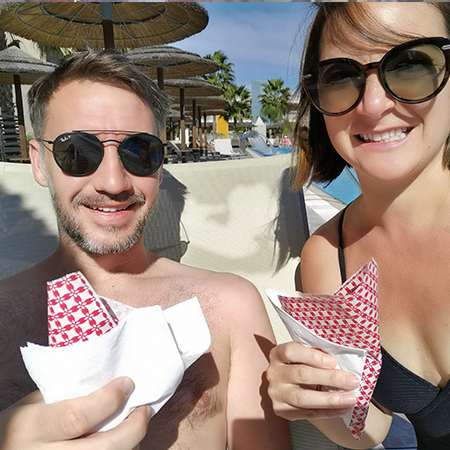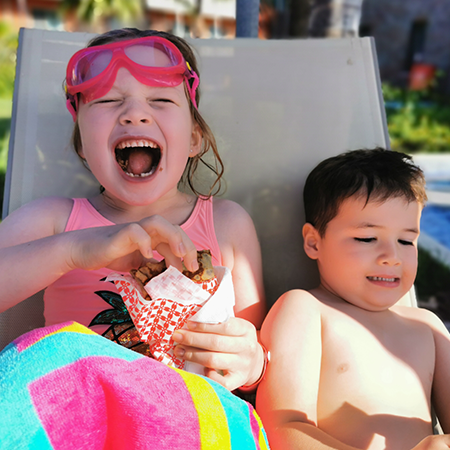 We arrived with only two days left of the TUI kids club season so joined the 'Animation kids club' run by the hotel staff. It was okay, but the kids just coloured every session. Still it was nice and helped them to make friends for the evening disco.
Which leads nicely on to the evening entertainment…starting at 8.30pm with the kids mini disco, the selling of various paraphenalia such as illuminuous personalised t-shirts, 'Leo the lions' and memory cards of  music – as well as bingo tickets. Bingo started at 9pm and then 9.30 signalled showtime!
Whilst we were there we watched an Abba, Disney and a Decades show, amongst others, and I have to say the standard of singing and dancing from the entertainment team was fantastic! It was really well put together and Barry is completely wasted on that stage…his voice is exceptional.
The set up of the tent was strange; it was set up theatre style with rows and rows of seating which made it quite sociable in some respects – but all effort of social distancing goes out of the window. One thing I did think was odd was that there was no entertainment put on at all on a Saturday?
My only advice? The evenings barmen are very generous on the spirit measures!
On one of our days, we decided to hire a Beach Buggy to explore a little more of the Island (Kos town is a 20-30 min walk away, which is nice, or 8 euros via taxi). The Beach Buggy was super cool, but we didn't quite anticipate the winds along the beach roads…we had to wrap the kids in towels and remove their hats!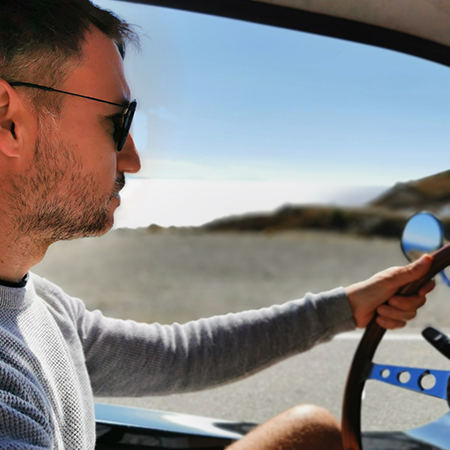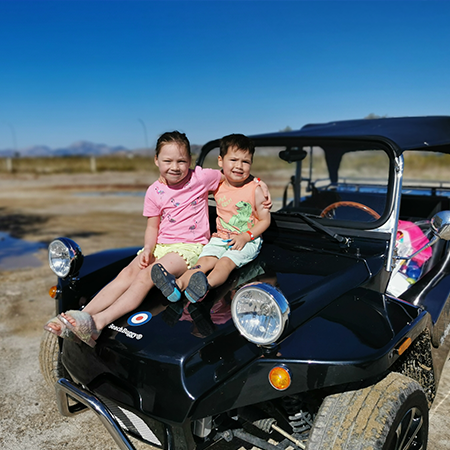 We decided to head to Salt Lake to see if we could catch a glimpse of the infamous flamingos, but I'm not sure if it was the weather, or that we'd received the tail end of an earthquake a few days prior (so people were advised not to go to beaches) but it was quiet and we were unsure that we were even in the right place…so we hopped back into the beach buggy and headed to The Therma Breach which is about 10km from Kos Town. We stopped off at the beach top cafe first for a traditional gyros and just sat admiring the views. They were totally breathtaking!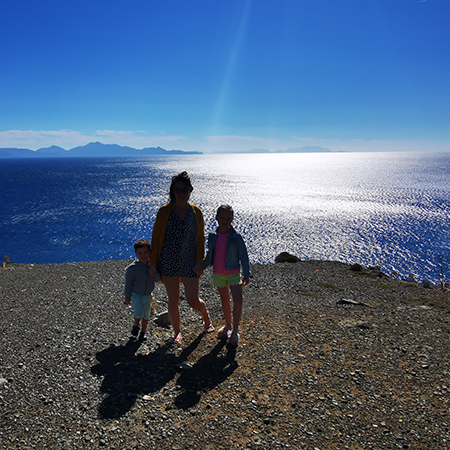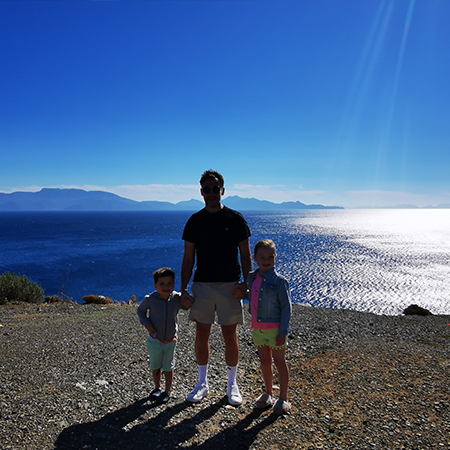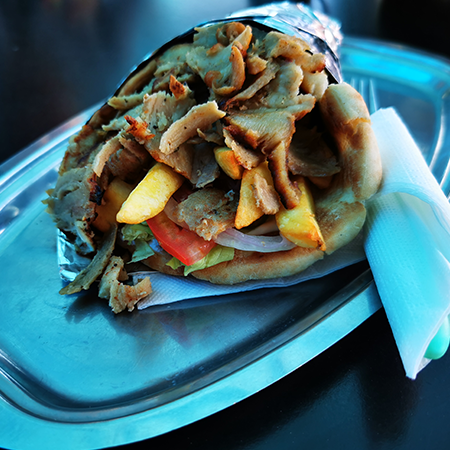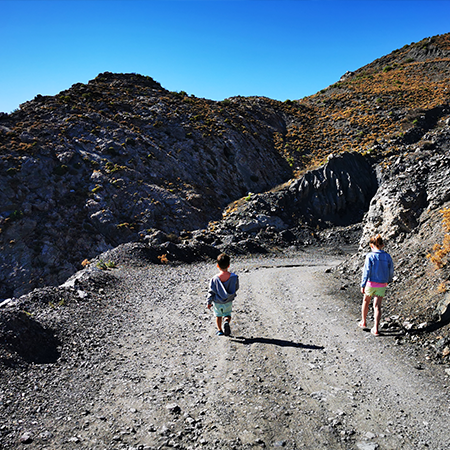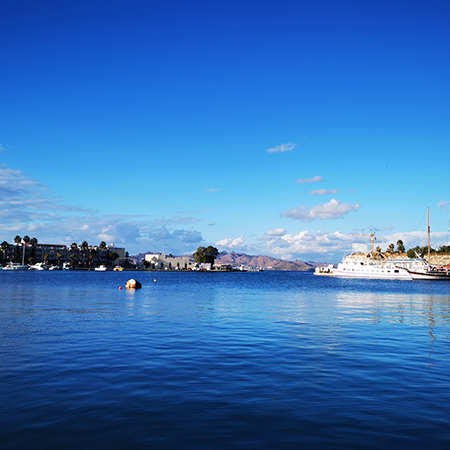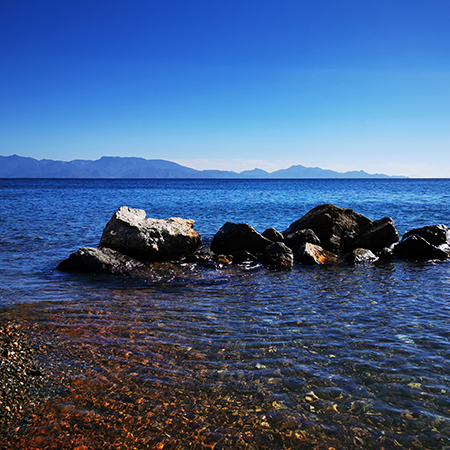 We headed down the rocky mountain side on foot, dodging wild cats (there are LOADS in Greece) and admiring the mountain goats teetering on cliff edges above us. We very soon reached the thermae pool, it was incredible – I'd never experienced anything like it before. It was, at times, too hot to bear but then it went warm and slightly cool.
As we were walking down the mountain side, we passed two locals who advised us not to let the children in for more than 15 minutes at a time as it isn't good for their hearts. Luckily they told us as we were completely unaware!
After a couple of hours there we hopped back into our buggy and admired the views on the windy road back down. We decided to head to Kos town for an icecream and a mooch in the fake bag shops…
Paradise Beach, we later found out, is stunning so if you're looking for places to visit on your holiday to Kos – it may be worth adding that to your list!
Overall, we had a lovely, relaxing week in the (semi) sun – a couple we met said to us 'covid has made us so grateful to be able to even get away here and it's up there with one of our best holidays, just because after this year we're appreciating it so much more' 
Blue Lagoon Resort – will we be back? Who knows, but we definitely enjoyed our well timed break.
*A caveat to this review is that because of covid, the hotel (and Greece in general) extended their season for an extra month and also…covid)