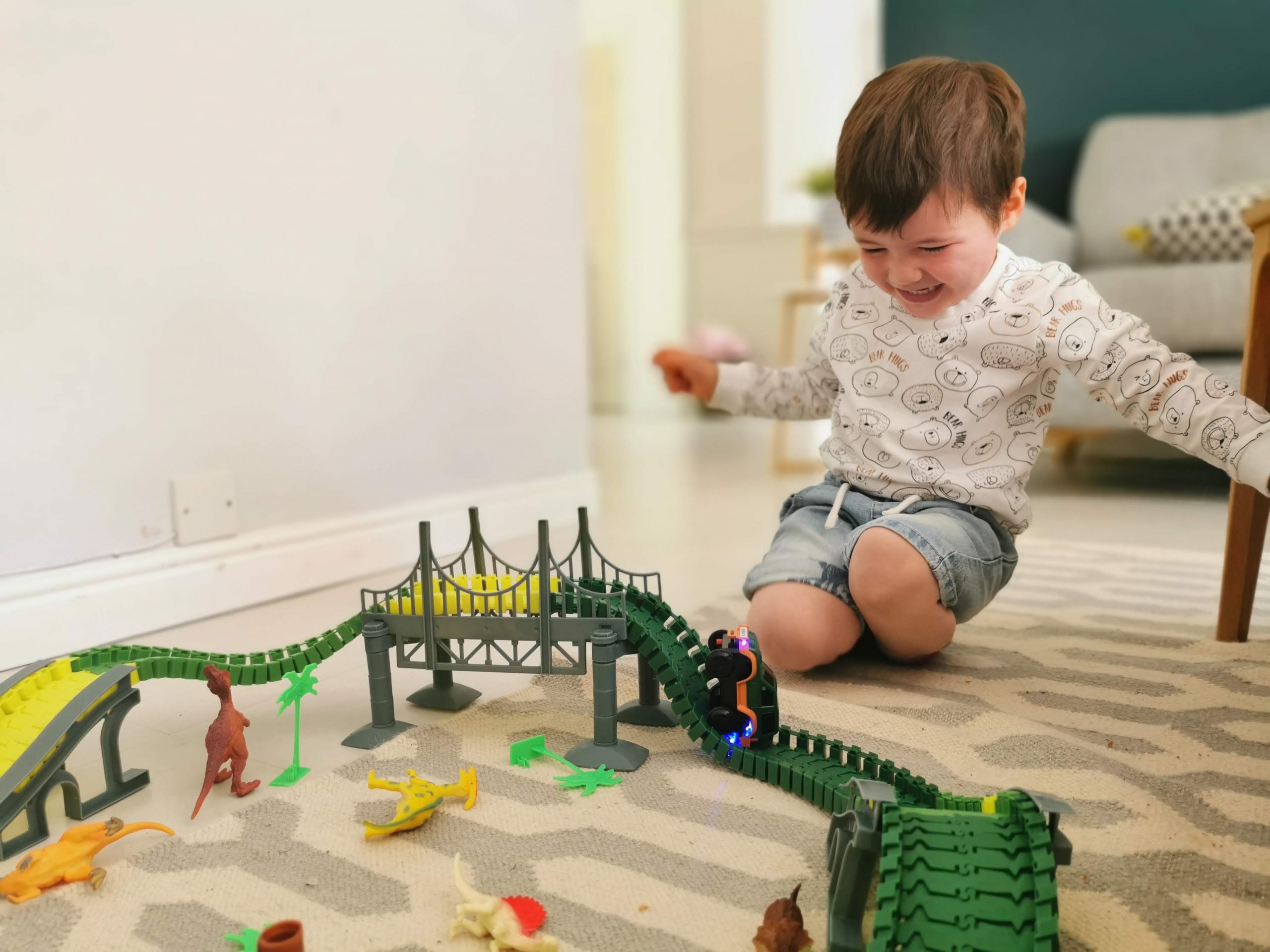 Toys my three year old plays with
In the height of the covid quarantine we had to get quite resourceful with keeping the kids entertained – which meant a lot more time playing at home with toys. I started to notice that Arlo (who turned three during lock down) had firm favourites that kept his attention way longer than a lot of the other bits we have.
So here's my list of toys that my three year old plays with!   
DinoTrax
I brought this light up car track on impulse from the 'aisle of temptation' in Aldi when the toys sale was on and I think it was about £7.99. It came with neon yellow and dark green click clack style track that you could put together as well as extra bits to build bridges and ramps.
Watching the kids play together and laugh as the car lit up and revved itself around the track, knocking through gates and struggling up the steep hills we had added in, was definitely money well spent!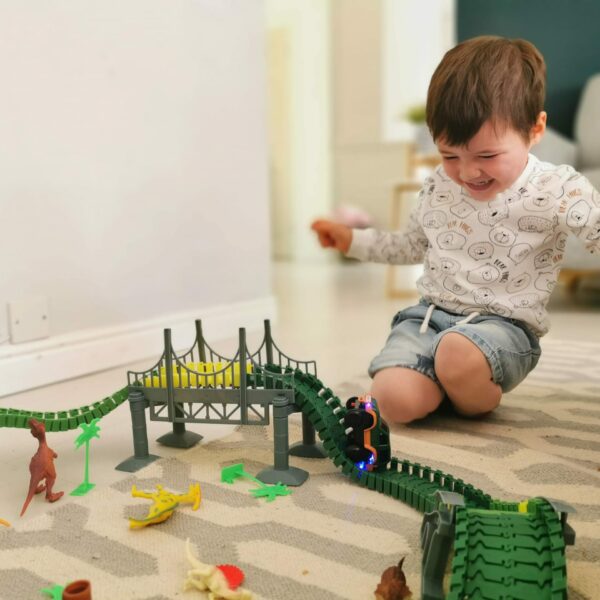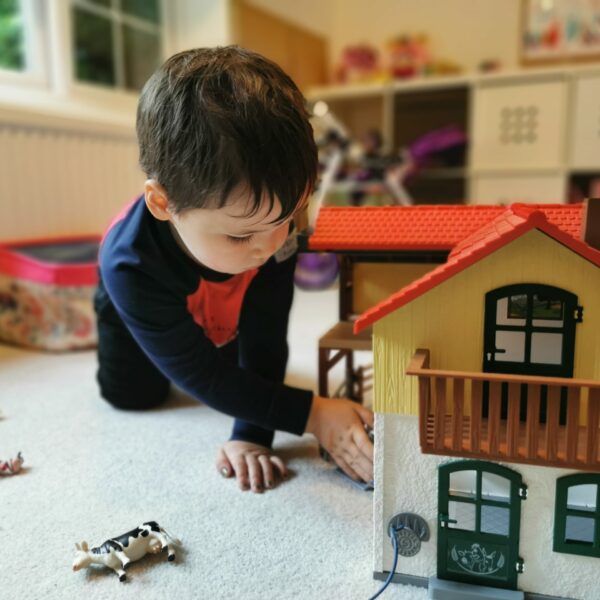 Schleich Farm
Arlo LOVES a farm animal. He will happily spend hours setting up his farm, lining up all of his animals in a row and becoming a farmer to his brood!
We brought him the Schleich Farm for his third birthday and it's really good. It did cost around £85, but when you consider each individual animal costs about £8 – you do get a lot of bang for your buck! The quality is fantastic and there's so many little details and extra bits that I think it's totally worth it. I still love that they have a hosepipe on a reel and it even has the nozzle attached, so lifelike!
Paw Patrol
PAW Patrol, PAW Patrol, we'll be there on the double
Whenever there's a problem, round Adventure Bay
Ryder and his team of pups will come and save the day
Marshall, Rubble, Chase, Rocky, Zuma, Skye….
Anything with a pup from Adventure Bay and Arlo is all over it. For Christmas he got the Lookout Tower and when he gave his dummy to the 'fairy' he got the Sea Patroller…and I think he's got pretty much every other toy in-between.
He will sit and play with the Paw Patrol toys for hours, setting up the scenes – being Ryder and instructing them where to go on their next mission. At first I thought it was just going to be a fad, but he's been into it all for a good year now., so there might be some life in the ole pups yet!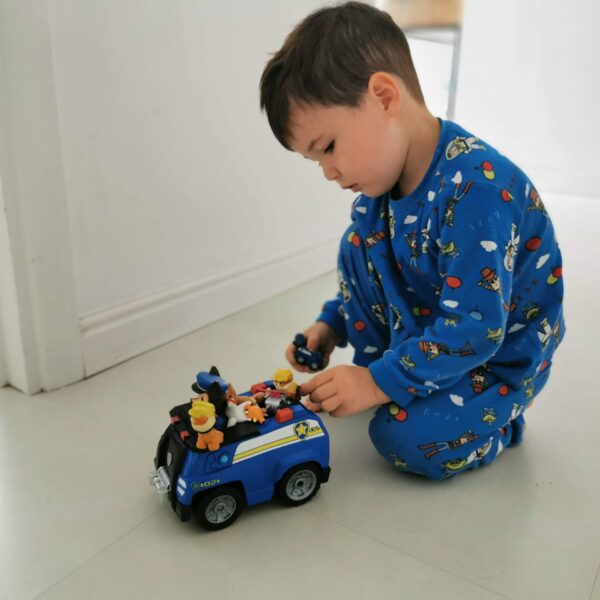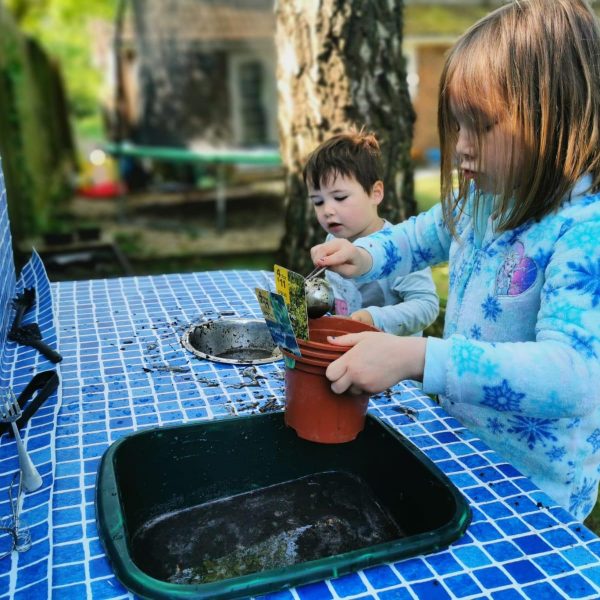 Mud Kitchen
Definitely not one of my favourites, but Arlo absolutely loves his mud kitchen. We get all sorts of muddy concoctions made for us – pies, cookies and cakes, you name it, the boy will make it…after a whole lot of splashy stirring of course.
My dad (aka – Supergamps) built their mud kitchen complete with water pump and we used the kids kitchen accessories set from Ikea to add the final culinary touch to it.
Puzzles
Puzzles can hold Arlo's attention for ages and he's got really good at sitting down and doing them by himself. He's up to 72 piece ones now and his favourite one is a Paw Patrol one, obvs.
We tend to buy the boxes with a few different ones inside and we just keep them separated in see-through IKEA bags when they're not being played with.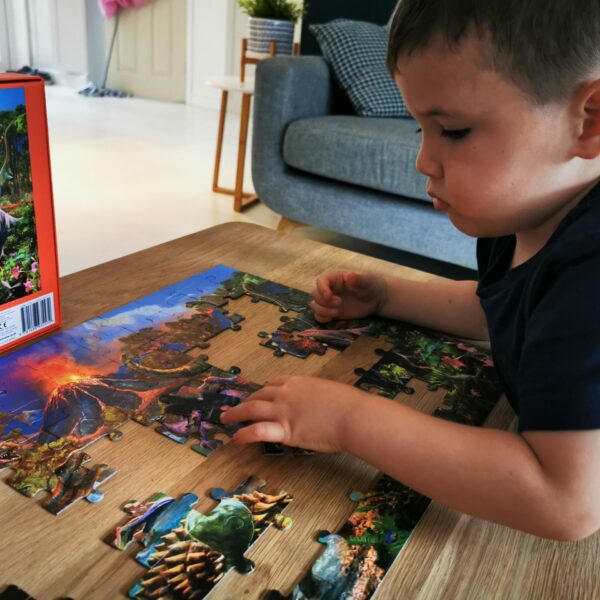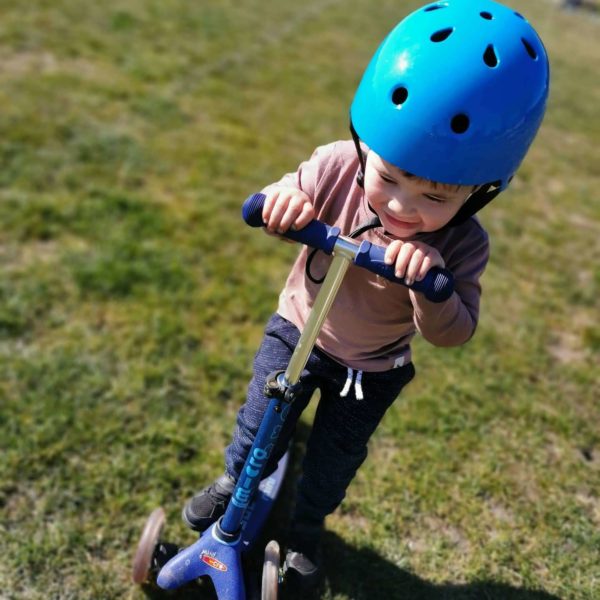 Scooter
Not strictly a toy – but since lockdown, our Micro scooter has had at least one outing a day with speedy gonzalez at its helm.
Arlo's been zooming down hills (providing me with many heart stopping moments) and his new favourite trick is to scoot with one leg out whilst squatting down and standing sideways as he hurtles along.
Colouring
During lockdown, I brought lots of colouring bits for Sofia in a bid to keep her entertained for longer than two minutes. It failed.
But one day Arlo picked up a felt tip and just sat there colouring in some pages of a colouring book – and he was so good! He doesn't really go outside the lines and nothing can break his attention when he's in the midst of drawing a jungle animal/Toy Story character or even a Disney Princess.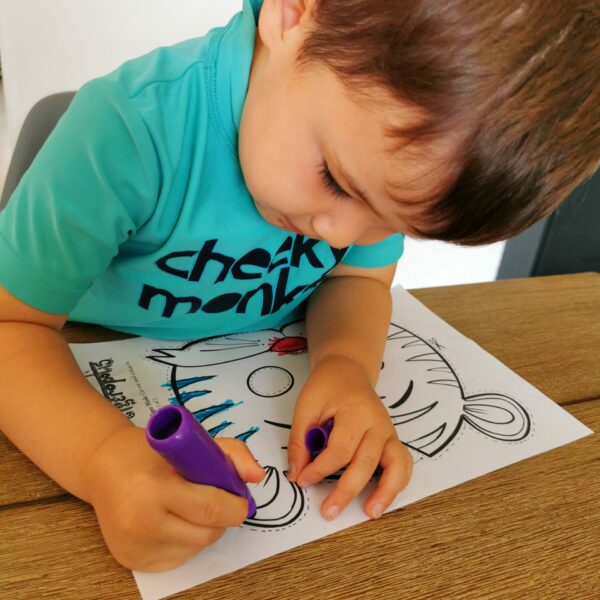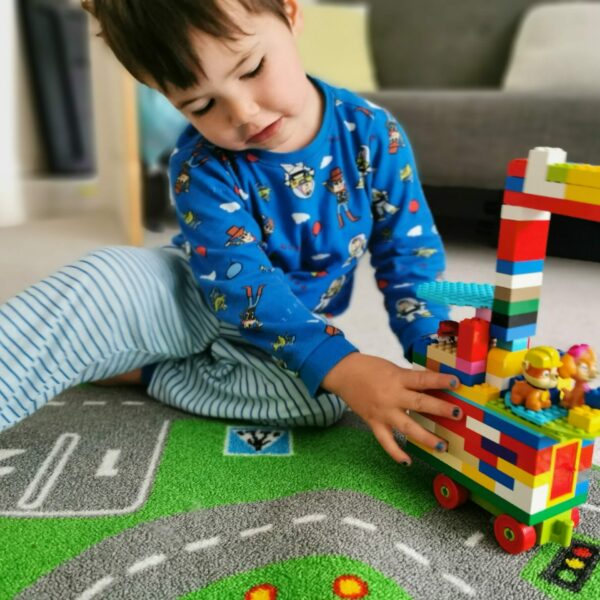 LEGO
Like most kids, Arlo likes building and constructing. We used to give him the chunky Duplo blocks but he soon got too quick at those so we moved on to the standard LEGO pieces which are smaller and hold his attention for a lot longer!
His favourite builds tend to be towers, houses and attaching the little Lego wheels on to make cars to transport his Paw Patrol figures around in….
What toys are a must-have in your house?