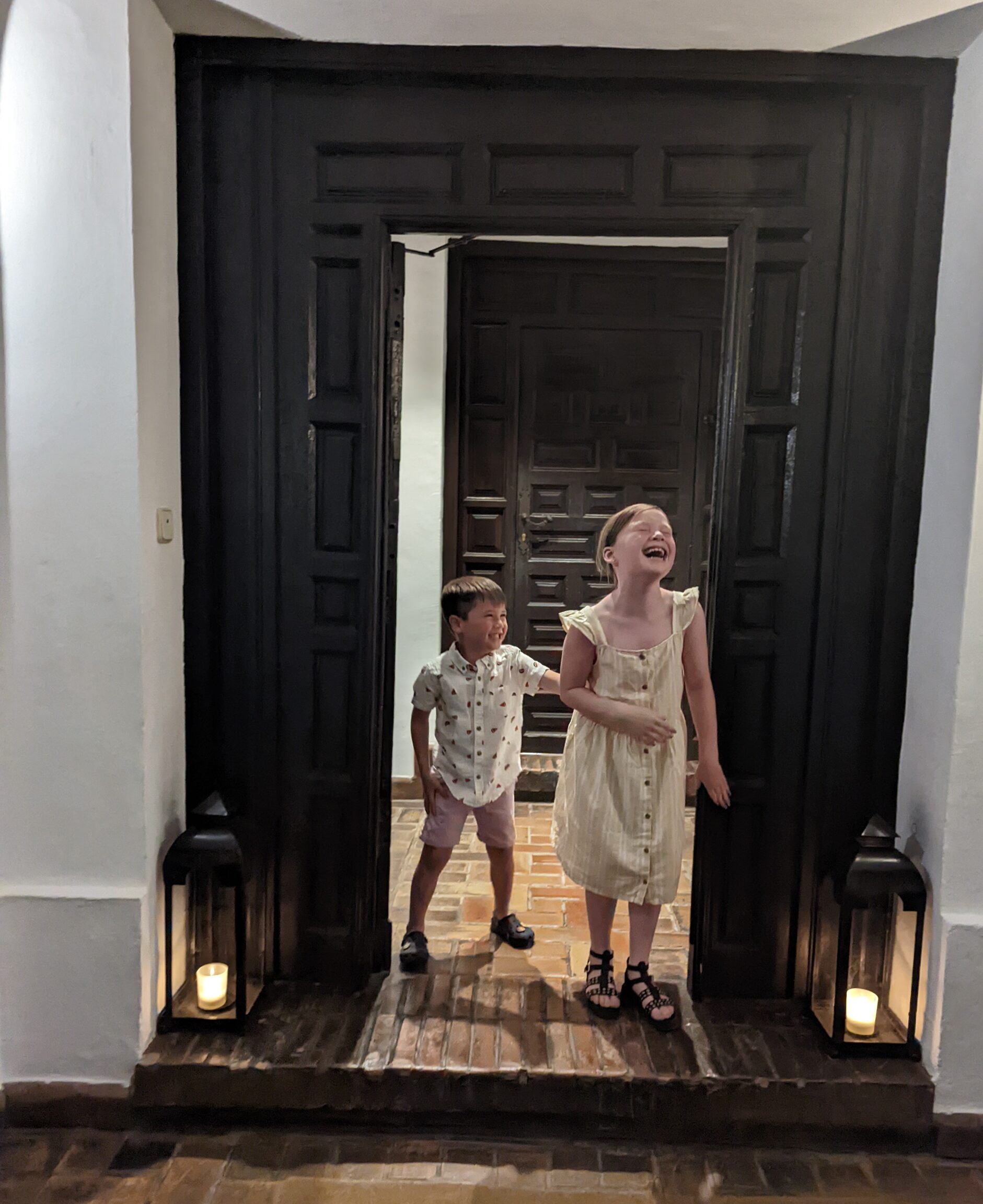 Five star luxury at La Bobadilla – a Royal Hideaway Hotel in Granada, Spain
Wow, La Bobadilla. You are something else! This five star luxury hotel was our final French stopover destination on our Summer road trip before we crossed the border into Espana
We drove along the 3km private driveway winding between forests of trees, herb gardens, vegetable patches and stables. Parking was no issue at all with ample spaces. We headed into th reception area to check in and were greeted by a lovely front of house team who explained everything to us. Nothing was too much trouble.
The interiors and views to the outside grounds were breath taking.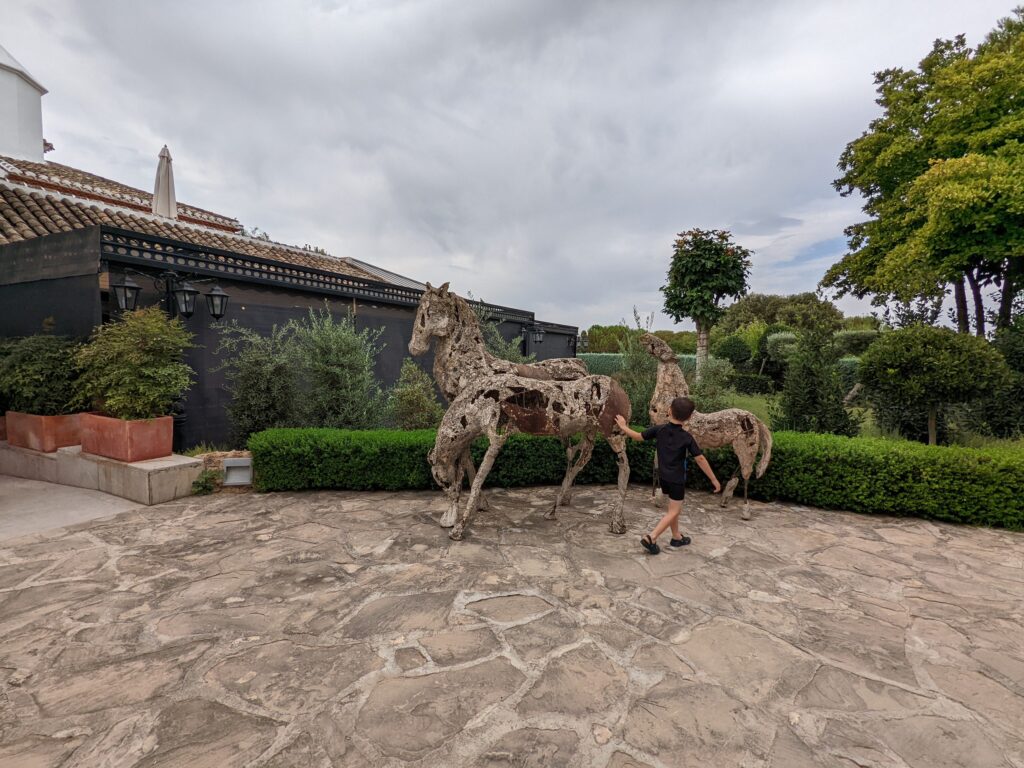 There were two evening restaurants to choose from 'El Cortijo' and the fine dining eaterie 'La Finca'. With two children in tow we opted for El Cortijo!
Our room was a junior suite which fit us all in comfortably – one double in the bedroom and a pull out sofabed located in the lounge. They even brought bowls and a bed in for Bert (we did pay £40 for the pleasure). The lounge room was furnished with sofa, two tub chairs, bureau desk and a round table – along with a TV, mini bar and kitchenette with a balcony overlooking the lush green views.
A heavy curtain divided the two rooms, and behind this was the master bed, wardrobes, bath, double sink and a huge shower and toilet. It was plenty spacious and the old farmhouse style floor tiles helped to keep it cool.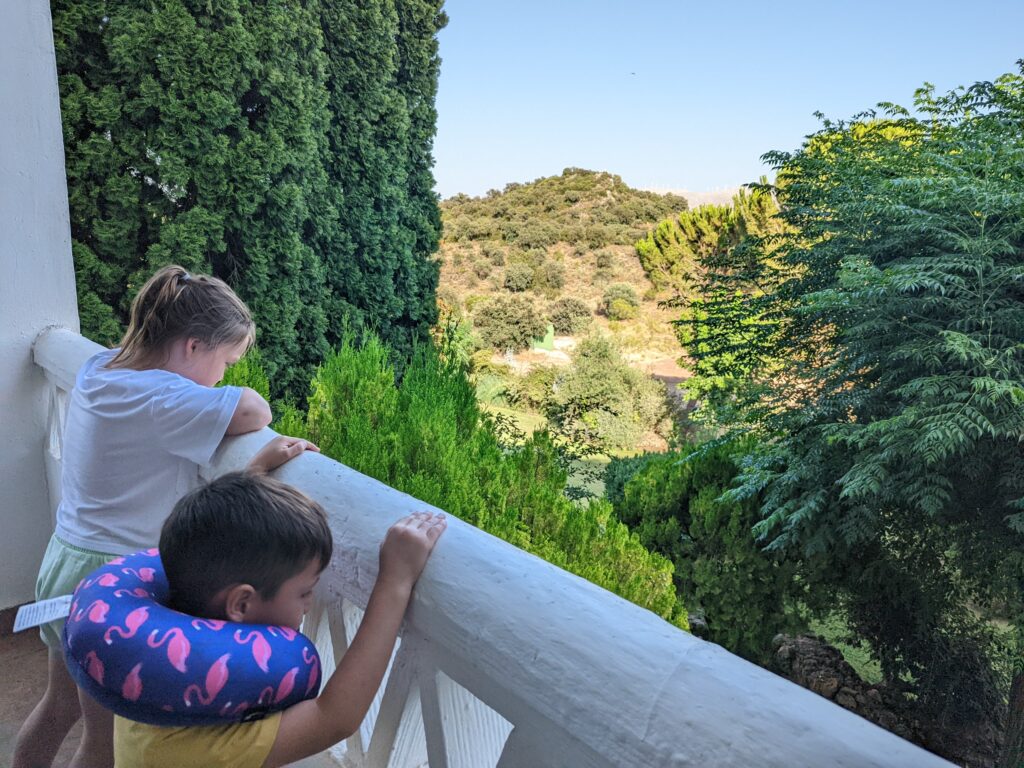 Breakfast was served from 8am – 11am with a continental buffet as well as a separate menu to choose from with eggs, toast and specialty smoothies.
El Mirador overlooked the spacious pool area and was open from 12-1.30pm (reduced menu), 1.30-4pm (full menu) and from 4-7pm on a reduced menu again. We enjoyed a freshly squeezed orange juice at one of the outdoor tables whilst the kids were entertained in 'Kids Club' (suitable from 4 years old, with sessions running from 11am – 1pm and 5.30pm -9pm) During the kids hour at club, the kids were lucky enough to go with Uma, who was super lovely, and fee the turtles bread she had snuck out of the kitchen for them!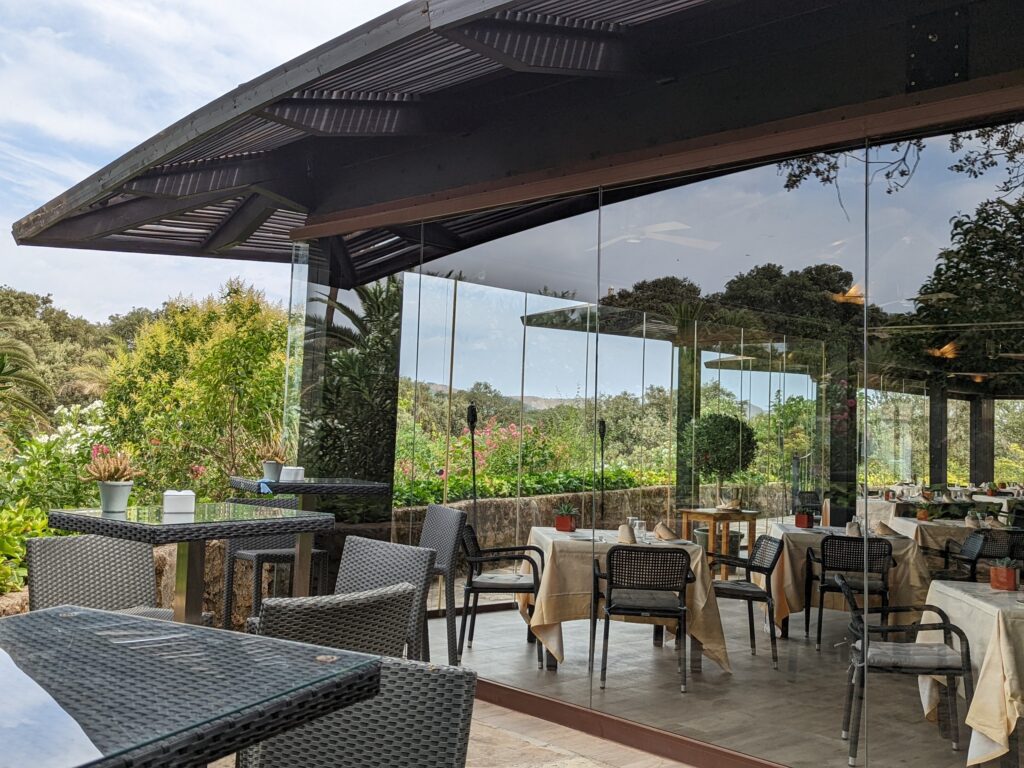 El Cortijo was a lovely restaurant, predominantly outside with an upper and lower terraced area, which served a lovely range of foods and drinks. All reasonably priced too which was a nice surprise! Our meal began with the obligatory bread and oil, I opted for a filled ravioli with a pesto sauce, the kids went for chicken and rice and Stu opted for a filled and rolled pork tenderloin. All was yummy – I can vouch for it as I had to sample it! Dessert was just as tantalising and delicious, I wish we could've stayed longer.
The pool area, which was literal heaven – I have never seen anything so picture perfect. Three swimming pools surrounded by loungers and coconut topped parasols plus a buzzer to get drinks served to your seat. Or, there is a bar if you want to get your step count in! The pool is open from 11am – 8pm and the spa (which unfortunately I didn't get to sample) which is open from 10am – 2pm and then 4pm – 8pm.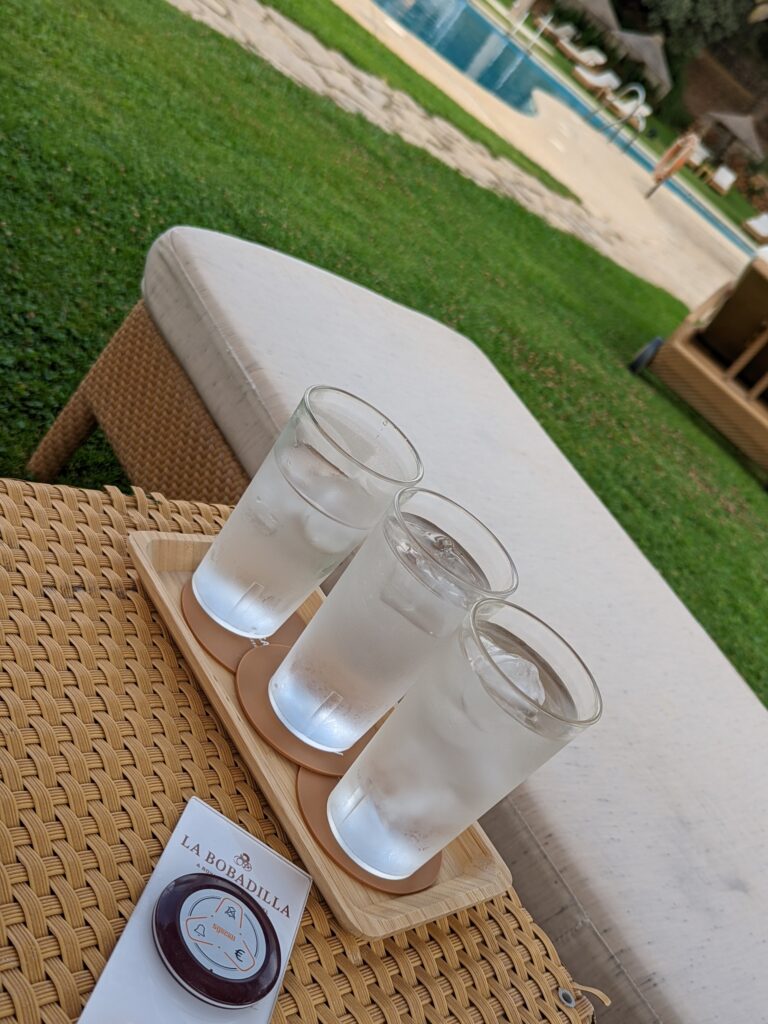 The outdoor space is almost as luxurious as the inside. Set in acres of land there is plenty to explore on La Bobadilla's private land. There's five trails to take with varying distances and terrains; green, red, yellow, orange and brown. Orange being the furthest at 4.6km and red the shortest at 2.2km. Bikes are available to hire, as are golf buggies, if walking is a stretch too far.
The highlight of the outside space for me was definitely 'The Land of the Turtles'. Wow! A huge pond area filled with the friendliest turtles who all swam over and frantically attempted to scale the rocky walls to greet us. We spent a fair amount of time watching them grip their little toes, only to fall back trying to escape.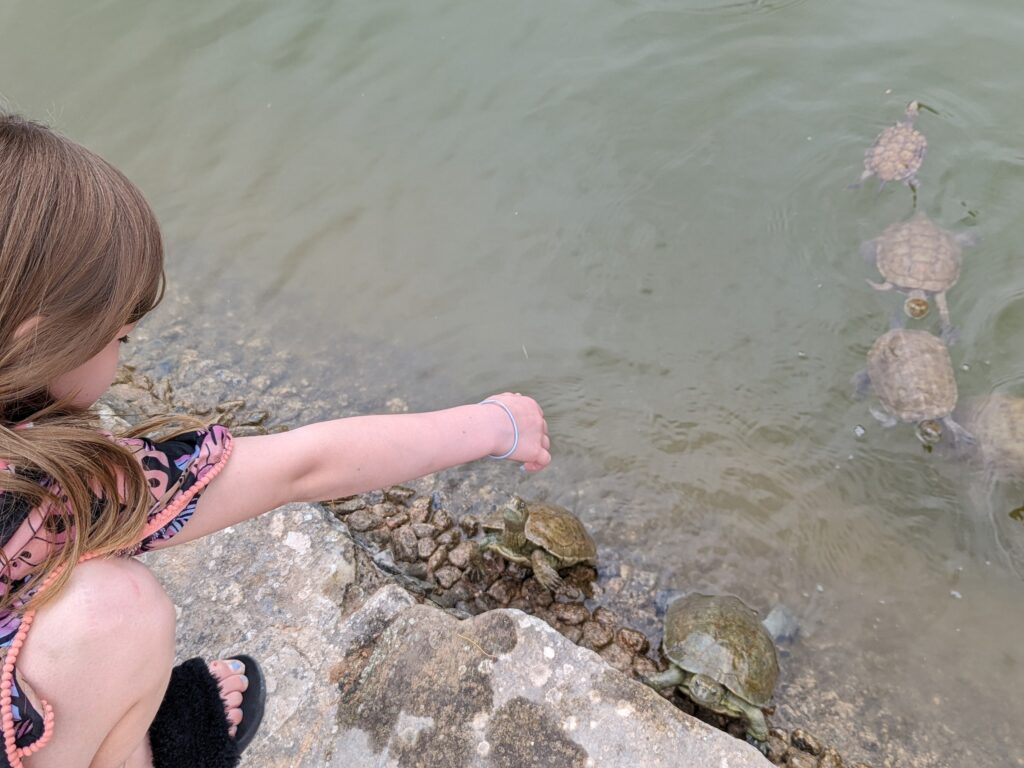 La Bobadilla, you've totally stolen my heart. The most awesome, breath taking destination. We will be back…minus the kids!
You can find out more about La Bobadilla here