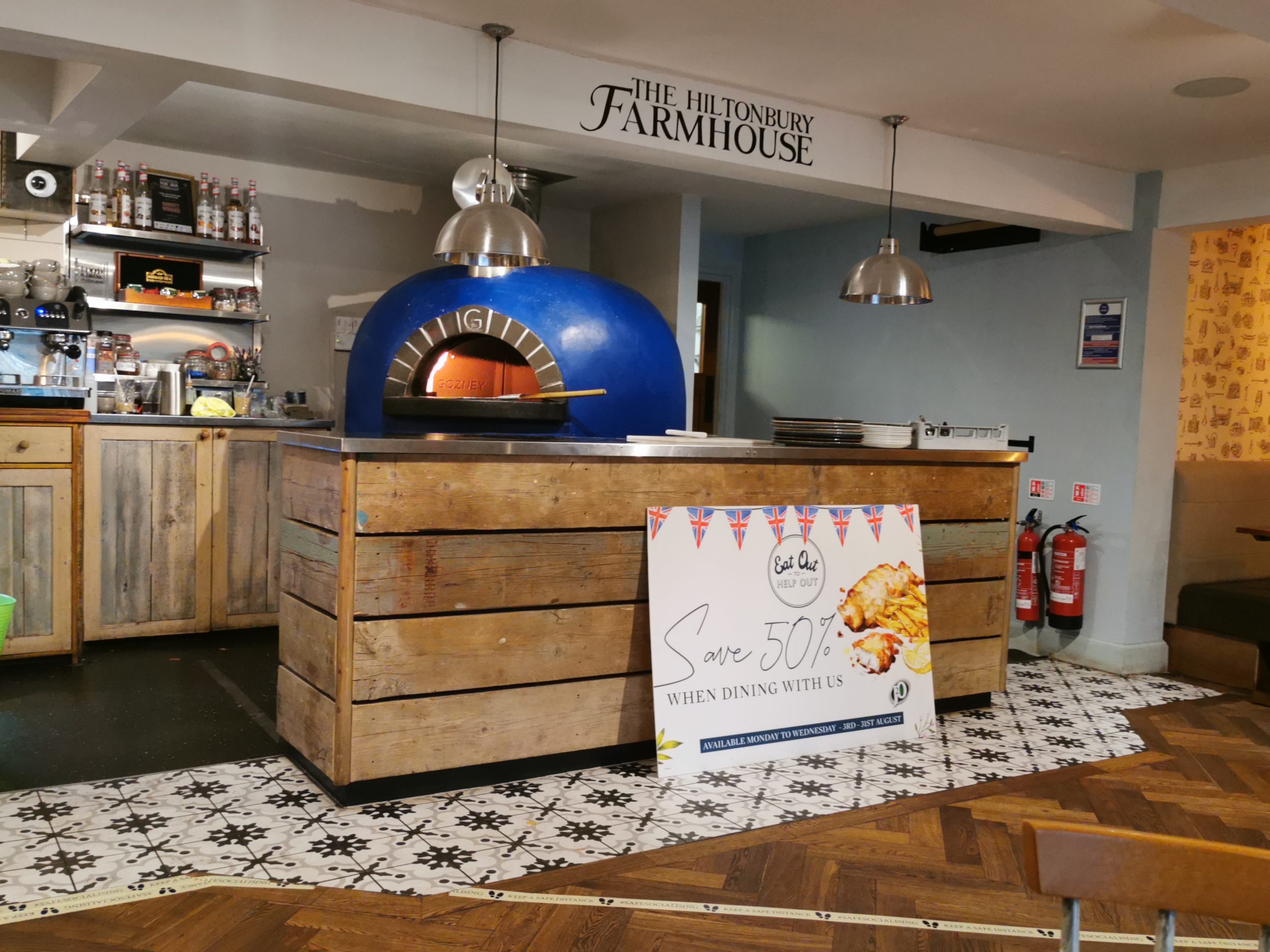 Love Local with a night at The Hiltonbury Farmhouse
The place I've eaten at (again) this week is The Hiltonbury Farmhouse, a lovely independent award winning pub, bar and restaurant nestled in the heart of Chandlers Ford.
The Hiltonbury Farmhouse was once a 'boozer' and definitely not renowned for its culinary delights. Back in 2018, new owner Rob brought the pub – gave it a full overhaul and turned it into a family friendly place to go with amazing, locally sourced food – and phenomenal pizzas cooked fresh to order in the Gozney oven. 
The Farmhouse, like all pubs, was closed in March to help the fight against COVID-19. During this time, they began their 'Farmhouse to Home' delivery where local produce – including those highly sought after items like toilet roll, flour and yeast – and more importantly, gin, were delivered to your door.
Alongside this Friday and Saturday became 'Fish and Chip' or pizza night where we got to enjoy a taste of the farmhouse in our own living rooms. 
Since they've reopened in July, The Hiltonbury Farmhouse have put so many precautions in place to keep it as safe and friendly as possible. There has been more outdoor seating created (which look amazing) and indoors has a strict one way in and out with tables all distanced, whilst still keeping the same wonderful atmosphere. 
Aside from that, the only new addition is the Hopt app where you can order food and drinks direct to your table. All of the same friendly faces are still there (albeit behind masks) ready to help with whatever your request – and with the HUGE gin selection, there's always some questions that need answering! 
I dined outside with friends on Tuesday evening. We sat on the long benches, separated with plastic screens, but we did have the luxury of outdoor heating at a push of a button.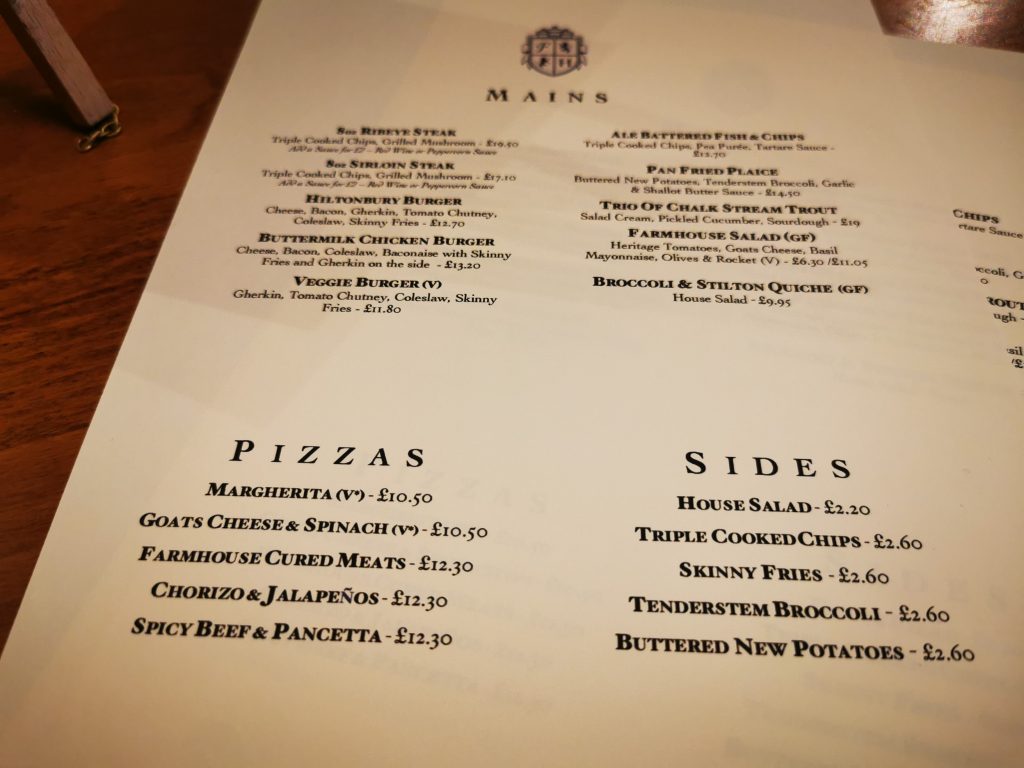 For one of the only times I didn't go for a pizza; I decided on the Buttermilk Chicken burger, which was served on a wooden board, with skinny fries and a sliced gherkin. The burger was crisp and crunchy on the outside and beautifully tender inside, as well as the chicken there was coleslaw, melted cheese and bacon.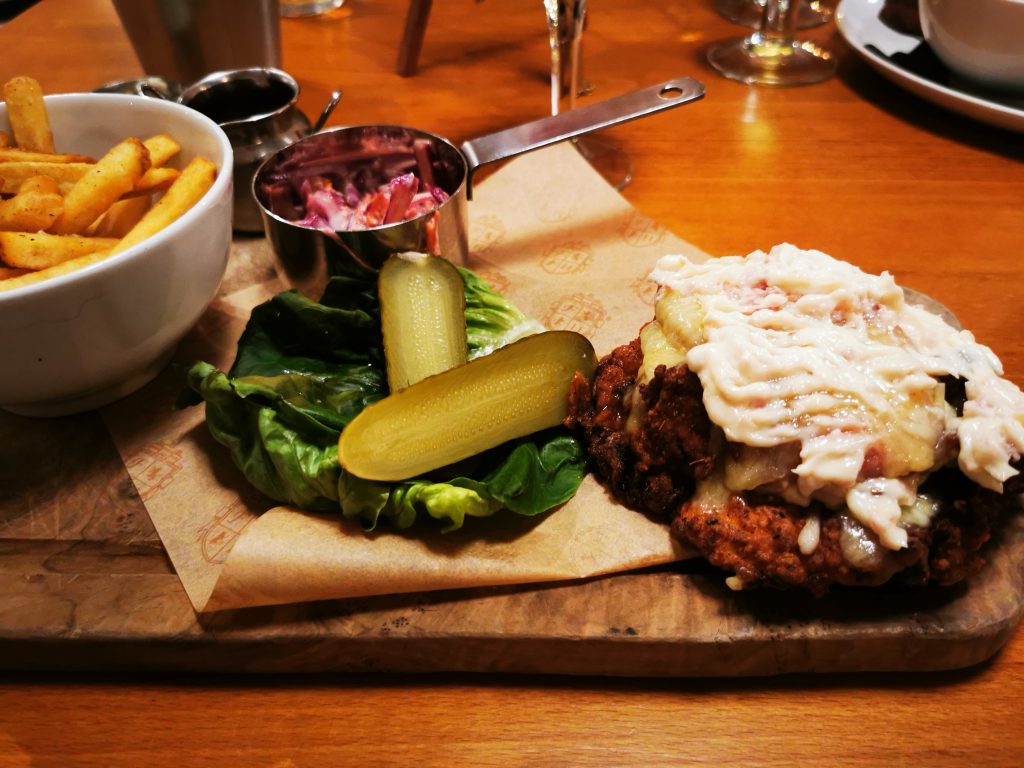 It was AMAZING and is definitely up there with one of the best burgers I've ever eaten. And I eat a lot of burgers! 
To finish, I had chocolate brownie with ice cream. I didn't really need this as I was stuffed but I just can't turn away a dessert menu #ChubbyGirlProblems
The brownie was slightly disappointing as it was more like a chocolate sponge cake… but of course, I ate it. 
It was all washed down with a couple of rhubarb gins and ginger ale.  
And for the month of August, they're participating in the Government's Eat Out to Help Out scheme too, so go book your seat now!