A little box of calm? Sign me up!
If I could offer you a little box of calm, would you snap it up? I most definitely would! I'm envious of all these people who have sailed through lockdown all chilled out and fully in the moment, I've been like a dog chasing my tail for most of it.  Of course, there has been some quieter times and those were usually on a Wednesday morning when the wonderful Carly of Calm Skies was running her (free) 30 minute themed yoga sessions via Zoom.
Sofia was an active participant every week, sometimes joining the Friday session too, so when Carly asked if we would like to be guinea pigs for a new project she was working on, I jumped at the chance. A few weeks later a lovely eco-friendly box was delivered through our letterbox and Sofia ripped it open with delight. A delivery of happiness!
Introducing the Little Box of Calm…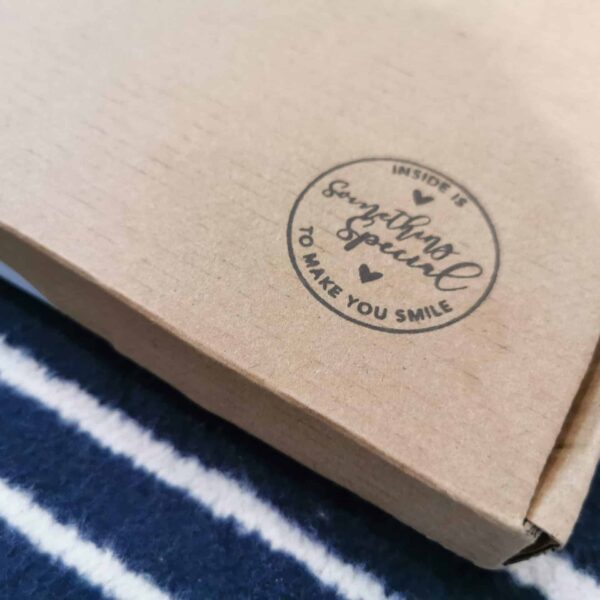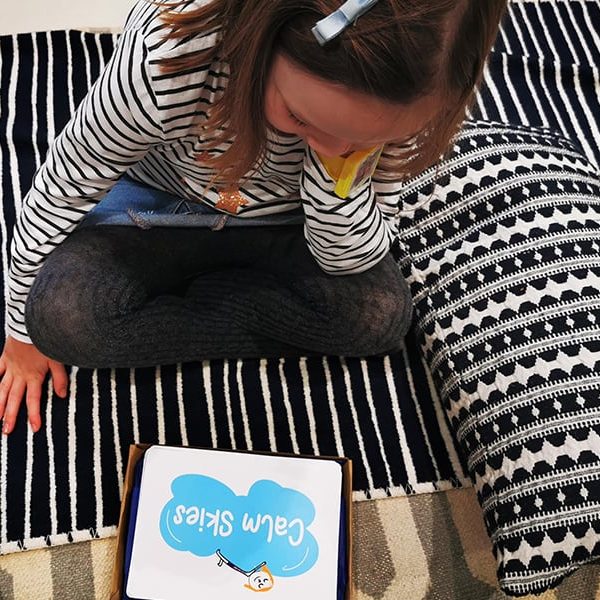 What is it?
The Little Box of Calm is a personalised box filled with a whole host of treats, ideas and activities for children aged 4-8 years to enjoy. Each month, the box has a different theme to help encourage children to create, breathe, feel, learn and be inspired, whilst drawing on their natural curiosity and nature.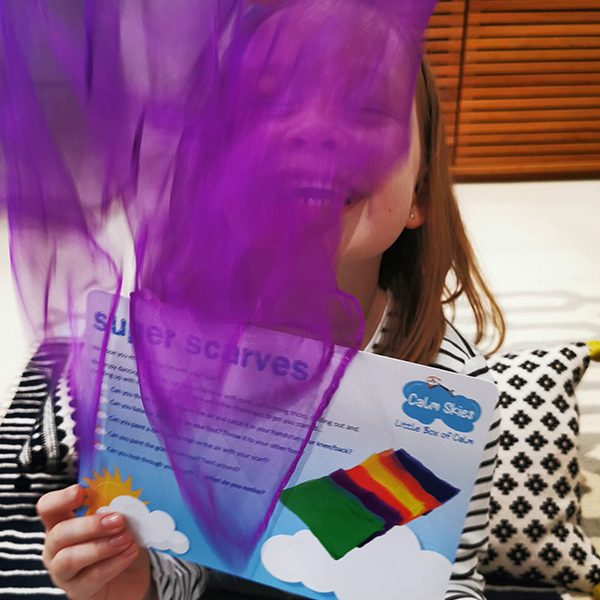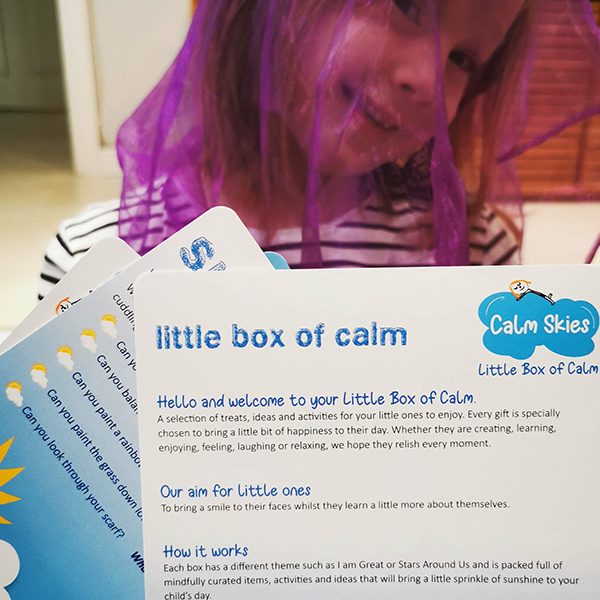 Why Little Box of Calm?
In our fast paced living, a little time for children to slow down, have fun and get to know themselves a bit better can have huge benefits. These range from improved sleep and focus, to an increase in positive feelings. We found that although Sofia loves screen time (we would not have survived quarantine without TikTok) she really enjoyed 'getting back to basics' with rainbow scarves, some well thought out yoga positions, some bits to do out in the garden and some tasty fruit kebab ideas!
And who wouldn't want to bring a little happiness, calm and positivity to their day? I wish these came in adult size!
Happiness, Positivity & Calm
The main aim of these lovely little boxes is to inspire little ones to take a look around them, to wonder in nature, to take time to breathe and be mindful in the moment, which in turn goes towards support children's wellbeing. Because of the Calm Skies yoga sessions, and subsequently these boxes, we have learnt about gratitude and self care, we talk about what we are grateful for (usually ipads and sweets…but it's a start!) and it encourages us as parents to understand more about how their little minds work – the boxes are there to help increase positive feelings and nice tummy flutters to our little ones.
It also instills in them how to relax and calm their busy little minds. As an over-active thinker, I am so keen to not pass any of my behaviour down to them, I want them to be able to know when things feel too much and for them to just relax their minds temporarily.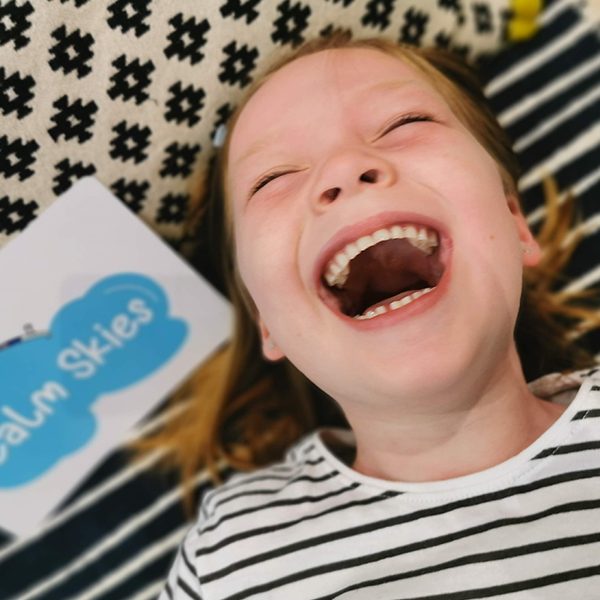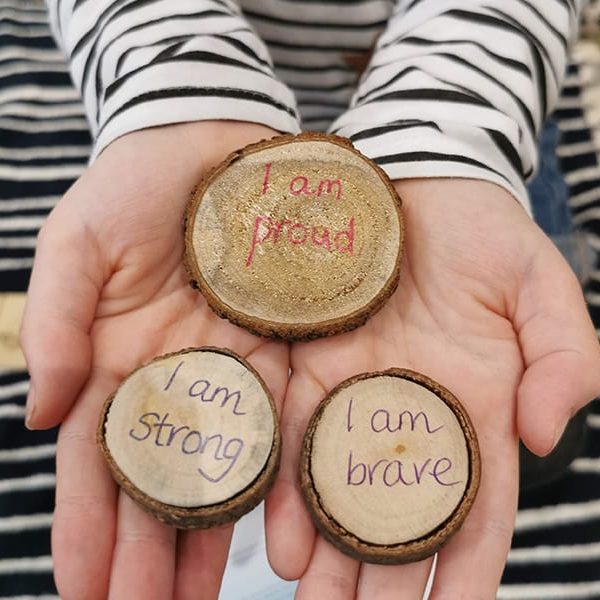 How much does it cost?
It costs just £14.99 per/mth and you can cancel or pause at any time. You receive 6 or 7 activities plus a few mini treats, access to a private online platform offering yoga, relaxation, stories and resources plus an 'unboxing' each month that goes through that month's specific activities. Sounds awesome right?!
If you head over to the Calm Skies page and  join their mailing list, then you'll get 50% off your first box too!

What we love most about our Little Box of Calm
What I love most about this box of tricks and treats is not only the quality of the products and the activity cards inside, but that it has been created by an experienced primary school teacher and a children's yoga and mindfulness leader.
This is really important to me, I always say that people in the teaching profession must LOVE their jobs as I can barely cope with two of them under my feet, let alone 30 of the little monkeys! So the fact that these little brown boxes have been filled with children's happiness, joy and calm in mind – by someone who knows their stuff gives me total peace of mind.

*We were gifted a Little Box of Calm, but I was under no obligation to post about it. I just wanted to as it is so fab!