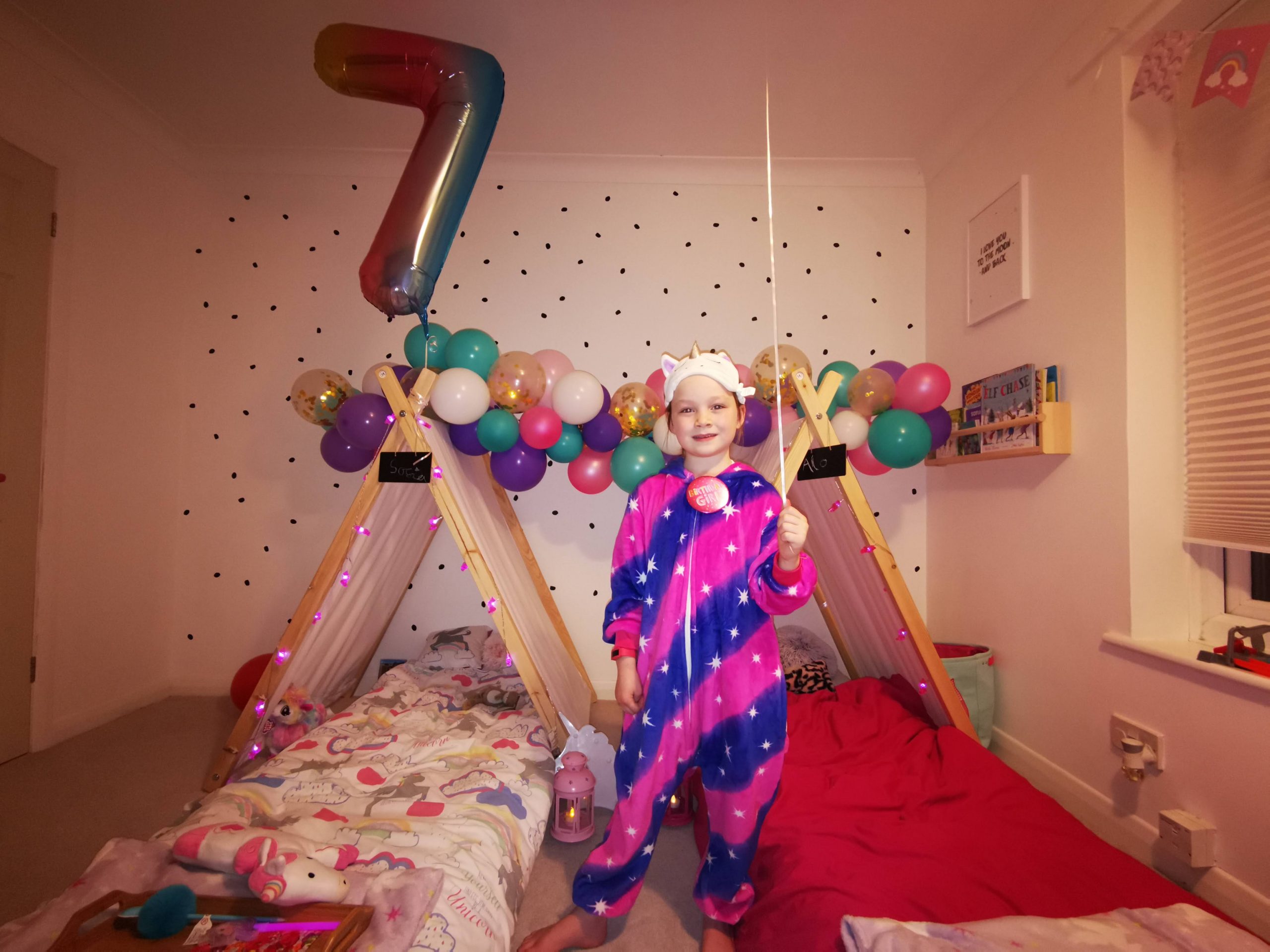 Lockdown birthday? Smashed it!
We're becoming quite the pro's now at lockdown birthdays. Arlo started the year with lockdown coming in three days before he turned the grand age of 3, Stuart's 40th was spent inside our four walls and when Sofia turned seven at the start of the month, we found ourselves in the same four walls we'd been in pretty much all year.
Did that bother her? No way. She had the BEST day EVER, apparently.
We did that thing, which I think lots of parents have done this year, and totally over-compensated for the situation we're in and went a little more extra than usual. And we all had a day off home schooling, because 'we don't homeschool on birthdays Mummy'. And who was I to argue?
The day began (very early – hello 5am) with a Scavenger Hunt around the house to find and seek her presents, we'd written out little clues for her to find her gifts and she ran around the house excitedly collecting them up taking them to a pile and then dashing off to find the next one after working out the clues. I really enjoyed this as it meant the process dragged out a bit longer, and it was more fun than her just coming down to a little pile of gifts on the table.
Once she had collected her presents up, I asked her to grab something for me from the playroom…and this was where her biggest surprise lay in store! We had rented teepees from the lovely Karina at The Sleepy Teepee company, and Sofia had no idea about it.
I hired two teepees, one for her and one for Arlo. Both unicorn themed, with a big number 7 balloon and a unicorn coloured balloon arch to go over the two tents. It looked amazing!
After a breakfast of nutella and strawberry pancakes, Sofia wanted to put one of her presents to good use. Out came her Zimpli Kids foot spa*, complete with massage balls and essential oils as they sat on their stools soothing their aching feet. It's a hard life being seven and three…
We had doorstep present drop offs, visits from family and school friends, cake deliveries and of course, a little walk…because, what else is there to do to get us out of the house in a pandemic!?
The day ended with a Gelli Slime Baff* before onesies were put on, Domino's delivered and a viewing of the new Aladdin – from our teepees…
As lockdown birthdays go, this was a pretty good one!

*Zimpli Kids approached us to see if we'd like to road-test some of their slime and Gelli bath products – with Sofia's 7th birthday looming on the horizon, we jumped at the chance!