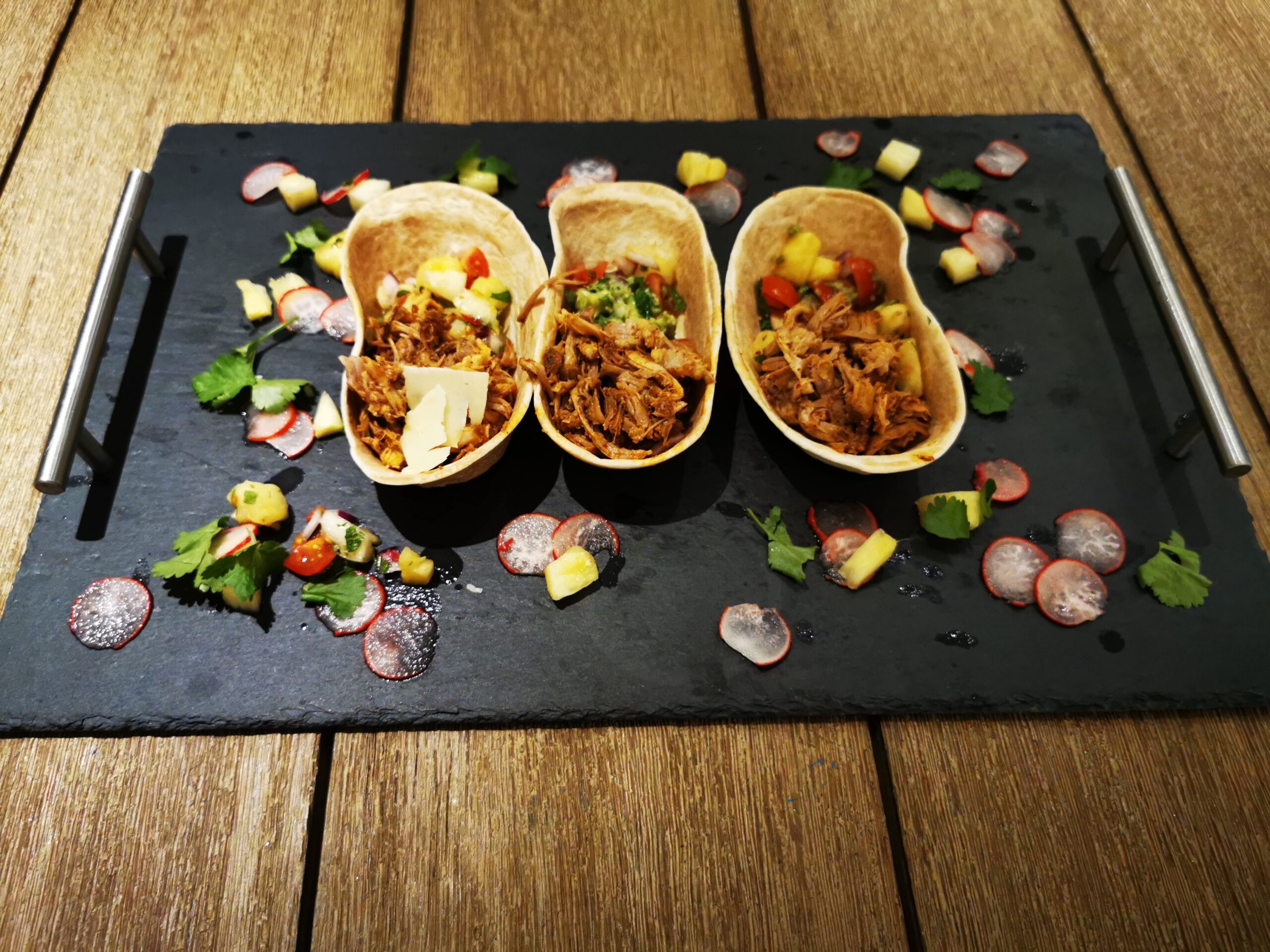 My favourite meals of the year – 2021
At the start of the year I planned to start a monthly 'my favourite meals' series, but that didn't happen…so here's my favourite meals of 2021 instead!
In 2021, we decided to try 'Meat Free Weekdays' and it has been brilliant, as the year has gone on we've incorporated a lot more vegetarian meals into our meal plans. We're not strictly meat-free for five nights of the week anymore, but certainly more than we've ever been previously.
I really haven't missed meat and Stu definitely hasn't missed me inspecting chicken to check if it's cooked enough or not!
Without further ado, here are some of this years food highlights… 
Stand and stuff torn chicken with pineapple salsaThis was probably one of the more boujee meals of the year, I mean we don't present our meals like this usually. But with us all WFH, we set some team challenges and one of them was 'Rate my plate' – this was our winning entry. Mexican torn chicken with a pineapple, radish and tomato salsa put into stand and stuff boats.
Halloumi Burgers with Zingy SlawHalloumi has featured quite heavily for us this year and a big slab of it grilled, topped with fresh pineapple and whacked in a brioche bun was a winner for me. Homemade chips and a zingy slaw was the side guest to the main event.
Tiktok 'Boursin' PastaAs lockdown kicked in, so did the world's TikTok obsession. Dance crazes got us through the initial lockdown and then the food craze started. It was the feta pasta, but as I'm not a fan of feta we mixed it up with boursin and OMG it is so good….and so easy, even I could cook it singlehandedly!
Pak Choi & Mushroom Loaded NoodlesI am a big fan of mushrooms, and especially exotic ones – so mushrooms, pak choi and spring onions mixed up with egg noodles was delicious. We have definitely had this one more than once!

Duck salad and triple cooked chipsThis meal came courtesy of the wonderful Harbar on 6th. I ate here (for the first time) with two of my best friends – the food, the company and the atmosphere was an all round win for me. The duck salad was absolutely delicious and a really generous portion too…but I of course still had room for chunky chips, because who just eats a salad?!

Steak, dauphinoise potatoes and vegetables
A full Aldi special here. Sirloin steak with simple salt and pepper seasoning, dauphinoise potatoes and mange toute, asparagus and tomatoes. Nothing wild or 'out there' but sometimes the simple ones really are the best.