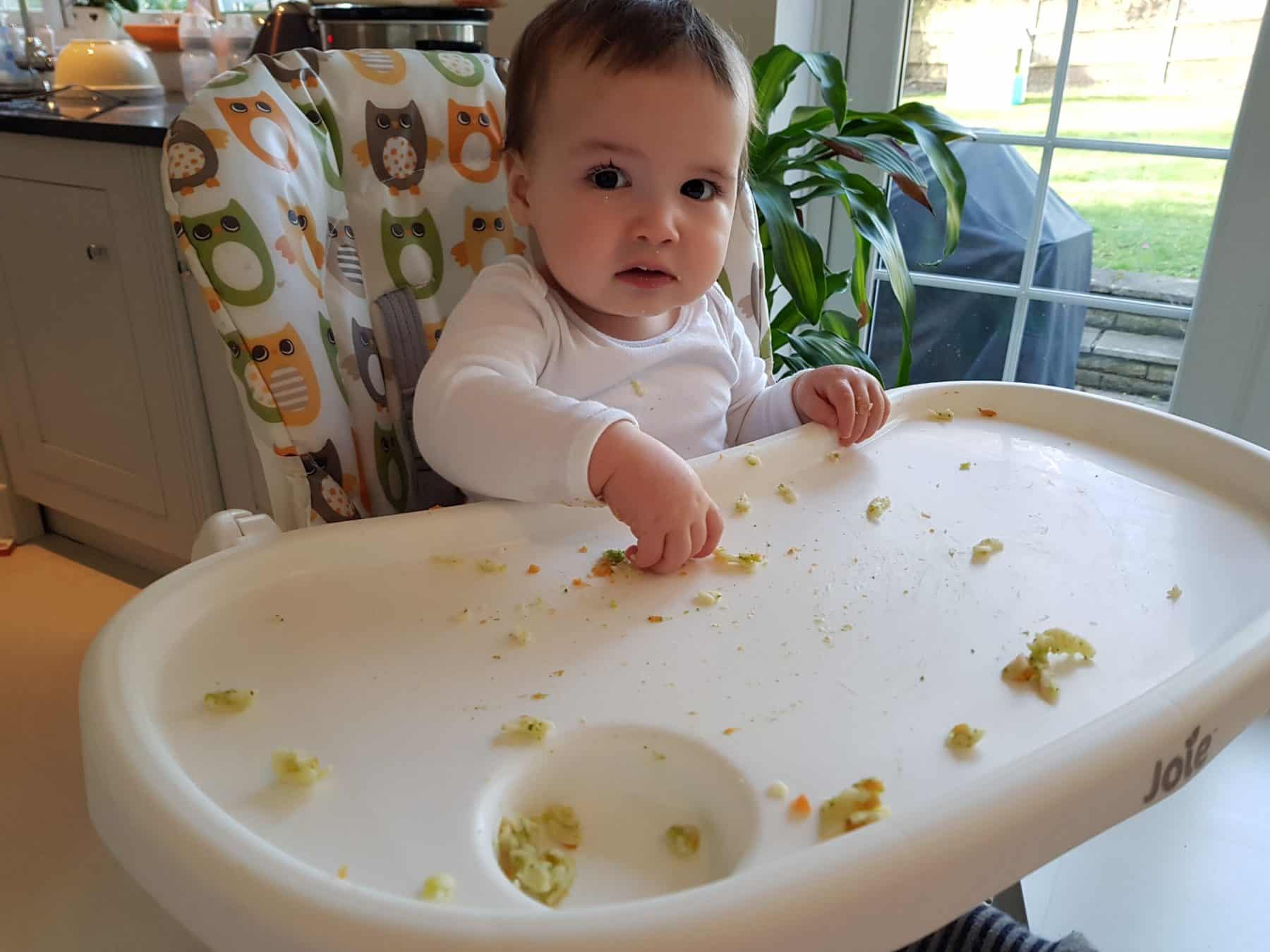 My weaning essentials | Baby led or Spoon fed.
There's a lot of things you can't predict in parenting but when you start the weaning adventure – believe me when I say…it will definitely get messy!
We're out the otherside of the 'early' weaning days and as Arlo is about to turn one, he eats anything and everything (and lots of it) so we've got to the 'still messy, but more fun' stage! If you're interested, or looking for some recipe or food ideas, you can see a typical food week for Arlo at 11 months here.
With Sofia and Arlo I opted for spoon-fed feeding predominantly, with finger food snacks. That way I could be assured I knew how much they were eating – and also keep slightly more in control of the mess [thank god for tiled floors!] If you're unsure of the right road to go down for your little one, I did find a great article which you can read here.
Here are the top ten weaning items I couldnt live without;
Highchair – Freestanding or table top – for Arlo we have both. The Joie Mimzy Snacker highchair for when he eats solo and the Chicco Pocket Snack Booster Seat  for when we eat together as a family – which is usually breakfast at the weekends.
Cover All Bibs – An absolute essential; the more material the better! We have these Mothercare ones which are well worth the investment – long sleeve with velcro fastening for easy on and off and a pocket to catch 'everything' in. Ikea also do a similar one – but I valued my life and my sense of humour and wasn't going to battle the crowds for a bib. I'd probably prefer a messy child.
I tried lots of different spoons with Sofia and I hadn't really given it much consideration for Arlo so when I was doing a shop I chucked some NUK spoons in, I wasn't expecting much as I wasn't really familiar with the brand but they are 

amazing. 

I never thought I'd say a spoon was amazing but they're great. Soft tipped and shallow but with a base to keep germs off the spoon….and mess off the table! 
Nuby pots – we've got these in two different sizes and they're great for freezing batch makes in, but also for snacks to be kept fresh and chucked in the changing bag for on-the go treats.
Wipes. Wipes. And then more wipes – you know how you used to think wipes were great for bum wiping – and occasional make up removing – well, now you'll see them in a whoile new light. Wipes for hands, faces, highchair trays, tables and every inch of floors in a 5m radius. Personally, we can't rate the Aldi Mamia wipes enough!
Pre-prepared pouches. You know that meal that you've slaved over for hours and made up 10 other pots of it to freeze? They don't like it. What now? That's when the pre-prepared beauties come in…also great for keeping in the changing bag if you're ever kept out later than planned! There's a few we love – Arlo especially loves for aisha meals, you can see for yourself here!

Weaning books…or just the internet! The Cow and Gate five step weaning plan is great for handy tips to start you on the weaning journey (order your free copy here). I find the internet great for ideas and recipes rather than being pigeon holed to one book. Parenting forums are usually great for a variety of recipe ideas – tried and tested by 'normal' people!
Trainer cup – this Boots trainer cup is one of the best we have tried. Arlo seems to really get on with it, gripping it well and managing to drink at a steady rate rather than pouring it all over himself like some of the others we've had.
Highchair toy – these are a must to keep hungry mouths and minds pre-occupied whilst you wait for it to be warmed. We have the Playgro highchair spinner one, it's not used so much on the highchair now and as it comes off the 'suction stalk', it doubles up as a great little toy!
Floor mat – if you have got a carpeted floor, I'd be pulling up the rug to see what your floorboards are like underneath…cos it's gonna get messy! Or, if that's a bit extreme then you can invest in a floor mat like this one  to protect your flooring. It's highly likely that they'll be bits of broccoli, sweet potato and a whole lotta banana about to be launched onto the floor – with the portable mats you can be sure that everything thrown down can quicly and easily be scooped up like a table cloth and put straight into the sink once feeding time is over.

This post does use some affiliate links; this means I could potentially earn a small percentage of commission if you make a purchase through any Amazon link within this post. However, everything that I've recommended – I have tried first hand (and not been paid to promote!)