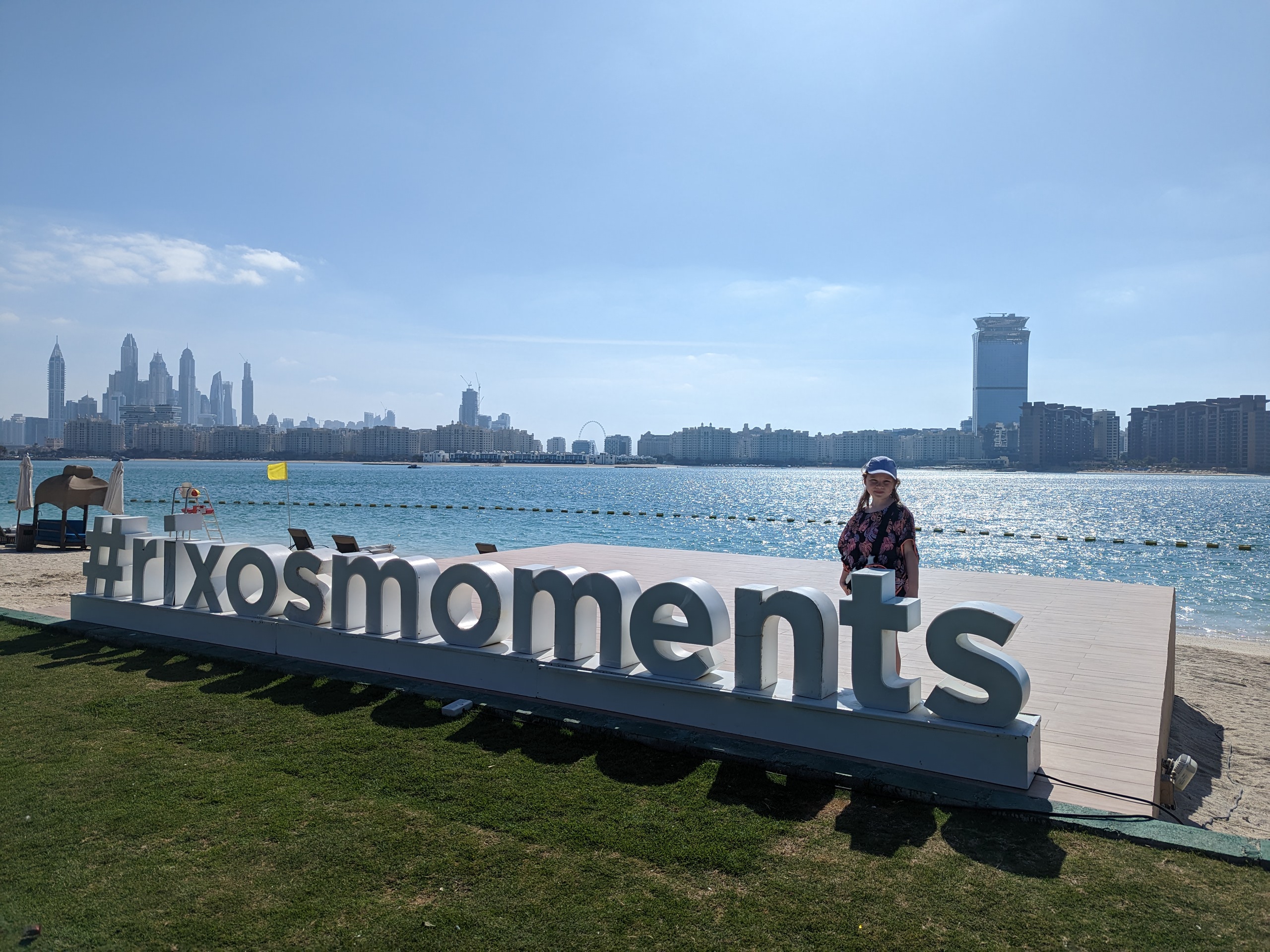 Our stay at Rixos The Palm, Dubai
What can I say about our stay at Rixos The Palm in Dubai? Wow. Exceptional. Amazing. Saving to go back again. Genuinely the best place we have ever stayed and one of the best holidays we've ever had…and I never even wanted to go to Dubai!
From arrival to departure and absolutely everything in between there isn't one thing I can fault; I described the service to friends as totally natural, not forced or stuffy, but 7* amazing.
We checked in to the hotel before our room was ready, due to our fight time, but our cases were taken to the spa area so we could locate our swimming stuff and enjoy time around the pool whilst our room was serviced. We were given towels to use and told to make the most of the facilities; we were shattered after a non-sleeping night flight but soon perked up when we saw the fresh fruit stall, ice cream stand and swim-up bar in the main pool.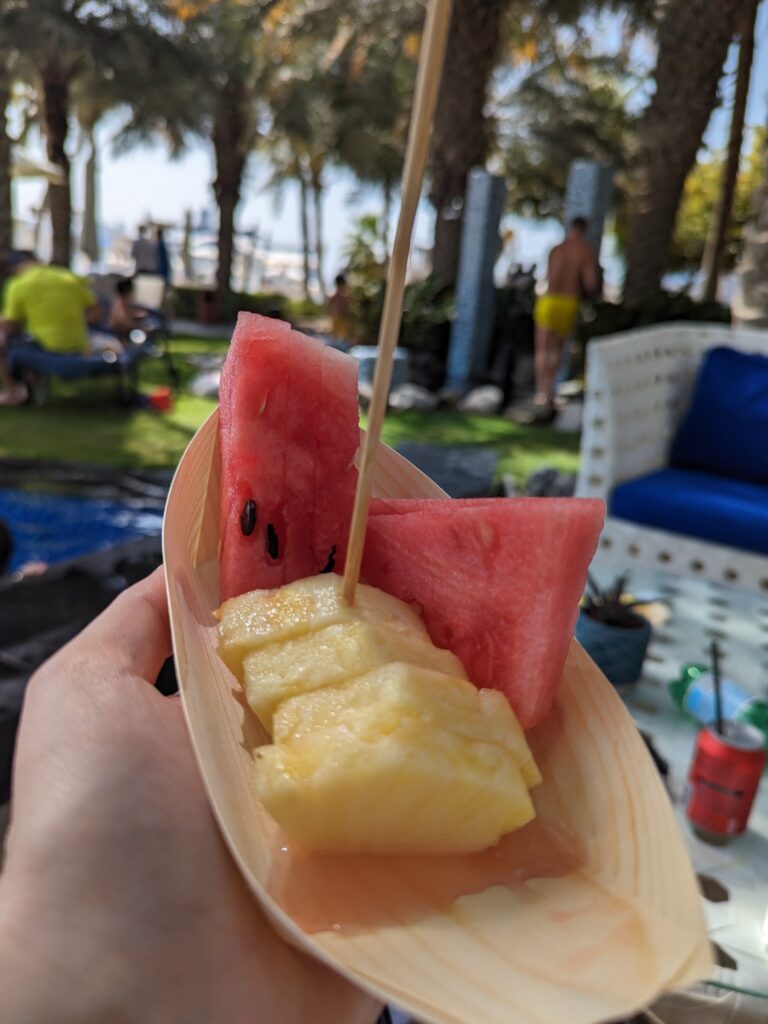 Rixos the Palm is a luxury five star resort and one of the only 'ultra all-inclusive' hotels in Dubai, they do also offer half board options. We travelled in February, staying all-inclusive for 8 nights as a family of four and the holiday cost us around £8,000 (which included flights by Emirates).
Our room at Rixos the Palm
As soon as we walked into the room, we felt right at home. An obligatory jump on the bed took place before sliding the balcony doors open to stand out and lap up the stunning view of the skyline. The room was open plan, with shutters which blocked off the bathroom for privacy. Our lounge area turned into the bedroom for the kids with a comfy pull out sofa bed.
The room had air conditioning, a complimentary mini-bar which was restocked daily, dressing gowns and slippers, WiFi and sky TV. The bathroom had a closed door toilet and bidet and a separate closed door rainforest shower, an open plan bath and double sink area. When we arrived there were individual Bvlgari toiletries (shampoo, conditioner, shower gel) but as we were leaving there were installing large pump dispensers which are obviously a lot more eco…but a lot harder to pop in your own travel bag for later use 😉
The room was cleaned daily and towels replenished, often crafted in to some sort of animal shape much to the kids delight.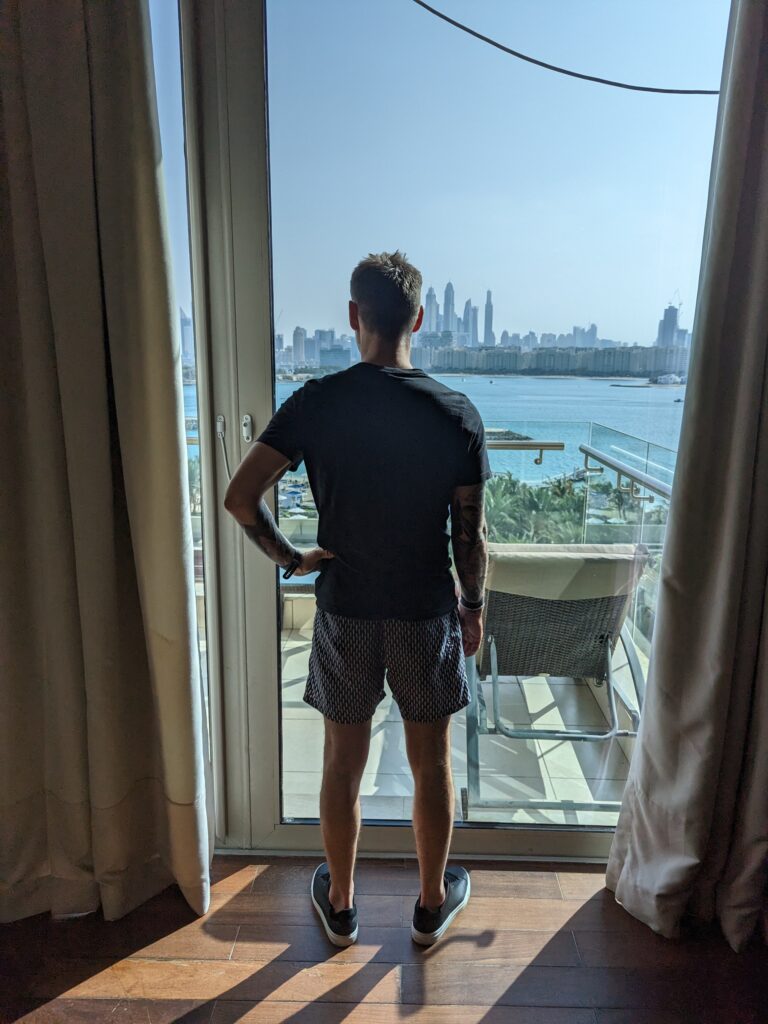 The only downside to the room was the lack of drawer/cupboard space. We had a long hanging rail and a couple of shelves but for a family of four a lot more storage was needed.
Dining at Rixos the Palm
With a big focus on Mediterranean and Turkish cuisine, when eating the food at The Rixos, you really do forget you are at an all-inclusive resort. I am SO fussy (and germphobic) on holiday but the food was out of this world. I have dedicated a whole post on Rixos dining, which you can read here.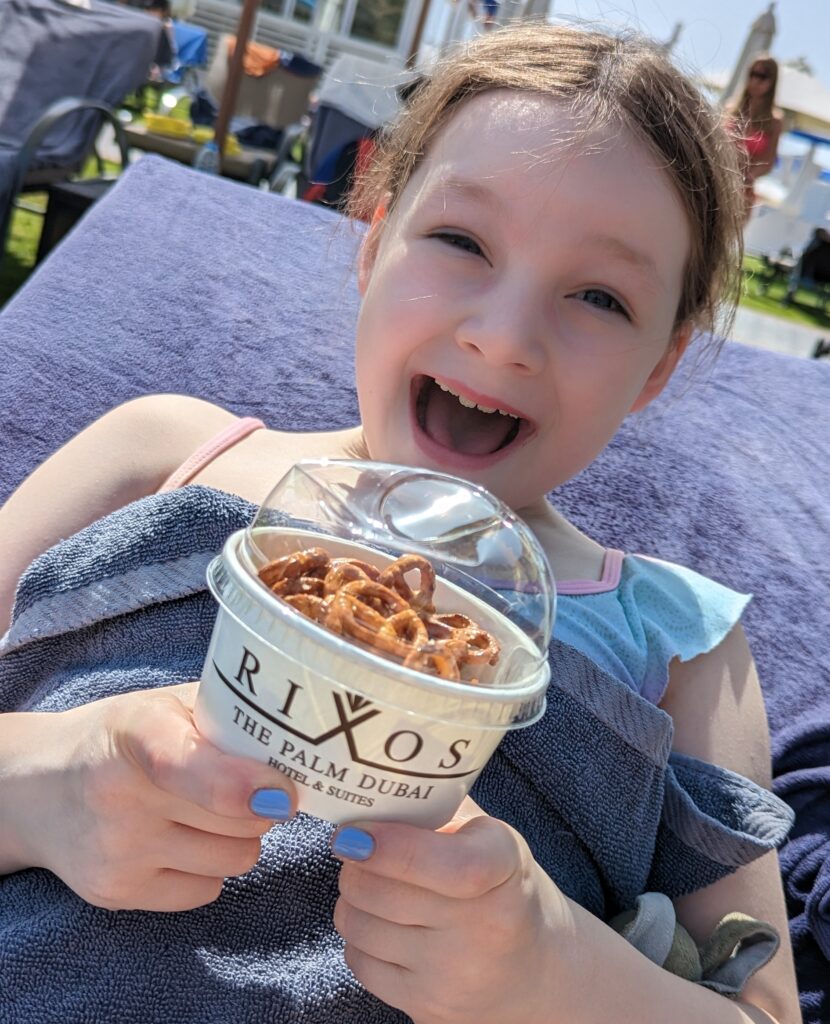 Activities at Rixos the Palm
There are two main swimming pools at the hotel plus a narrow pool for length swimming, and for scuba practice! The main pool is at the centre of the hotel and boasts the swim-up bar. The second pool we found was more of a family pool and had a delicious healthy juice bar linked to it.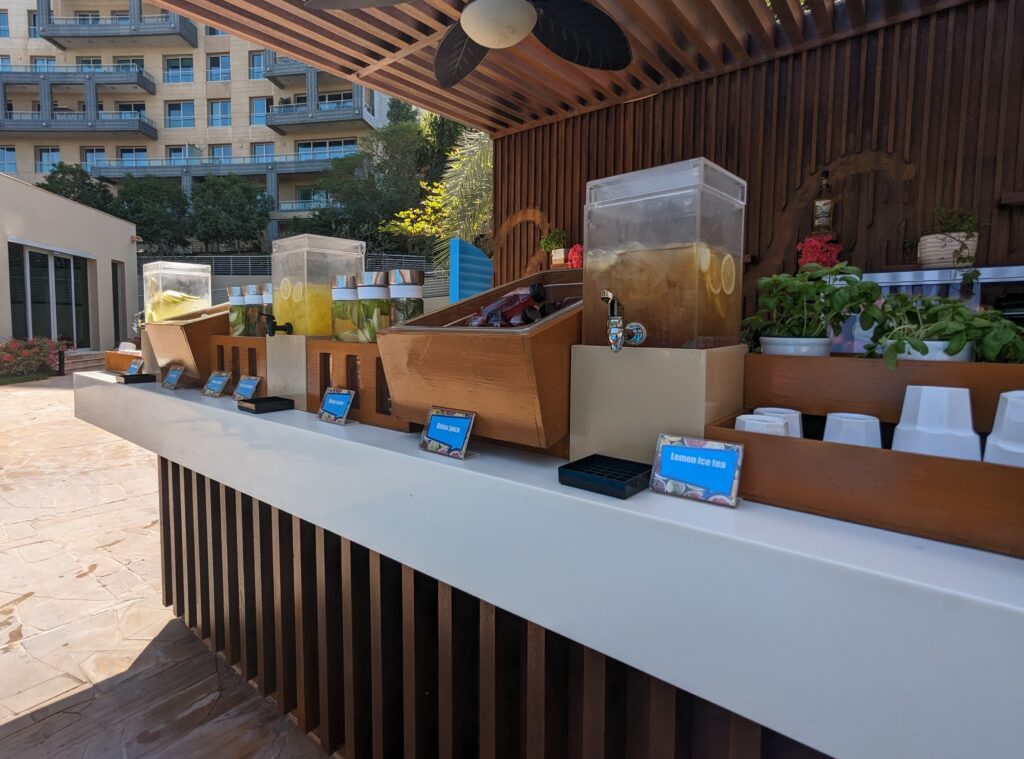 The main pool had a mix of sun loungers and cabanas, whereas the other pool just had loungers. If you want to feel the sand between your toes then the man-made beach is stunning, so calm and still, gorgeous aqua water and there is waiter service down there too. I was presented a delicious still lemonade one really hot morning which was very well received!
The hotel also gives free access to Atlantis Aquadventure, the worlds biggest waterpark, which we took advantage of for two of the days we were there. That's a huge cost saving in itself!
For the fitness fanatics, there was also a fitness centre with certified personal trainers and various class workouts going on throughout the day.
Spa and Leisure
The Anjana Spa is somewhere that I would have liked to take more advantage of but with a husband and two kids in tow, that wasn't an option for me – Stu and I did visit the salon on separate occasions though…rather naively! I'd been having some issues with eyelash extensions in the UK so decided to try out Dubai lashes to see if it would make any difference; I got a beautiful set of Hybrid russians and paid £160 for the pleasure. Gulp. Stu went one further; went in for a haircut and came out two and a half hours later with a fresh trim, threaded eyebrows, ears, cut throat shave and the smoothest hands and feet in the Emirate region. Nearly died laughing when he explained he'd had three people 'working on him' and paid over £500 for the pleasure. No happy ending in sight either…
From what I saw and read, the Anjana Spa at the Rixos brings Turkish traditions together with the latest wellness technology; the Spa offers all of your favourites like Swedish, Balinese, and Thai massage.
Kids Activities at Rixos the Palm
As well as the two pools, there is also the Rixy kids pool which is well shaded and offers splash zones and a pirate ship with slides and other splashing fun. The Rixy Kids Club was brilliant and catered for all ages from morning to evening. The level of activities at this club was, as to be expected, out of this world. Kids could take part in yoga, canvas painting, colouring and craft, face painting, sand painting, pottery and when we were there we even got to experience the Rixy Family Carnival. It was amazing! Like a school fete, but everything was free…and there were no annoying PTA mums chasing you about to join up. LOLS. I couldn't believe the effort that went in to a three hour fun event. It was brilliant.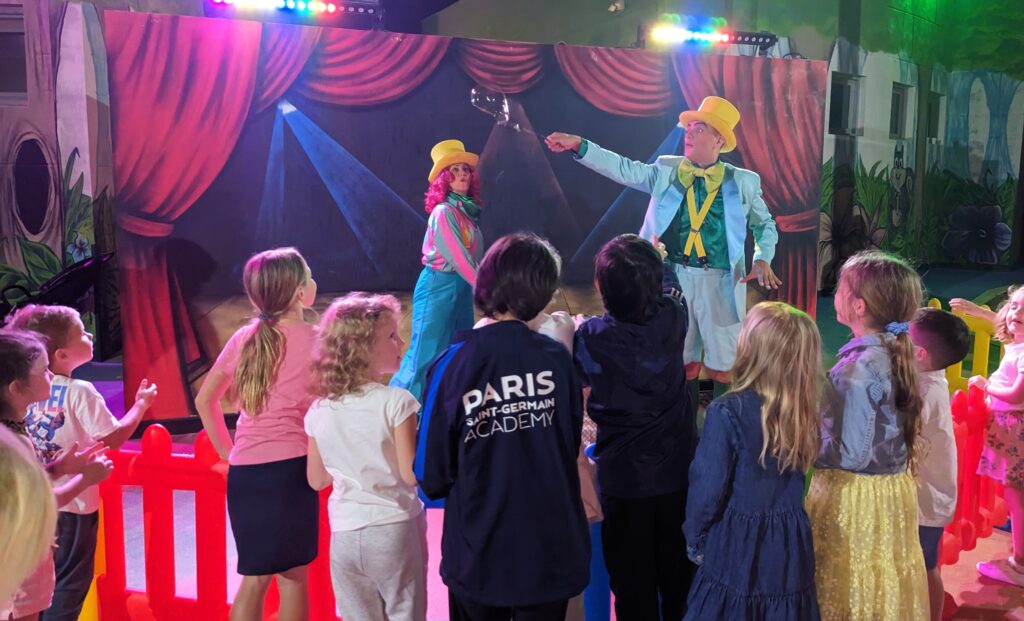 There was also a scuba diving company who took children out into the beach to snorkel amongst the coral. We found this really reasonably priced for what it was and Sofia went out spotting all sorts of fish. They give you an hours practive run in the pool first to get you used to the equipment and various signals that they use underwater. What an experience for Sofia, we all looked on from the shoreline envious at her snorkelling around in the emerald water!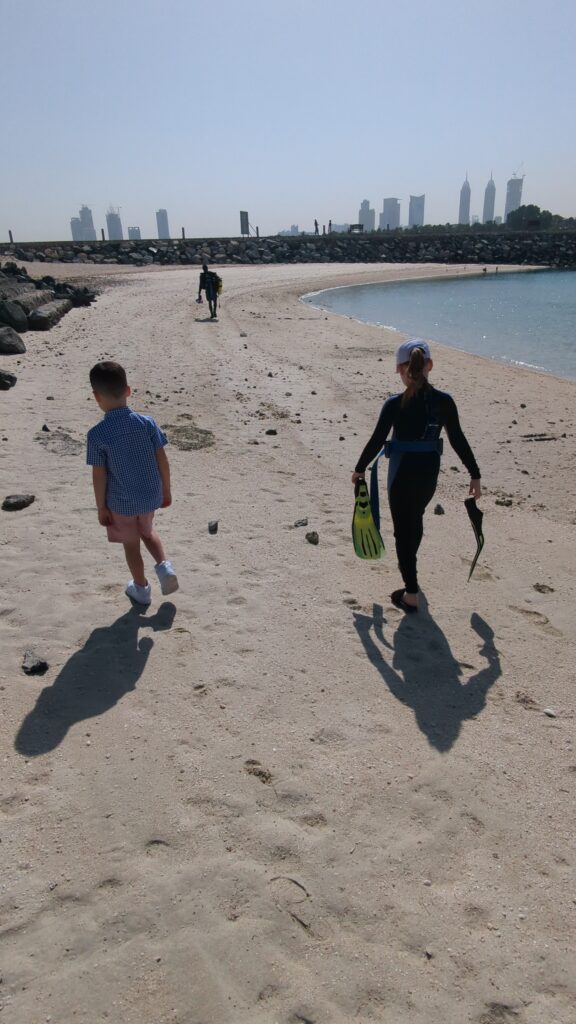 Location
Rixos the Palm is located on the Palm Jumeirah – the palm leaf shaped area that looks exactly as I remember it when watching X Factor celebrity houses footage!! The Palm is home to many luxury hotels and you will find Rixos the Palm at the very end of it. This meant that there was no traffic going past or lots of people walking by so it felt really safe and quiet. It was about a 10 minute drive to get off the Palm from the hotel; we had opted to hire a car for the week but there were taxis readily available to either book with concierge or order your own Uber.
The Rixos on the Palm is the kind of place where you can easily while away the hours and never feel the need to leave the hotel if you don't want to!