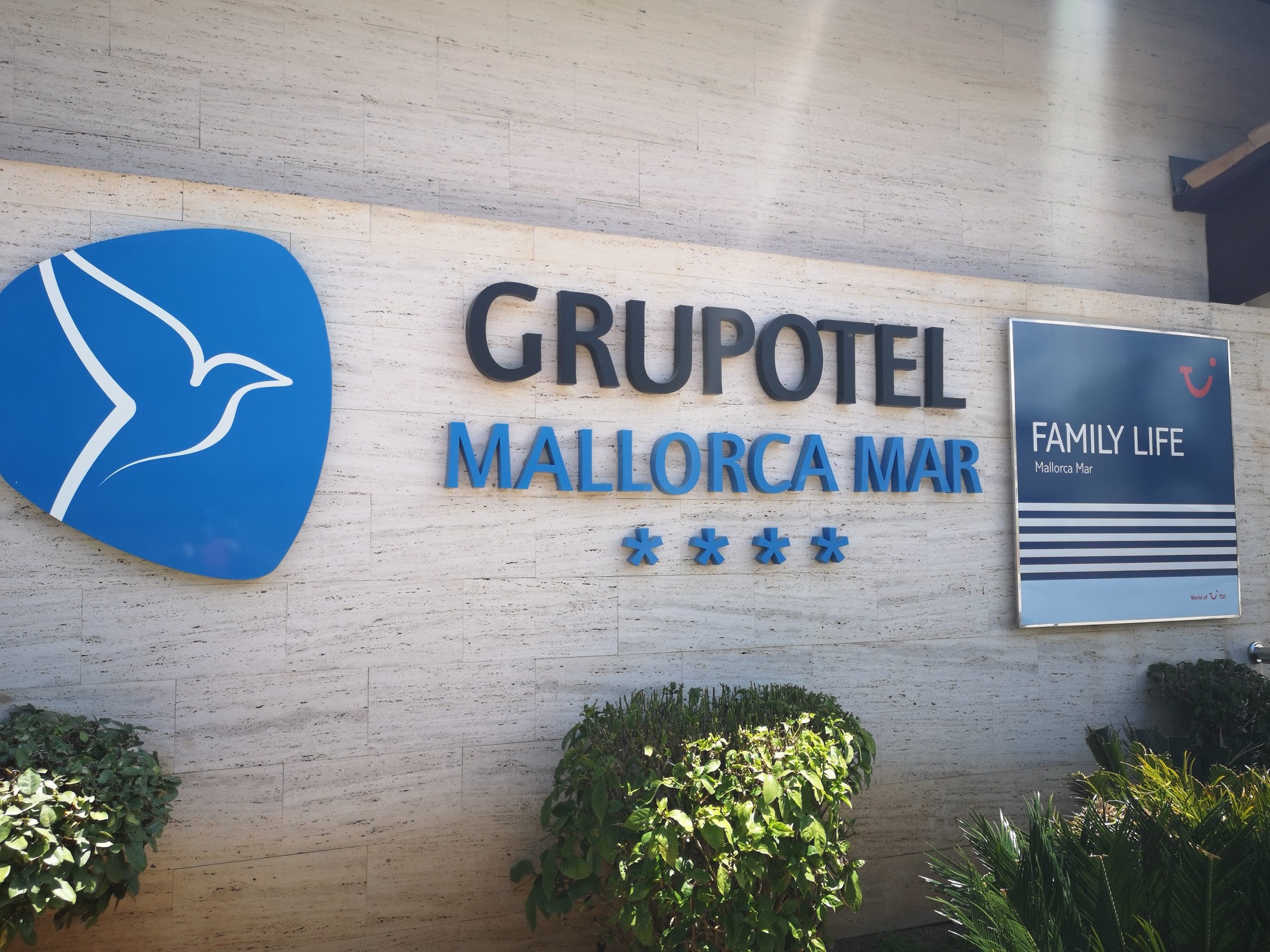 Our half term family holiday at the TUI Family Life Mallorca Mar.
If you follow me on Instagram you'll have seen that we've just been away on a half term holiday to Mallorca.  It was a really last minute decision (booking 10 days before we left home behind for a week!), but once we had the idea in our mind we ran with it. We didn't know where we wanted to go so began searching. We'd stayed at the First Choice Holiday Village Seaview and the Family Life Club Aura, both in Ibiza before and whilst we can't say we loved it, the kids did and if they're happy that's half the battle won!
When we started looking we were surprised by how 'cheap' a lot of the holidays seemed, after much searching we finally settled on another TUI holiday (partly because we knew the brand and what to expect…) to the Family Life Mallorca Mar in Cala Bona which we'd heard lots of other families rave about previously, and the other winning factor for us was that this particular holiday was flying out of Southampton airport and both flight times were good. For us, that clinched the deal. Southampton Airport is literally a 10 minute journey for us, do on our day of departure we left home, checked in and got through security all within 45 minutes….which gave us plenty of time to enjoy a glass of fizz in the airport bar and for the kids to do the Merlin bear hunt.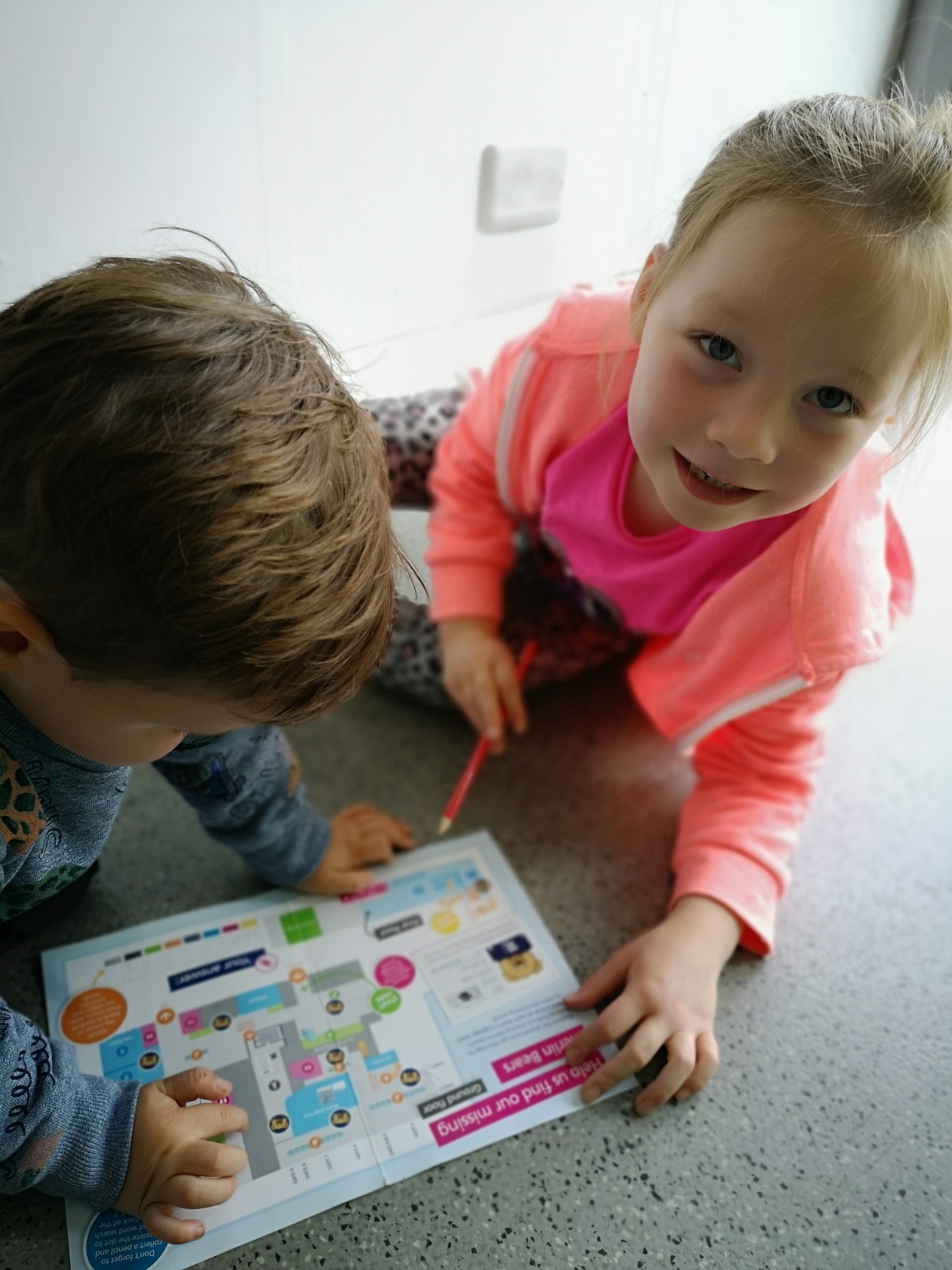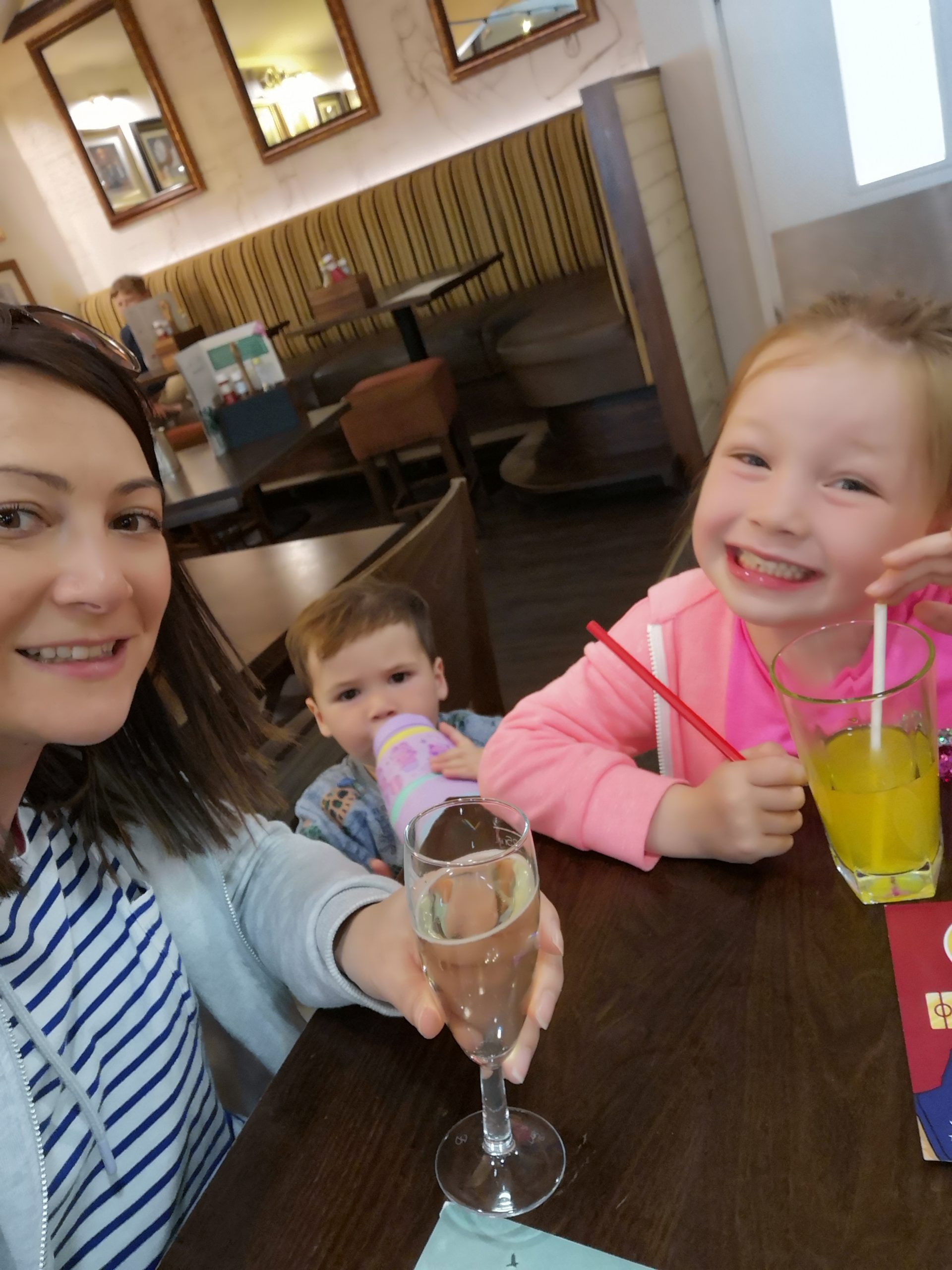 The flight was under 2 hours, which was enough time for the kids to not get too restless. Upon arrival at Palma airport (which is huge) we made our way to the baggage carousel before finding our transfer bus. Everything was so plain sailing and just under an hour later we were at our home for the week.
We arrived around 10.30pm and were told the restaurant was now closed but we could grab a simple snack. We headed to our room which, by chance, was such a fantastic location – ground floor in block 6 –  we put two very tired kids to bed and then I headed out for some breads, meats, cheese and salad and something to wash it down with!
Because we'd booked so late the only room left was the one we had; a one bedroom apartment with balcony which sleeps up to four. It was a great size, modern, clean and pretty spacious complete with a kitchenette, and a bath and shower in the bathroom.
The only downside was the main room had the double bed in it and the outside room (the lounge) had two twin beds which converted from the sofa. The kids were going to bed earlier than us so we decided they should be in the bedroom so we could watch TV/sit on the balcony without disturbing them. That then meant we'd gave to sleep on the (fairly uncomfortable looking) makeshift beds. We decided we'd just pull one of the mattresses in so Sofia could sleep on the floor on it next to our double. Arlo was in a travelcot. Only, Sofia didn't want to sleep on a mattress on the floor so daddy to the rescue!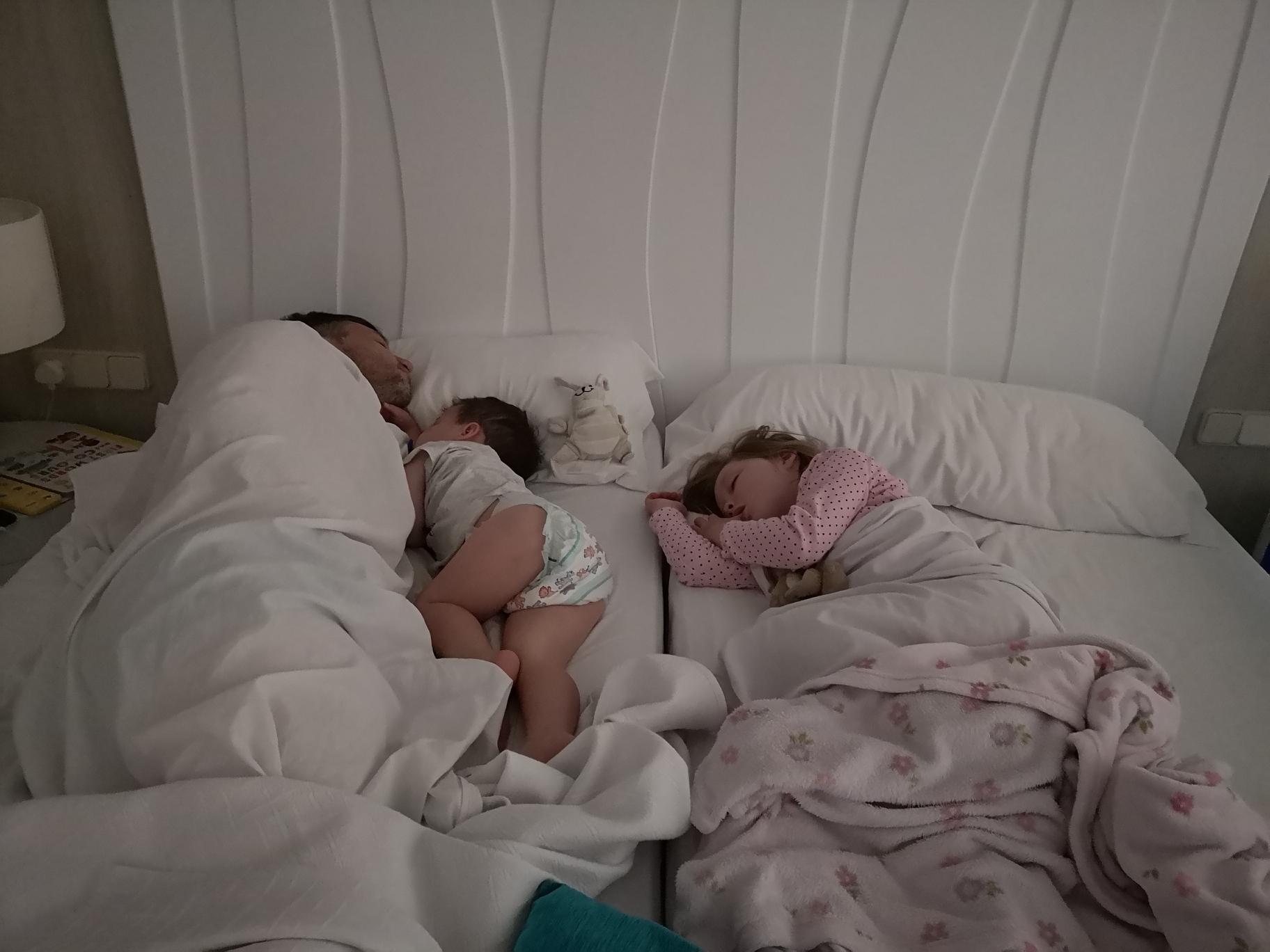 Our first day was a bit overcast and quite chilly, so we took the time to find out what the place had to offer.
We also decided to put Sofia into the afternoon kids club session (1.30-3.30pm) – it was something that she had asked to do when she knew we were heading back to 'see Captain T' and who were we to turn down 2 hours of 'chill time'?!
We did also put Arlo into the baby club (0-2 years) but he wasn't keen, so after ten minutes and hearing him scream over the wall, we decided to go and rescue the staff and retrieve him!
We soon got this part nailed though, as soon as we dropped Sofia off we did a quick whizz around the block and he would sleep for a couple of hours in his pram, we'd park him under some shade and then we would chill the hell out for an hour or so. Happy holidays!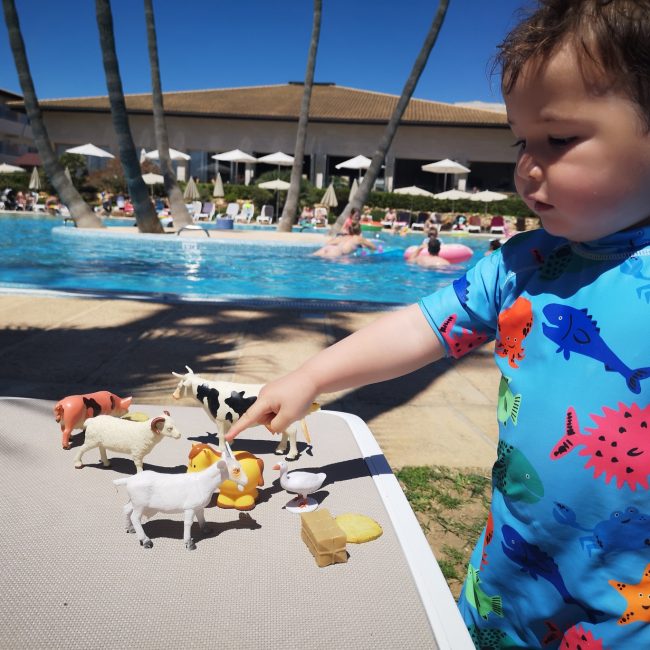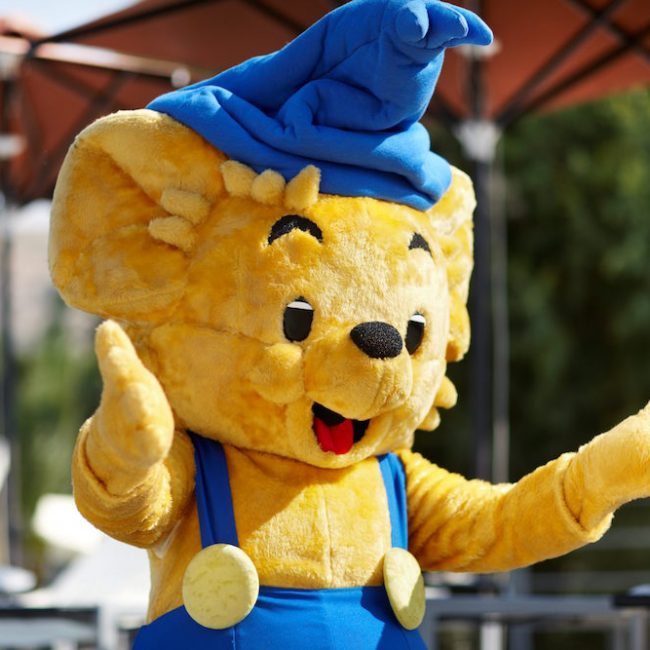 What's the food like at the Mallorca Mar?
It was OK, emphasis on OK. I mean if you're a fan of battered vegetables for breakfast – then this is the place for you!
Like all these type of all-inclusive holidays that mass cater, you can't expect Michelin star. But unfortunately it wasn't the best, the food choices were odd – I never had a complete 'normal' meal, nothing really fit together and it was rarely piping hot.
I ate pretty much the same breakfast everyday – bacon, bacon and more bacon. The kids would have cereal and then croissants with nutella and a side of bacon?! The best meal I had there was pasta with a tomato sauce and cheese – stick with the basic stuff is my advice!
The buffet restaurant

offers up round-the-world foods for breakfast, lunch and dinner. There is set stations which never change – so you'll always find cold meats, hams, salads and breads.

There's also a dedicated children's buffet area, lower down for kids to help themselves to some more traditional meals, all served on IKEA style rigid plastic plates and cups.At the dessert station, the ice cream selection with the various toppings are literally to die for – if I could have lived on that all week I would have!
The Taverna is situated over by the splash park and the kids clubs, so we often found ourselves eating lunch there and it was nice and quiet with a choice of indoor or outdoor seating. There was always a salad bar and bread, pizza and then 4 or 5 different buffet dishes.Apparently (though we never wandered down to see), 

this restaurant is also where you can dine for a bit more of a special occasion where local specialities are showcased by a chef guiding you through what's on offer. You get one visit here per week during your stay.
The Pool/Lounge Bar – hands down this was the busiest service area of the whole place, situated by the main pool the bar staff were constantly pouring beer, soft drinks and slushies.By night, this is the bar for the evening entertainment and it does get busy. Here you can also buy branded ice creams and crisps too.
The Supermarket – there's a well stocked little supermarket on the basement floor of the main block which has all sorts of essentials. You'll find all sorts of snacks, icecreams, pool equipment, little toys and souvenirs and essentials such as nappies and wipes.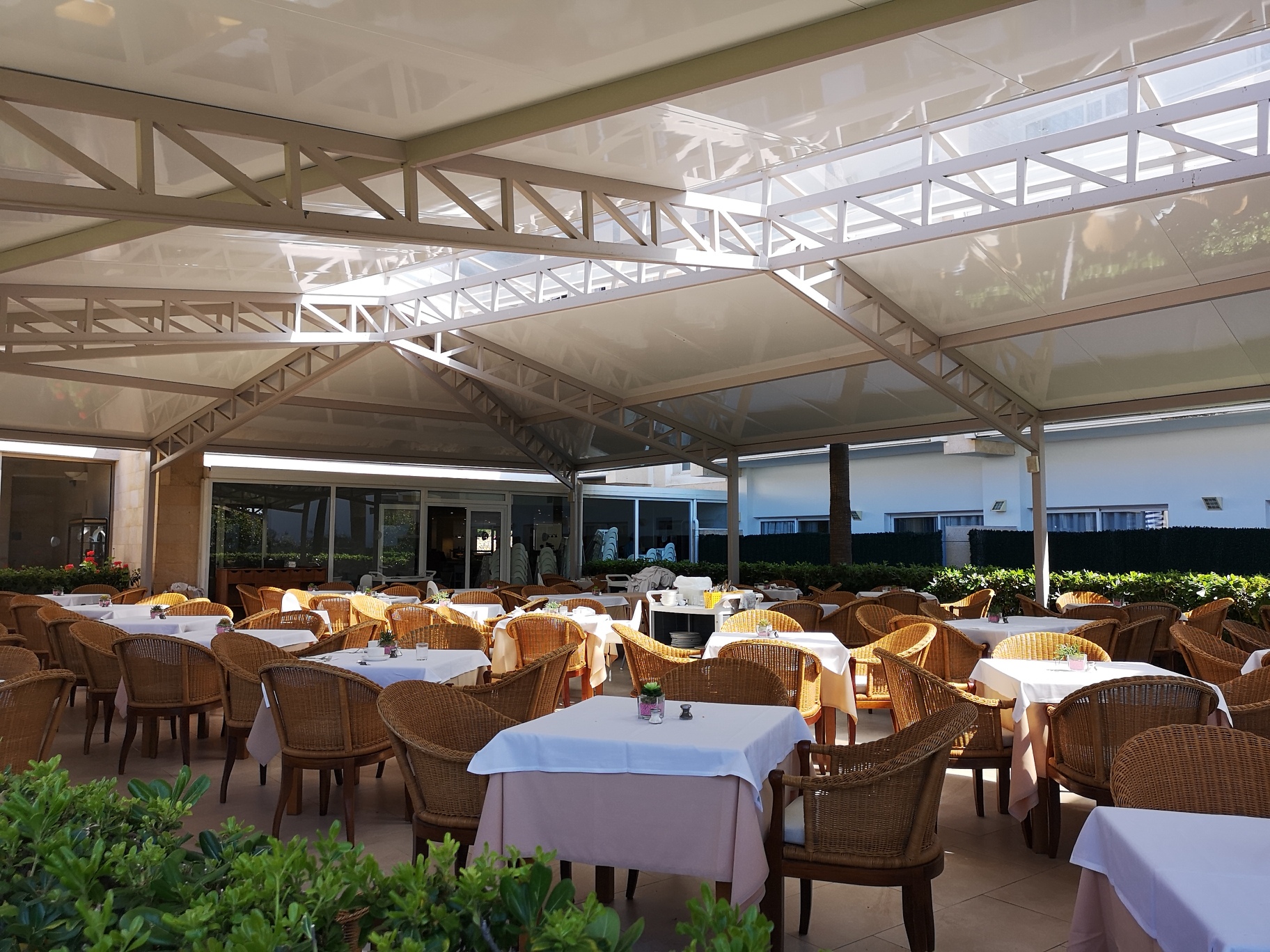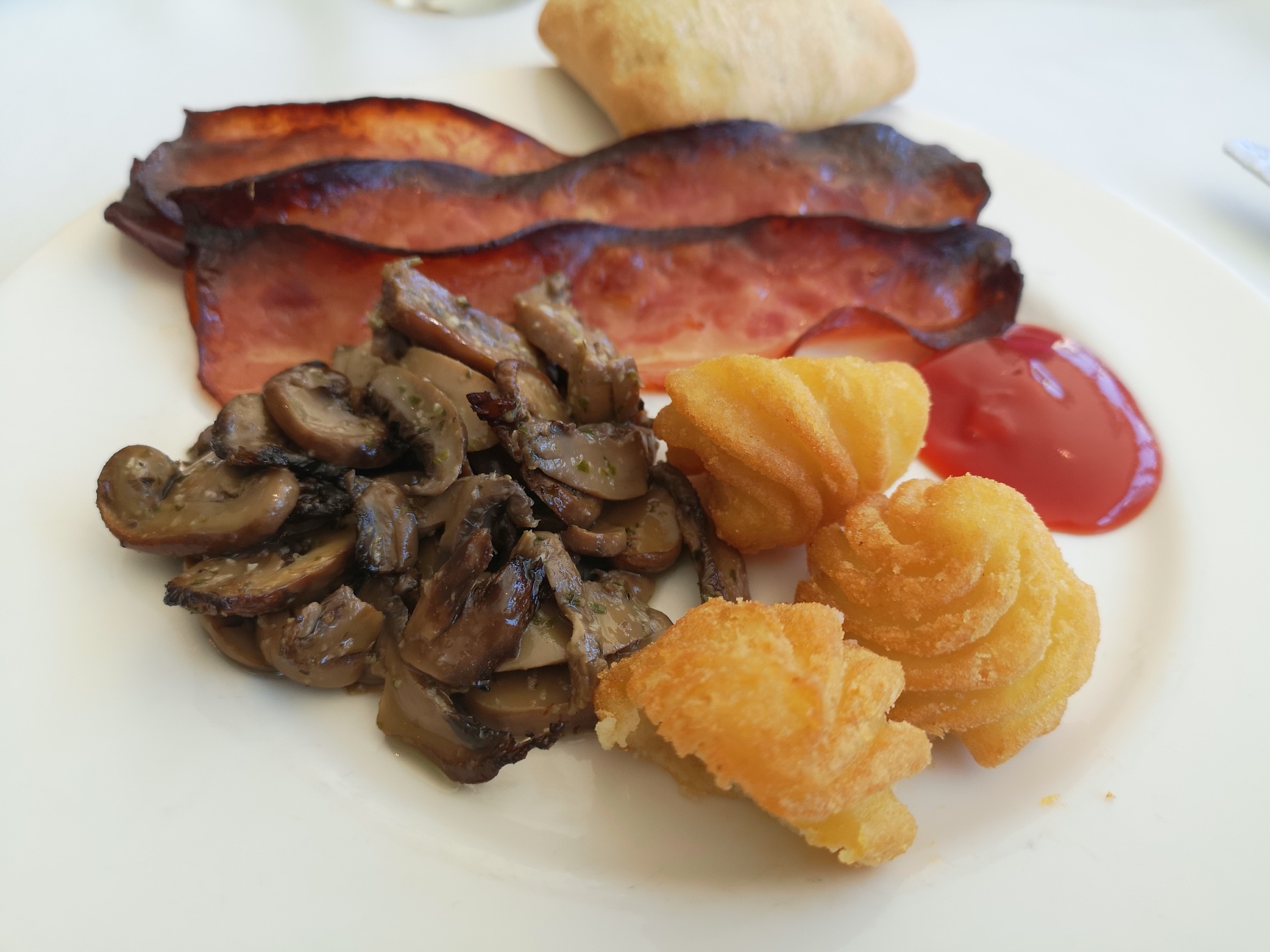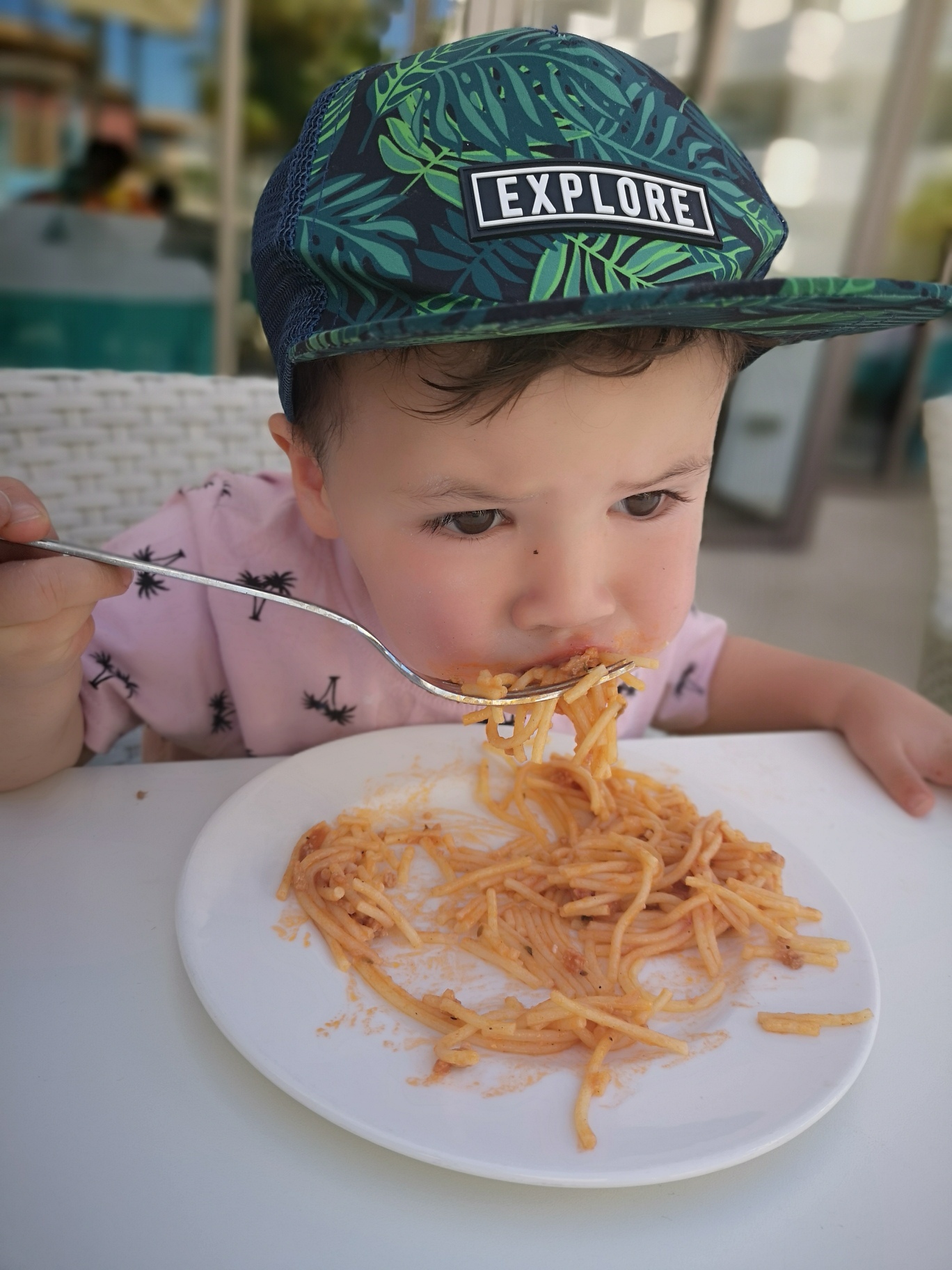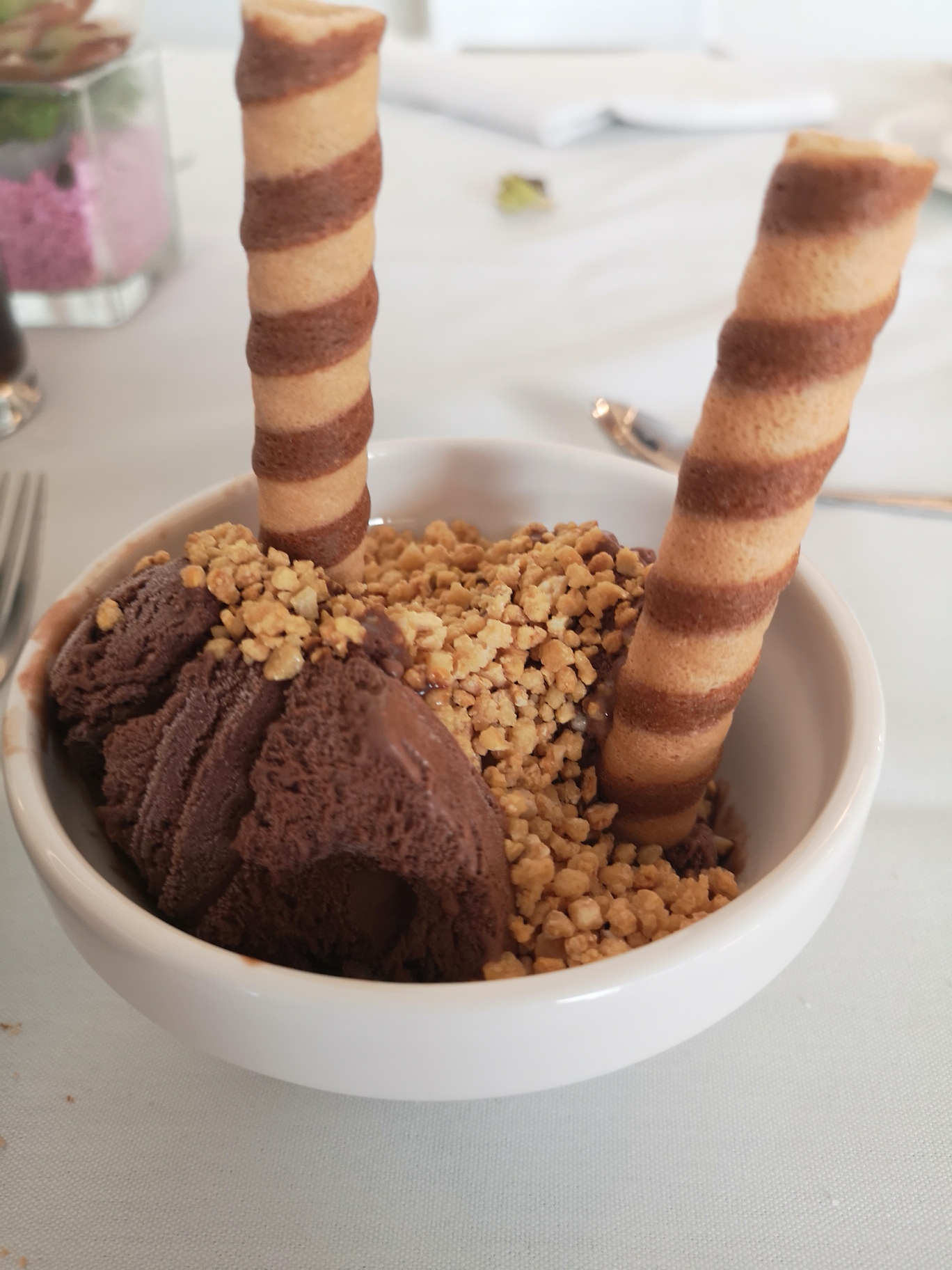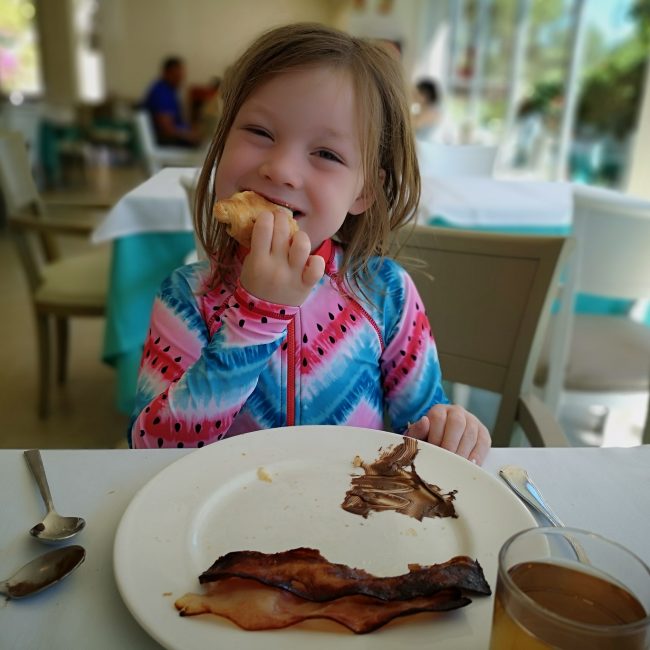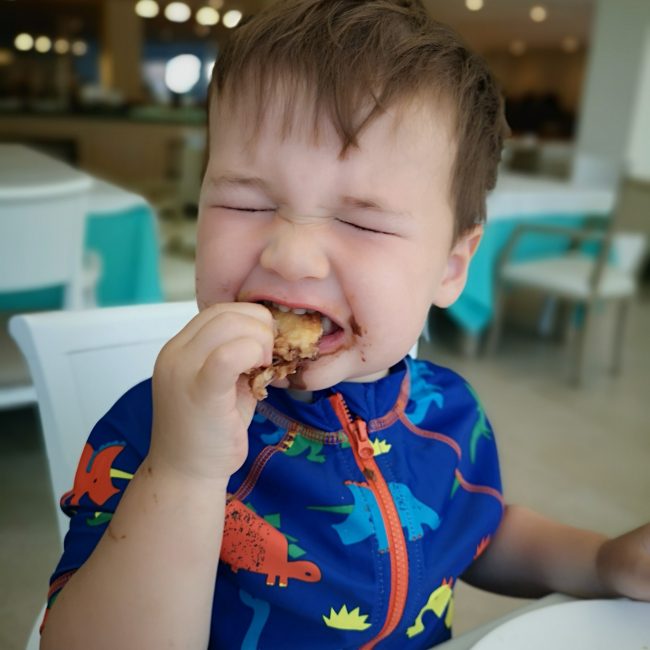 What activities are at the Family Life Mallorca Mar?
Short answer – heaps!
Pools
The main pool is a large, lagoon-style pool situated on the outdoor terrace. Palm trees and beach entry zones give it a tropical feel, and in peak seasons there is a poolside bar (it wasn't open when we went in May half term). This is the area where most of the 'fun' happens – there's the afternoon parade with Captain T, Bamse, Coco and Charley and all the TUI entertainment team, superstar DJ dance sessions, aqua fit classes and lots more!
Off the side of the main lagoon pool is a smaller pool which is 0.3m in depth and was perfect for the kids to paddle in. Over the other side of the hotel there is a splash park for the little ones complete with a tipping bucket (keep your eye on that bad boy!), five little animal slides, a curvy chute and a white wide drop one for the little thrillseekers!
Just outside of this area is also a small little pool complete with canopy to put the little ones under the shade.
All of the pools are in amazing locations, overlooking the sea or within the lawn garden, all with beautiful palm trees surrounding. If the sun gets a bit much, or you even get a glimpse of rain, there's also an indoor heated pool to take a dip in. 
For the more adventurous, there's a team of dedicated fitness/activity hosts doing exercise classes such as aqua fit, body balance, yoga and pilates as well as family friendly competitive football and volleyball tournaments. You can check out the weekly activity board located on the lawn area just outside of the main buffet restaurant.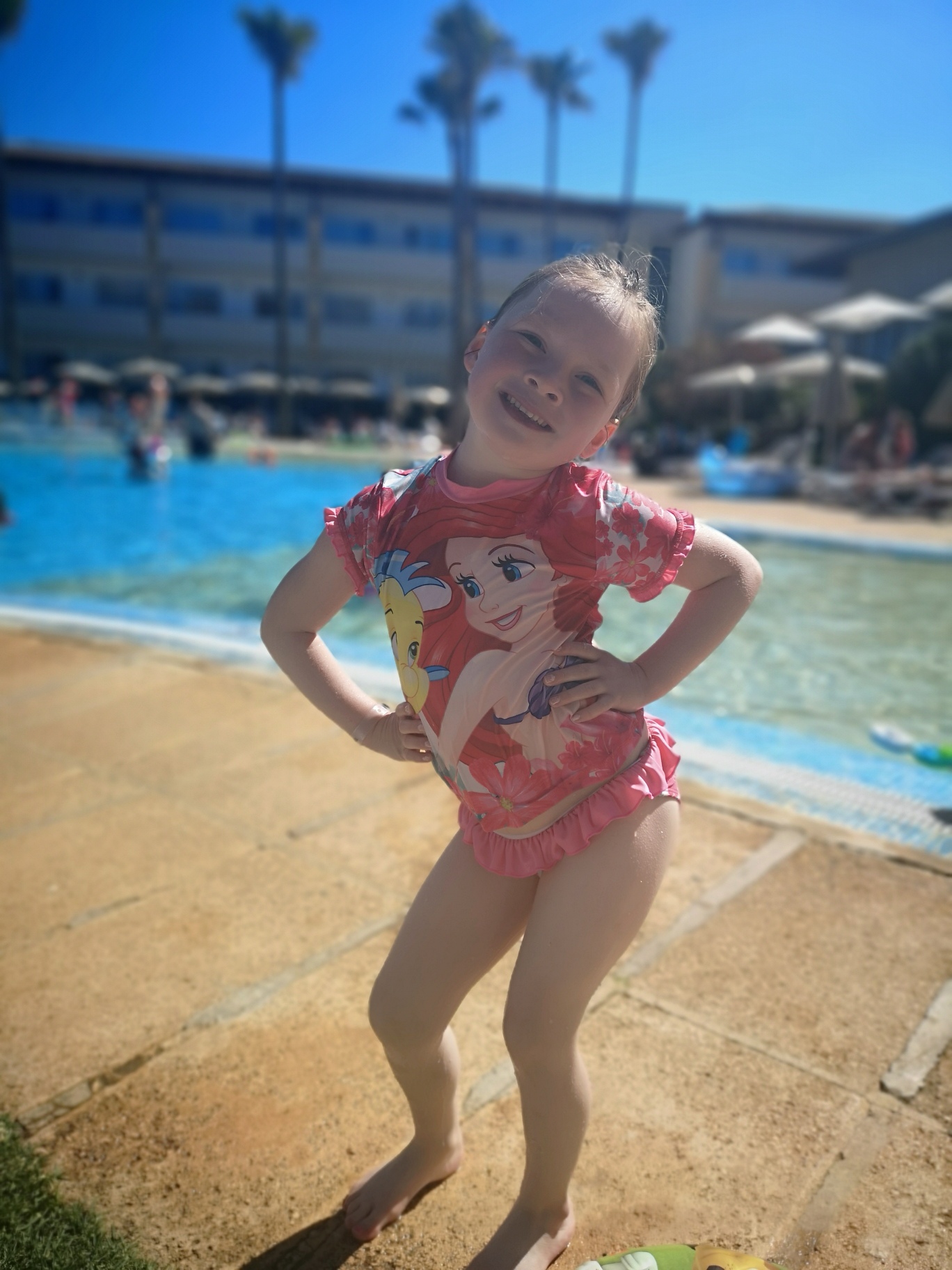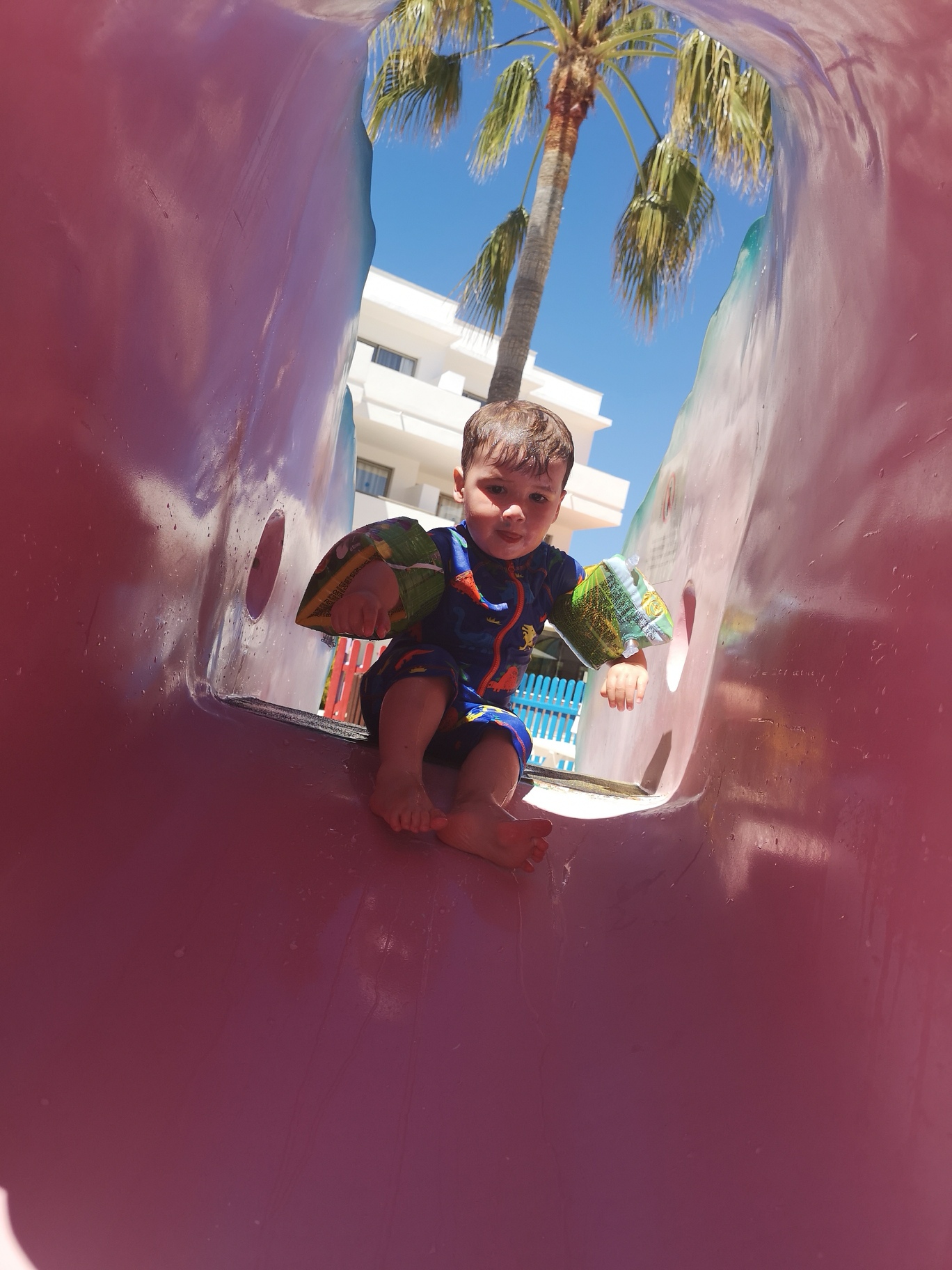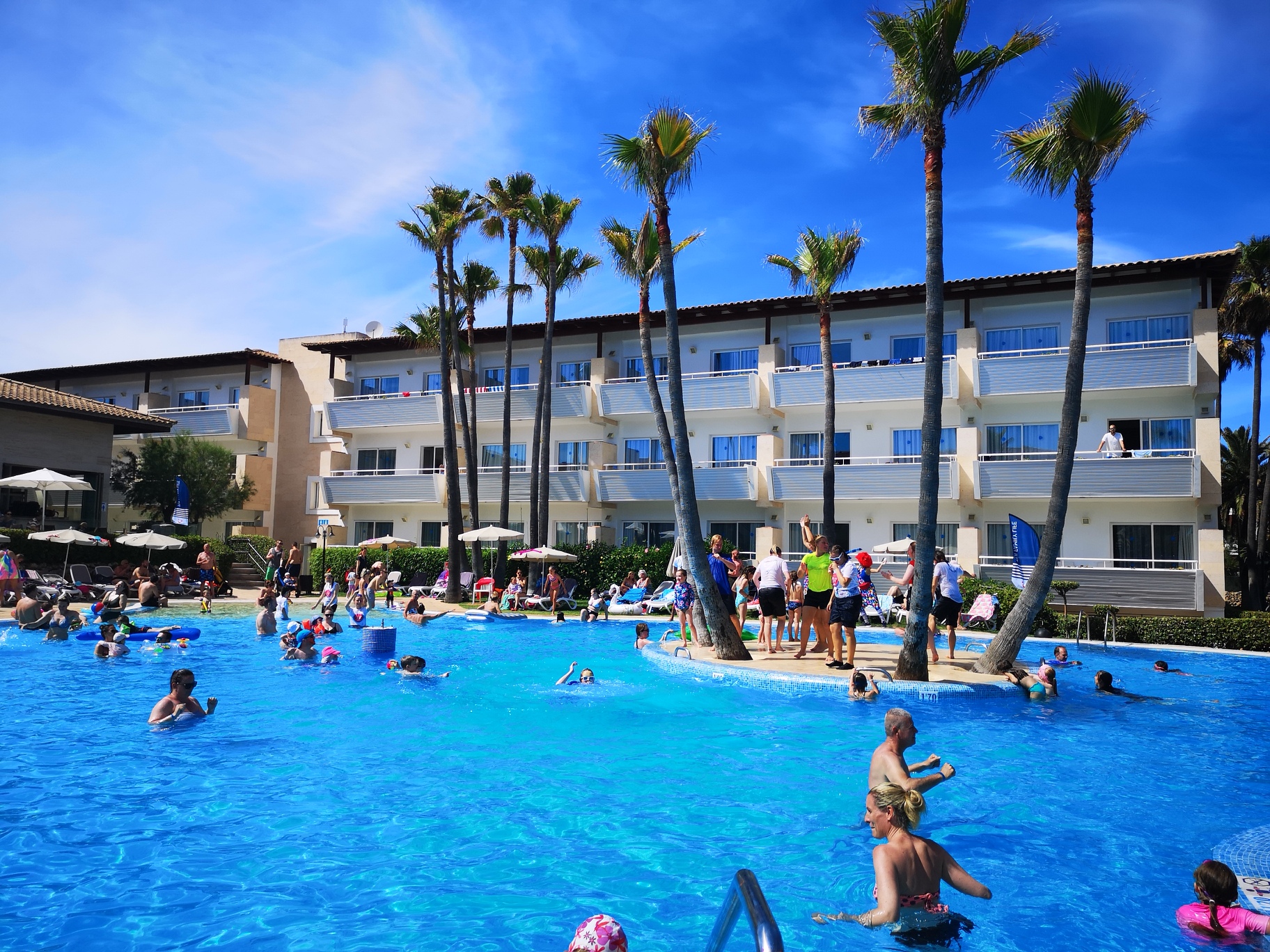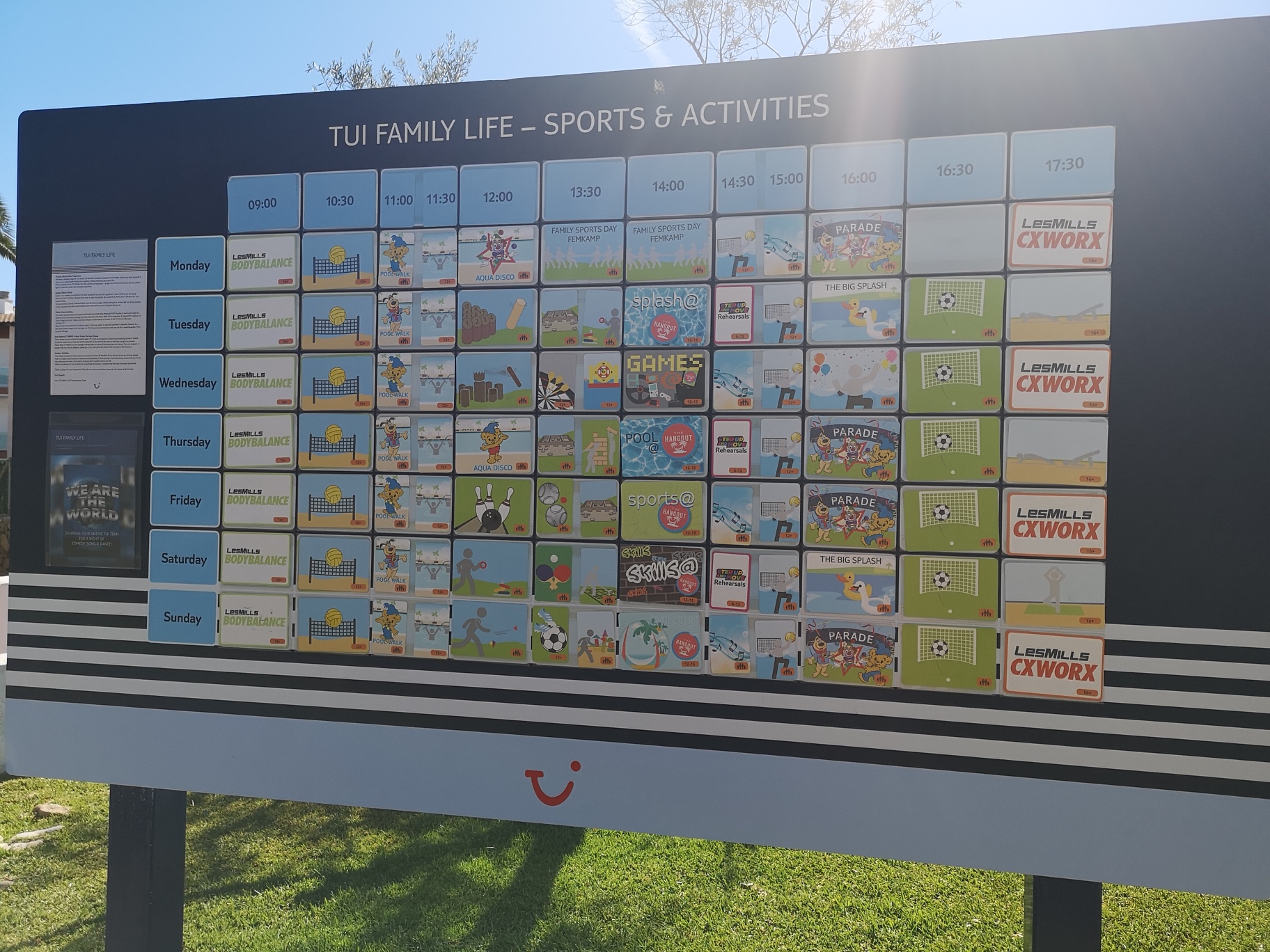 As well as the range of pools and different fitness classes/tournaments, there's a lovely little play park home to a couple of slides, swings and some wooden climbing frames. We usually headed here in the mornings after breakfast and before the pool and we were quite often the only ones in there at that time. There's also a sand park which has a climbing frame and plenty of buckets and spades to keep the kids entertained for at least a couple of minutes!
A number of pool tables and a giant floor chess board are situated outside by the sun terrace.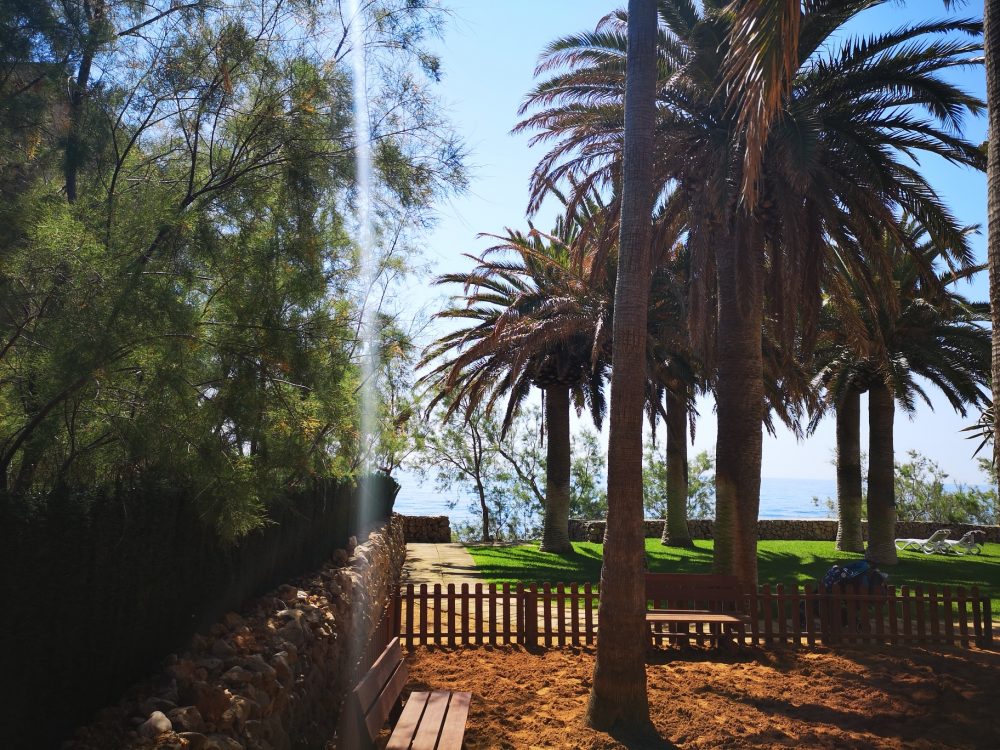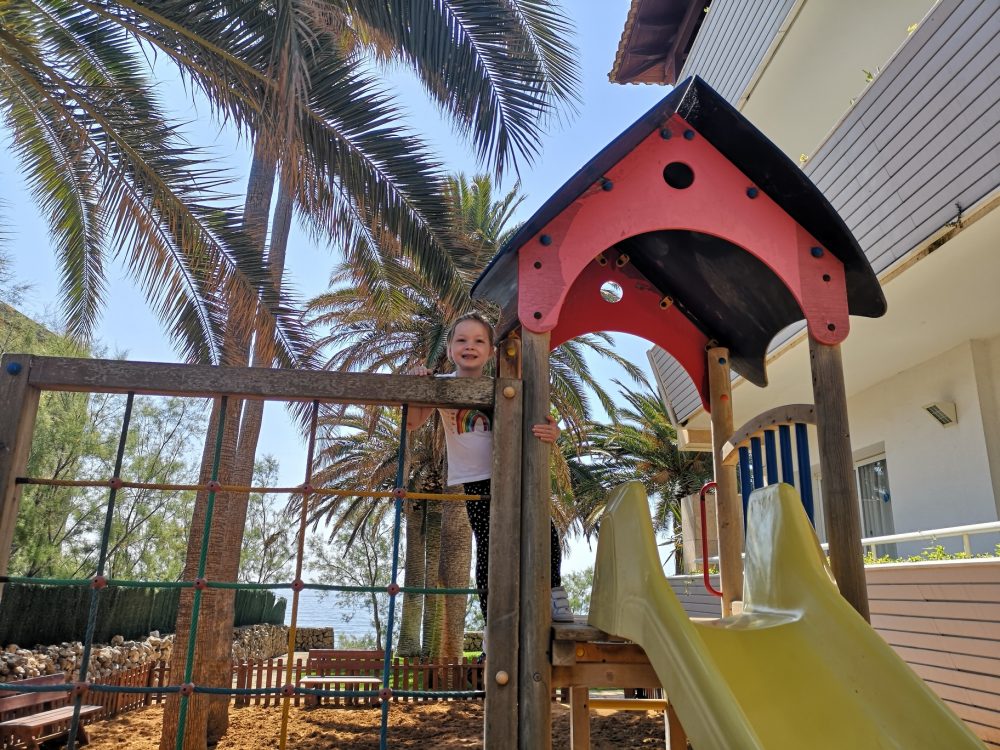 Where is the Family Life Mallorca Mar, and is there anything nearby?
The Family Life Mallorca Mar is based in Cala Bona (I'm still calling it 'boner' but then I am immature…), it's a really great location and the backdrop as you look out from the main pool area is the gorgeous rocky shoreline – you literally watch the waves crash the shore.
If you fancy a change of scenery and an escape out of the complex then you can follow the beautiful coastal walk into neighbouring Cala Millor which has a lovely, clean beach and is lined with little shops (that sell fake LOL dolls which Sofia found hysterical…), bars, restaurants and a number of hotels. The hotel does run a shuttle bus service down to Cala Millor if your legs don't want to carry you or the heat is a bit too much!
If you do head down to the beach then you can hire pedal bikes for all the family, which are such fun! It was only 10 euros for an hour and we were so glad that we did it. We pedalled our way to the end of the beach, stopped for a few photos and then hopped off for a refreshing drink at a lovely bar overlooking the water, Panetosto.
It was so lovely in fact that we decided to treat ourselves to a meal there on our last night, which was delicious and really welcome after the help yourself buffet back at base. Stuart and I both ordered a woodfired pizza, mine with a side salad (which was huge) and the kids both had sausage and chips!  The scenery was even better than the food though, it was completely breathtaking.
Along the beachfront you'll also find the 'braiding ladies' who must be the richest women on the island charging one braid for 10 euros – so we are now the proud owner of a braid wearing little girl and unfortunately the thread looks like it has no desire to leave her hair just yet. Ah, holiday memories.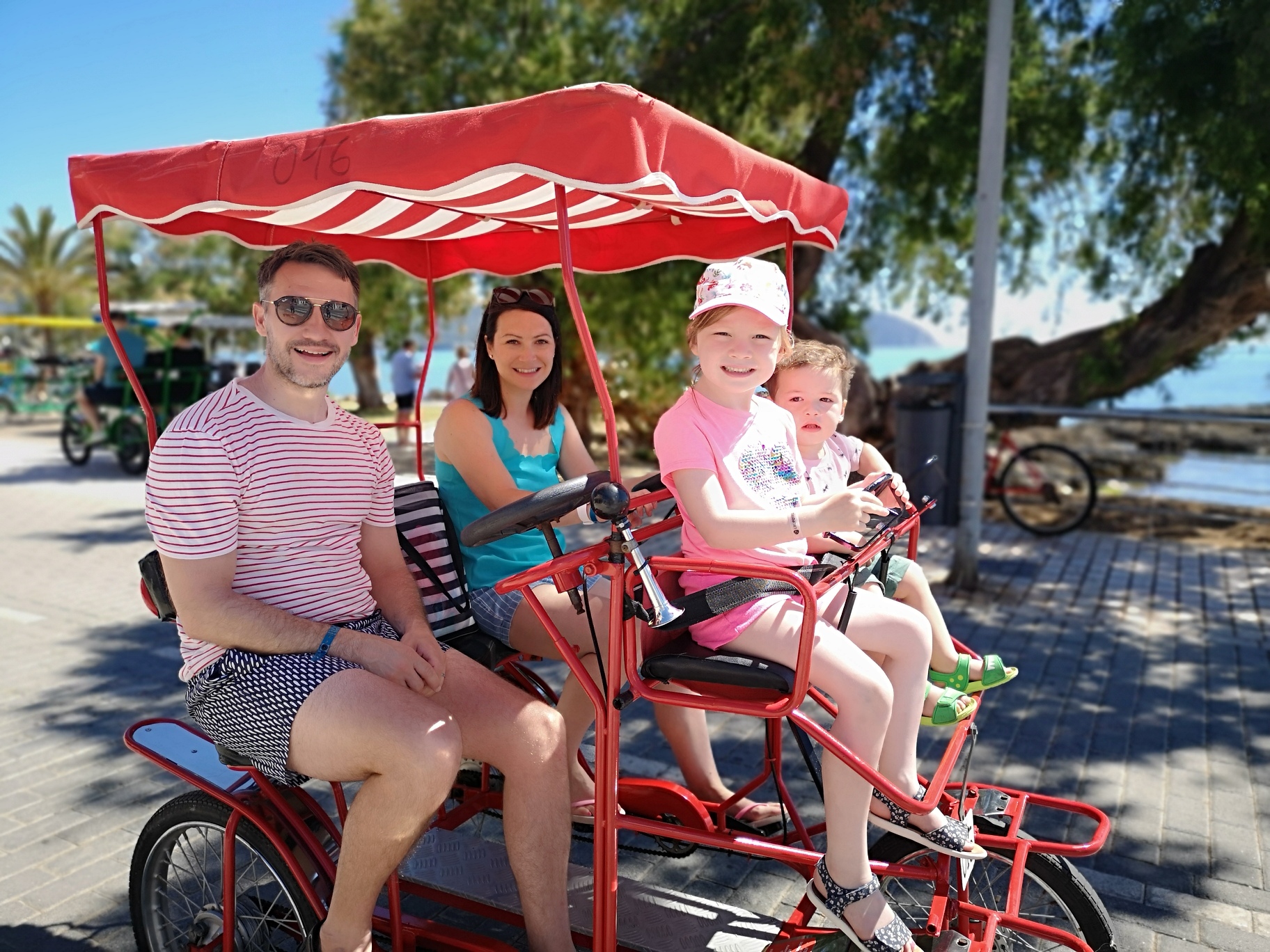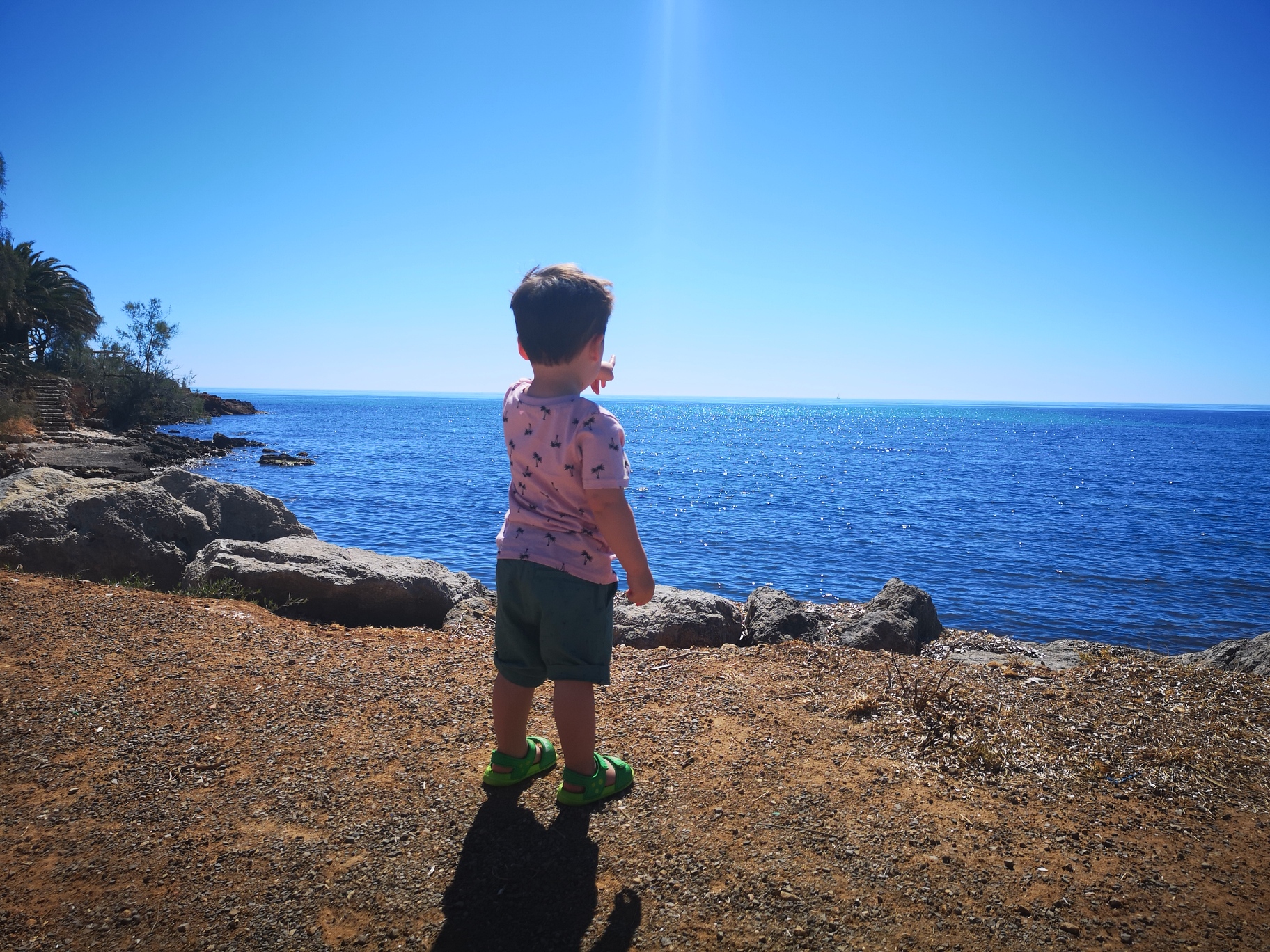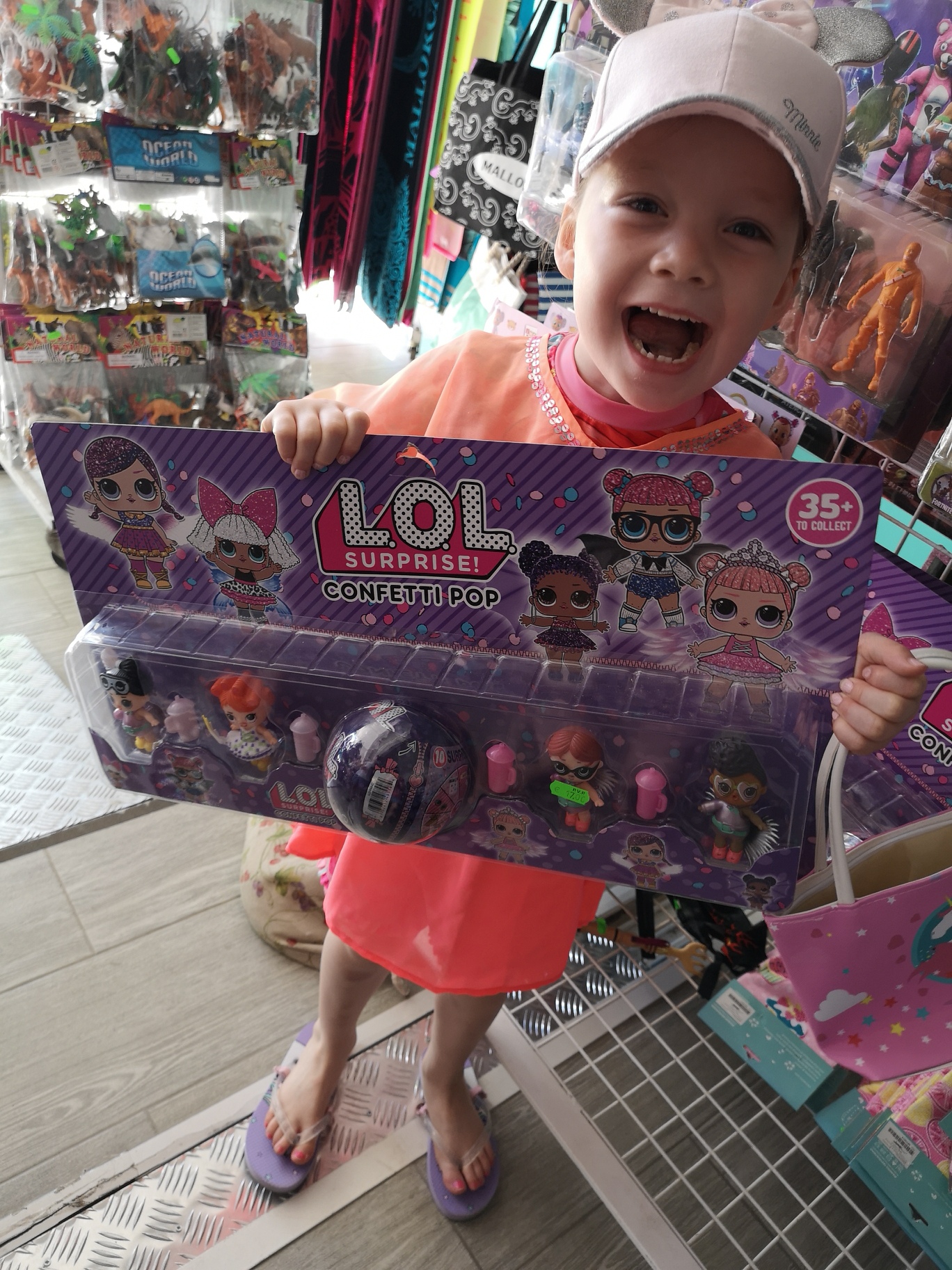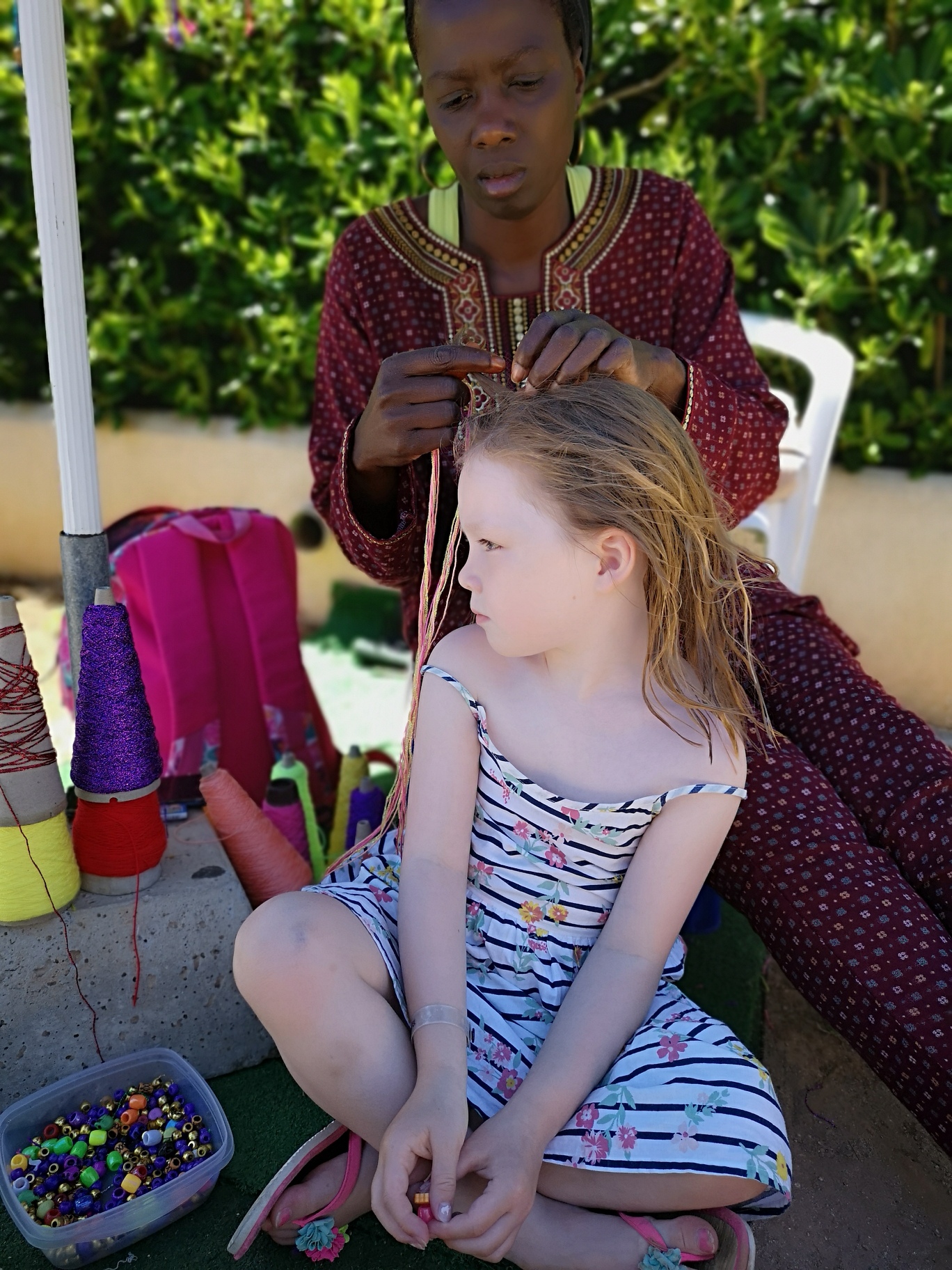 What are the kids clubs like at the Family Life Mallorca Mar?
There are three different kids clubs for a wide range of ages.
Baby club | 0-3 years
The BabyClub  is open for up to three two-hour sessions a day (as well as some evenings). This is pre-bookable and there is a small charge for this service.
We did attempt to put Arlo in there on our first day but unfortunately he wasn't keen and after ten minutes we rescued the club workers from the sounds of his stubborn lungs. They were all really lovely in there.
Bamse club | 3-5 years
Sofia went into Bamse club in the afternoons (1.30-3.30pm session; to give us a bit of peace, keep her indoors during the hottest part of the day and to see what new facepaint she would have each time…!) after her first session she came out armed with a Bamse bag complete with T-Shirt and water bottle as well as a ladybird painted face and a certificate for 'the best jellyfish', she had a great time and it meant she met other kids who were familiar to her during the evening entertainment.
611 Club | 6-11 years
Club 611 is for the pre-teens and they can enjoy themed days with interactive sessions. I can't give a review of this as we obviously didn't go, but all the kids left their sessions with happy faces – so we take that as a good sign!
The Hangout | Teens
Teens get their own 'chill out' area in The Hangout.
The kids clubs are all included in the price, though there are some evening 'parties' such as the 'Chocolate Party' which are around 10 euros per session.
Baby Lounge
If you don't want to leave your little one but want a change of pace then there is the air conditioned baby lounge. Here you can relax and meet other parents and there's microwaves, changing tables and bottle warmers, which means there's no need to traipse back to the room for feeds or nappy changes.
What sort of evening entertainment can you expect at the Family Life Mallorca Mar?
The evening schedule starts at 7.30pm and sees the child-friendly shows begin. The opener is Captain T and the superdogs or Bamse bear alongside a couple of the TUI entertainment team; they do choreographed dances and then they invite children up to collect their certificates if they've completed their 'healthy eating cards' or taken part in a sport or dance activity during the day.
They disappear and then you get Coco and Charley the clowns who do slapstick humour or The Toonstars who mime along to a backing track wearing multicoloured wigs.
After this section it's Download where the kids choose to play for the red or blue team and do competitions to try and score the most points to be crowned the winning team. I had my flipflops removed and stacked into a tower along with the other willing audience participants for one of the games!
At 9pm the  family-focussed shows start which can include singing, dancing and local professional acts. We had the privilege of witnessing an Elvis tribute and a local circus act – we also then saw the TUI entertainment team do a number of shows including a Pirate theme, a 'music of the world' singing contest.
If you're still up after this then get your dancing shoes out as you'll be doing the famous TUI KouKou move and Dance like a Grandad – a couple of nights there was a late night quiz.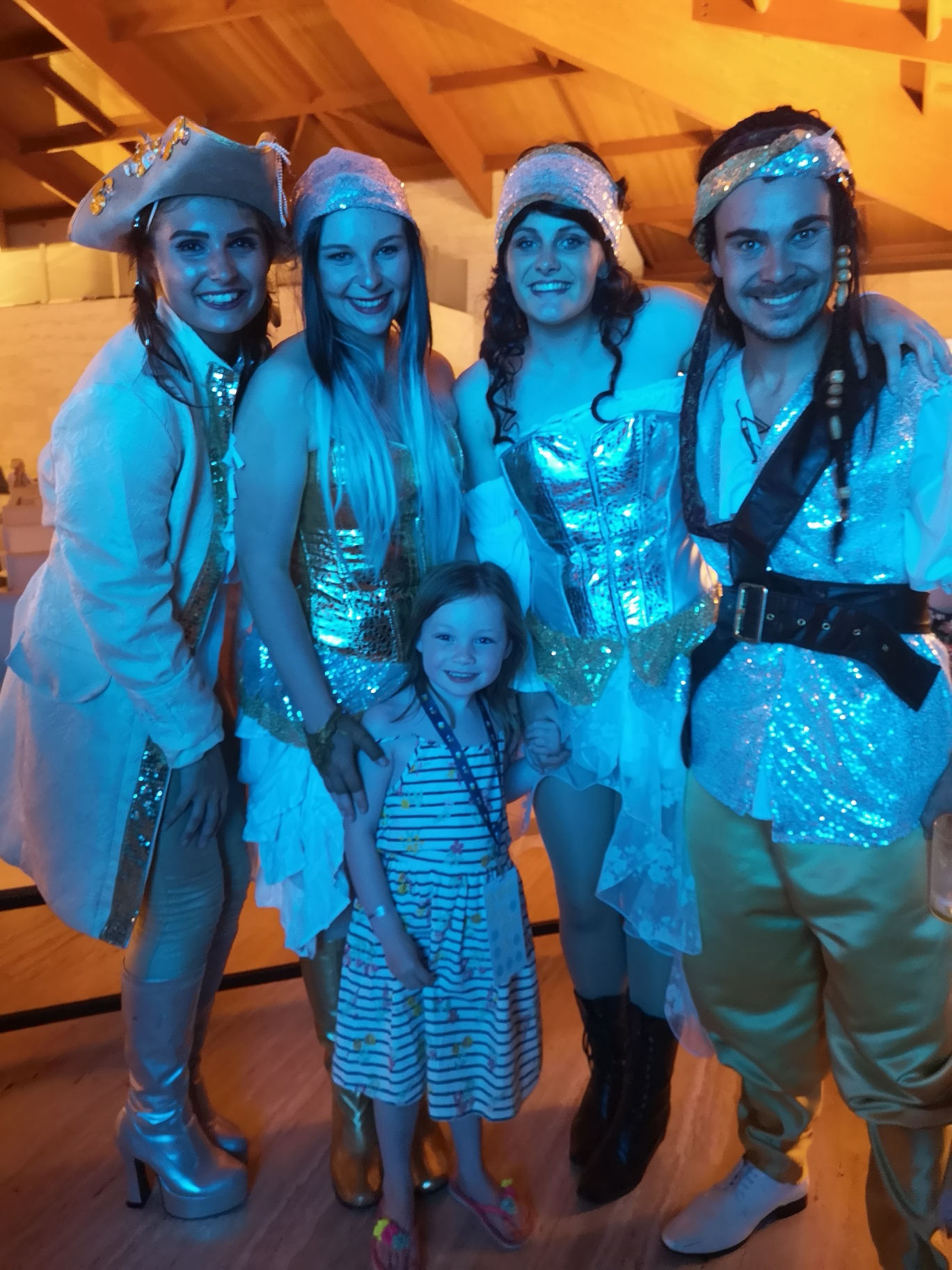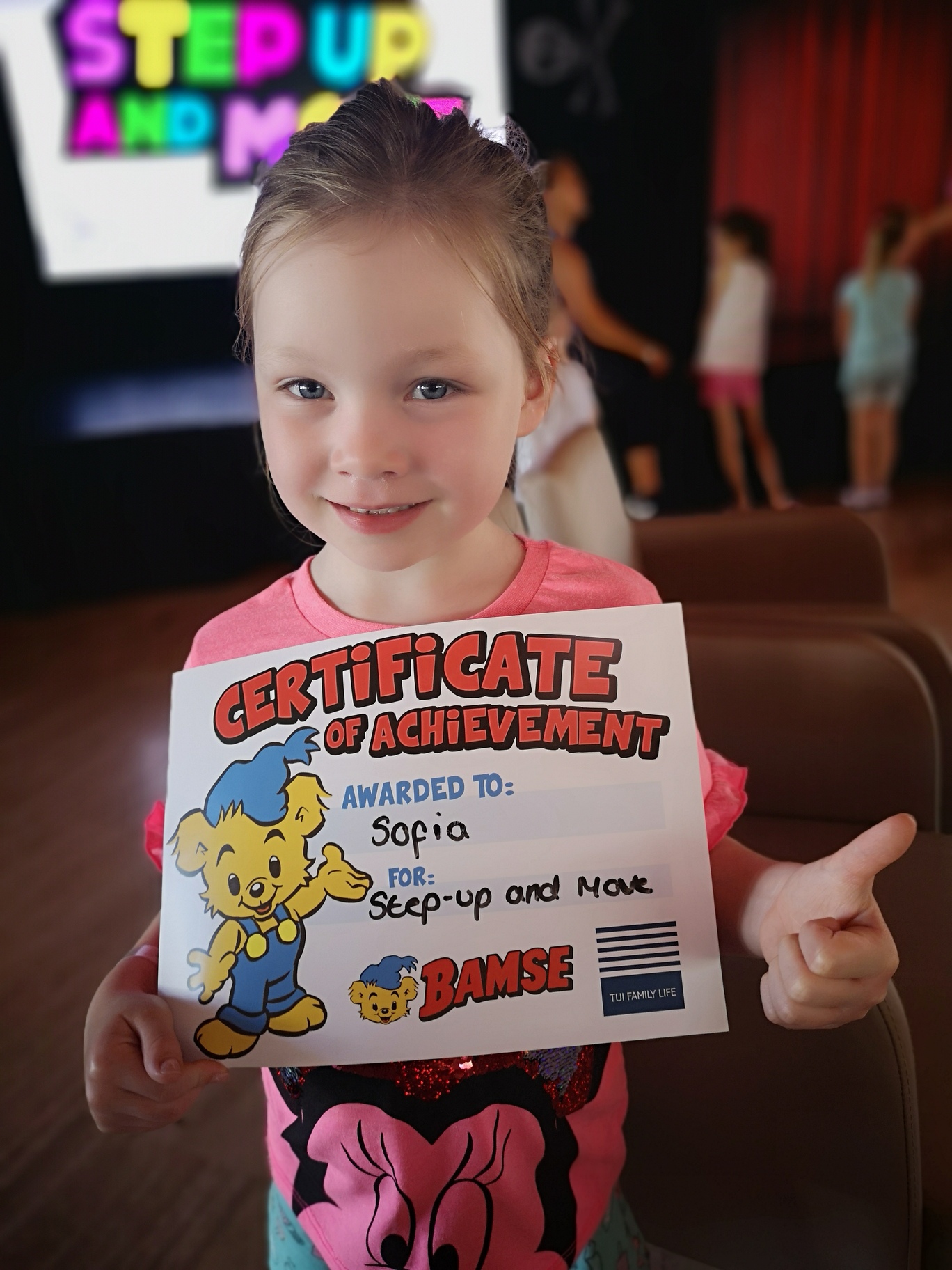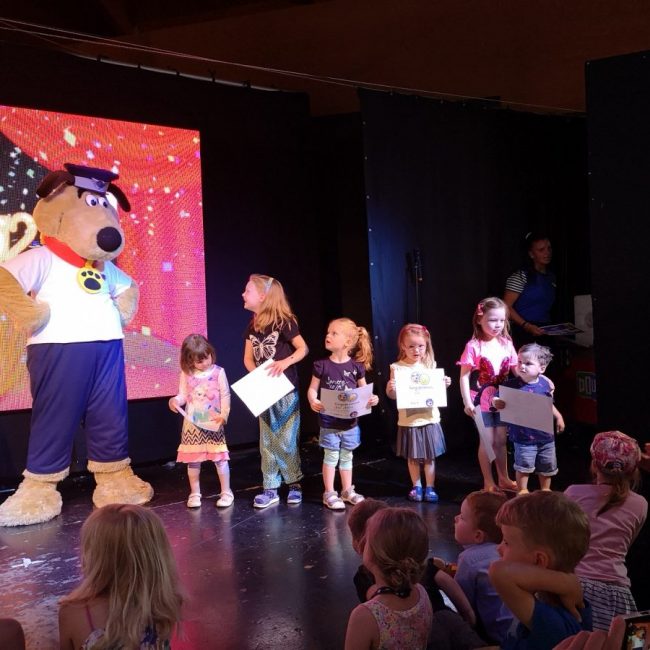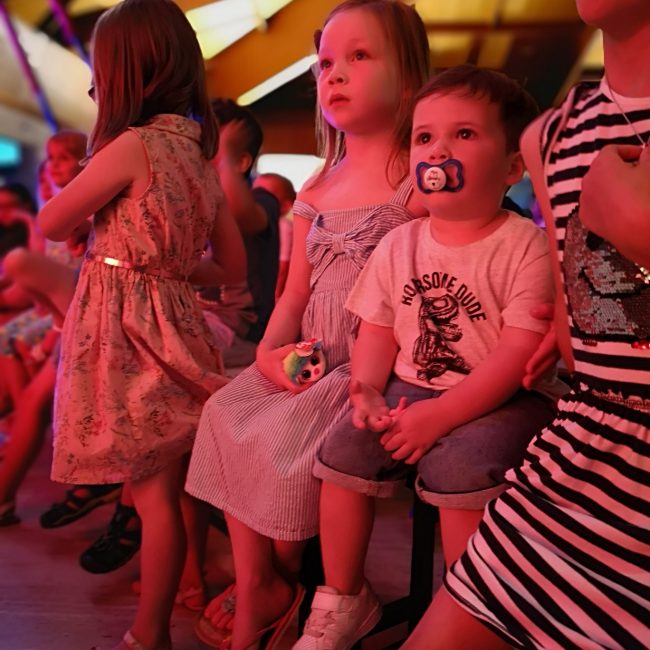 What did we enjoy about our stay at the Mallorca Mar?
We absolutely loved coming away in May as the weather was lovely (between 23-26 degrees) so not unbearably hot, the sort of heat where you can be out in it all day comfortably.
The location was fantastic and we enjoyed the ability to be able to walk down to a relatively hustly, bustly town in between lazing by the swimming pool and drinking unlimited slushies.
Our hotel room was lovely, clean and modern and the location of our block was perfect for us. There is lots of stuff going on all the time for the kids – the range of pools were great and we loved how they had the shallow splash park area too as the water came up to the kids knees and so they felt safe enough to play without clinging off us.
Our other highlight was watching the kids eyes light up at the evening entertainment – we were definitely proud parents watching them go up stage to collect their Healthy Eating certificate from Captain T and the best part of all was watching our usually 'shy' girl up on stage and taking part in the Step Up and Dance routine for everyone, which they had had a rehearsal for in the day.
The other plus point of our holiday is that once it's paid for you could literally have a week with no spending money; all soft drinks, beers, cocktails and even fizz was included in the all-inclusive as well as lollies and icecreams.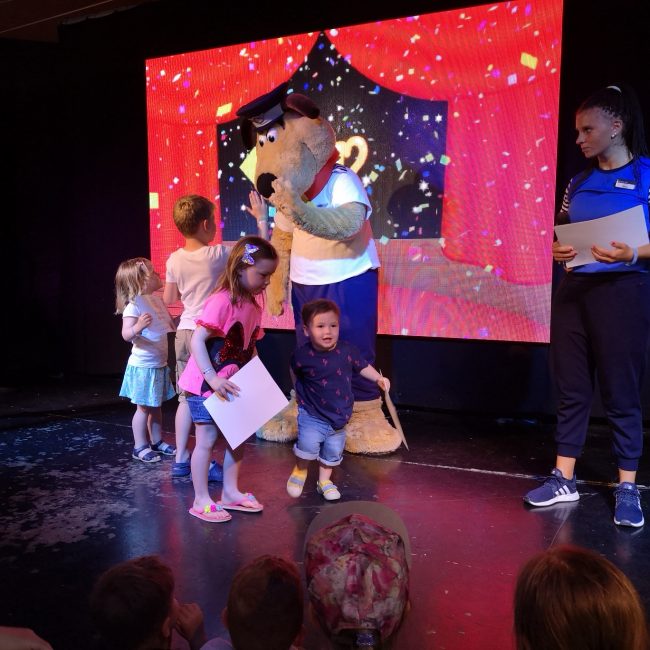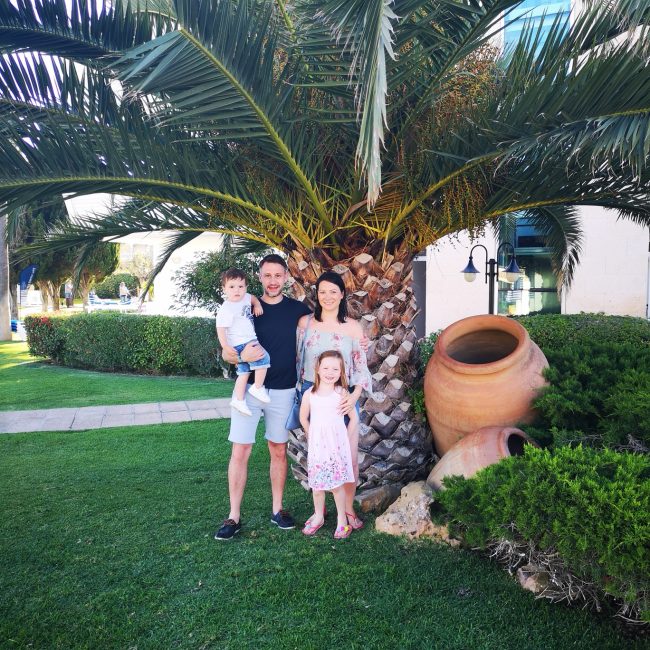 Things that could be done better…
Aside from not deep frying and battering every vegetable, there was always a queue at the bar especially at night times which was quite annoying (I don't know how long this queue would be in the height of the summer!).
At certain times there wasn't seating available at dinner, there was one hand sanitiser on the wall which wasn't enforced and I didn't once see anyone use it (in Ibiza you are actively encouraged to sanitise everytime you go into the restaurant – and rightly so, especially for a germ freak like me!).
The other thing that I found a bit odd also was that there is a road that goes through the middle of the hotel, this joins the restaurant side with the bar side – I felt this was a bit unsafe, not only with the car hazards but the fact that it felt like anyone could just wander in who wasn't a guest at the hotel.
The evening entertainment set up was also a bit of a nuisance in that there were tables lined up in rows with 4 seats around each, if you have little ones like we do – it's not ideal not having 'front row' seats to stop two year old boys running out of the doors to the pool area, being stuck in the middle of the rows means you can't chase after them as quick as you'd like. Or maybe I just need better behaved children?!
Another thing I found, though this is always the case, is that there was a bit of a sunlounger shortage around the main pool area. There is a huge area, around by the lagoon pool and also the green areas that overlook the sea and I felt like there could have been more chairs for these areas.
Finally, the entertainment team work so hard- they're literally there morning through to night but I did feel like the staff weren't as friendly or 'fun' as the other entertainment teams that we've met in other TUI resorts. The English/German dual narrating was also abit annoying at times but I obviously understand why they need to do it.
Would we go back? Maybe, but we'd definitely head back to Ibiza first!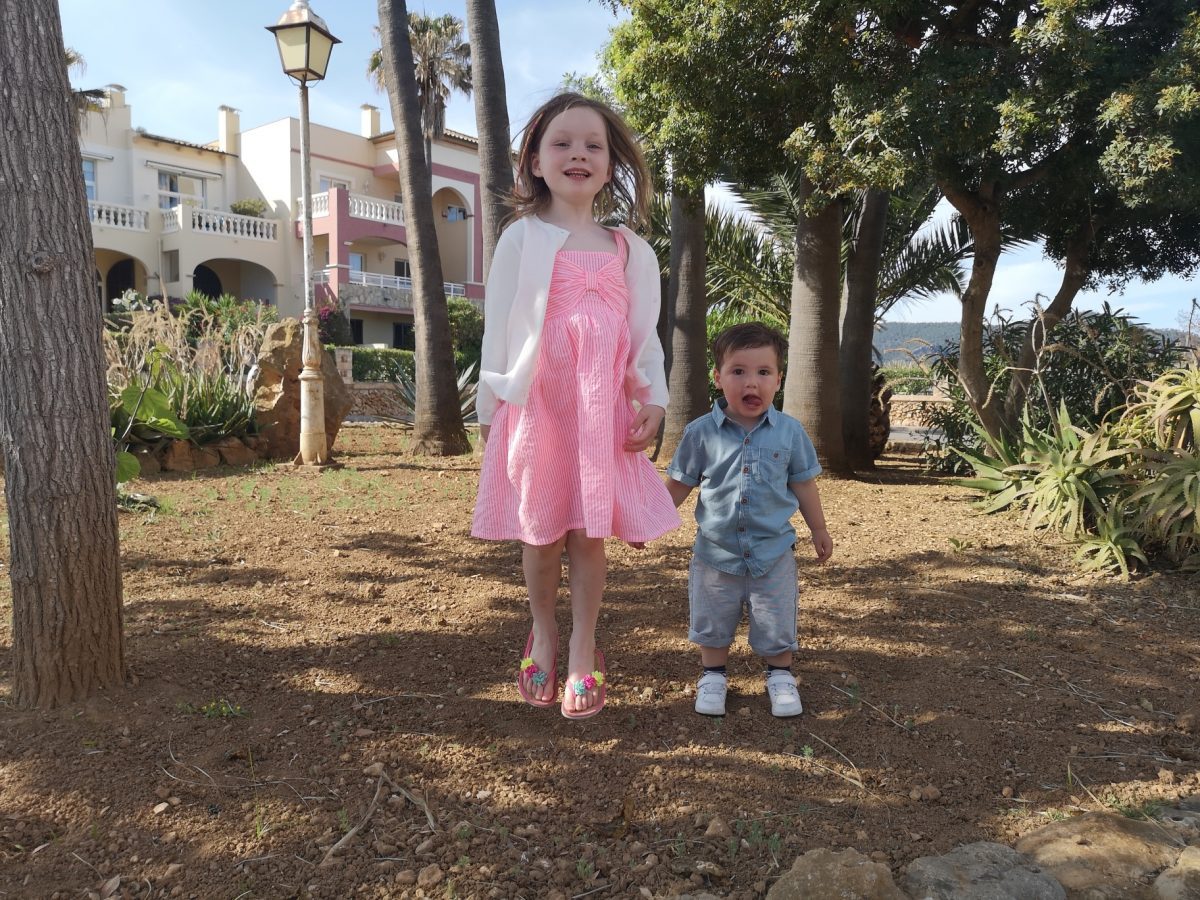 I've come back with a bit of a tan, a new found love for Stuart and so much more patience with, and joy from, the kids.
A week just being our little family with none of the usual stresses and pressures of 'normal' life has done wonders for the soul… and if that's not enough, the kids are still lying in. Win!
Already counting down the days to the next getaway…