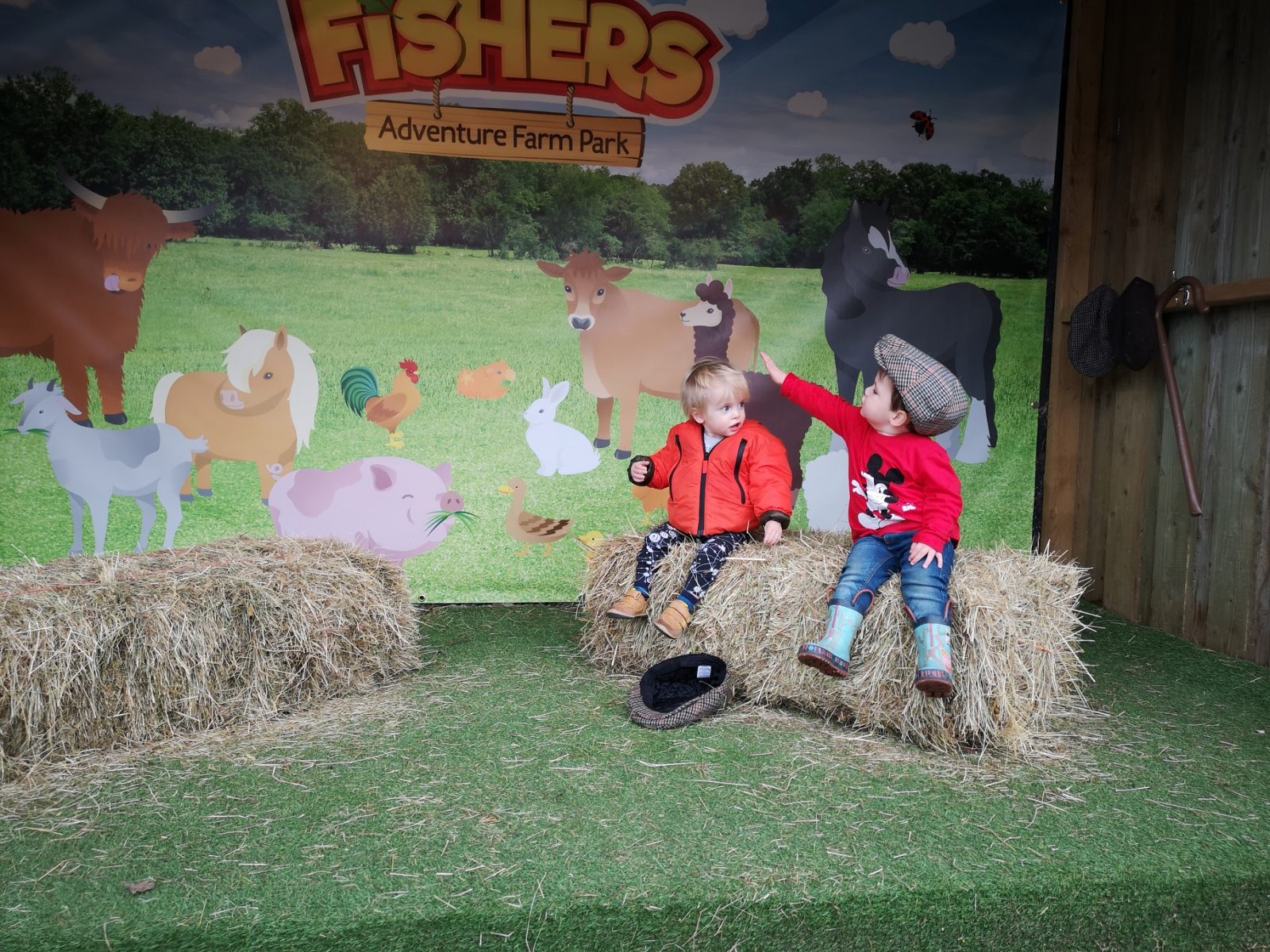 Our day at Fishers Adventure Farm Park
Our friends live in Shoreham-by-Sea and now the boys are at the age where sitting in prams and accompanying us for long, leisurely lunches are long gone we decided to meet halfway and explore Fishers Adventure Farm Park based in Wisborough Green, West Sussex. 
Upon arrival into the reception area, we were greeted by the most friendliest lady who informed us that two new lambs had been born that week and not to miss a visit to see them, advised us to take note of the times when things were on/running and recommended the tractor ride for the boys!
After our car journey, we decided to start the day with a coffee and have a catch up whilst the boys got reacquainted, grunted at each other and played in one of the (many) soft play areas. We visited the indoor soft play areas on a few occasions throughout the day and they're suitable from tiny babies up to pre-teens.
There's the Squishy Toddlers Farmyard, which the boys played in for ages – and loved the animals in the farmers barn, the Higgledy Village where there were huge coloured lava lamp style displays which Dexter was mesmerised by, stepping stones and musical pipes that Arlo took great pleasure in swinging as hard as the attached 'stick' would allow – and off the side of that room was the Sensory Den which is suitable for the under 2's to relax and chill out in; as you can imagine we didn't spend long in there.
We ended our day at the bigger play area, the Farmyard Funhouse, with the crazy huge slides which the boys absolutely loved – me and Em got a work out from walking up the stairs numerous times and clenching our bums in so they fit down the slides. 
We ate lunch at the 'Saddle Rooms' restaurant, it was good food and reasonably priced – you had to go to the bar to order but then it was waitress service. I had scampi and chips and Arlo had jacket potato with beans from the kids meal, and both plates were cleared.
If you don't fancy a pub-style meal then there's also the Lucky Horseshoe Coffee Bar which does sandwiches, cakes and snacks. In the busier seasons there's also Ramblers Retreat, Farmers Grill and Splash Attack Shack which are all based outside but unfortunately weren't open for our visit.
Outdoors boasts so much to do too! We started our outdoor adventure at the 'Animal Events Area' where we got to stroke some new bunnies, baby goats and chickens – Arlo was literally squealing in delight, which wasn't ideal when we'd just been told to gently stroke and no loud noises as they were so new.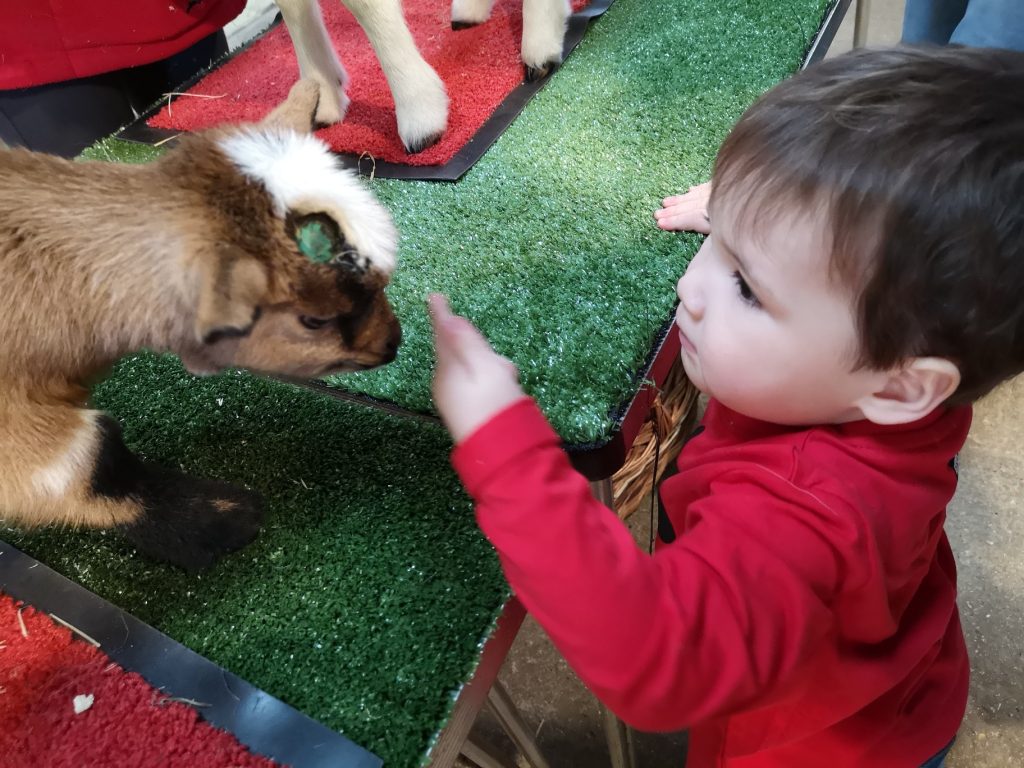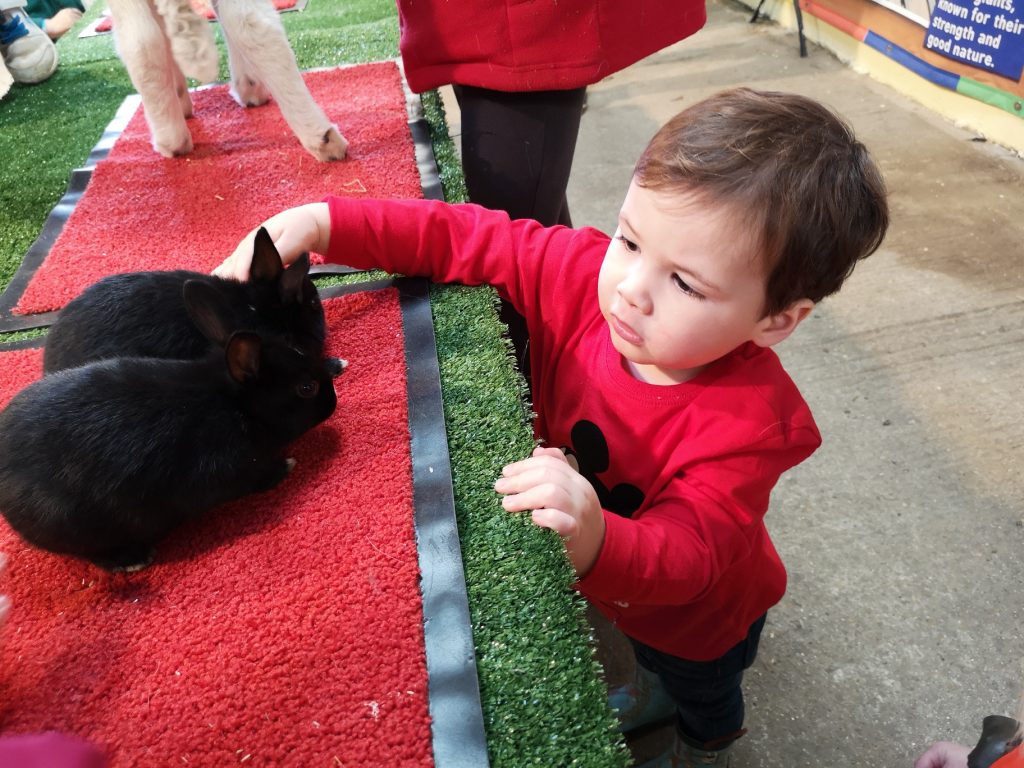 From here we went to the Animal Encounters Barn where Arlo continued shrieking in excitement at all the animals they had in there; ponies, chickens, rabbits, goats, sheep and a very exhausted pig with a hoard of freshly born piglets suckling away. We spent quite a bit of time here and had to make a return visit again before we left!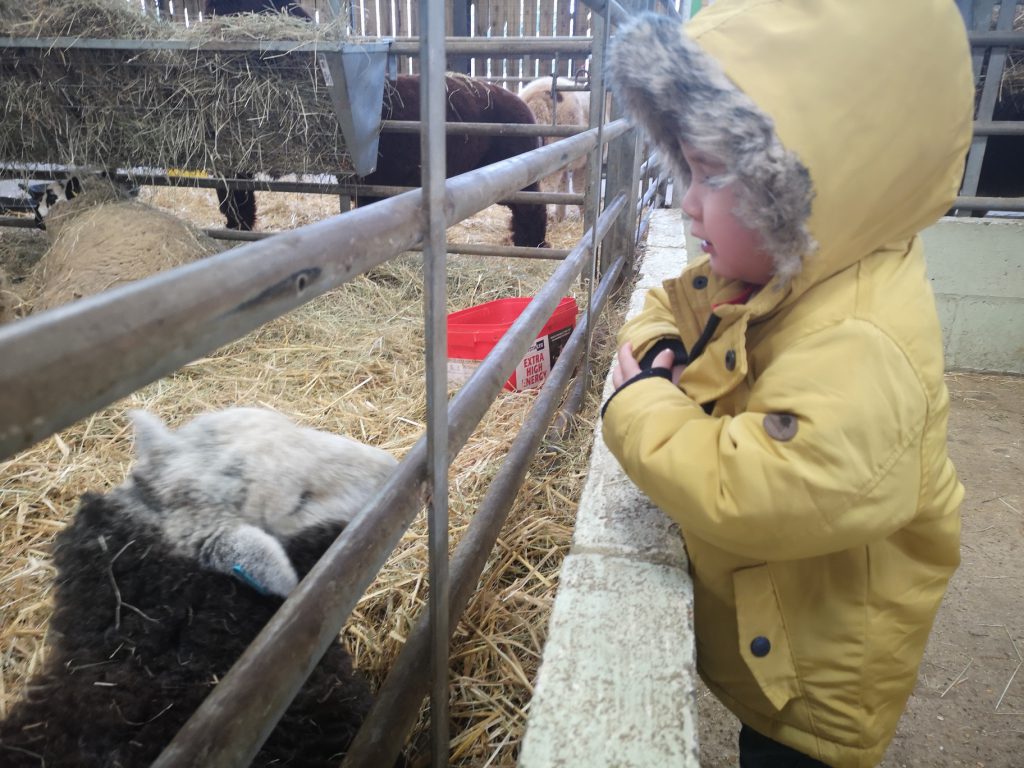 I'm the outdoor areas, I was really surprised to see the huge choice of different park areas, suitable for a range of ages. Arlo ran between each one, climbing into tractors and whizzing down slides before finally driving the wooden boat!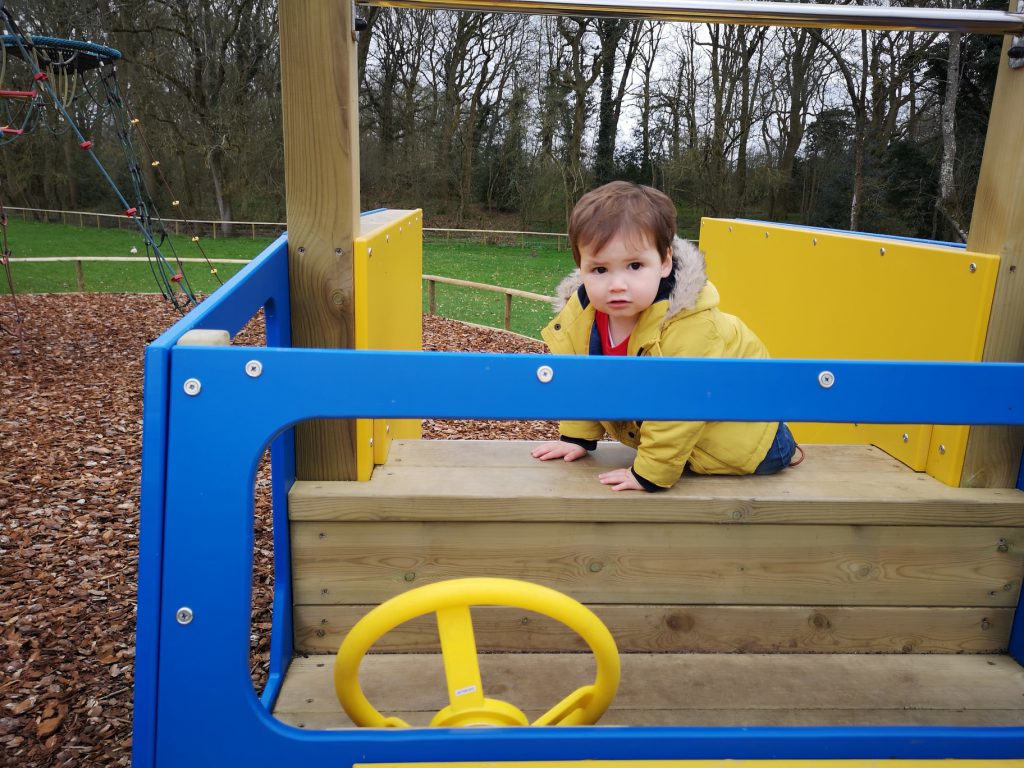 As well as the park areas, there are a few little fun fair rides – on the day we visited these were only open from 2-2.20pm but that was plenty of time for us to have a go on the teacups and the merry go round, they also have a merry go-round but the boys were a bit too small for that one.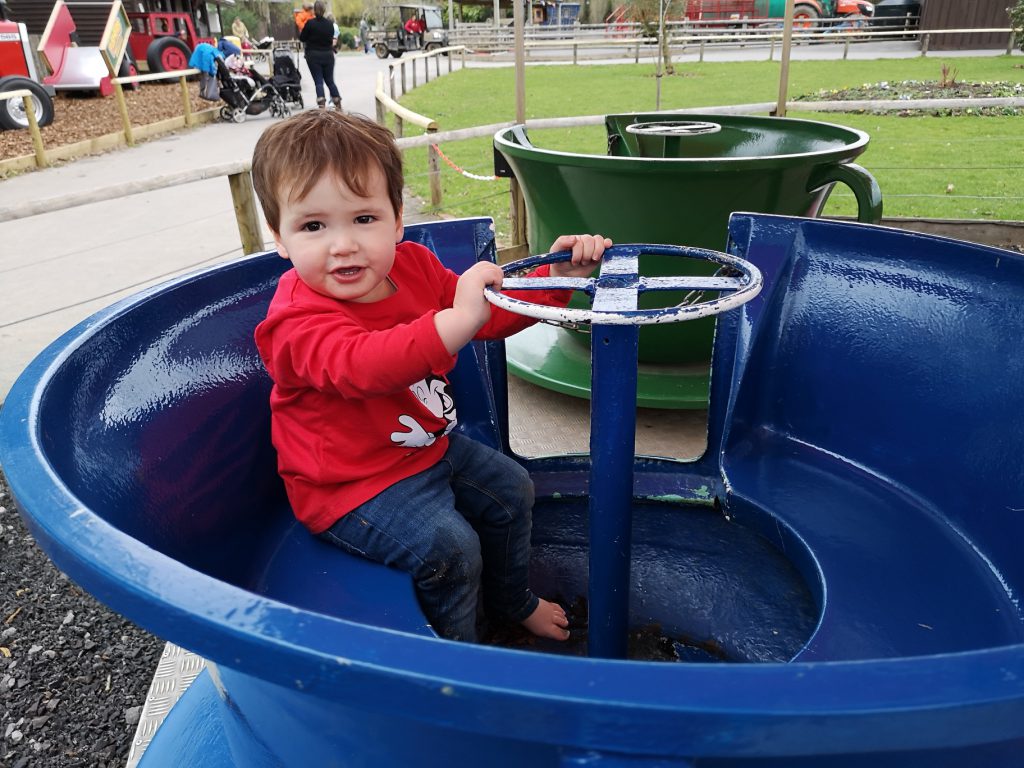 There were also giant air pillows (two for different age groups) and Arlo had great fun on these until he saw the hairy legged chicken and decided to chase after that instead. There's also lots of things for the bigger kids (and adults) to keep them entertained; the climbing wall, squirrel scramble, quad bikes and swing boats, crazy golf and the scariest of them all…Skyfall!
Fishers Farm do have pony rides, unfortunately we couldn't go on one at the time as it was for over 2s only. If your little one is over two years old, it's definitely worth a ride as it's only £1. Amazing value! 
Now, bad parenting award goes to us as we decided to take the boys on the ghost train; it started off well as we watched all the ducks swimming around the pond… and then we entered the inside. And that's where it went downhill. Both boys were absolutely petrified and nuzzled into us like baby koalas, if Arlo could have crawled up into my armpit I'm pretty sure he would have done.
We came off the ride with the boys in tears of pure fear and me and Emma in fits of laughter about our decision to take the kids on it.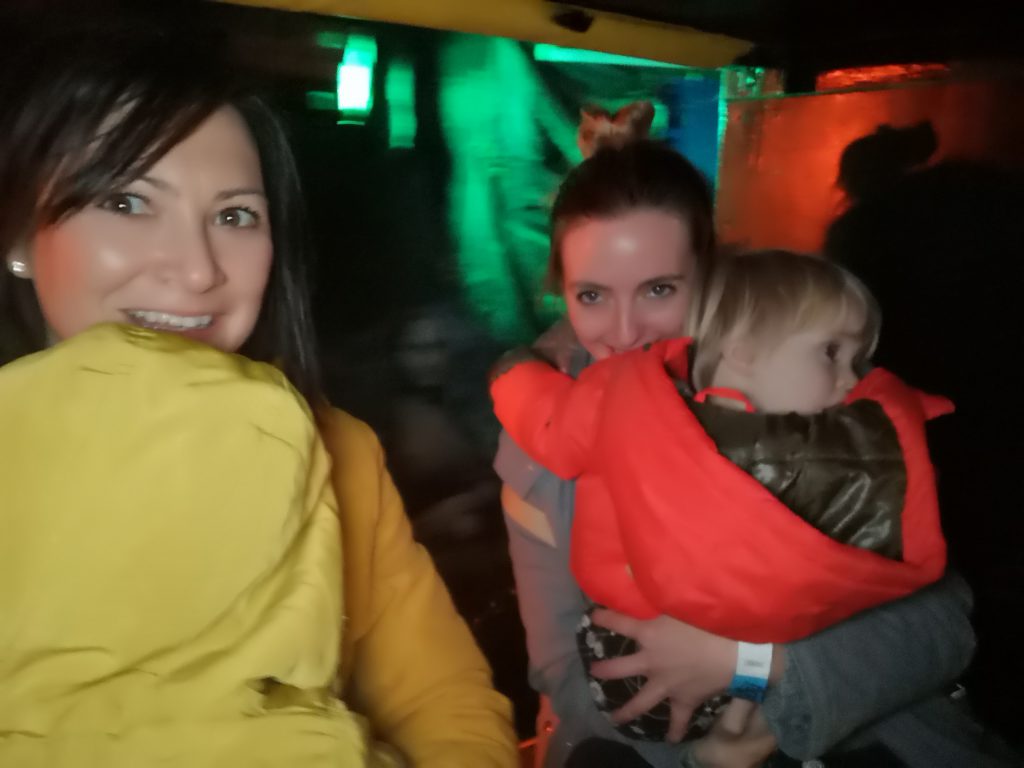 We were slightly late for the advertised tractor ride time (because we were in the animal barn… again!) but the lady who was driving the tractor kindly said she would come back for us after she'd finished the circuit. How lovely is that; that's not something you would get at a bigger, non-family run park so it was a lovely touch. The ride was brilliant, with commentary describing what we were passing – we saw more sheep, got up close and personal with the cows, saw goats and had a tease of the splash park (which was currently closed) before completing the loop and disembarking!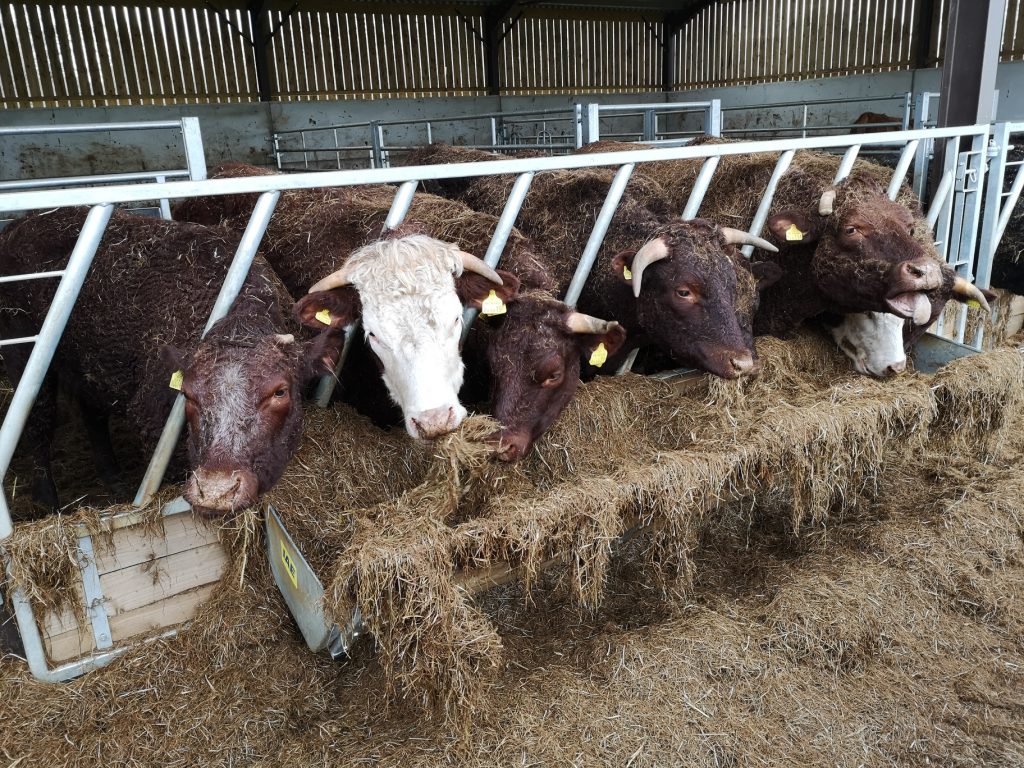 After the real tractor ride, the boys had the farmyard bug and spent quite a bit of time on the ride on play tractors – when I say "they" I mean we pushed them around the circuit and their legs weren't quite long enough to reach the pedals!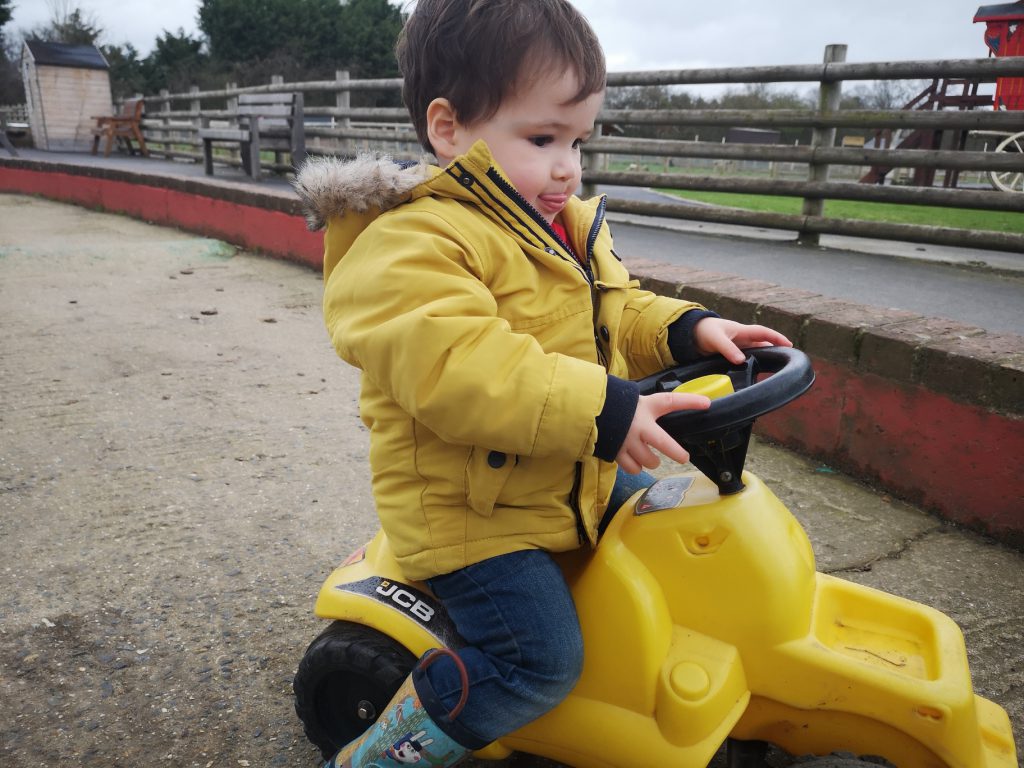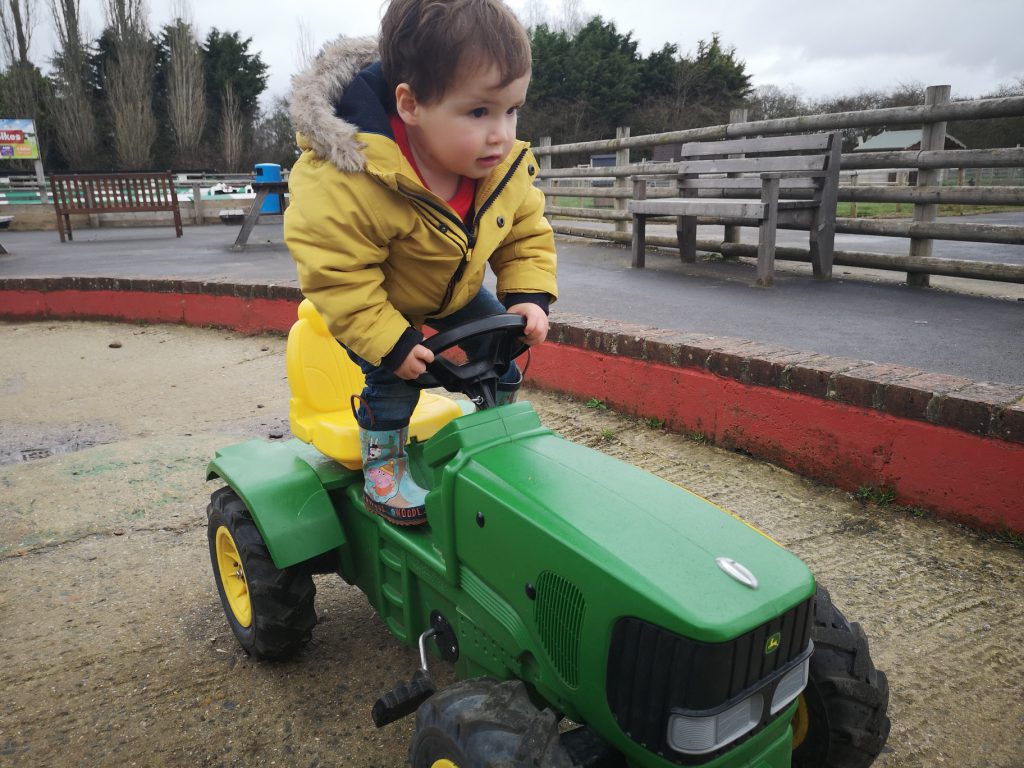 It was the perfect mix of indoor and outdoor fun teamed up with delicious coffee and cake – we left at closing time and vowed to definitely be back over the summer!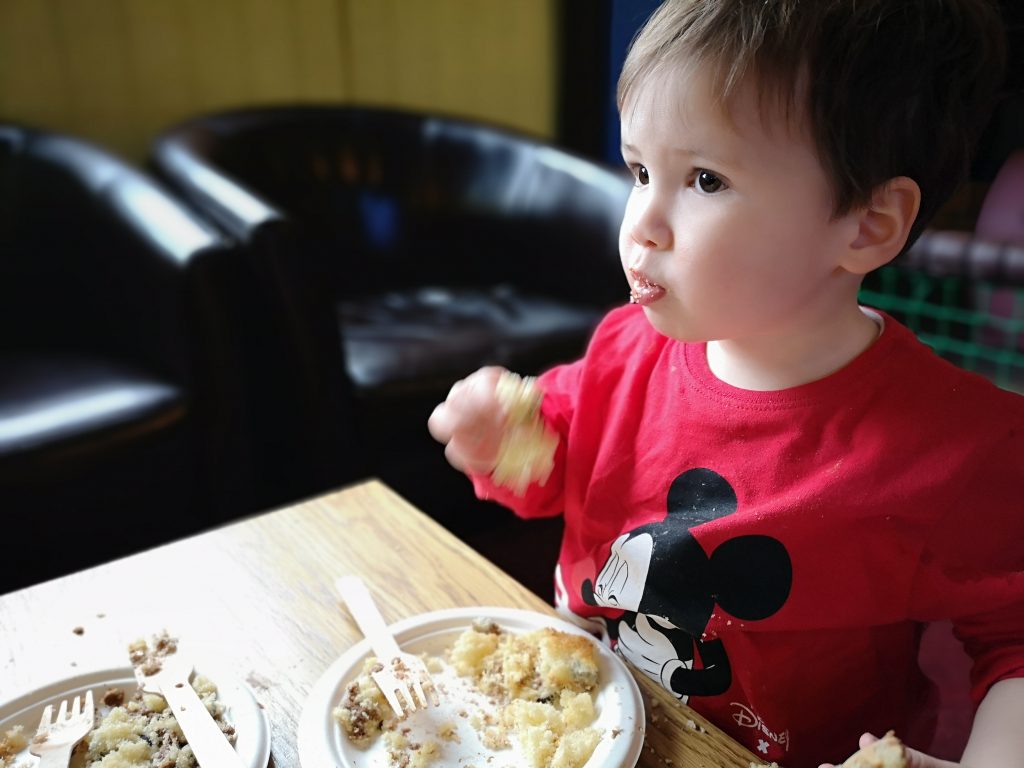 Do Fishers Farm Park run any special events?
There are different seasonal events held throughout the year at Fishers Farm; from 6th-21st April they are holding a Hopping Easter Adventure with magic shows and egg hunts, the May half term (25th May-6th June) is Princess and Pirates week with nautical trails, sing-a-long sessions and the opening of the splash park,  13th July marks the start of Summer of fun which runs through the holidays before Halloween Happy Hauntings and the Magic of Christmas end the year.
When is it open and how much does it cost?
Fishers Farm is open 363 days a year (closed christmas day and boxing day). Admission varies dependent on high, mid or low season and whether it's a weekday or a weekend (to give you an idea – we went on a Thursday in low season and it was £10.75 for me, it would have been £16.75 to go on the weekend) and under 2's go free. If you love it and think you may return a couple more times throughout the year then you can buy an Annual Membership in either a one-off payment or via monthly direct debit payments.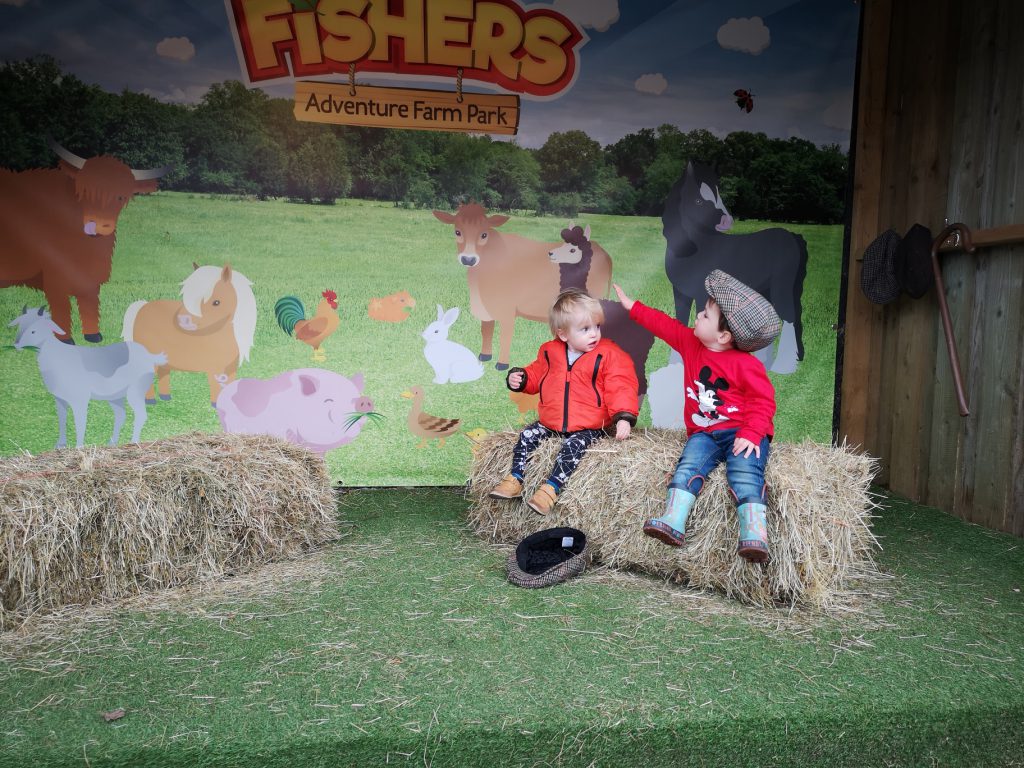 If you're looking for a family friendly, full of fun, day out then look no further than Fishers Adventure Farm Park – it definitely won't disappoint!