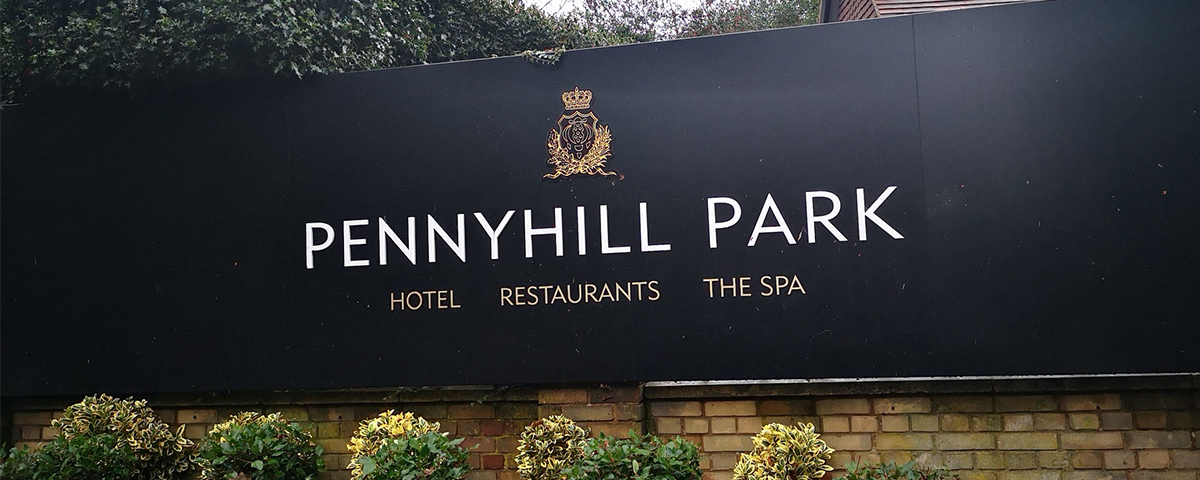 An overnight stay at the amazing Pennyhill Park, Surrey
We were lucky enough to have not only a child free weekend, but a child free weekend spent at the stunning Pennyhill Park and Spa.
For those who don't know, Pennyhill Park is located in Bagshot, Surrey and it's absolutely breathtaking. It's posh but not overly so. Enough to make you feel special, but not out of place. We went for a weekend in December and after driving up to the door we spent a while admiring the stunning Christmas decorations.
After checking in we were shown to the room we were staying in for the night.  Our room was called Lillie, which was a suite, and wow. I'm pretty sure it was bigger than our first house. It had a four poster bed and an upstairs. An upstairs!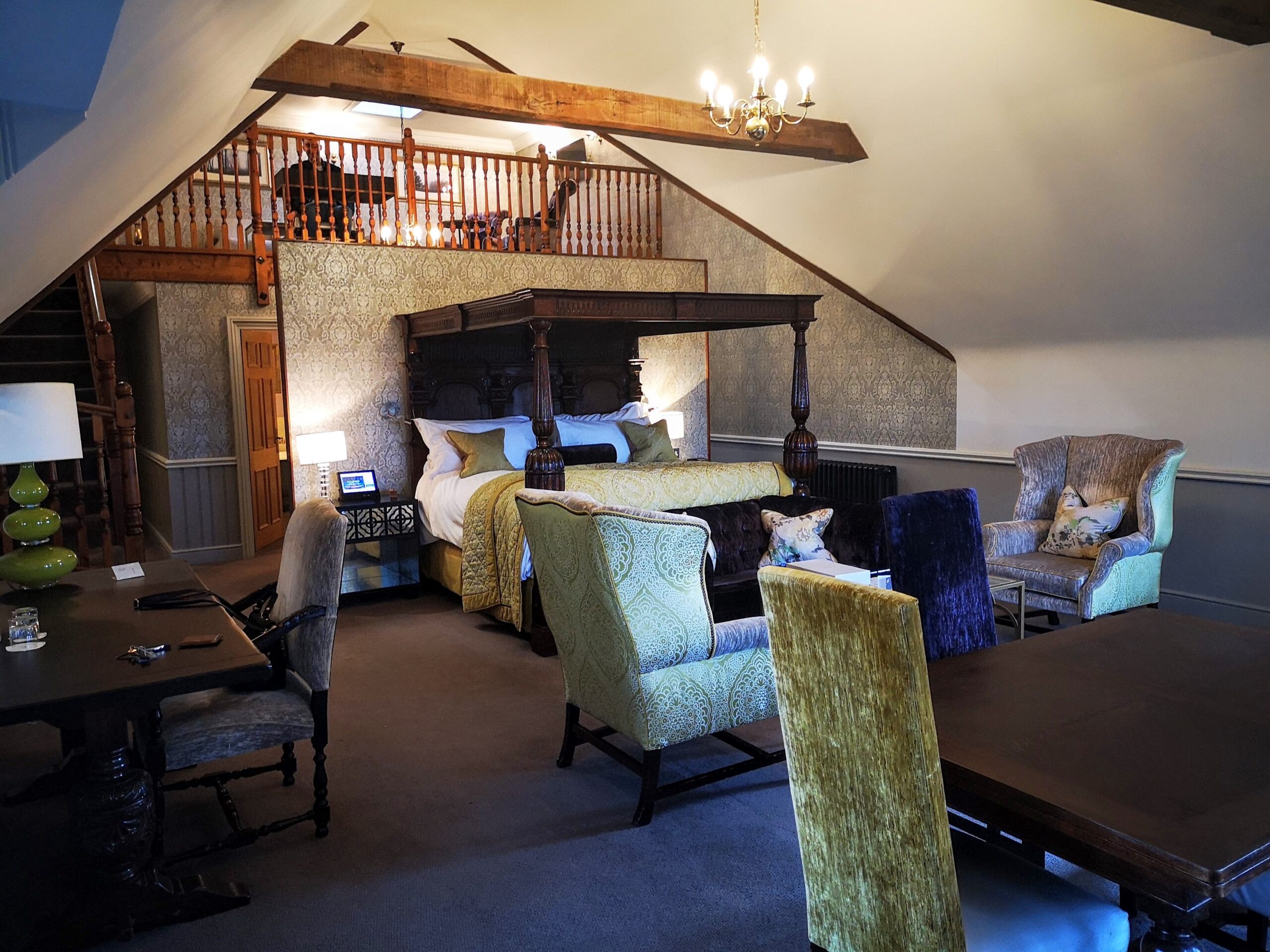 There was also a sofa, dining table, coffee table and kitchen area downstairs. And not a Paw Patrol or TY Beanie Boo in sight. After checking out where to eat (from out bedside iPad!), we decided to head down to the bar area for a bite to eat (there is a buffet style restaurant but we didn't fancy that) so we opted for lunch in The Ascot Bar. I went for a sticky soy glazed beef salad and it was amazing whilst Stuart went for the Club Salad – and chips, obvs.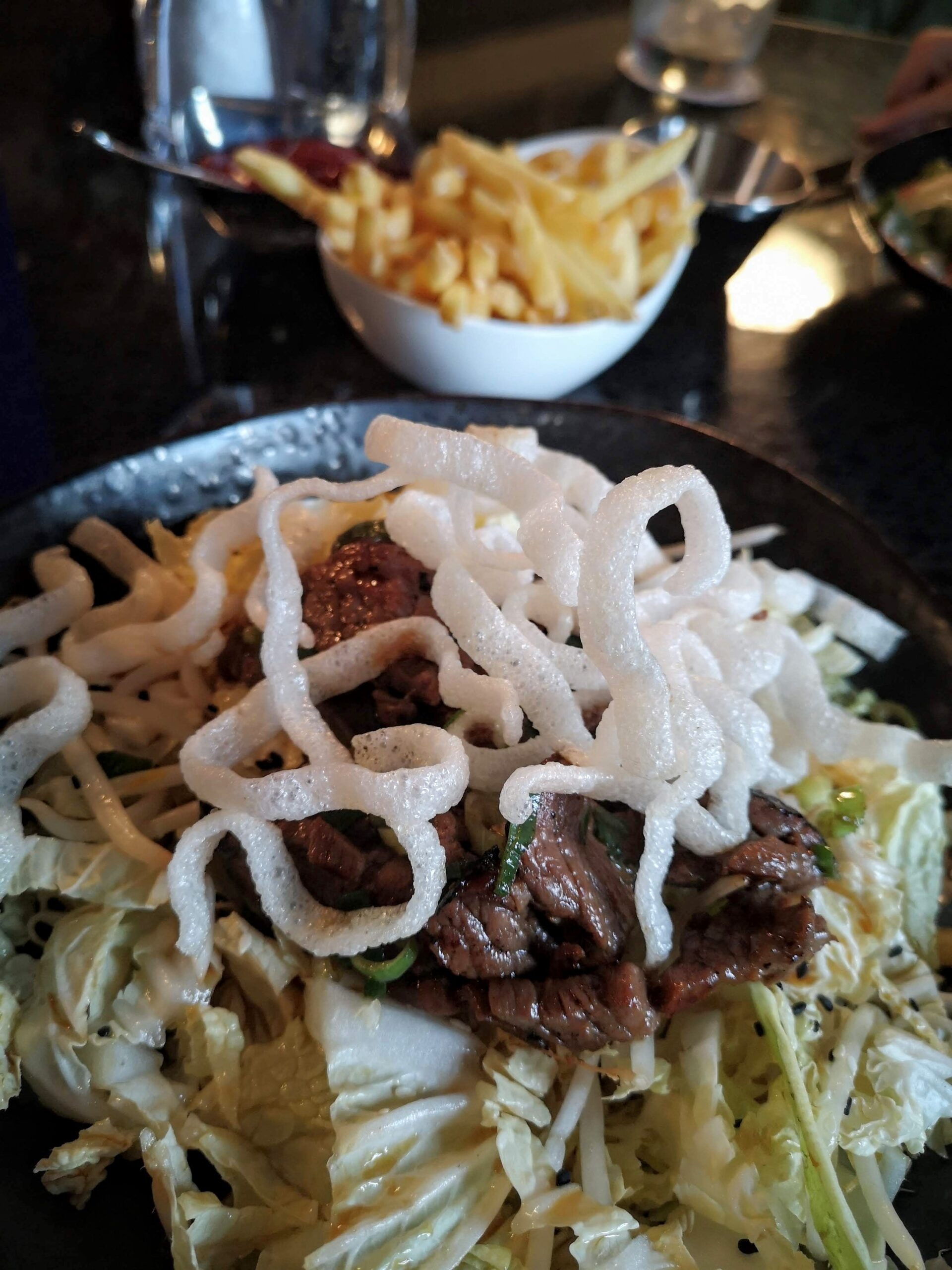 Feeling heavenly after our salad indulgence we headed out to the spa area. This was included in our room stay so we had full access to the spa (though some rooms were undergoing a renovation) – I did contemplate having  a treatment but the only one that I fancied was £202 for an hours treatment and I couldn't justify it! I didn't miss it though as everything else was so relaxing and chilled.
We got changed in the changing rooms, grabbed a towel, slippers and dressing gown (FYI – they have Dyson hairdryers!) and headed down to the relaxation zone. The spa is fully accessible with lift access if needed. A huge swimming pool greets you, complete with underwater music and fibre optic lights – but don't worry if it looks a little busy, there are eight pools in total so you won't ever be short of water!
I spent my time relaxing on the heated thermal beds, Kindle in hand, or sipping on fizz in the outdoor hydrotherapy pool and jacuzzi. It was a tough problem to have… I particularly enjoyed the hydro pool as it was accessed through a swim-through entrance, so even though it was December you never needed to feel the Winter chill. Waiters/resses came by often to take orders and deliver them back to you in seconds – now that is service!
There's a variety of steam rooms ranging in temperatures and a 90 degree sauna to warm up in. Gel filled beds are situated in the sensory room and there's a number of experience showers too – including a bucket shower and an ice igloo to really get the circulation going.
After our afternoon of pure relaxation – and perhaps one too many fizzes! – I headed back to the room to get ready for our evening. I was tempted by the roll top bath (with TV!) but thought better of it and had a shower under the rainforest shower instead. After a silent getting ready session, with not one child pulling at my leg or stealing my make up, I was ready and we headed down to dinner.
As this was a real treat, we'd decided to book a table at The Latymer – Pennyhill's fine dining and Michelin star restaurant. We opted for the five course tasting menu. I love food but I'm not widely adventurous so it was a great way to enjoy food I probably would never even think of choosing.
We walked into the restaurant, which was reminiscent of a lovely front room…which smelt strongly of cheese!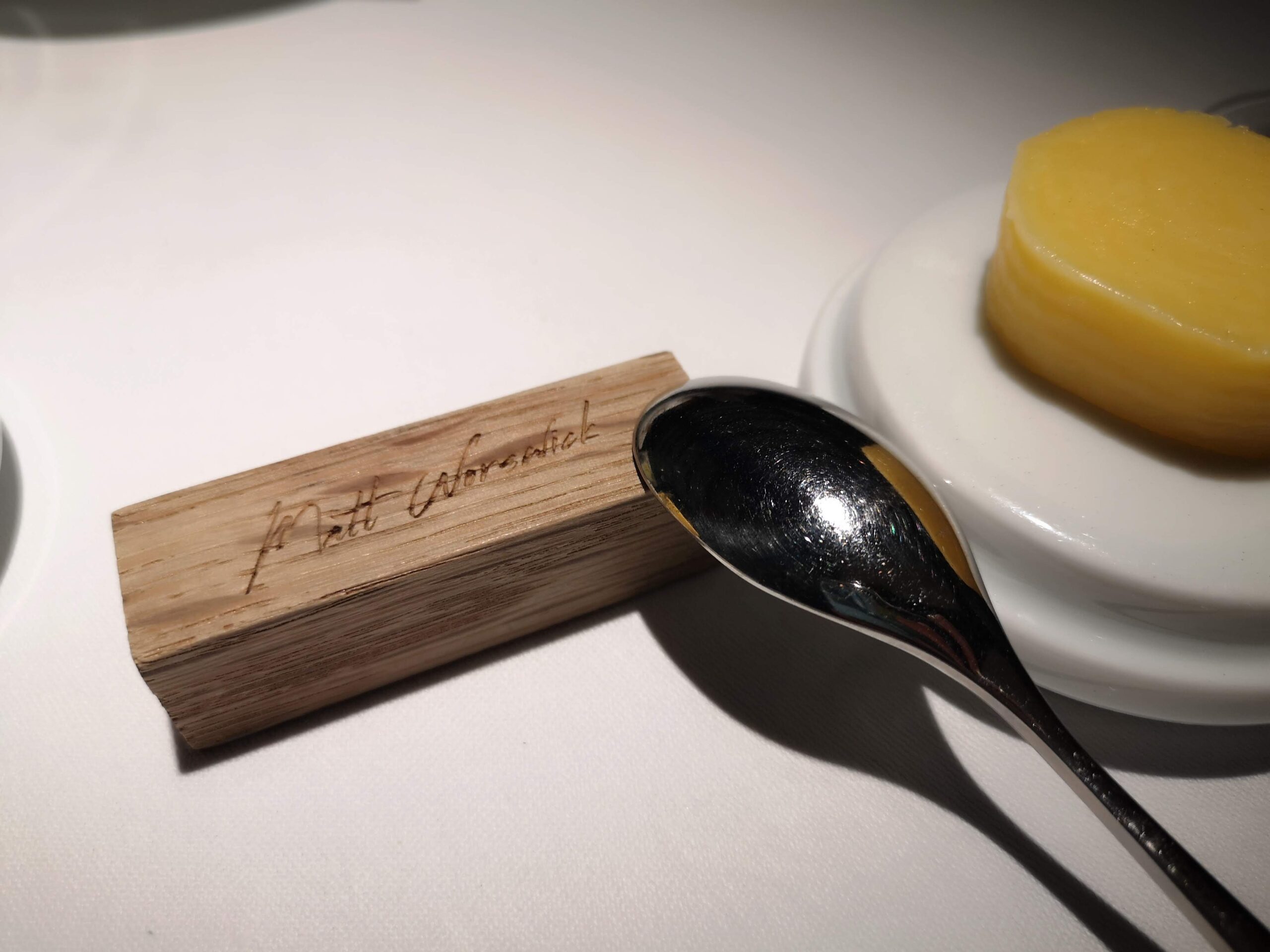 Our sommelier advised us on wines to pair with each course, but I'm a simple gal so I decided to stick with their English Sparkling wine and Stuart opted to work his way through the gin menu! We had a 7pm dinner reservation and when we arrived it was just us – which was a bit odd, paired with the fact there is no background music in the restaurant, made us feel quite conscious of not talking too loudly.
Our evening started with a cheese and truffle ball, which was then swiftly followed by warm sourdough bread and a knob of black garlic topped butter (it looked incredibly but I really wanted to save myself for the main event so resisted the bread course!)
Each course was introduced a few minutes beforehand with a small card detailing what was coming and a little history behind it, which was a lovely touch.
Our first course was oyster emulsion, with smoked trout and granny smith granite. Something I would never have chosen but was absolutely delicious – and one of my favourite courses. It tasted as Stuart described it 'a pimped up prawn cocktail'.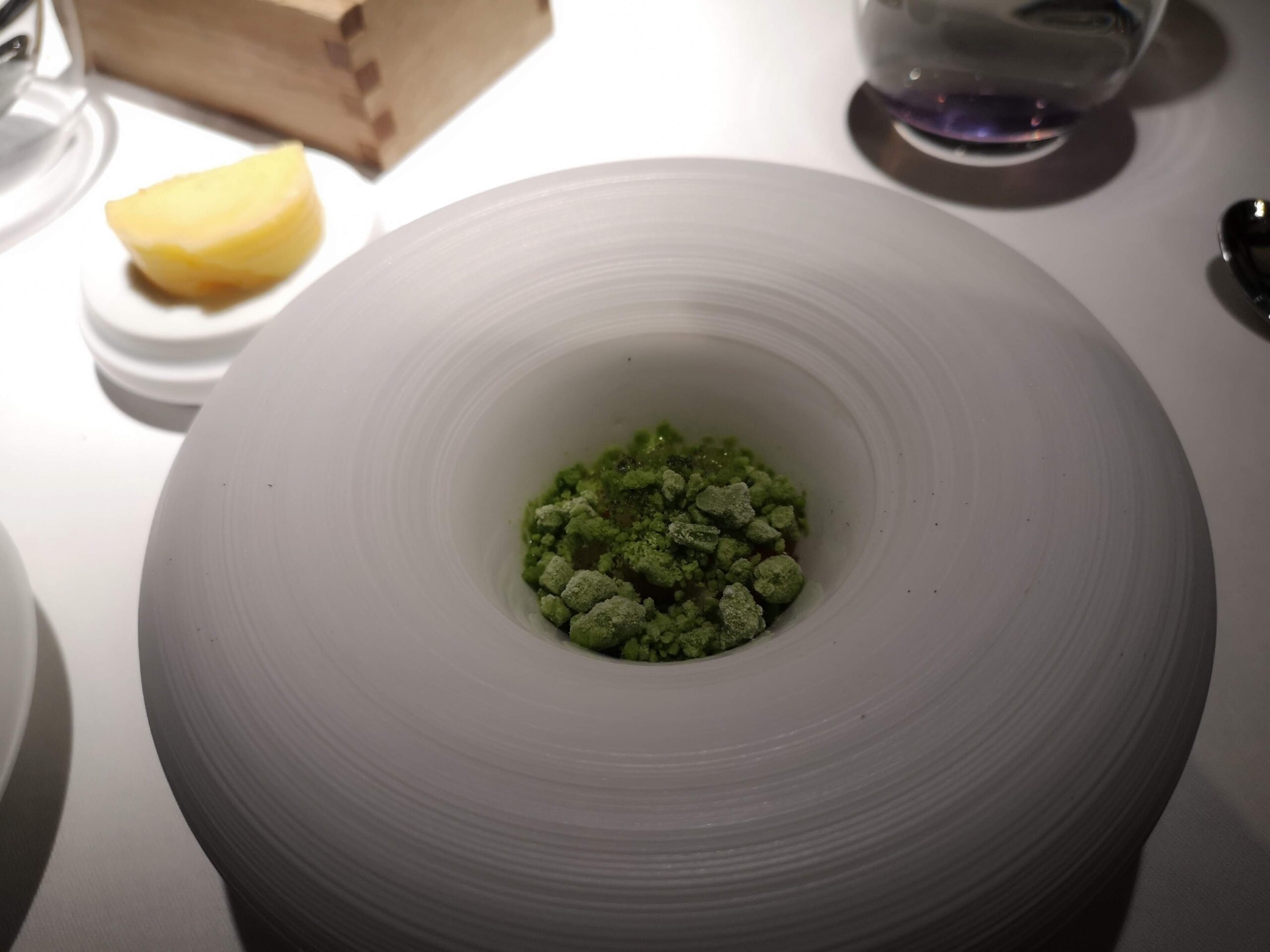 Next up was a salt baked celeriac dish. This was definitely my least favourite and aside from lumping pepper, cream and banana on it too – it was pretty much my worst nightmare on a plate. But that's more me being fussy than the dish itself. Beautifully presented but I did return it with just a mouthful missing.
The third course was the wild mushroom risotto, this was super tasty and I really enjoyed the contrast in soft mushroom against the crunchy grainy rice – the only downside was that there wasn't a knife to cut the huge oyster mushroom which was placed on the top.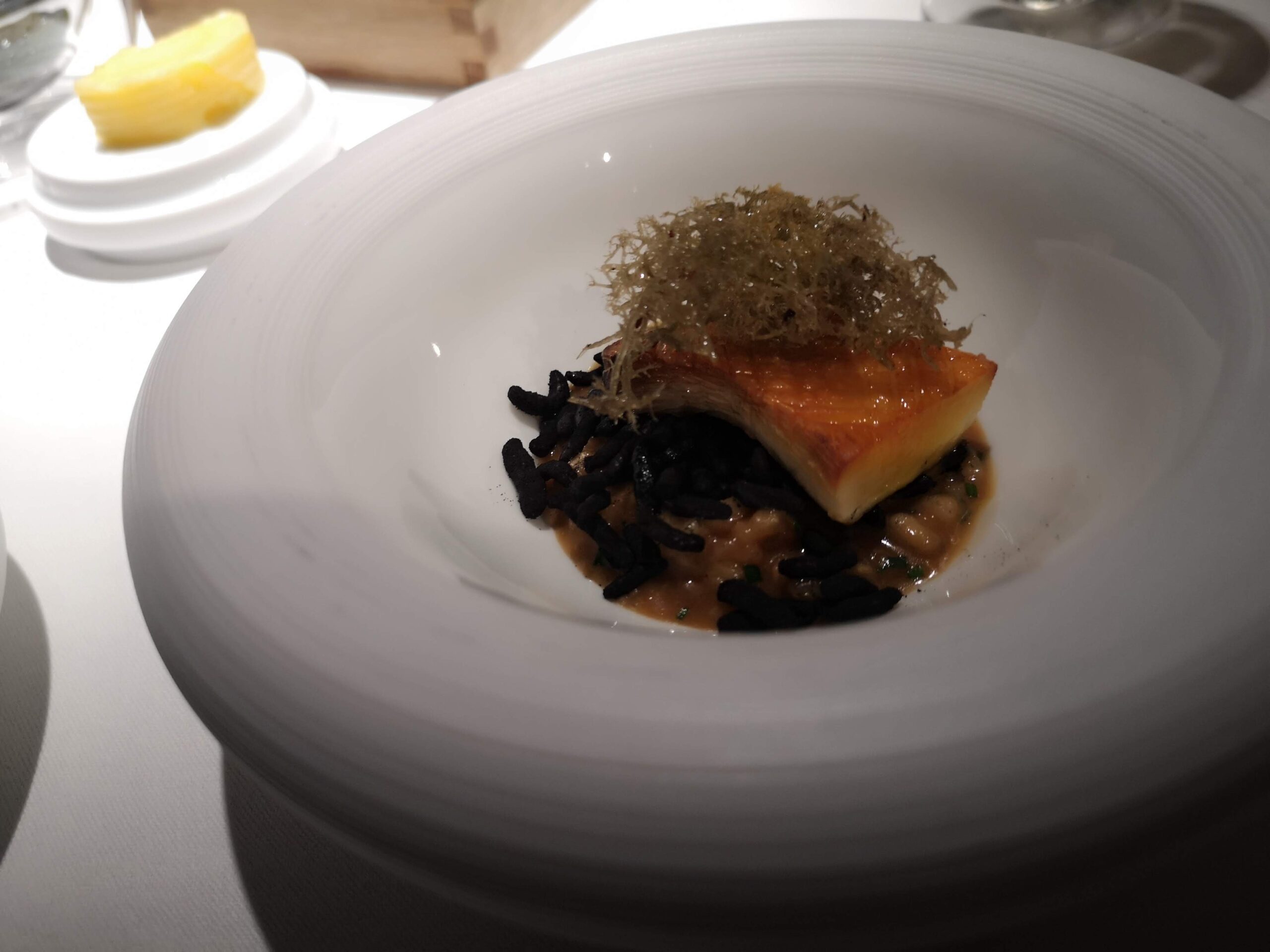 The 'main' course was a beautifully cooked venison dish, accompanied with pear puree, caramelised walnuts and mushrooms. I was starting to get full by this point, but of course finished every last bit!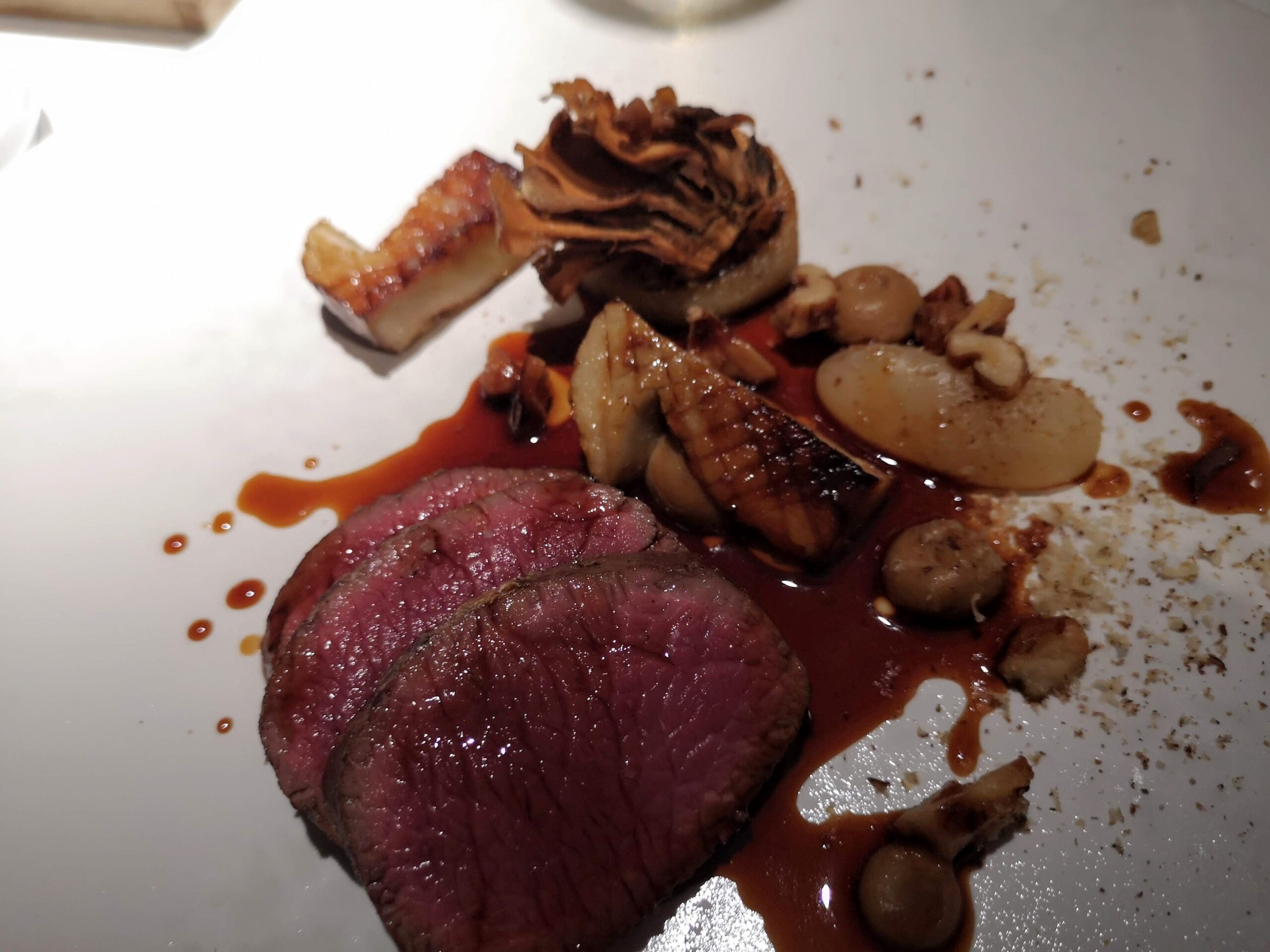 The standard route would have then been to have gone to the dessert, however we were enjoying it so much – and with the restaurant with more diners in, creating a buzz – we decided to sneak a cheese board in each. The crackers and sweet fruit bread with the butter were enough, the cheese was a complete added bonus to the plate. I'm so glad we went for this. We did choose two separate boards so we could pick and try each others selections.
A chocolate dish with a swirl of ice-cream and some gold dusting was delivered to finish the menu.
Once finished, we headed to The Ascot Bar for a few more drinks and to listen to the live music being provided by a male singer and his guitar. He was even taking requests from some overzealous older ladies who were accosting anyone that walked past them and luring them in for a dance on their makeshift dance floor!
Would I recommend a visit to Pennyhill Park and Spa? 
Absolutely, without a split second of hesitation!