Christmas Gift Guide For Him | Gift ideas for the men in your life
I don't know about you, but each year I struggle to get inspiration for Christmas presents, especially for the men in my life. I like to say it's because 'what do you buy the man who has everything?' – I mean LagerDad wants a Porsche and unfortunately my part time wage doesn't quite stretch to that, and my blogging notoriety isn't strong enough to get one of those gifted, so…..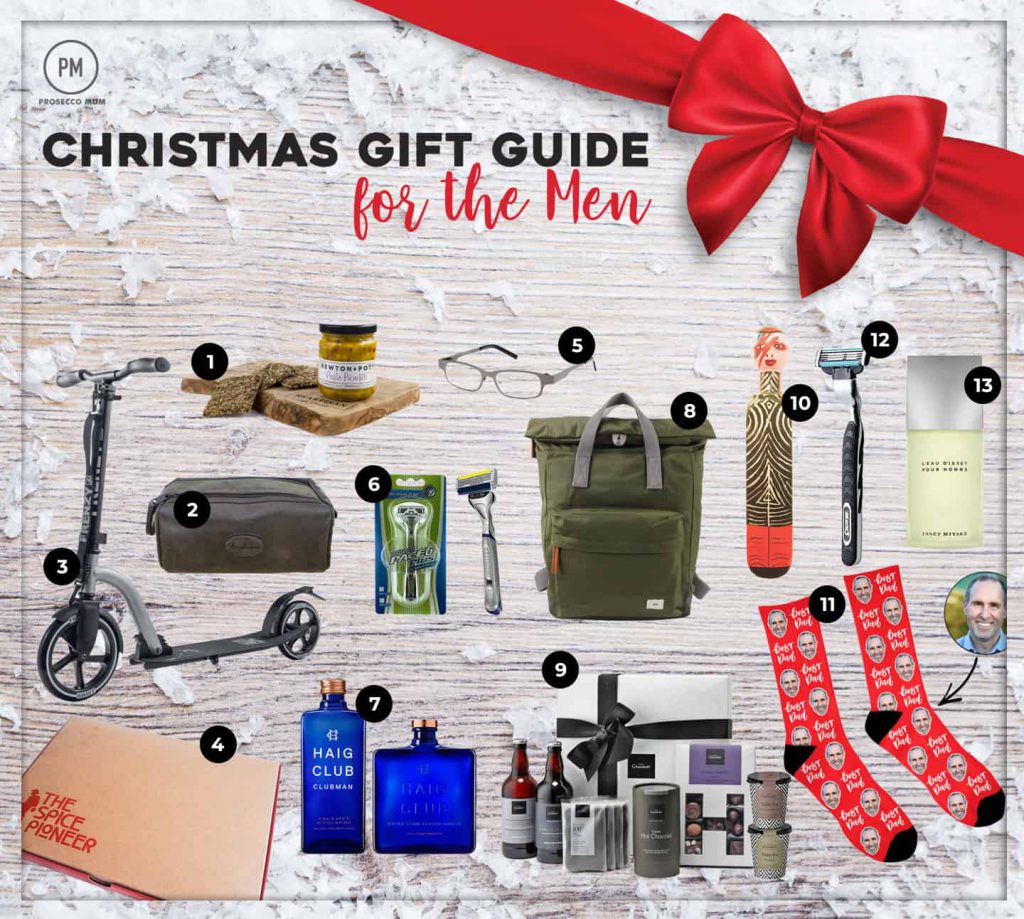 I've been researching and starting my shopping early this year and I thought I'd share some of my christmas gift ideas for the men in your life:
1 For the man that loves a condiment – Heartisan Fine Foods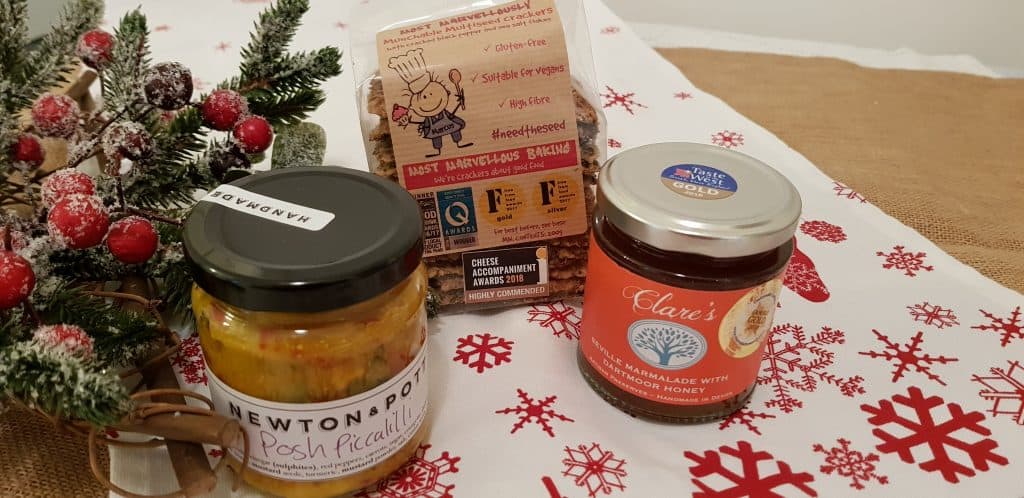 I stumbled across Heartisan Foods when searching for items to put in the annual festive hamper – I like to do a hamper present for several members of our family, and I start gathering all the bits in during the few months before Christmas. Because the items are all jarred and sealed, the expiry dates are a lot longer. I discovered Heartisan and loved that they give local produce a national passport; they work alongside independent producers from all corners of the country – I can vouch that the Posh Piccalilli is mouthwateringly amazing!
2 For the man that likes to keep it fresh whilst traveling – Personalised Double Zip Wash Bag 
This is a classically styled distressed leather wash bag  – with the added bonus of a personalised option. The bag has a wired top and a double zipped pocket, idea for all of those travel size toiletries, and easy to access. The bag can be personalised with either name or initial (dependent on font – there's a choice of four). I was really impressed with the size and quality of this for the money. There's a few different options of wash bags over on Personally Presented – it's definitely worth taking a look!
3 For the commuter man – Commuter Scooters 
Sofia has her own scooter which she uses to cruise her way to school on and now Stuart and I have one too! The Frenzy commuter scooter that we have been using is a foldaway; it's super easy to dismantle whether you're storing it at home or just folding it down to carry on your shoulder, making it easier to weave through the commuter traffic.
Having 230mm wheels means it's not only a sturdy and comfortable ride but it can also pick up a bit of speed. It has shaved minutes off the school run/getting to work on time problem! (Full review coming soon on these!)
4. For the man who loves getting his cook on – Spice Pioneer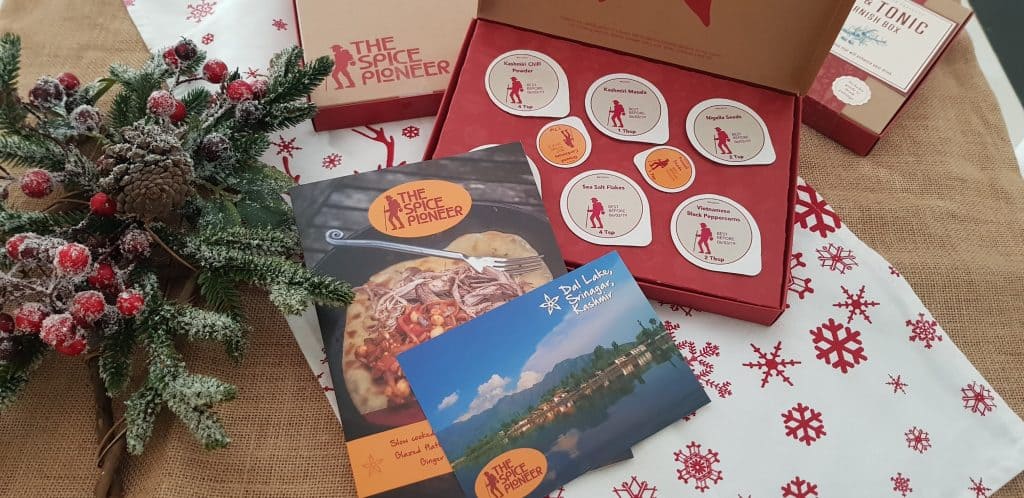 As soon as I found this company, I knew this was one of those presents that you buy, yet reap the rewards for yourselves! I loved the look of the boxes when they arrived and I was even more wow'd when I opened it to find the delights inside. The idea behind The Spice Pioneer is a monthly delivery of spices and flavours to create tasty meals from every continent of the world – and a super nice touch is the music playlist to get you jammin' or jivin' as you cook your culinary delight.  I loved the fact that not only the essential herbs were included but also those hard to find ingredients, no more trawling the supermarket shelves to find an ingredient which you only need a pinch of.
We tend to cook the same meals on a rotation throughout the month and so to receive a box with new recipes that we might never have tried otherwise has really made evenings fun and mealtimes more tasty!
The Spice Pioneer can be taken out on a 3, 6 or 12 month subscription for yourself or purchased as a gift – and there's an offer at the moment where you get a free G&T box with your first order.
5. For the specsy man – Eyejusters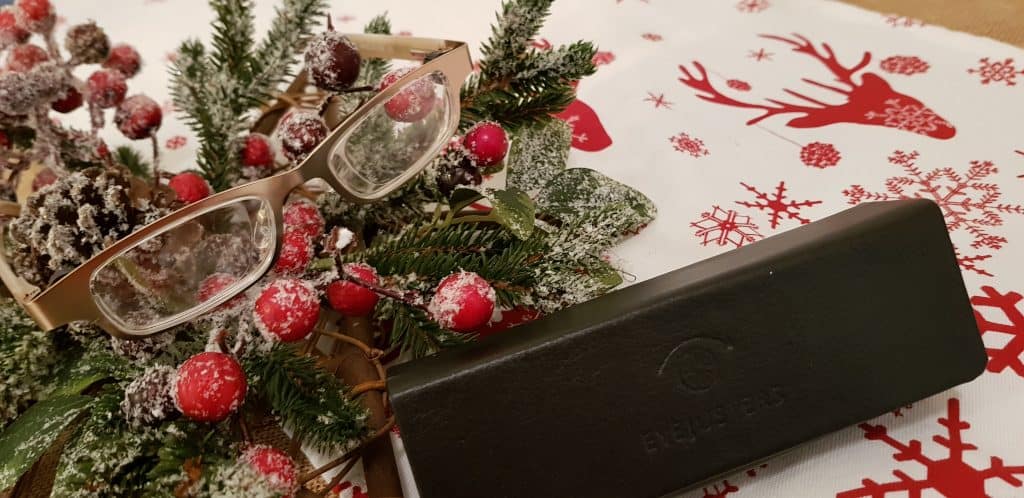 This may seem like an odd choice to have on a Christmas Gift Guide – but trust me, these Eyejuster glasses are a-mazing! My in-laws have 'ready readers' and usually my mother-in-law has a pair of 'cheapy' leopard print specs that she chucks in her bag and whips out when they need to read the menu at a restaurant, she chooses and then my father-in-law borrows the glasses and looks like Dame Edna whilst squinting through one eye because they're not his prescription but still better than no readers.
So I have found THE present for him that will revolutionise his life. Eyejusters restore the eye's ability to change focus, and the best bit is that by turning the revolutionary hidden eyeDials you can change the strength of the lenses from +0.50 to +4.00 D, or anything in between. Ta-daaa! One pair of glasses but no more one eye squint for Mr F!
6. For the man who likes to keep himself looking sharp – Dorco Pace 6 Plus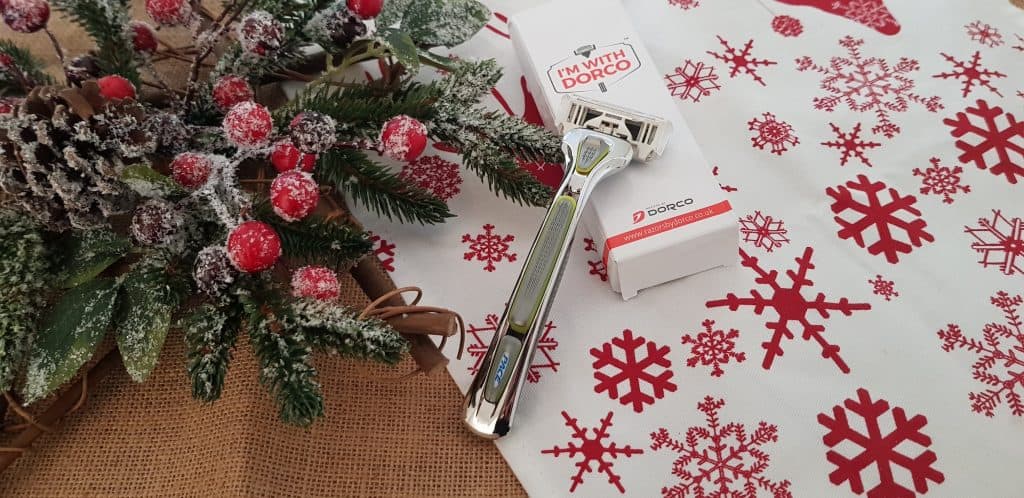 Dorco is a 60 year old South Korean razor brand that uses ancient blade making techniques, the PACE 6 Plus doesn't only look good it's pretty good at its job too – with six blades for a close shave, including a fine trimmer blade on the rear. Dorco offer a range of razors, both for mail order and subscription that would make a great gift. The subscription service is based on how many blades you use per month – and the price starts at just £3.90 a month.
7. For the whisky connoisseur man – Haig Club
There's no doubt you've seen the stand out blue Haig Club bottles along the alcohol aisle of your supermarket or off licence, Haig Club is a single grain scotch whisky with a character and style that sets it apart. Trends come and go, but Scotch will remain cool whenever, wherever.
And if it's good enough for David Beckham, it's good enough for the man in your life – right?
8. For the backpack savvy man – Roka
Is the man in question still carrying a briefcase? Bring him into the modern day and treat him to a sleek and minimalist Roka London backpack. Perfect for use as a work bag with room for a 17″ laptop and A4 notepad…and it could even double up as a snazzy dad's changing bag too. Win!

9. For the sweet toothed man – Chocolate Hamper for Men
Does your man steal your chocolate? There's only one thing for it – buy him his own box, complete with two bottles of cocoa brown malt beer, hot chocolate, four slabs of dark chocolate and a couple of nibbly pots. All he'll need then is his fluffy dressing gown, face pack and you've almost got yourself a live-in BFF!
10. For the man who likes a…wedgie? – 'Wedgie' Door Stop
Ground control to Major Tom… David Bowie reincarnates yet again into this Ziggy Stardust era inspired 'wedgie'. No worries if you're not a Bowie fan, there's also Wonderwoman, Karl Lagerfeld and Frida Kahlo. This is the ultimate practical gift for the stylish, house proud man. Infact, they're so cool I've brought one for our office!
Not only are these super cool, but they're individually crafted and hand painted by workers in Sri Lanka, using a scheme that empowers rural communities.
11. For the man who worships his feet – Supersocks
These are amazing! Why not mix up the standard sock present and get their face or even your face printed on a pair of socks?! There are 10 different colours to choose from and I'm definitely adding these to the list for LagerDad and SuperGramps!
12. For the man who keeps himself trim – Gillette Mach 3
Gillette have introduced a limited edition Mach3 gift set which includes additional cartridges, a shave gel and a stand for the razor – making it an ideal gift for Christmas!  The introduction of the stand comes from a recent survey that shows 96% of consumers would rather their razors on the stand, as to avoid it interacting with other bathroom surfaces.
13. For the fragrance loving man – Issey Miyake 
It's definitely not a new scent, it's been around for over 20 years – but for me it's a complete classic. I love this fragrance on Stuart, he has a few others but this is hands down my favourite and it's one of those that's always on the bathroom shelf. A timeless fragrance with a very masculine signature – when it runs out, it's replaced, so I'm always hoping it runs out around Christmas as it's an easy go-to gift!
And finally, we can't let Christmas go by without a mention of the age old classic – Lynx Africa. I mean is it even Christmas if you don't get the man in your life a Lynx gift set?
Are you a man looking for gift ideas for the lady in your life? I've got Christmas Gift ideas for that too!
*This post contains some items that have been gifted to me, however all reviews are my honest opinion of those product.