Christmas Gift Guide For Her | Gift ideas for the ladies in your life
I'm one of those people that just can't wait. If I see something, I just have to buy it – it's the ten years being a spoilt only child in me, or that's what I like to tell myself. But as Christmas approaches and family and friends start asking what gifts I might like, I thought I'd compile some of the things I'd be pleased to receive under the tree this year.
So, without further ado (I love saying that ole phrase) – here is my 'Christmas Gift Ideas…for the ladies' round up!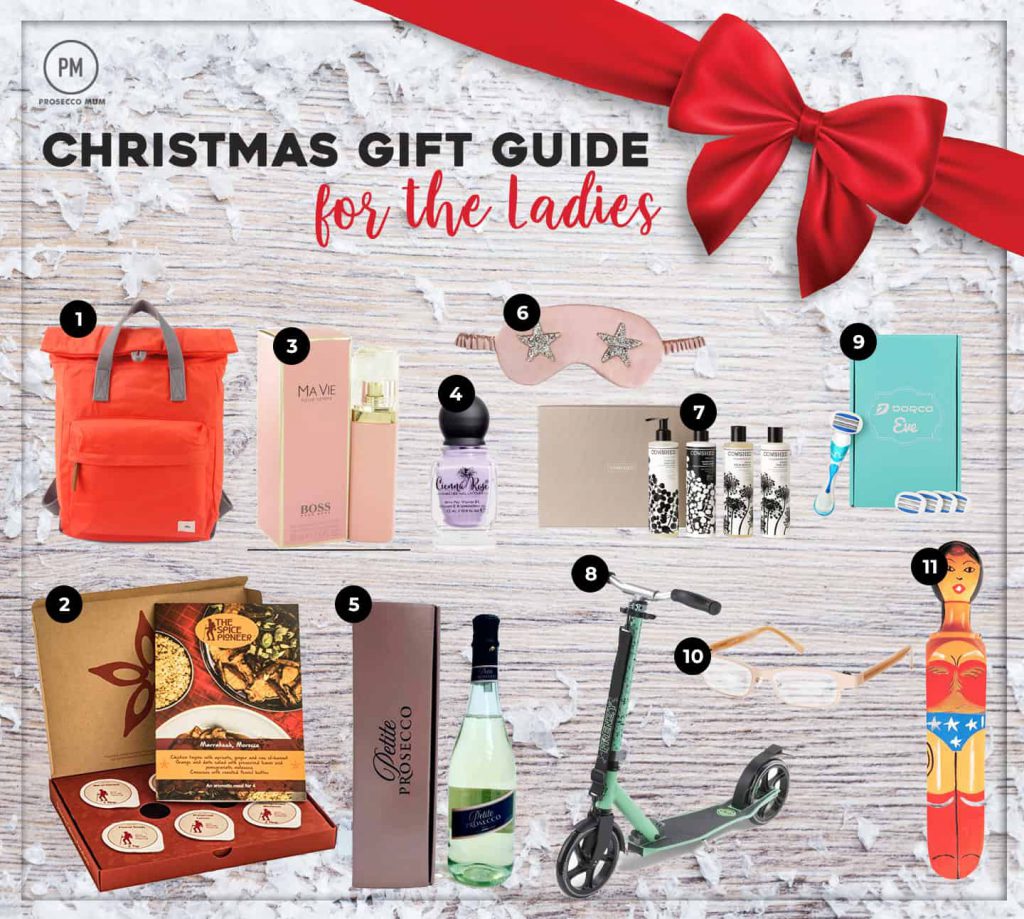 1. Roka London backpack – As a mum of two little people I often have to ditch my handbag in favour of something more practical, this Roka backpack hits the nail on the head. Trendy, fashionable and practical – it comes in five different colours. Forget office to cocktail night, it's all about baby changing to office these days and you can keep it dual as it has the ability to fit a 17″ laptop in.
2. Spicy subscription from The Spice Pioneers– I recently discovered this spicy subscription service from The Spice Pioneers when they kindly sent me a couple to test. I loved the look of the boxes when they arrived (perfect fit for your letterbox so none of those ball ache trips to pick up a parcel!) and the insides are just as yummy!
Spice Pioneer is a monthly delivery of spices and flavours to create a variety of meals from every corner of the world – you also get a music playlist to dance along to, dependent on the meal that's been selected. I loved that it included not only the essential herbs but those hard to find ingredients, which you usually end up trawling the shelves for to find that you only need a pinch!
Sign up for your 3, 6 or 12 month subscription now whilst there's still an offer – get a free G&T box with your first order.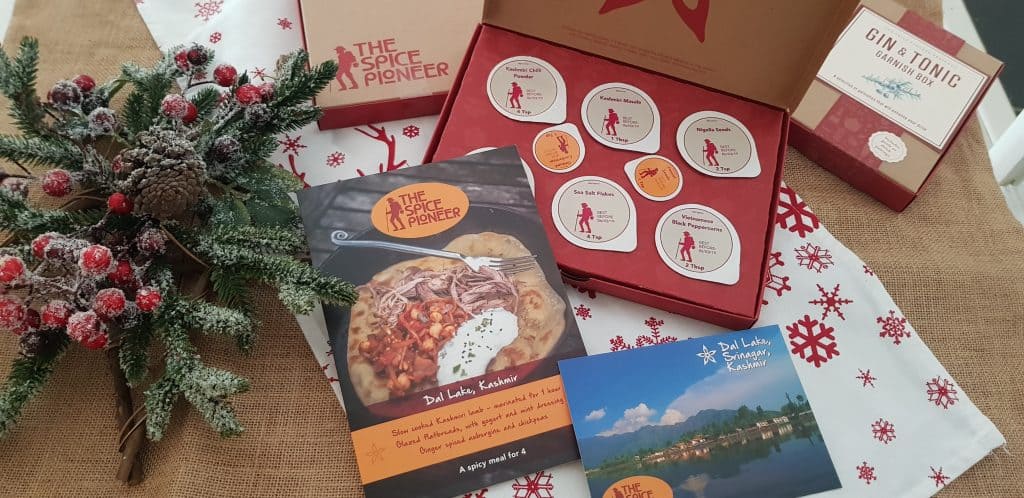 3. The token 'perfume' gift – -Boss Ma Vie is one of my favourite perfumes and no matter how many others join it on my dressing table, this is still my go-to favourite. I first discovered this a few years ago when I actually pulled off one of those perfume testers which are stuck to the inside of magazines (I mean, who does that?!) and from then on I was hooked. I like it as it's light enough for day but spritzy enough for night too. One of my top recommended christmas gift ideas!
4. Vegan varnishes – I was kindly sent a couple of nail varnishes from the cruelty free, Vegan friendly Cienna Rose brand to try out on my talons!  The first things I noticed about the product was not only how long it lasted (ages!) but how super shiny it was…and how long it stayed shining, it was like having shellac – for a fraction of the price and done in your own home. I don't know if it's because it is free from toxins that gave it the long lasting shine but I was really impressed.
Your friend/mum/girlfriend/wife will be too, I'm sure! Find out more about this animal friendly nail polish here.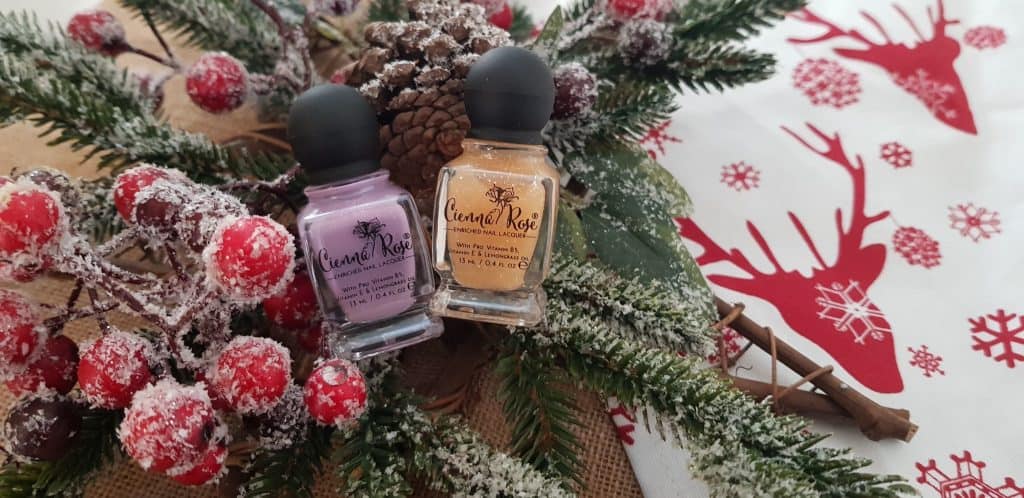 5. Festive Fizz – You can't go too wrong gifting a bottle of fizz, so why not go one better and treat her to a bottle of Petite Prosecco – the low calorie, reduced sugar drink? At just 59 calories per glass, maybe get her a couple of bottles – it's practically one of your five a day. THE perfect Christmas gift!
6. Silky Eye Mask – Just in case your darling children ever let you get a full nights sleep [I know, it's the biggest joke I've ever heard too], then why not envelope your eyes in this gorgeous 100% slip silk sleep mask from Myza?
It's well known that darkness helps your brain to produce melatonin which ensures an undisturbed nights sleep…then it's just a case of ensuring the kids get the memo too.
7. Toiletries with a twist – I'm a recent convert to Cowshed products after a friend introduced me to them. They do full size products but also smaller size travel collections which are a great addition to a travel bag.
There's different collections and also different scents to suit your moods including grumpy, horny, knackered and lazy…LagerDad if you're reading this, don't bother getting me second in the list, it ain't happenin')
8. Get your scoot on with Frenzy Scooters – Sofia has her own scooter which she (sometimes) uses to scoot herself to school on and now I have one too. Stuart laughed when I told him about the Frenzy commuter scooter that I was kindly sent to review.
I didn't know what to expect from an adult scooter, other than I might look like a bit of a tool, but actually it's pretty cool! It folds away in the flick of a button and closes really flat whether that be to store or to carry on your shoulder. It's not only sturdy and comfortable but it can also pick up a lot of speed.
Sofia has loved me scooting alongside her – and seeing her face makes me forget I'm a full grown adult scooting along… looking like a bit of a tool.
9. Shear the winter warmer – Dorco is a 60 year old South Korean razor brand that uses ancient blade making techniques, and new to the line up is the Dorco Eve 6 especially for women. When testing the product (yes, my legs didn't know what hit them when a razor came near them in Winter) I was really impressed with how nice my legs felt afterwards, not only did the razor give a really close shave but they were super soft afterwards – this is all down to the Argan oil which helps to moisturise and nourish the skin.
You can purchase the Dorco Eve 6 as a one off gift or on a subscription basis, which is as little as £1 per month.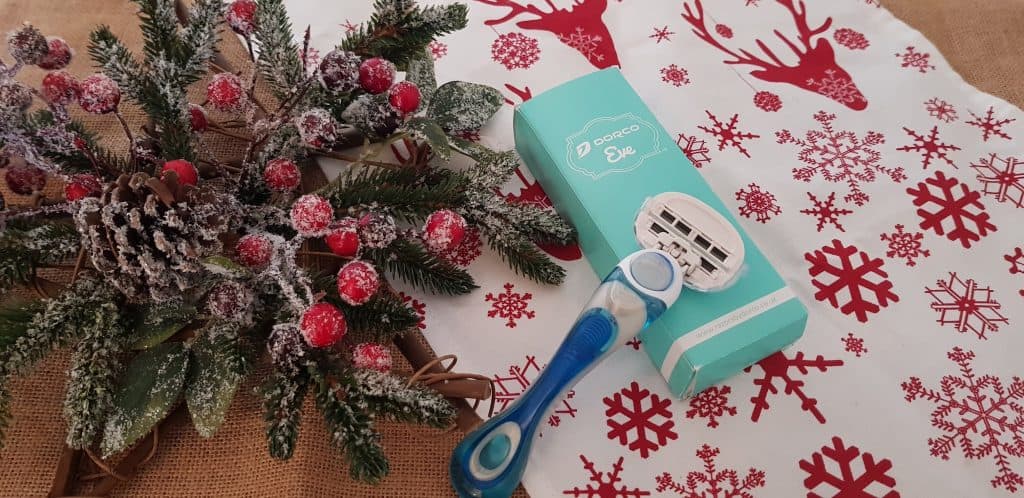 10. Eye spy with Eyejusters – These Eyejuster glasses are a-mazing! I wrote more about these over in my Gift Guide for Men but I think they're such a good idea I wanted to give them a mention in here too. If the lady in your life wears 'ready readers' then give her a treat this Christmas and introduce her to Eyejusters.
Eyejusters restore the eye's ability to change focus, by simply turning the revolutionary hidden eyeDials you can change the strength of the lenses from +0.50 to +4.00 D, or anything in between – so you only need take one pair of glasses out and the frame selections are really trendy and well made too!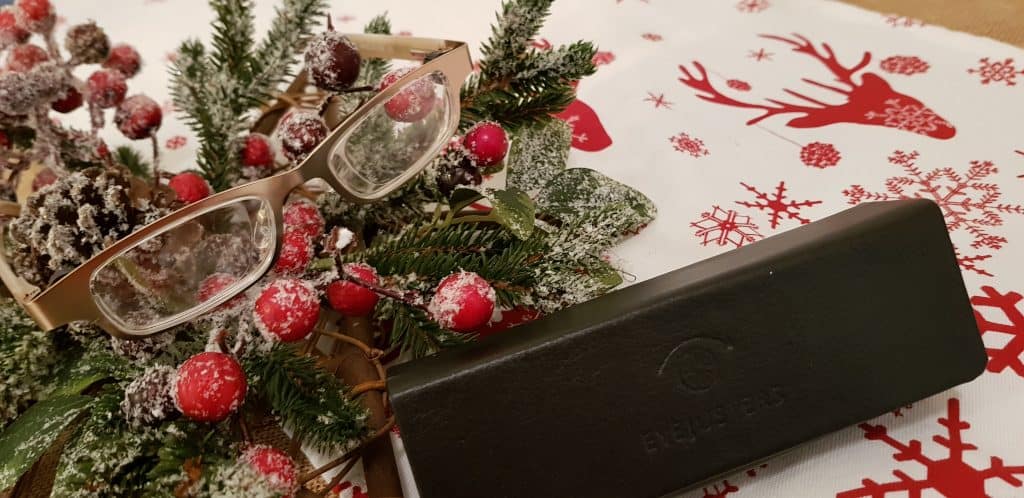 11. Don't be a door…stop – If the lady in your life is a real life Wonder woman, then what better gift to give than a Wonder Wendy doorstop made by UK based company Wedgie? This would make a fab addition to any house, flat or even office floor! If this one doesn't tickle your fancy then there's also a David Bowie and Karl Lagerfeld one.
Not only are these super cool, but they're individually crafted and hand painted by workers in Sri Lanka, using a scheme that empowers rural communities. A perfect Christmas gift!
12. Get your Ramen on with Sous Chef – I was recently sent these gorgeous ramen bowls from online shop, Sous Chef, and since discovering this company,  I'm totally hooked on their gorgeous tableware and already compiling a list for when we update our kitchen cupboards!
These bowls would make the perfect christmas gift for a lady who not only loves to cook but also loves to eat yummy Japanese food in quality bowls. As the weather has gotten colder and the nights have got darker, I have genuinely found myself curled up on the sofa when the kids are asleep tucking into some belly pork ramen – using the recipe and noodles that came with the set [Full review on my culinary skills coming soon!]
There's something really special about eating 'authentic' recipes out of a matching bowl and wooden spoon set!

*This post contains some items that have been gifted to me, however all reviews are my honest opinion of those product.