Christmas Gift Guide for Babies & Kids | Gift ideas for the kids + GIVEAWAY!
Perhaps you're looking for gift inspiration for your own children or maybe you don't have any yet (lucky you – LOLS) and you're looking for some ideas of what presents to buy the little ones in your life.
Look no further, here's my Gift Guide… for Babies & Kids.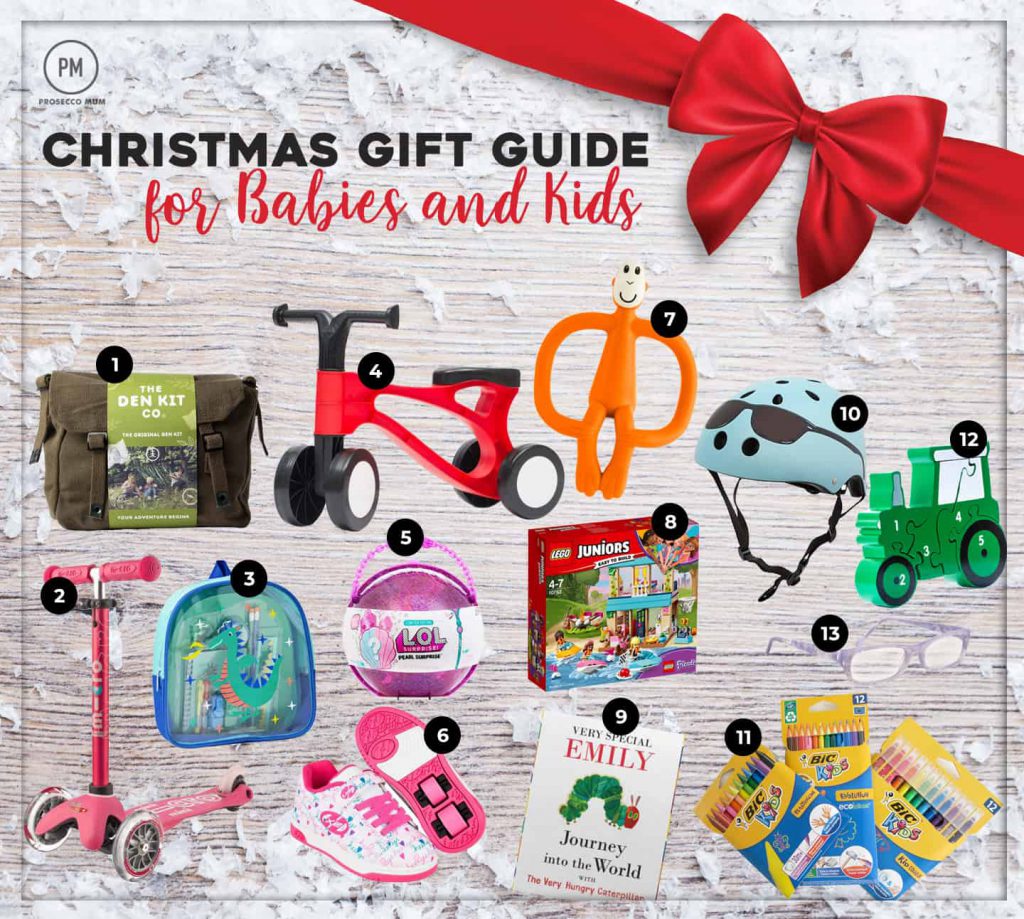 1. The Original Den Kit –  If your kids are anything like mine then they will love adventure, discovery, exploration and getting their hands dirty. This is the perfect gift for your little explorer! Forget blankets draped over chairs, this is the real deal – the kit, which comes in its own 'grown up' haversack bag includes all the things you need to build a den anywhere – a camouflage tarpaulin, waterproof groundsheet, wooden mallet, mug, a tube of face paint, rope, 8 tent pegs, a ten peg bag and all the instructions you need to get set up!
2. Micro Scooter – Off the peg or customised to your own spec, you can't go far wrong with a Micro Scooter. We purchased a cheapy character one when Sofia was little but soon changed to the real deal! We're considering getting Arlo the Micro Mini 3-in-1 complete with seat so that he can go out with Sofia on her regular Sunday scoots. From as small as 12 months up to adult, there really is a Micro for everyone!
3. Dragon backpack – I saw this in Tiger (or Flying Tiger as they're now known!) and thought it was quite a cute little gift. It's a transparent rucksack filled with cool little stationary bits – notebook, rulers, pens and pencils. So really, you're getting two presents for the price of one! They also do a Unicorn version.
4. Toddlebike 2 – If your little one isn't quite at balance bike or bike age then it's worth considering a Toddlebike! Aimed at 18 month olds up (or confidently walking), this is the perfect 'inbetweeny' from when they've outgrown the more babyish walkers and ride-ons but can't quite negotiate saddles and pedals.
5. LOL Surprise Egg – Unless you've been living on the other side of the planet – and even then, there's probably still YouTube – you would no doubt have heard of the LOL surprise dolls/pets/eggs. The one featured here is around £35 and contains six surprise pearl balls, though since I started searching the kids gift list, they have released the 'Bigger Surprise' which contains 60 wrapped super special surprises – enough to keep them entertained for hours.
6. Heely's – There's a lot of wheels featured in this guide – and these one's go on the bottom of your feet; Heely's! Not a new fad but constantly being updated, Heely's allow the wearer to walk, run or roll – you can even take the wheels out completely to be left with a trendy pair of shoes. Dependent on the age of your child, and their balancing abilities, will depend whether you go for one wheel or two. It's worth remembering that if you go for the two wheel model, you can remove one of them as the balance steadies out. Bright and sparkly or dark and camo – there's a Heely out there for everyone!
7. Matchstick Monkey – Matchstick Monkey is perfect for the younger babies, and a godsend for parents. Specifically designed to help teething babies it doubles up as a soother for baby's sore gums and cares for new teeth, whilst being a nice size for them to hold and play with. Move over Sophie La Giraffe, there's a new animal in town!
8. LEGO Juniors – What child doesn't love LEGO and what adult doesn't love doing the 'walking on LEGO challenge' when it's spread out all over the floor? Ideal for kids from 4-7 years old, the 'Junior' range of LEGO is specifically designed for younger children in that they tend to have large single-use pieces and are easier to build.
We got Sofia the Little Mermaid LEGO set, which is recommended for 5-12 years old and in hindsight she was too young for it – she enjoyed helping me open all the separate bags but did run out of patience at the actual construction bit…I however welcomed my inner childhood and was completely hooked, I chucked on the TV so she was entertained and got to work building it! We're going to get her a Junior set this Christmas as she should be able to do it herself. Boooo!
9. Our Journey with the Very Hungry Caterpillar – This would be a stunning addition to any children's bookshelf; a personalised version of the childhood classic 'The Very Hungry Caterpillar' changed to incorporate your little ones name on the cover, title page and throughout the pages. Not only is it a really high quality hardback book but it comes in a gorgeous silver embossed box – the perfect keepsake gift!
10. Mini Hornit Helmet – With all of the wheel talk within this festive guide, we've got to remember safety too and that's why I decided to include the Mini Hornit helmet in my list. If you've seen one before, you'll already know that the range of Mini Hornit lids are a lot cooler than most helmets on the market! As well as being super cool, they're fully adjustable, lightweight and are the perfect fashion accessory; there's also an integrated LED which is perfect for riding round in the chilly, dark nights.
I'm running a giveaway to win one of these supercool 'lids' – head on over to my Instagram to enter. Competition closes on 11 November so be quick!
11. BIC Kids Stationery – For all those with crafty kids, the BIC Kids range of stationery is perfect. The felt tips (which are banned from our house!) don't dry out, even when the caps are left off and the water-based ink washes out of (most) fabrics – which is always a winner for parents. Other items in the BIC Kids range are the learner ball pen twist, learner mechanical pencil and our personal favourite; the mini velleda whiteboards and pens which have helped us to practise all of the writing techniques that Sofia has come home from school with!
12. Tractor Ted Chunky Wooden Puzzle  – Part of the Tractor Ted range, this chunky five piece jigsaw is new to the collection. It's perfect for little fingers to learn through play – and once all the pieces are slotted together you can stand it up to be freestanding. As well as puzzles, Tractor Ted brings real farm stories to life through films, books, toys, gifts and clothing.
13. Fairy Specs – Fairy Specs are a  brand that make beautiful little crushed gem glasses for girls and as part of their range they also make some little extras – one of my personal favourites are the cute little compact mirrors which are lightweight, slim and the perfect size to fit in a pocket, sparkly unicorn handbag or a school book bag! There are a three different designs including '100% spectacular' and 'Glasses make me cute' – I'm sure I'll be coming to visit this site for some lovely frames, sooner rather than later, if Sofia keeps staring at her tablet at every opportunity…
What gifts are you getting for your little treasures this Christmas?