Corners of our home | Our Garden Transformation
Next up in the 'Corner of our Home' series is not actually an internal room… but our garden!
We live in an area which is surrounded by trees and our garden is the proud owner of two trees under TPO (tree preservation order) which is a bloody nuisance. In the summer, we found that we rarely got any sun and when we did it was around 4pm which wasn't really ideal.
The garden was sloping up and really unlevel with some patchy grass and a huge, rusty old trampoline in the middle of it; when the previous owner asked if we'd like to keep it, I jumped at the chance (see what I did there….) but in fact she was the one laughing as she didn't need to get rid of the thing. It was awful and the grass underneath it had completely died from zero sunlight getting through – which sort of matched the rest of the patchy uneven grass in the garden.
The back of the garden was just a thickset row of hedges, which just added to the overall feeling of a brown, bushy, enclosed back garden.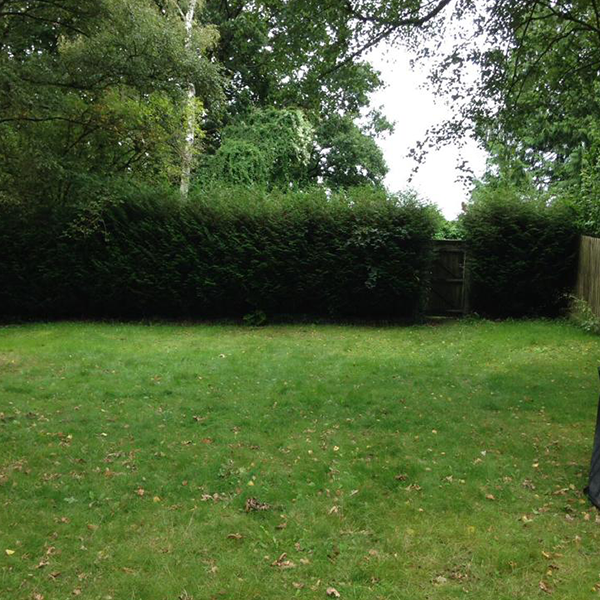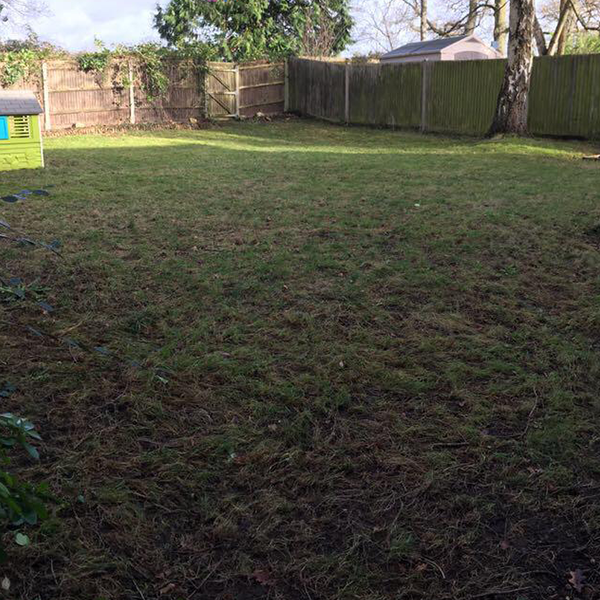 After such a nice few months of sun last year, we decided that we would sort out the garden next – or at least a part of it – ready for the next year so we could all get the most out of it. There's nothing nicer than having an area for the kids to play in without having to traipse too far, to enjoy picnic lunches in and evening BBQ's with friends and we felt it was a shame to have a big garden and absolutely no desire to want to go out in it!
The most obvious place to start was the back of the garden where the sun hits most, so we decided we'd like a raised platform area built. We instructed a company to level out the garden, tear down the spider infested shed and hedges and get to work on building up a patio area.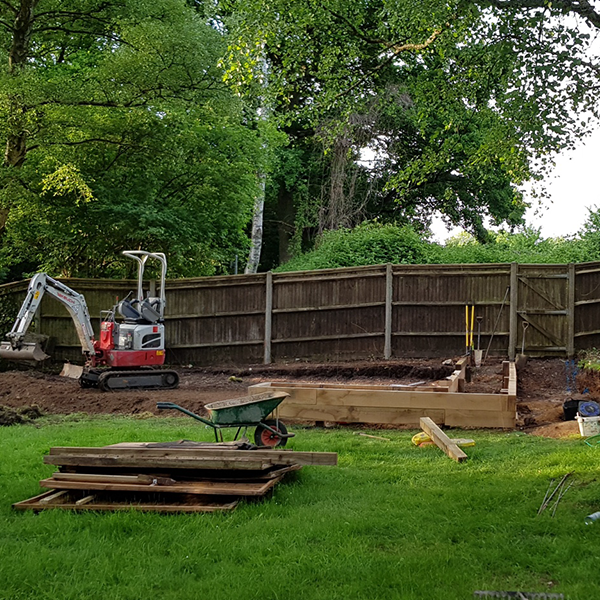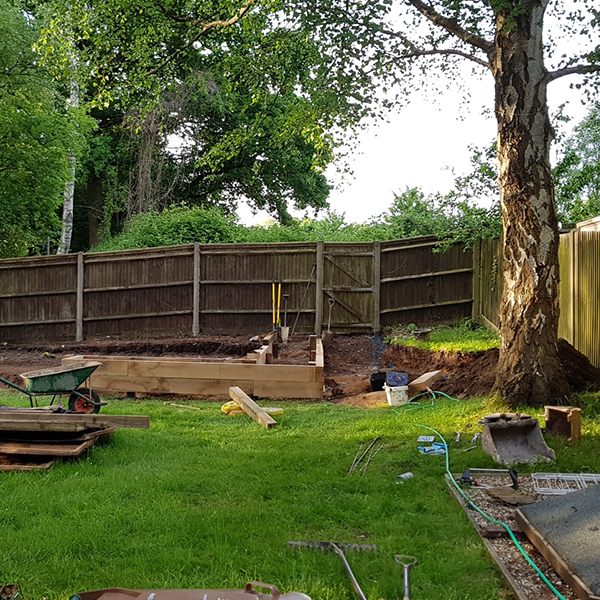 The whole process took about six weeks. 
Once all of the hedges had been taken down, our wonky fence appeared! We decided to paint it black to contrast with the lighter patio slabs and also the summerhouse, which we had painted a creamy grey colour.  We planted four big bushy bamboos along the back – neither of us are gardeners so we wanted something that could be pretty hardy, eventually cover the whole of the fence in time and be able to withstand the English weather.
The corner plot bit is now home to a sprawling acer. And for some reason we decided to buy another trampoline…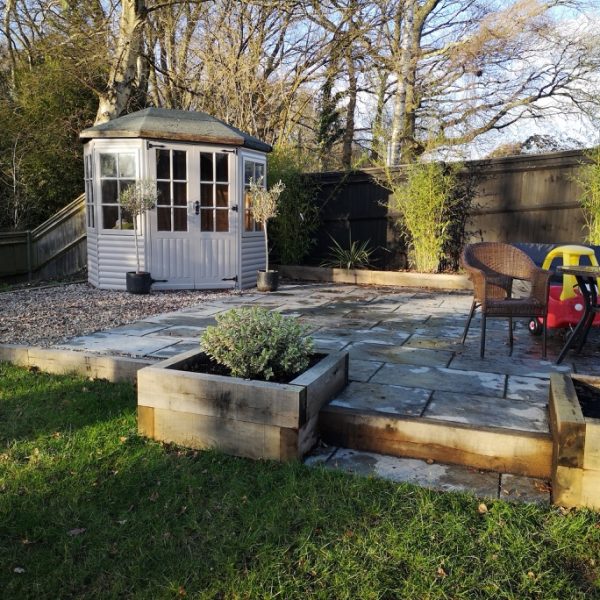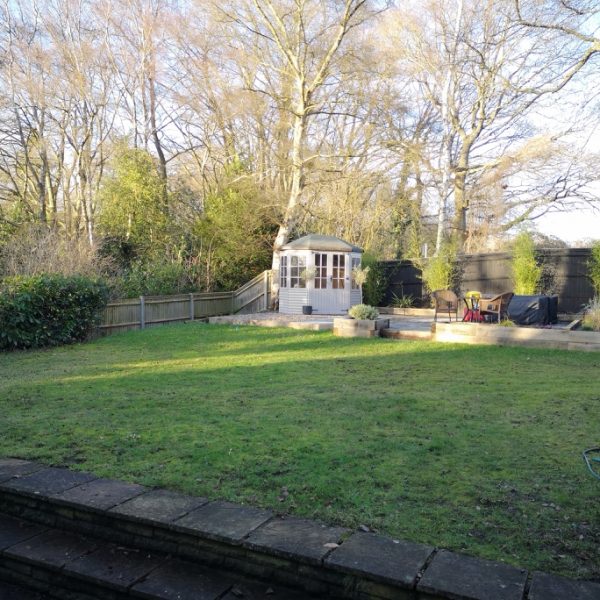 We also brought a lovely rattan sofa in the sale a few months ago that has remained undercover ever since. We still haven't unwrapped the cushions as the weather has been too cold and we don't want them getting all smelly before the official summer begins. Our temporary perching area is a little bistro table and two chairs.
The only other job is to add the tiled effect roof to the summer house and then we are done!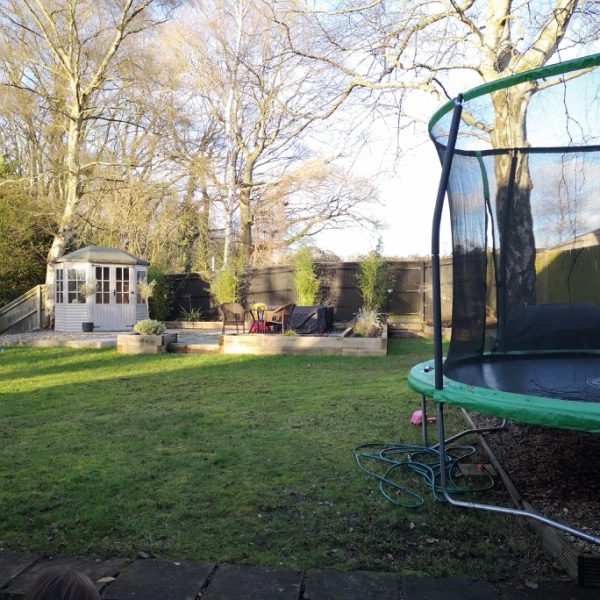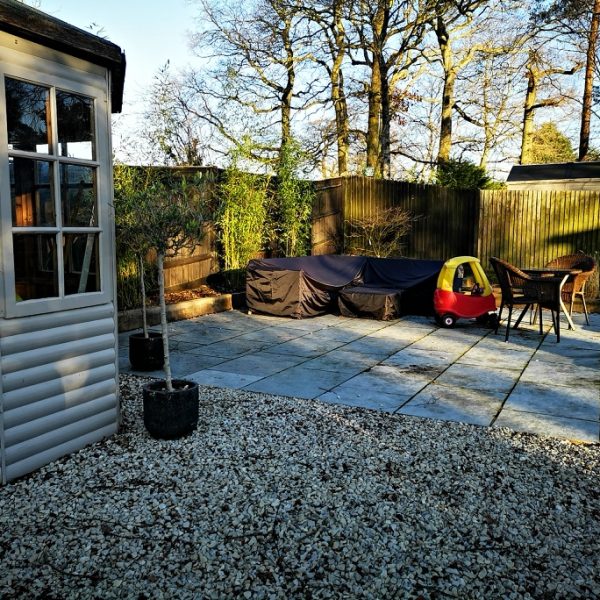 Just after the raised part of the garden was completed, we applied for planning for one of the large trees to be cut back and after about six weeks we had permission. The tree surgeon cut it back by 20% and shaped it….what a huge difference! Not only is there less leaves every morning but its really opened up the garden as its not so shaded or overcrowded.
Now all we need is the sun to make an appearance so we can sit out and enjoy lots of dinners alfresco! 

You can have a nosy around my lounge too – just click here to read.