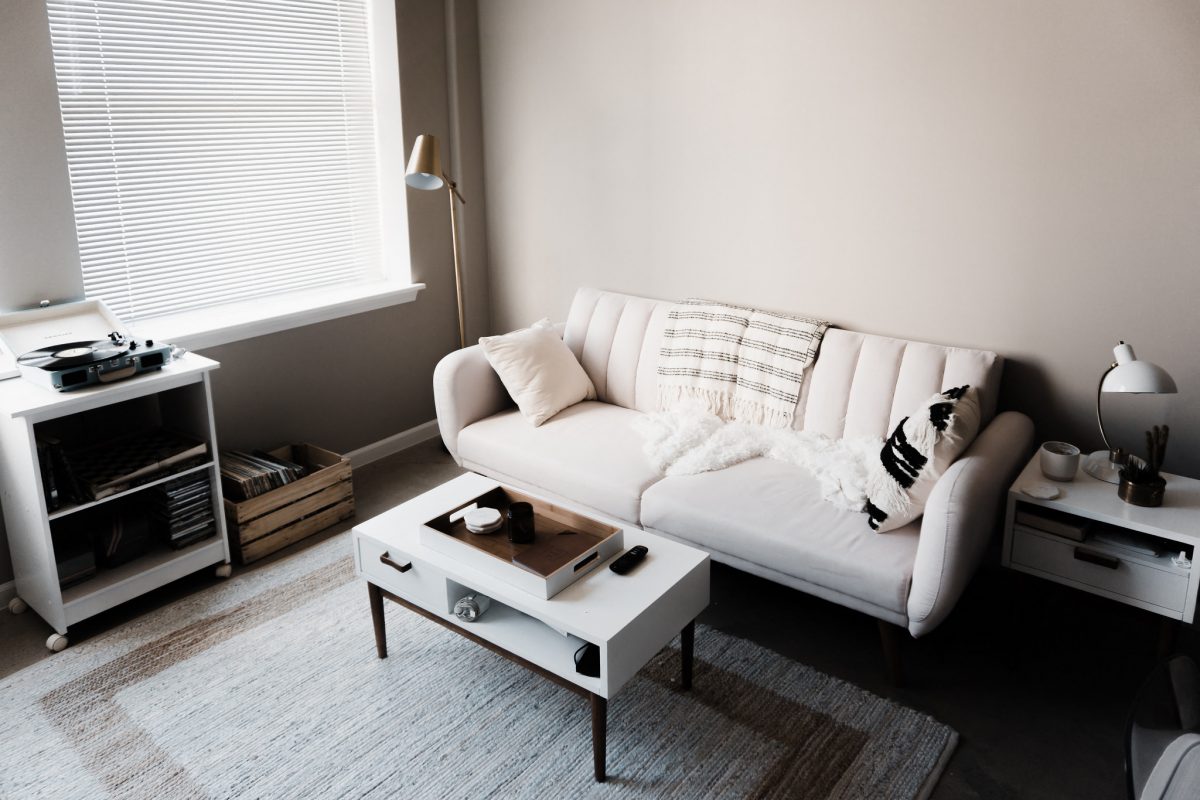 Effective ideas to make your living room cosy
Your living room décor says a lot about your fashion and lifestyle. Mine says – too lazy to clean, kids to lazy to tidy their toys away… This is the place you spend most of the time when at home so making your living room a place you want to spend time in is important! 
5 Cosy Living Room Tips and Tricks
Paint the Walls Two-Toned 
Painting the walls change the look of your room, especially when it's done correctly. Painting can raise your property's value, personalise the living space and protect the interior walls from damages. As the floors shouldn't go without protection, walls require the same cleaning process. 
Painted walls make your room brighter and visually appealing. Ideally, you can have three walls painted in bright colours, and one side painted in a dull colour. Blue is a peaceful, soft shade that can work in large doses. This shade promotes productivity and has a calming effect. 
If you want a bit of drama and elegance, then dark grey is an ideal choice. Combine grey shade with a slightly blue hue to make your room feel cosy and sophisticated. 
Alternatively, you can get playful with green, which is a personality boost. Green shade has a vintage vibe that makes the room have a little sense of humour. More so, it stands the test of time. 
Yellow is a cheerful and bright colour that will make your small space look welcoming and expansive. However, you can tone it down by painting one wall in dark grey. 
Embrace Mismatching 
You've probably entered some living rooms that made you feel at home instantly. Chances are, these rooms had embraced an imperfect arrangement that seemed perfect. A living space that feels eclectic is packed with accessories, art, and furniture that gives a welcoming impression. 
Think about having seats in different colours. For example, a combination of orange and white may seem weird and yet appear inviting. 
Offering an additional of high-quality seating options besides your sofa gives you more flexibility. It allows your guests to choose what's comfortable for them. 
Making the Dining Room Look Expensive 
In most cases, dining rooms do not get the attention they deserve. Having a wooden dining table with matching chairs is an easy way to furnish your dining room.  However, this is a common arrangement that's least inspiring. Instead, bring in stylish knocker cback dining chairs to complement the table. If you're daring, choose a sumptuous material like velvet for the seats. 
The dining room is also the perfect place where you can experiment with various hues. Whether you choose metallic accessories or paint the walls in a stunning but surprising shade- ensure the space looks stunning. 
Don't keep the beautiful dining accessories and heirloom dishes hidden in a cabinet. Instead, ensure you integrate those accessories into the dining room design to give them a chance to shine. You can also emulate your favourite hotel but recreate it to give your home an aesthetic look. 
Replace a Coffee Table with Ottoman 
Ottomans are known to create a cosy and warm feeling. It brings out your fashion taste create a welcoming vibe. If your family is big or plan to host weekend parties, the ottoman gives you extra seating. These versatile products have soft edges for added safety, especially if you have a senior or child. More so, they make your house feels homely. 
Natural Light 
Natural light is powerful, brings warmth and makes you get vitamin D while still indoors. It can freshen your living space and helps in cutting electricity costs. Dull rooms are inviting. 
Without sunlight in your home, you risk exposing yourself to the risk of anxiety and depression. Natural light gets absorbed by dark colours. So if your room is quite dull, the impact of natural light will be reduced. 
More so, natural light does a better job in terms of aesthetics. Make good use of reflective objects like a mirror to increase the impact of natural lighting in your room. 

*This is a collaborative post.