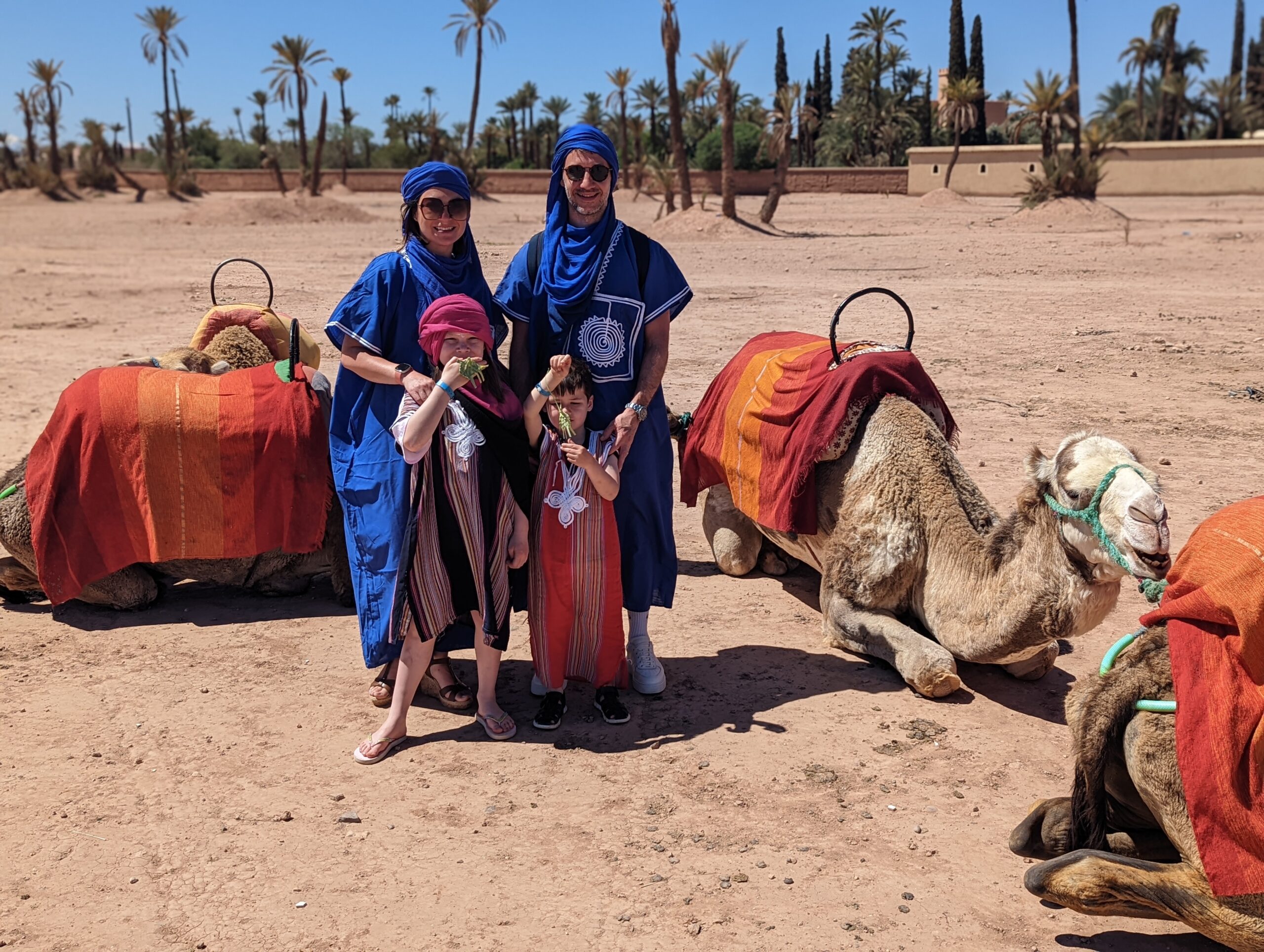 Is Marrakesh family friendly? Our family holiday to Riu Tikida Palmeraie
We visited Marrakesh for the first time in the Easter break. We decided on Morocco for a few reasons; we'd never been before, the weather was pretty much guaranteed for that time of year and the flight time was relatively short (4 hours from London Gatwick)
For our first time visiting Marrakech, Morocco we opted to stay at the Riu Tikida Palmeraie – a four star rated all inclusive hotel in El Nakheel, just 13km from Marrakesh airport.
The Riu Tikida Palmeraie
The hotel itself was stunning; really clean and modern with traditional Moroccan elements throughout. Unfortunately there weren't any family rooms so we had two double rooms with interconnecting doors from the outside. It felt like we were in Encanto and we were the Family Madrigal.
The large lobby area was the centrepoint and was really beautiful yet the outside was just as special. Beautiful green gardens and a large running lake was in contrast to the brick work around it. I enjoyed daily walks around the perimeter to get my steps in, to admire the beautiful floral colours and smells and to work off some of the delicious foods.
By night the lake became awash with toads and they provided the soundtrack of the evening – they were SO loud!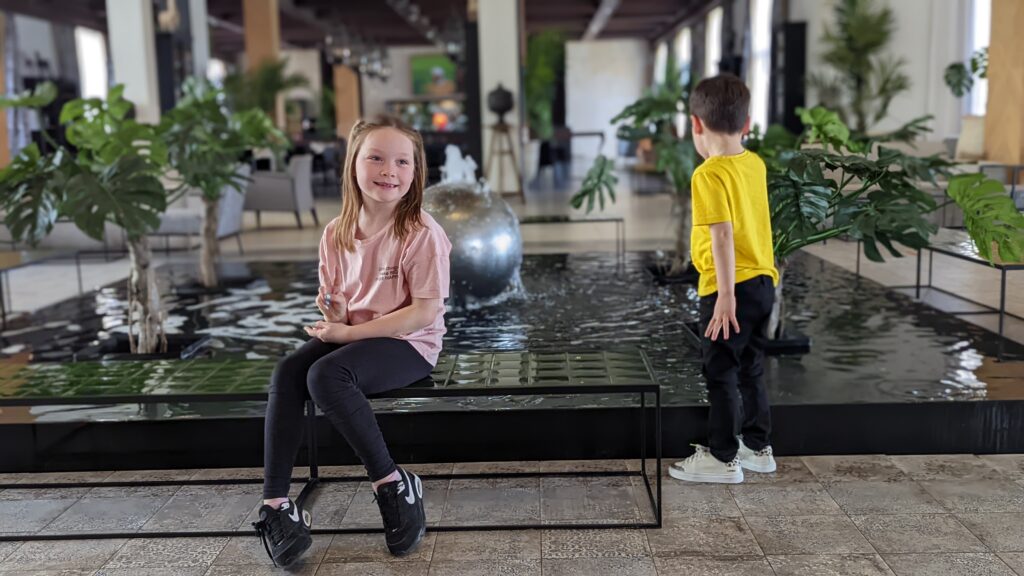 Eating at Riu Tikida Palmeraie
There are two speciality restaurants on site; Nakhil the traditional moroccan restaurant and La Trattoria, the Italian. If neither of those take your fancy then food is served all day from 7.30am through to 10pm, whilst bars are open from 10am to midnight, daily.
What I particularly liked about the dining was that dinner was served in a different place than breakfast and lunch and it was the best decor of an All Inclusive that we have been to.
We enjoyed spending time in the elegant lobby area before and after dinner, where we'd have lots of games of cards whilst listening to the live music coming from Majorelle lobby bar.
Breakfast provided a whole host of choices; cereals, fruits, continental, hot foods and a choice of hot and cold drinks. The food was typically traditional and was mouthwateringly delicious. I ate so much couscou, I was practically 20% skin and 80% grain by the end of the week.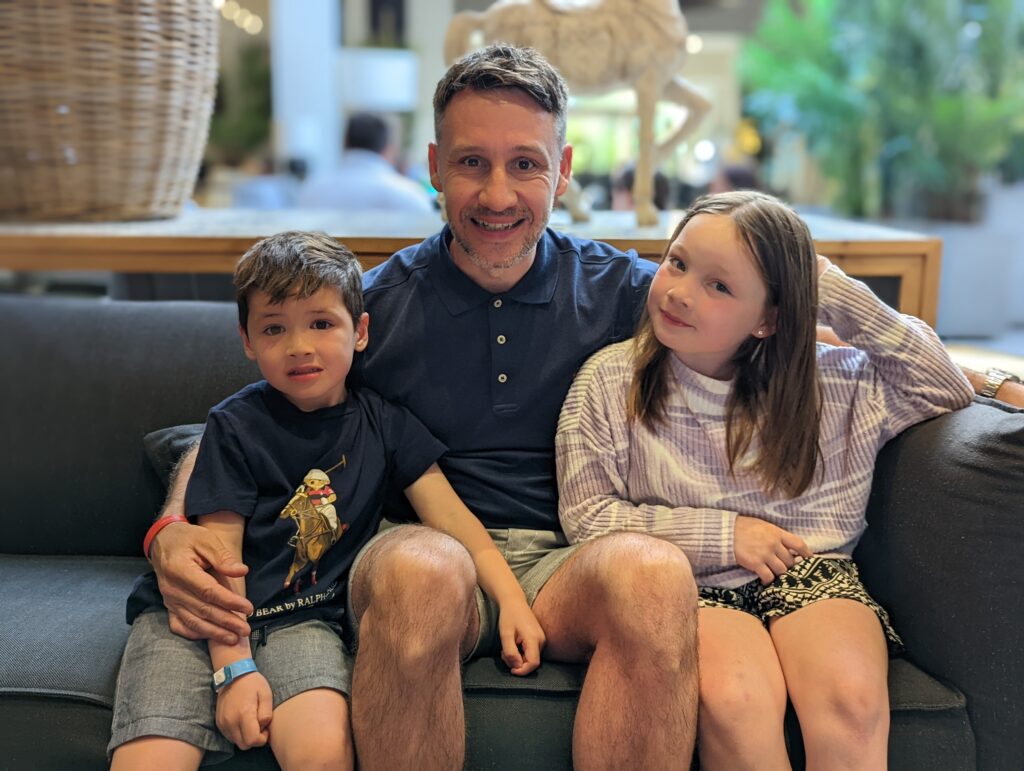 Activities at Riu Tikida Palmeraie
For younger children (up to 12 years) there is Mini Club Riuland which is ideally situated in a well positioned shaded area. Here there is a large air conditioned room, outside park and shallow swimming pool. Sofia and Arlo were the only two children when we went and they had a great morning having their face painted and henna applied to their hands.
For older kids and adults there were many activities throughout the day, run by the animation teams but there's also a gym, hobby club, darts, tennis court, beach volleyball and petanque. If it gets too hot/cold there's also a lovely indoor pool situated in the Spa block. Stu and I enjoyed many games of petanque and who would of guessed that I would be the family champion, day in, day out.
The pool area was the main focal point and where we spent a lot of our time; there were sun beds and also cabanas with the bar central to the complex.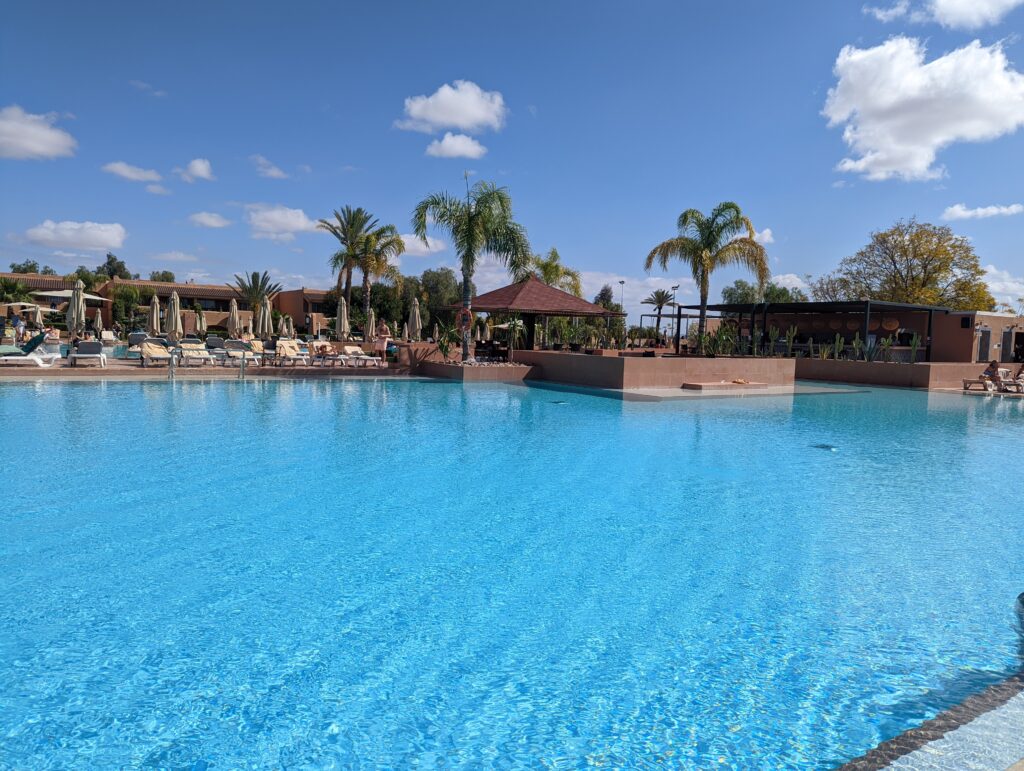 Excursions from Riu Tikida Palmeraie
We were all after a fly and flop holiday more than anything, but we were also keen to safely explore the surroundings. We decided to book through the tour operator (TUI) at the hotel. We opted for the Camel Safari where we were picked up by a taxi for a short trip into the outskirts of Marrakech where we arrived for our two hour trek. We got dressed in traditional Moroccan wear and hopped on to plod through the palm groves all in a line (Stu and I had a child each with us!) We trekked up to a traditional little Moroccan outdoor house where we were treated to sweet biscuits and traditional mint tea before the bumpy journey home.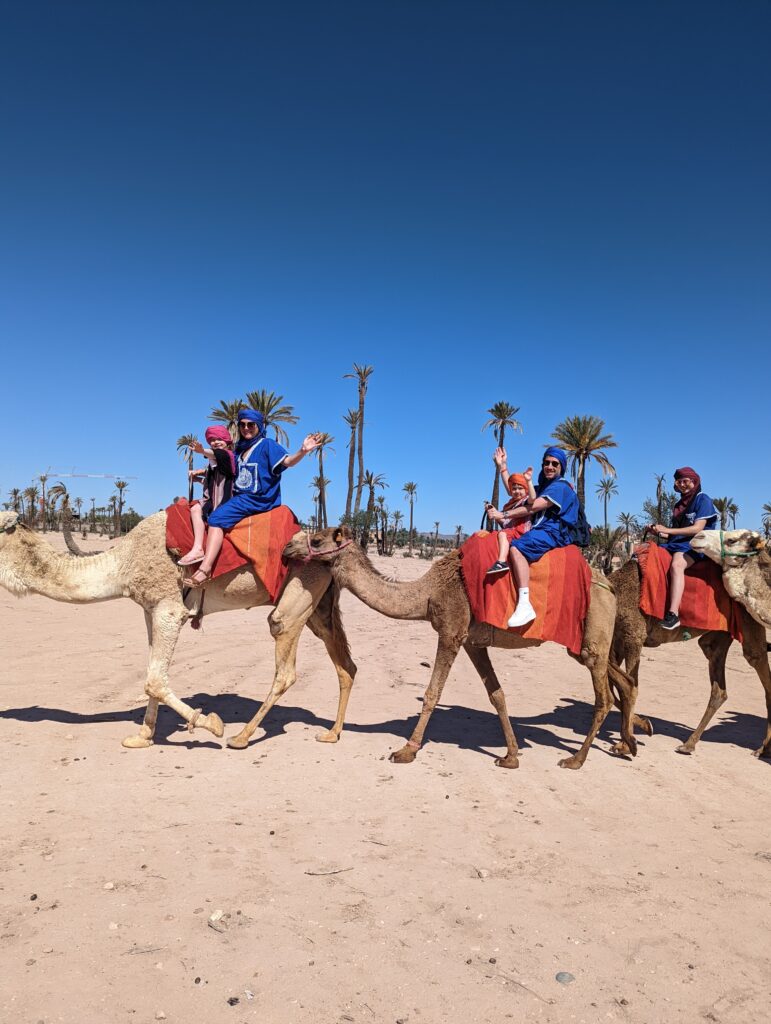 Our second excursion was the one I was really looking forward to (and apprehensive in equal measure) – the Medina and Souks tour. Again, we were picked up from the hotel and introduced to our host who would stay with us all day. Our first stop was the Koutoubia Mosque and the surrounding pathways before we headed to the Bahia Palace where we spent a good while learning about all the history of the palace, as we walked through mosaic tiles and beautiful gardens. After a good explore we headed to Dar Es Salam for a traditional Moroccan lunch of soup followed by couscous, chicken and veg and finished off with some sweet mint tea – poured in spectacular style by the amazing waiters!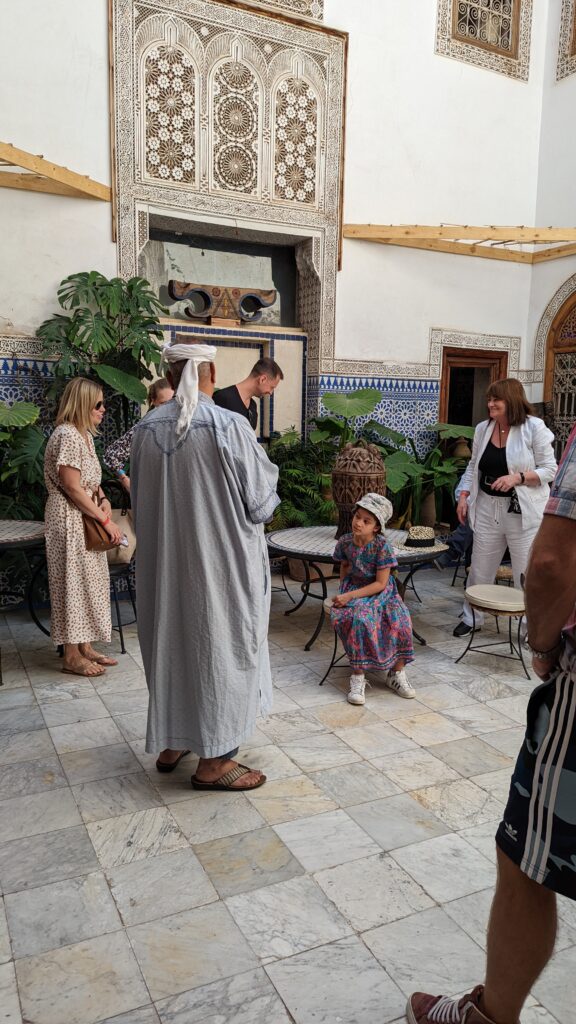 With full tummies we headed out along the narrow streets to the spice-scented souks, you do have to be careful walking along the streets as motorbikes and cars weave in and out like formula one drivers! Here we were met with eye-catching bazaars and street merchants, we witnessed workers making the items that adorned the colourful makrets and shop doorways and everywhere we turned there was a different aroma, sight and sound. As we got closer into the city centre, it became more touristy and there were men with monkeys and snake charmers alongside street sellers with various bits of tacky tut.
Evening Entertainment
I have to say the 'Entertainment' wasn't great, the 'Mini Disco' was a little lacklustre. The adult entertainment then began around 9.30pm and that was also a little odd. The one show we did stay for was a traditional Moroccan wedding 'play' and the kids were totally terrified. The entertainers were quite forceful at dragging guests up on to the stage and so we made a bit of a swift exit!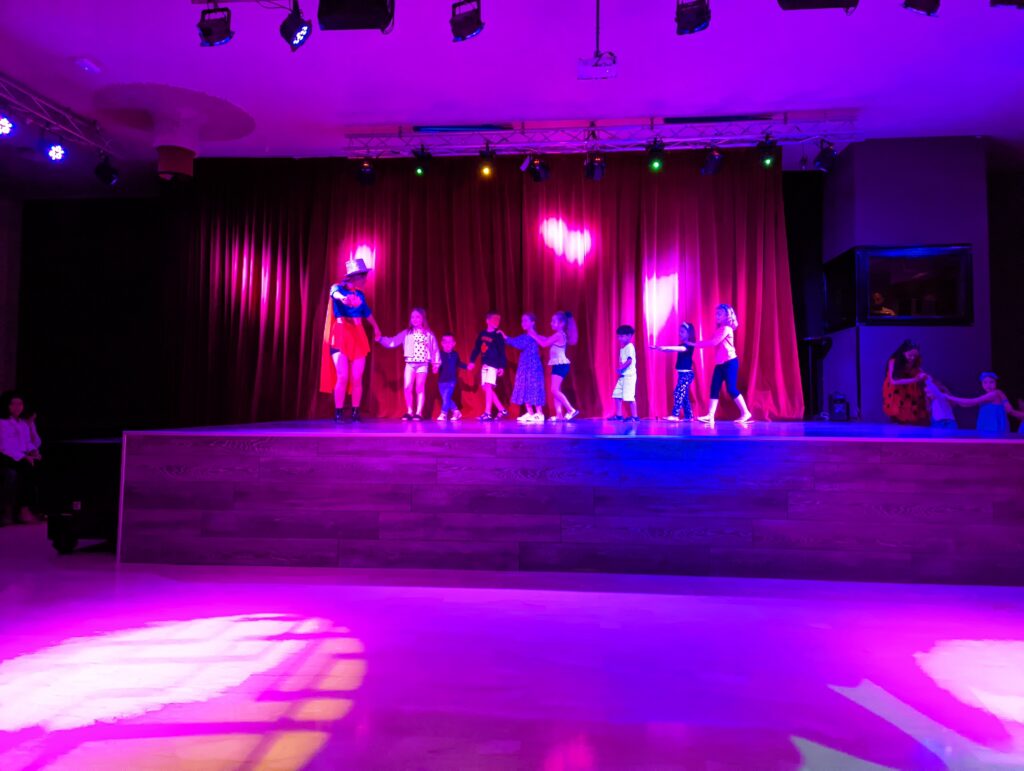 I'll admit, I was apprehensive about visiting Marrakesh as I'd heard a few horror stories about 'seedy men' and I was particularly concerned about Sofia with her light skin, fair hair and blue eyes. Genuinely, I couldn't have been more wrong! Every person we interacted with, either hotel staff or locals, were so friendly and accommodating.