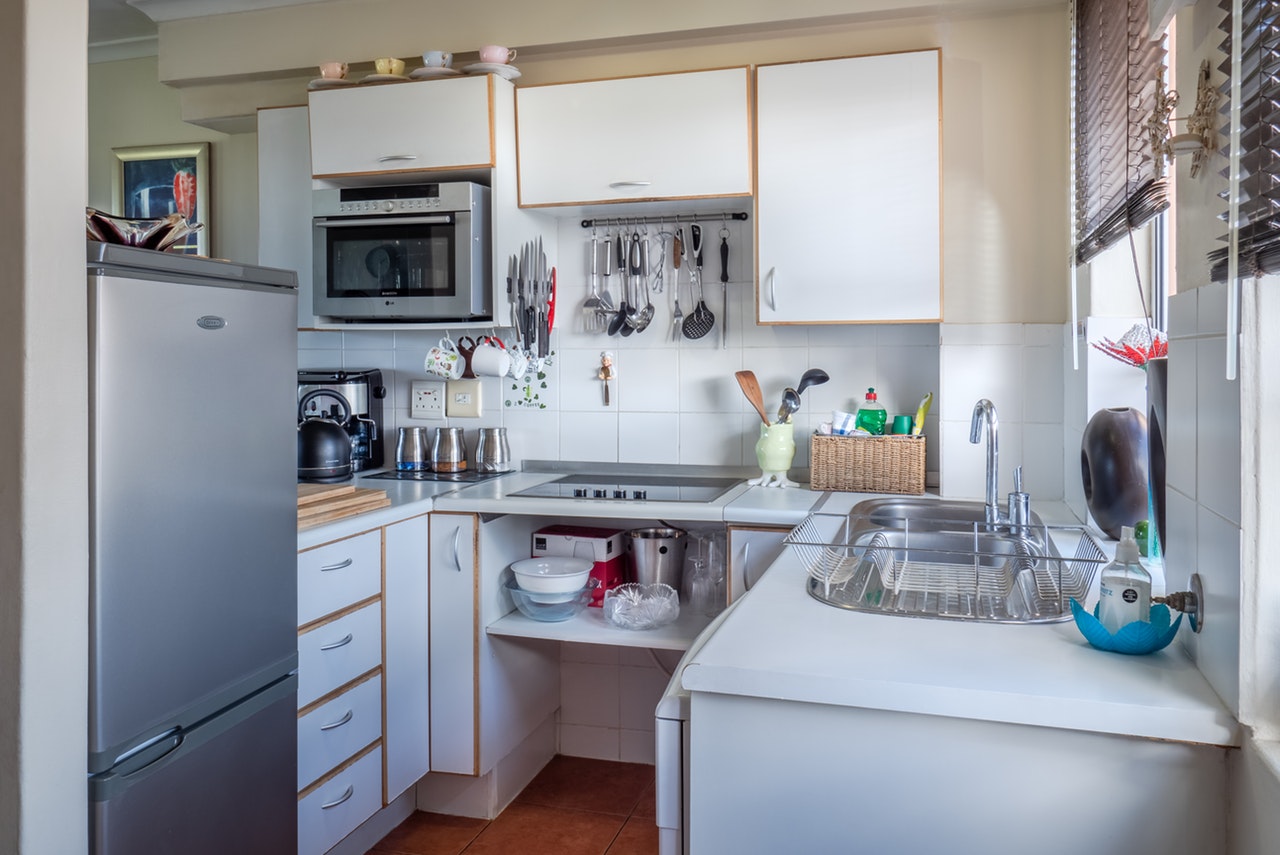 Making the most of a small kitchen
A small kitchen can have its advantages. Everything is more accessible – rather than having to walk around an island to reach the fridge, you can turn around and it's there….voila, prosecco on hand!
However, a small kitchen can also have its drawbacks. Less space to store food and equipment and less space to prep food. Cooking with other people could be a challenge and you may find that you're constantly getting in each others' way. Hosting parties may not be easy either.  A kitchen extension could be the obvious solution, but for those that don't have the money or means to extend, there are other options that can help you to maximise space and work more easily….
Cull the clutter
Most of us are guilty of hoarding coffee mugs and unused appliances. Getting rid of this clutter could free up more space for storing items that are necessary. Be honest with yourself about what you need. If you rarely ever eat waffles, do you really need a waffle toasting machine? Prioritise what is really convenient for your lifestyle.
On top of this, you may be able to relocate anything that doesn't need to be in the kitchen. Batteries, tools and other items can sometimes end up in kitchen drawers when they don't need to be there.
Maintain the work triangle
The work triangle is the most convenient layout in a kitchen. It involves forming a triangle with your refrigerator, sink and oven so that you can easily switch between the three. It also makes it easier for multiple people to use the kitchen at once. If you have your oven next to your sink in a small kitchen, you may find that there's not enough room for someone to cook while another person washes up.
Use up empty walls
Empty wall space could be worth putting to use. Hooks could be used to hang pots and pans or spatulas. You might also consider a magnetic strip for hanging knives rather than using up countertop space with a knife block. 
Choose space-saving appliances
Space-saving appliances could help to free up a lot of space in your kitchen. There are all kinds of such appliances on the market worth looking into. Rather than owning a traditional stove, why not consider this countertop oven? This could free up a huge space to add extra storage.  Fridge-freezers are a more convenient option than owning a separate refrigerator and freezer.
Opt for stackable drinkware/crockery
Being able to stack items easily can save a lot of space. You can buy stackable mugs and even stackable wine glasses. As for crockery, there are pots and pans that you can buy with detachable handles, allowing for easier storage.
Use the back of your kitchen door
You may be able to hang items on the back of your kitchen door to maximise space. This could include hooks for aprons or mounted racks for wooden spoons and spatulas. Avoid hanging anything too heavy on the back of the door and make sure that it's secured well enough so that it's not going to fall off every time you open the door. 
If you are going to do this, it might be an idea to make sure you have the right kind of door – one that is going to be able to hold the necessary storage for a long period of time. You might need to look into some replacement kitchen doors to ensure that you have the right kind, and that is something that you should think about as soon as possible.
Just using your kitchen door in this way is going to be a huge help.
*This is a collaborative post