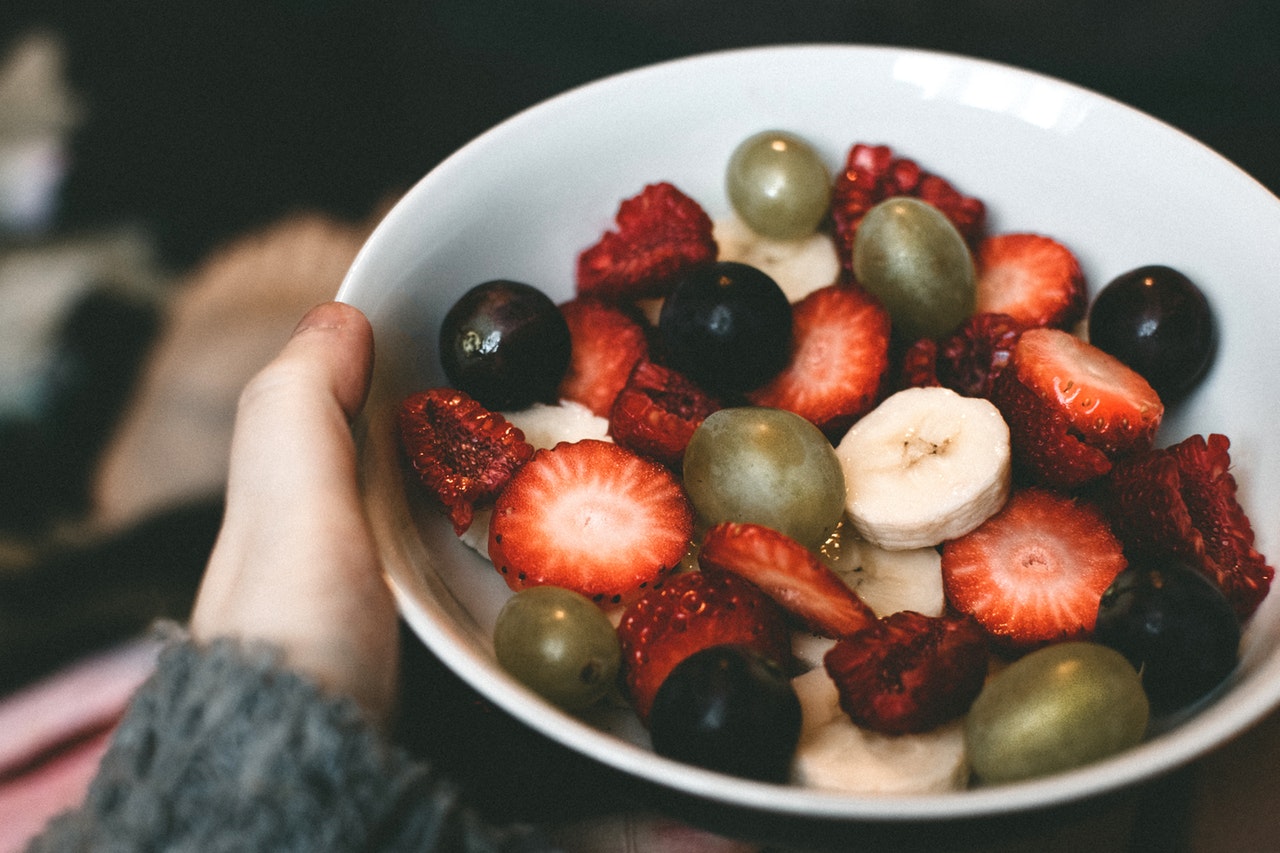 My 2019 Weight Loss Journey | Week 1
I was originally going to start the weight loss week on the 7th January when I started back at work, the kids at school/nursery and the routine began again. But then New Years Eve came and I decided that I wasn't going to gorge for another week and instead I would start the next day.
So 1st January I started getting a bit more organised with meal planning, cooking from scratch and not eating everything in sight. I also started tracking my steps too.
My week one eats looks a little something like this… 
Tuesday 1st Jan
Breakfast: 1 Quorn sausage, 2 scrambled eggs, mushrooms, spinach and spaghetti hoops.
Lunch: Tesco Chicken Katsu sushi.
Dinner: 2% fat turkey bolognaise with carrot, onion, spinach and mushrooms – served with courgetti. Muller rice for pudding.
Steps: 11,383
Wednesday 2nd Jan
Breakfast: Skipped it.
Lunch: Chicken salad (I went to Nandos…and ordered a salad. Who am I?)
Dinner: Rice with mushrooms, sweetcorn, spinach, broccoli, salami and soy sauce.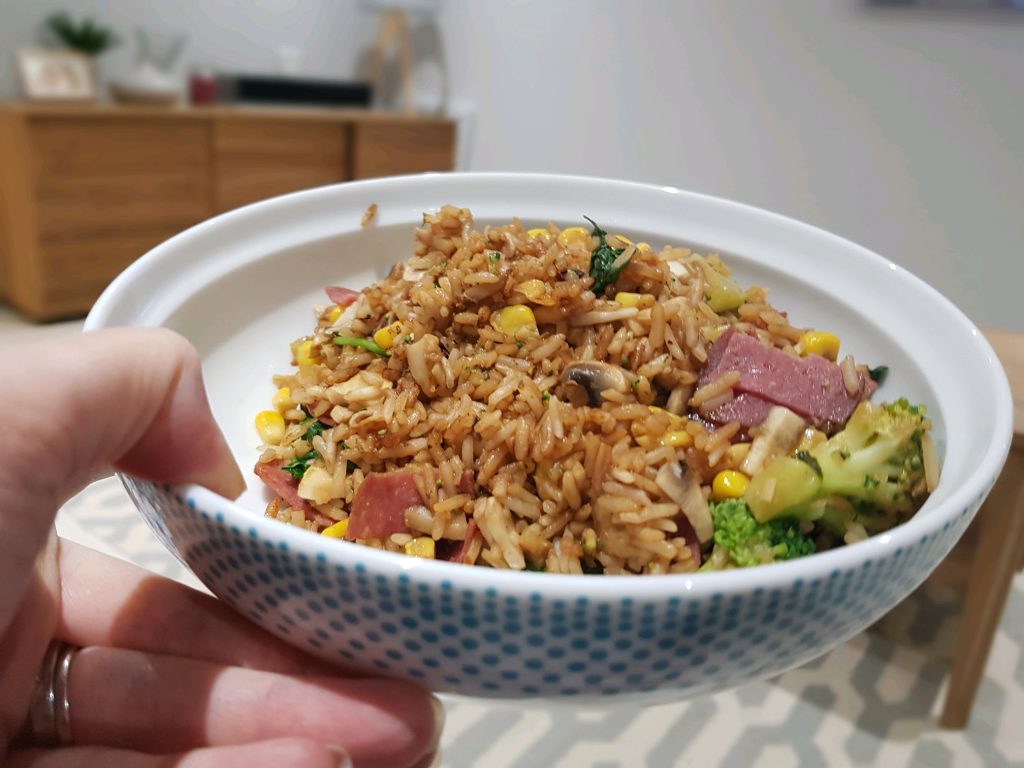 Steps: 8,123
Thursday 3rd Jan
Breakfast: Skipped it!
Lunch: One wrap with ham, spinach, olives, gherkin and bit of salad cream. Pear.
Dinner: Egg fried rice with mushrooms, sweetcorn, spinach, salami and Franks red hot sauce.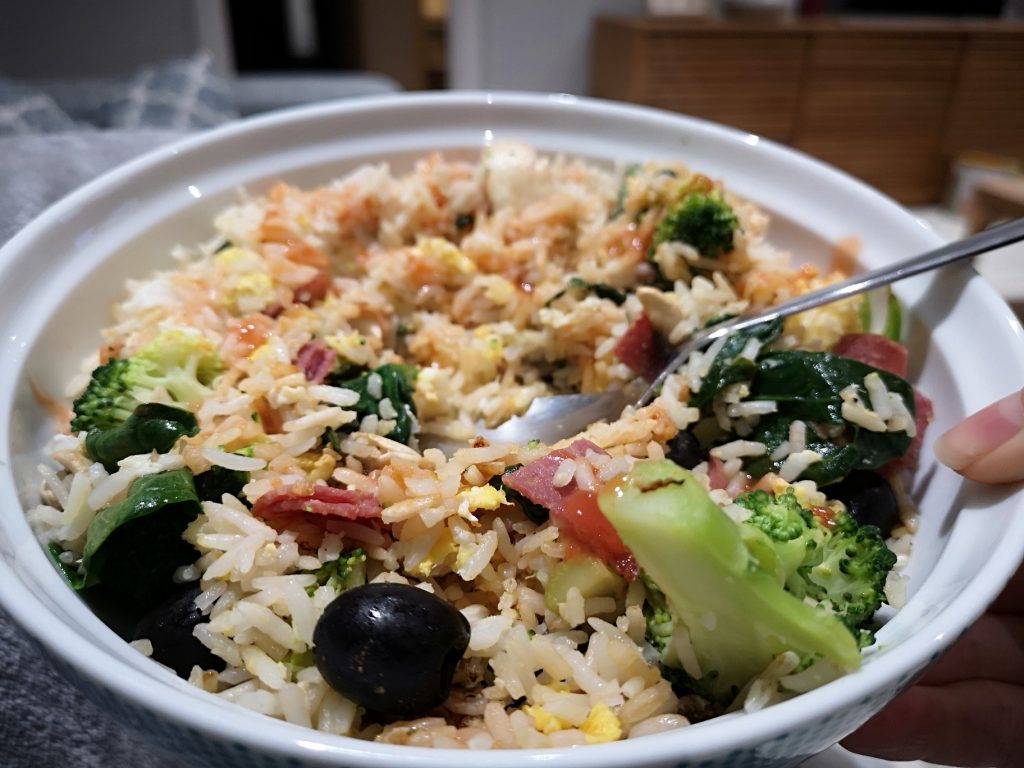 Steps: 9,003
Friday 4th Jan
Breakfast: Skipped it.
Lunch: Three egg omelette with spinach, onions, mushrooms, ham – and beans on the side.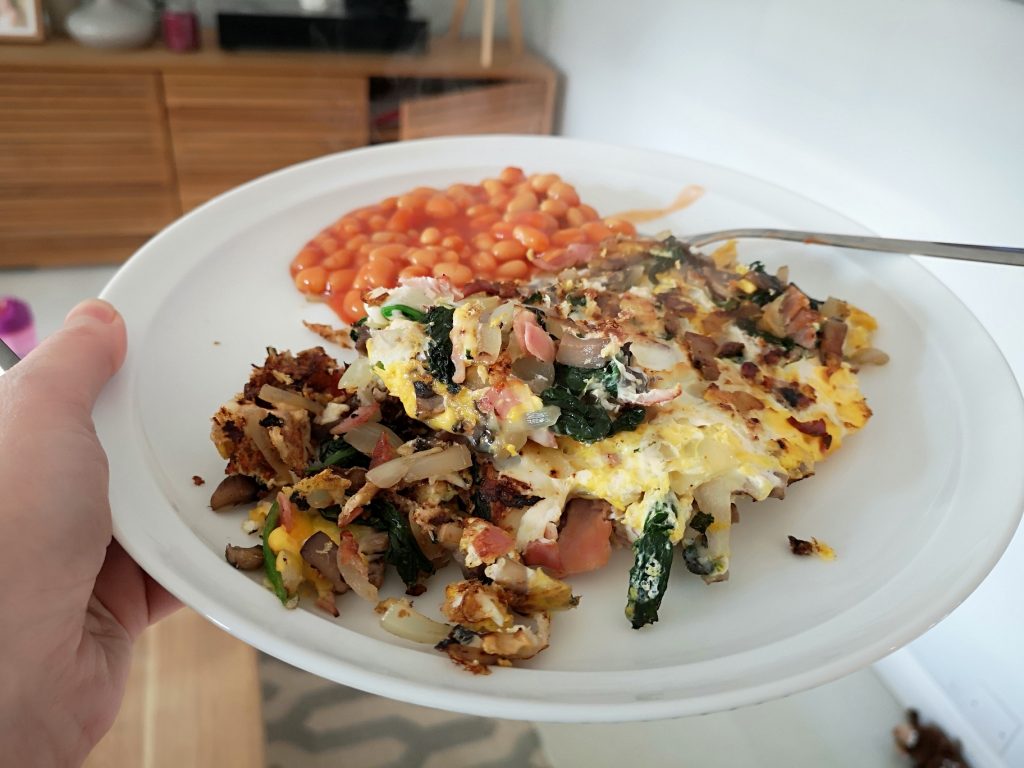 Dinner: Slow cooked steak chilli with rice.
Steps: 6,952
Saturday 5th Jan
Breakfast: Skipped it.
Lunch: Gammon, pineapple and salad. (We went for a pub lunch)
Dinner: Noodles with ham, lettuce and mushrooms. Followed by half a tube of Pringles. Whoops.
Steps: 6,941
Sunday 6th Jan
Breakfast: Skipped it.
Lunch: Wrap with ham, gherkin, olives, spinach and a dash of salad cream. Pear.
Dinner: 2% turkey mince seasoned with El Paso taco mix, onions, mushrooms and sweetcorn. Served with rice and refried beans and a dollop of sour cream and chive dip.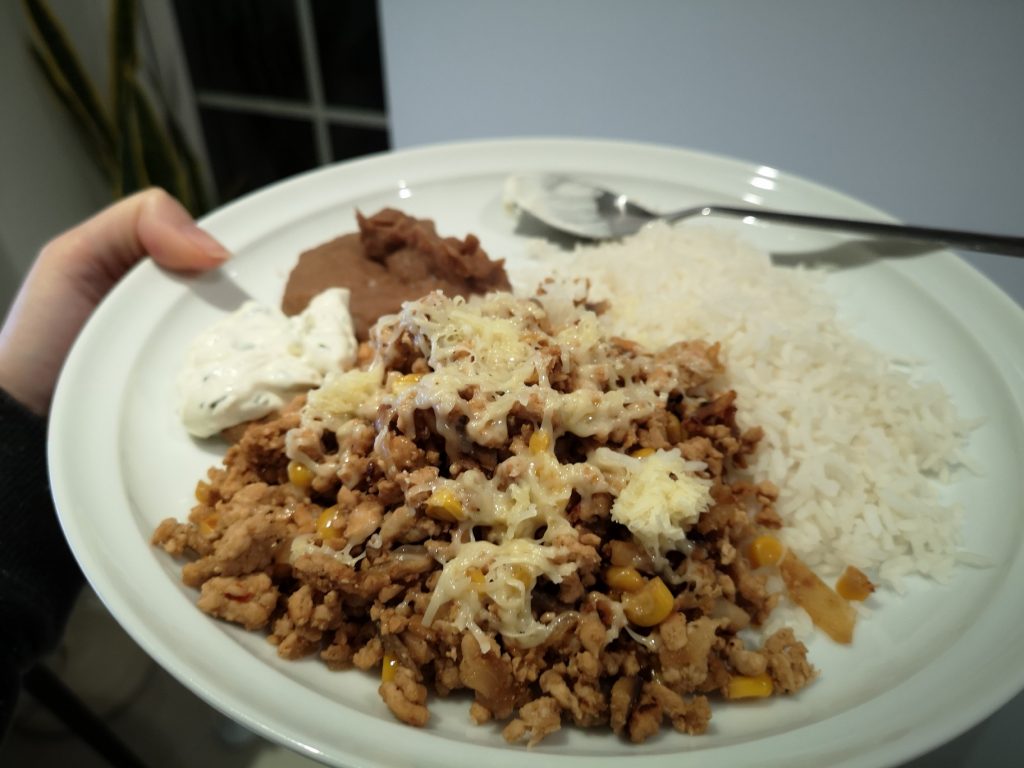 Steps: 14,809
Monday 7th Jan
Breakfast: Skipped it.
Lunch: Slimming World crustless quiche packed with ham, mushrooms, onions, spinach, tomatoes and courgettes topped with a sprinkling of cheese. Spinach, olives and gherkins on the side. I've been using these fantastic Igluu Meal Prep containers to transport my food to work in.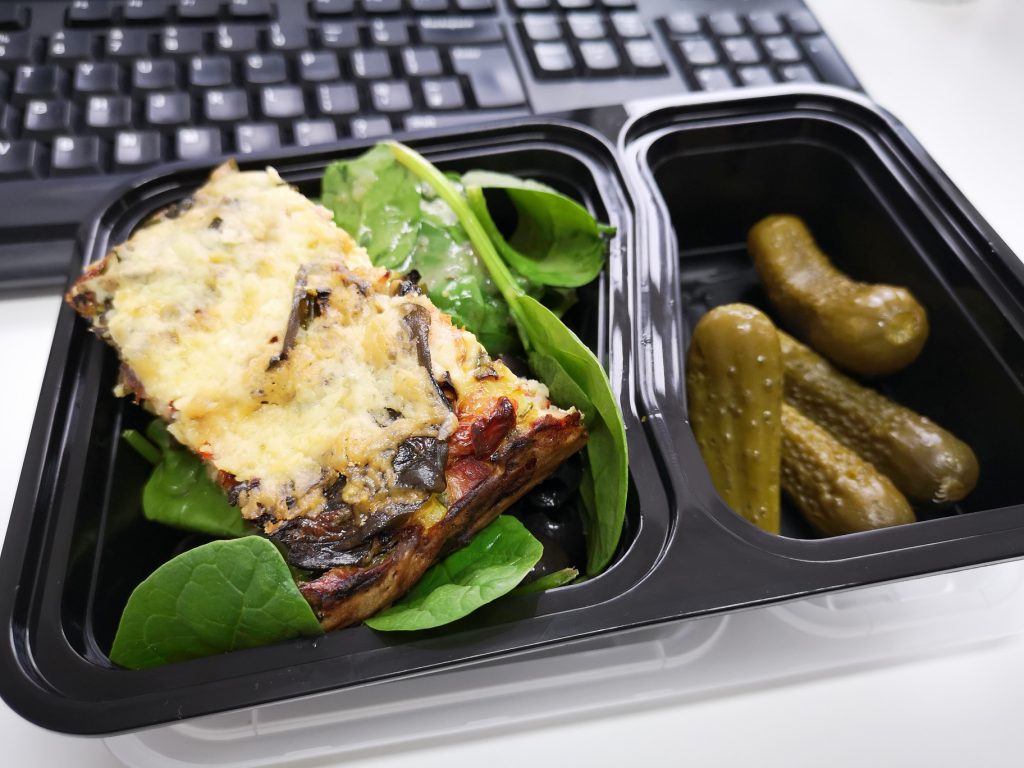 Dinner: Slow cooked gammon joint, seasoned with a spice pot from the Spice Pioneers. Three new potatoes, broccoli and asparagus with a spoon of dijon mustard. [Terrible photo as I started scoffing before I realised I'd forgotten to snap it!]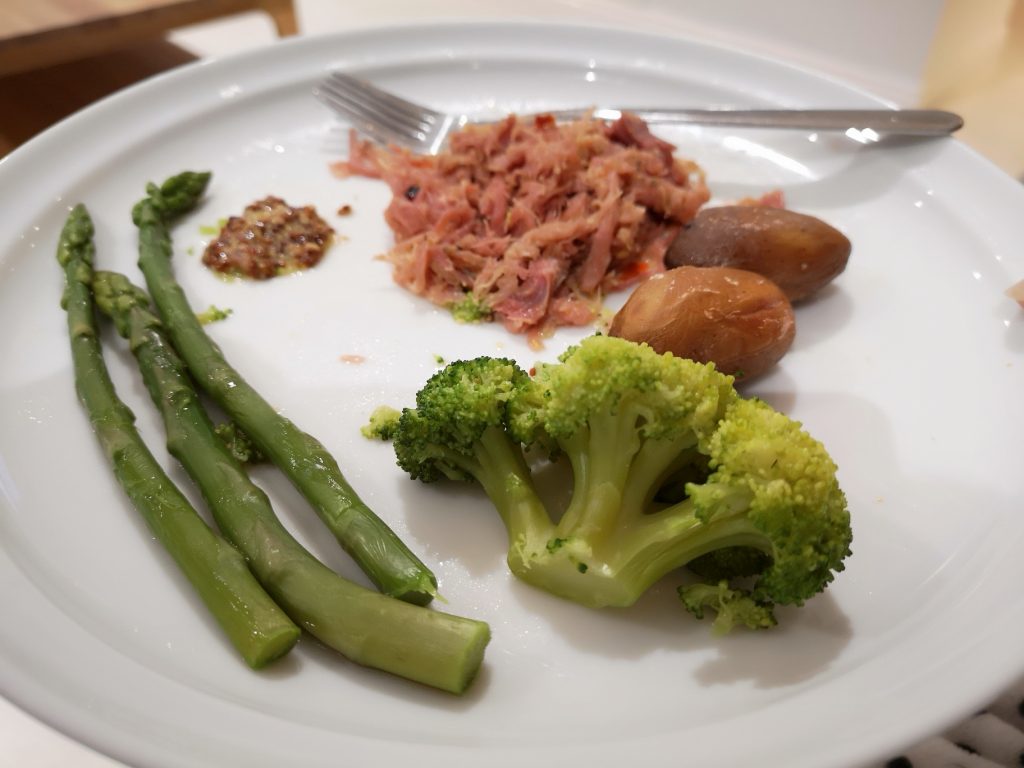 Steps: Forgot to wear my Fitbit!

Week 1 Thoughts 
I went into this new 'healthy eating and weight loss' phase with a great mindset and I've found it a lot easier than I thought it would be. I always used to fast and not eat breakfast on work days so I have continued that. I've realised that I snacked a lot before, the odd chocolate bar here and there or crisps I'd just eat for the sake of it. I tried to be 100% healthy for the first week [I will introduce a 'cheat day' into my week soon] but aside from the little Saturday night Pringles blip, I'm really proud of myself. I'm looking forward to mixing up my meals with some Pinterest inspiration over the coming weeks – and I'll be stepping on the scales next week for my first weigh in too!