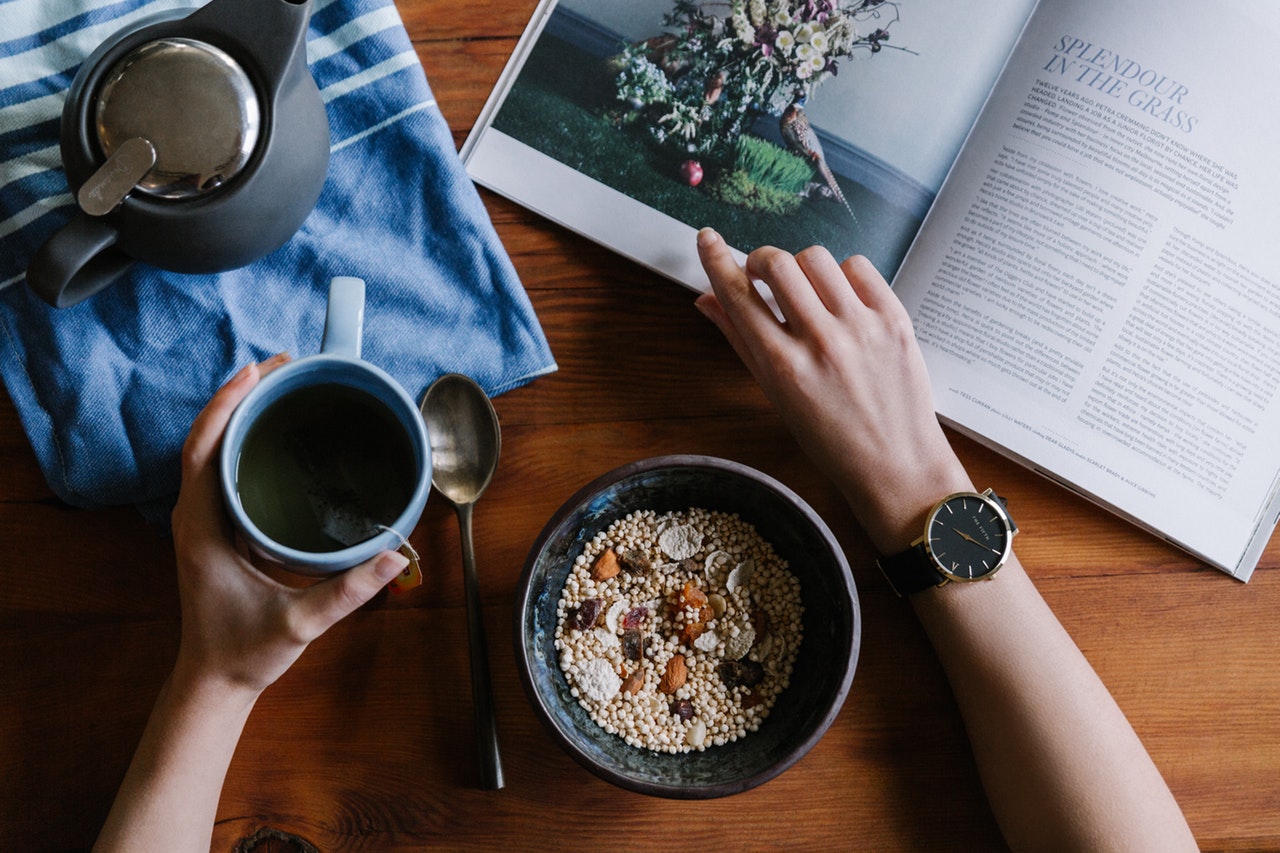 My Slimming World Journey | April 2019
I hit my Slimming World personal achievement target in February and promptly stopped posting my recipe ideas and weigh-in progress as much as I should have been doing – in fact, if truth be told I haven't really been following it that strictly – but it seems to be working for me and I feel like I've got a good balance.
I went to get weighed at my local group on 18th April, and after four weeks off, I was thrilled to see a maintain on those scales. I really wasn't expecting it, but it spurred me to keep on doing what I'm doing!
I can't really report back on much more progress than that but I thought I'd sum up this month with some of the things that I've loved eating – the good, the healthy and the synful….
Linda McCartney vegetarian sausages (1 syn each), plain couscous and a summer salsa.
This was created because I didn't have much fridge food in apart from a couple of 'ready to eat' avocados which had been ready to eat for about five days. My friend Amy does an amazing salsa, so with her in mind I put my avocados to good use. Now, I know avocados are meant to be a syn but that's ridiculous to me so I don't syn them!
The Linda McCartney sausages were also really tasty, and well worth a syn each, they were cook from frozen too so super simple. To make the salsa, I chopped up avocado, salad and cherry tomatoes, red onion and spring onions – sprinkled apple cider vinegar and lemon and lime juice over, ground some salt and pepper and served. It's so easy and simple to make but so, so good. I felt like I was eating summer!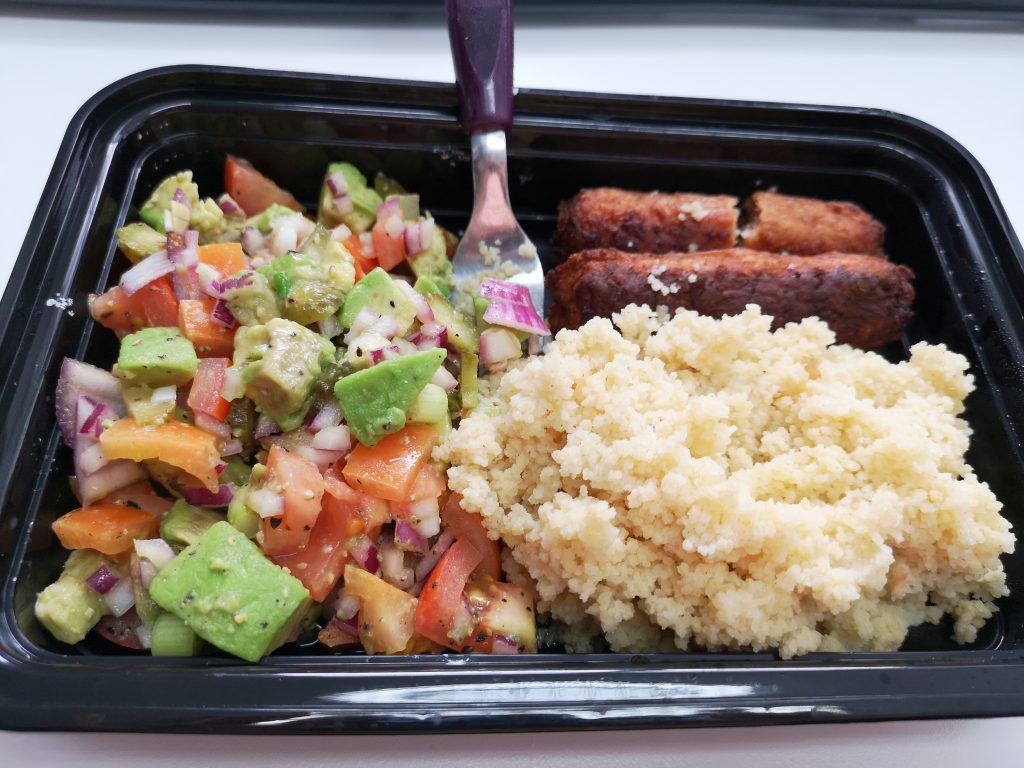 Leftover roast pork and veg curry with egg fried rice
We had a pork joint that needed coking, so we cooked it and ate it cold for lunch the next day. I then diced up the leftover meat and added courgette, sweetcorn, spinach, mushroom and onions and fried it all off together before adding Mayflower chinese curry sauce for 4 syns.
Served with long grain rice and egg to make up a homemade egg fried rice. Really tasty, delicious and packed full of speedy veg! It's meals like this that make me LOVE Slimming World!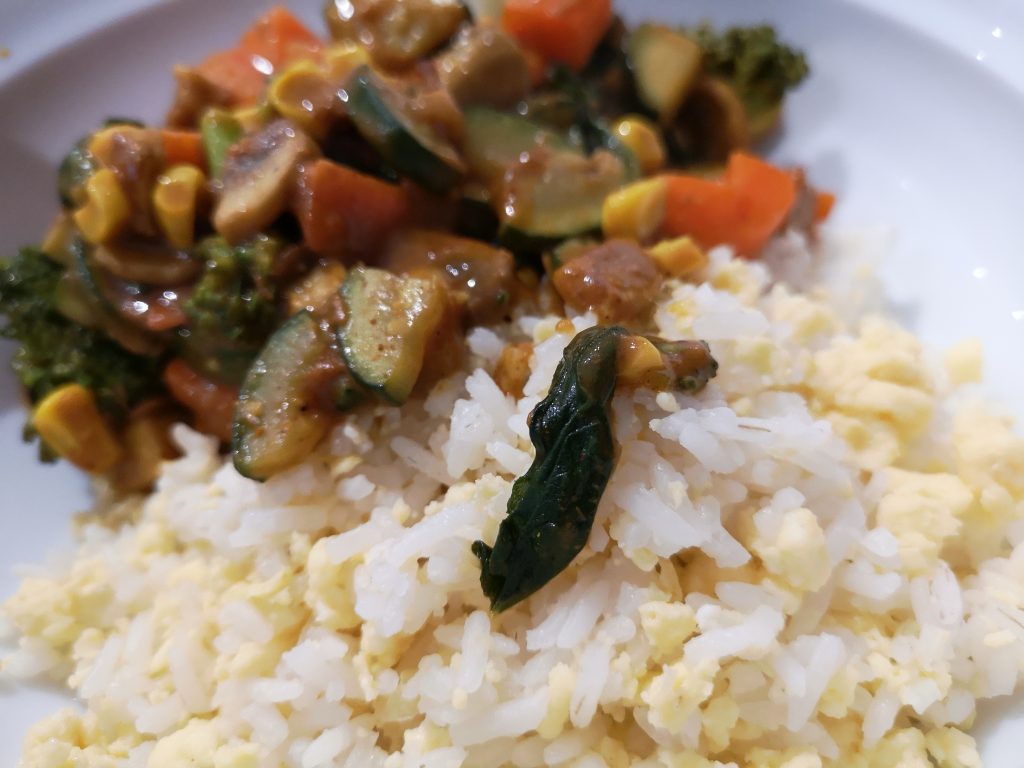 Speedy chilli, refried beans and cheese
Chilli is one of my go-to 'lazy' eats, I know how to make it – it's fairly simple to do and you can pack it full of heaps of vegetables! I usually make mine with the less than 5% fat turkey or pork mince (I'm not massively keen on beef mince), cook that up with the onion and garlic – once browned, I then add Oxo cubes or Knorr stock pots alongside fresh tomatoes, puree and passata and a whole heap of veg. I grate a courgette and a carrot in, chunky mushrooms, chilli kidney beans and sometimes a butter bean or sweetcorn – the latter of which I did in this dish.
I used one of my Healthy Extra A allowances for all of the cheese (it's quite easy for me to do this as I don't drink milk so save a lot there!) – I was a bit riced out this week so instead of rice, wedges or couscous I simply served mine with some Old El Paso refried beans.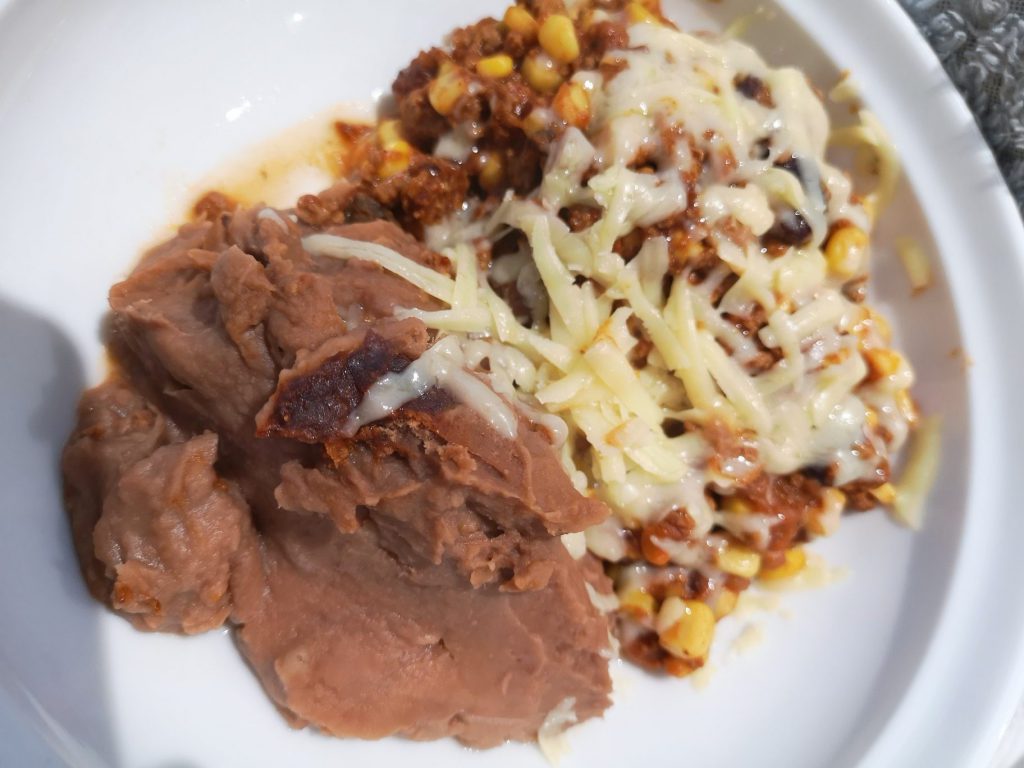 Leek, bacon and potato bake 
We discovered this one, like we discover many dishes – through food almost being on the turn and our guilty conscience telling us to make something and not just throw it. And the leek and potato bake was born! This is an adapted Slimming Eats recipe – comprising of, well – potatoes and leeks.
Only I decided to add bacon, mushrooms, brussell sprouts and jalapeno peppers to mine to bulk it out a bit. This is a proper, satisfying, comfort food dinner – it's also really cheap, simple and perfect to not waste those 'almost gone off' vegetables.
I made enough to feed me, Stuart, the kids and still have a couple of portions left over for lunch….it reheated just as well. It's become a firm favourite 'quick and easy' and finds itself on the meal plan for at least one meal a month!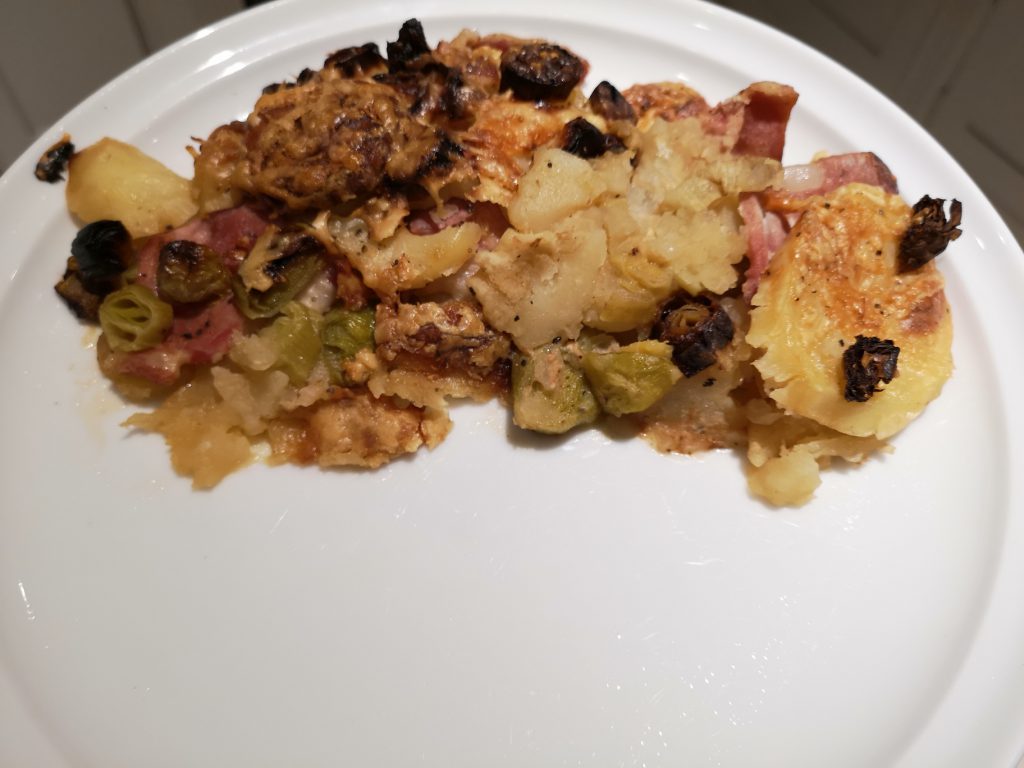 Friday night 'Nandos'
Now, cheeky or not. I bloody love a Nandos. I always get the same thing too – extra hot chicken pitta, no salad mix, add halloumi and avocado. Peri fries and coleslaw.
So when the weekend rolls around, I like a 'treat' meal and I've discovered that with the exception of the chips – I can make a pretty low syn version of one of my favourite restaurant meals. One chicken breast marinated in Nandos hot sauce, plain cous cous, sweetcorn, halloumi (HEXA allowance) and syn for the coleslaw.
Well worth a try if you haven't already!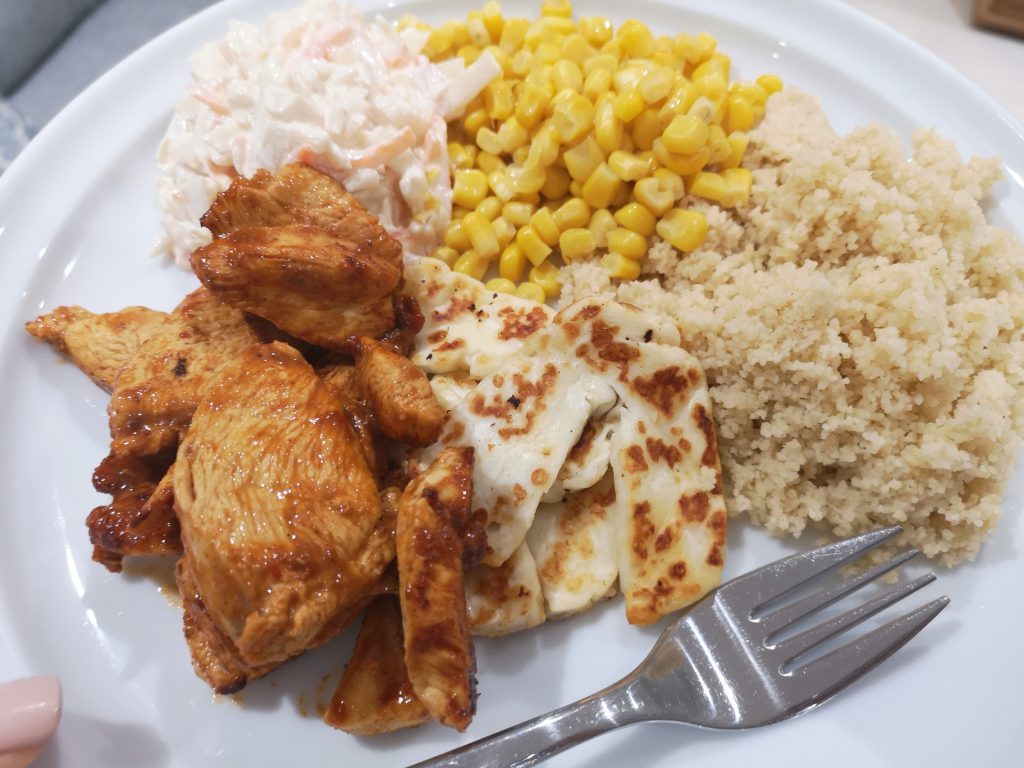 Chilli and a side of veg
Another chilli, this time served with a side of baby sweetcorn and broccoli – doused in my healthy extra A cheese for the top. I tend to batch cook a load of turkey or pork mince chilli and freeze them – they're perfect for taking to work in my old trusty, Igluu meal prep containers that I love.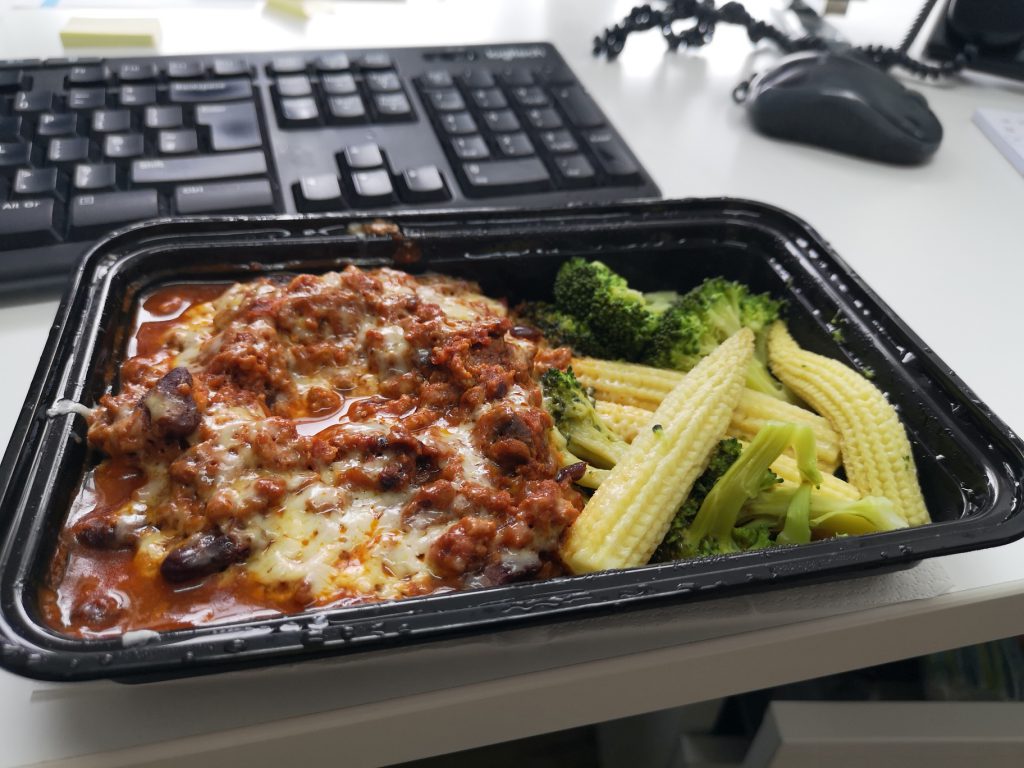 Do you follow Slimming World? Do you have a favourite go-to recipe? Please share it, I love finding new healthy makes!