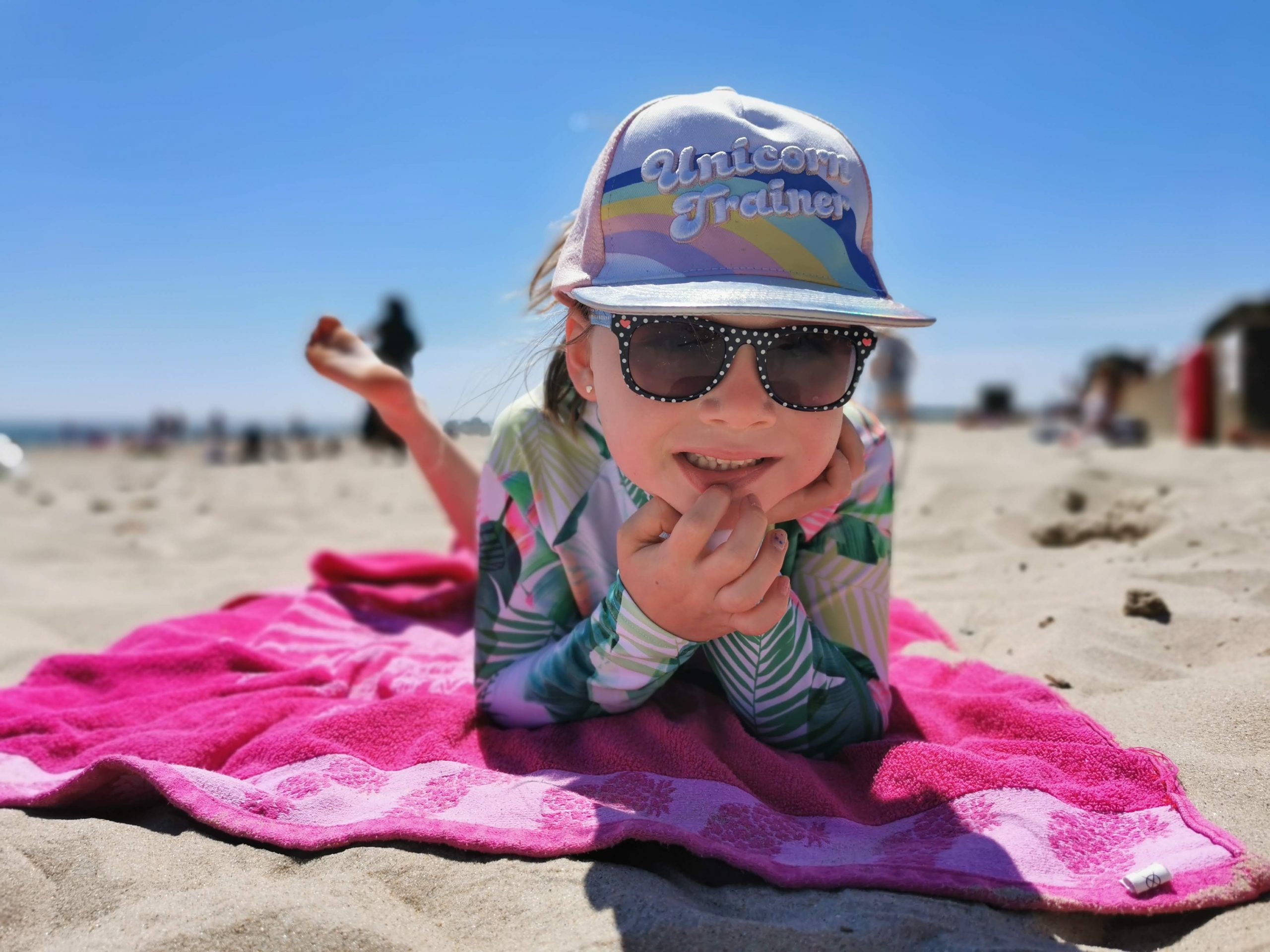 My Happy Moments | May 2020
May absolutely flew by. I can't believe it's another month closer to being free! It's crazy to think we've been in more than we've been allowed out this year – and that's why I'm making sure I keep up with these 'happy moments' posts as it's such a nice reminder to look back on and remember the happy times in among the hard times.
I have had so many fun times this month, so it's a bit of a long one from me… I think the sun has definitely helped too. There's nothing like a good dose of vitamin C to perk everyone up!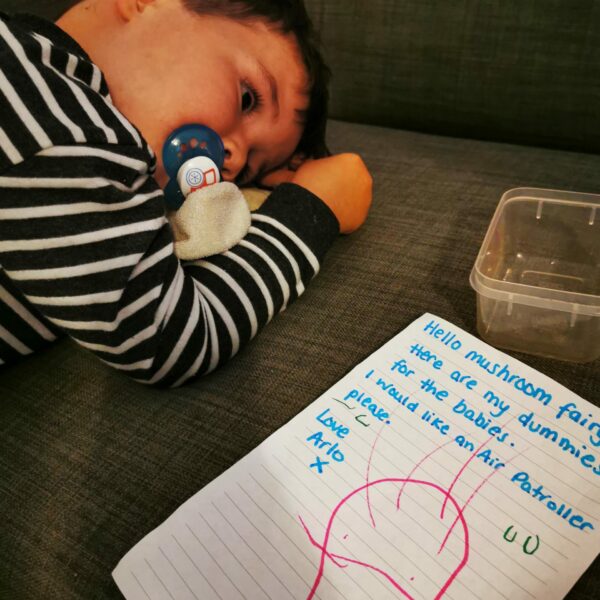 Arlo sends his dummies to the 'babies'…
I didn't think this was ever going to happen, but the day finally came when Arlo had his dummy surgically removed from his mouth. We have been meaning to do this since last year, but it just felt like a massive ballache doing it, so I kept putting it off. Stuart had other ideas and decided one Saturday that today was the day.
He drew a little picture of 'mushroom fairy' and we put them in a box to go to the babies. Then the crying started. From three out of the four of us. He kept sobbing and running to the window, running back like his heart was breaking…and then he finally fell to sleep. In our bed. And he hasn't asked for it ever again!
We're super proud of him for giving it up, it was literally like his third arm. But now. we've found a new problem. He doesn't know how to settle himself, so we're having some bedtime battles…that are taking over an hour. Every. Night.
A walk in Chewton Bunny Woods
One weekend we decided to head to Highcliffe. It wasn't sunny at all, so we wrapped up warm and went for a stroll along the beach. After a few minutes we realised that we were right near Chewton Bunny Woods, and decided to go for a stroll in there to escape some of the wind blowing us all over the seafront!
Being the sentimental old soul that I am, I recall walking through there with Stuart nearly four years ago. As part of our wedding gift, Stuart had treated us to a spa day and overnight stay at Chewton Glen. We stayed there in August 2016 when I was about eight weeks pregnant and we hadn't yet told anybody. The day we arrived we decided to go for a walk around the grounds and discovered there was a  lovely little forest walk leading down to the beach. It was Chewton Bunny!
So, to go back with Arlo running around in the trees living his best life, was so special and I enjoyed telling the kids that Arlo had already been there when he was just a secret in my tummy!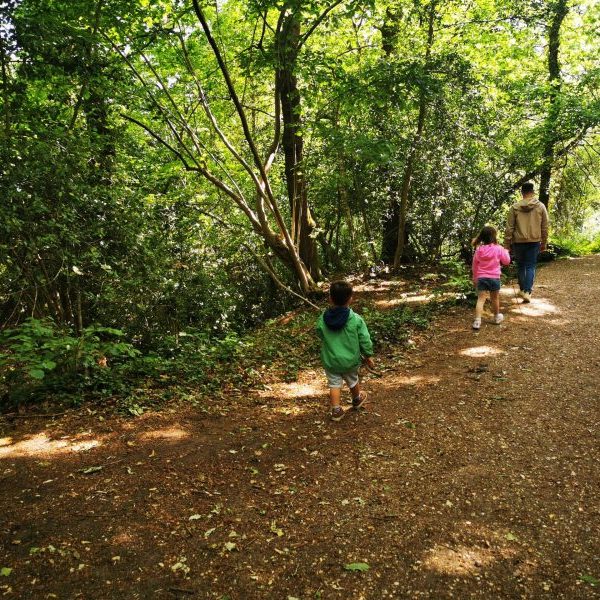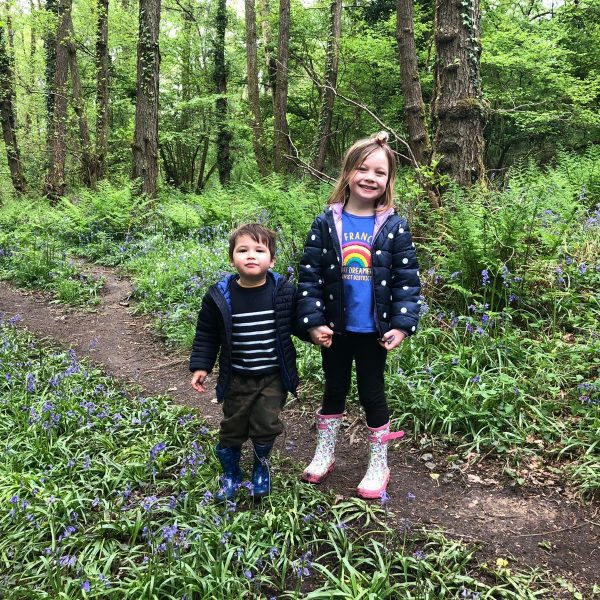 Discovering Bluebell Woods
Lockdown has definitely made us find some incredible places right on our doorstep, and this one was such a find. I mean who can resist a woods full of bluebells?!
We had a lovely long walk – playing pooh sticks in the little streams, jumping in the puddles of mud, climbing across little rickety bridges, and of course, had to stop for a few (read: loads) pictures of the kids in among them all.
A gifted delivery
Femmeluxe very kindly sent me a link to pick a few bits from their site – if you're not familiar with Femmeluxe, they are an online clothing brand who sell everything from cycling shorts and t-shirts, joggers, loungewear and lots of stunning out-out frocks.
Since I received my parcel of goodies, I've been living in my glamour joggers- move over shapeless £5 Primark trackies, there's a new pair of loungers in town.
This set (cheesily demo'd by me, on the right) and my 'Ooh la la' slogan tee are definitely my new faves!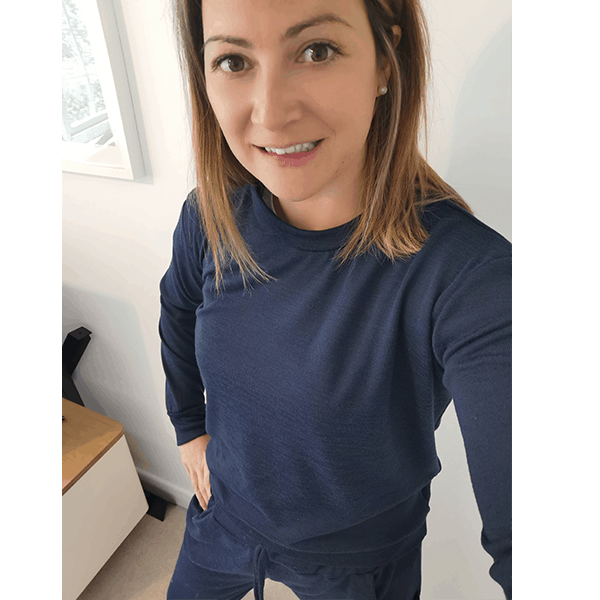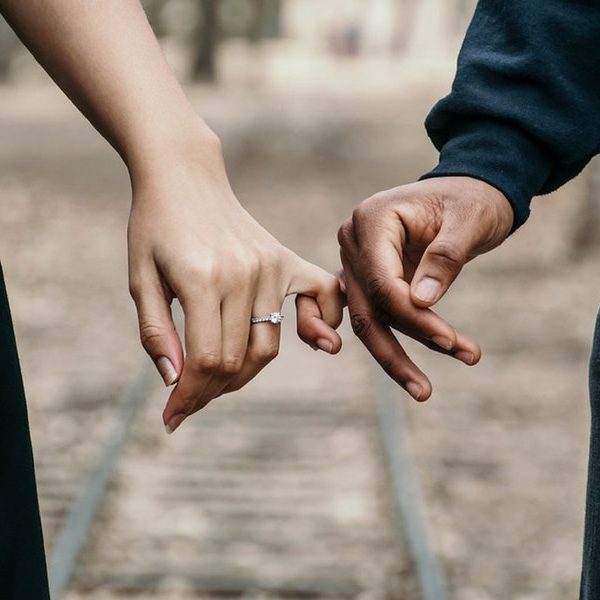 Our four year wedding anniversary
We were supposed to be celebrating our four year anniversary at The Hand & Flowers in a room with a hot tub, but the world had other ideas for us. And we spent it at home, with the kids. In the middle of a lockdown situation.
It was lovely to remember our amazing day four years ago, surrounded with all of our favourite people. Fast forward four years and there's four of us all together celebrating.
A sweet delivery and a movie night – with no internet
Our local coffee and waffle shop started doing 'sweet box' deliveries and I thought it would be a nice idea to get a surprise delivery for the kids for our treat night. They absolutely loved it!
We set up camp in the office, turned our mobiles off, brought all the blankets and cushions down from our bedrooms and planned to watch a new movie from Disney+, but the internet failed us and we had to revert back to a DVD played through the PS4. It didn't dampen things though, it was so much fun! We all snuggled up with our sweets and watched Kung Fu Panda.
It's genuinely little happy memories like this that I've appreciated so much more. [Absolute LOLS at Arlo's lockdown hair]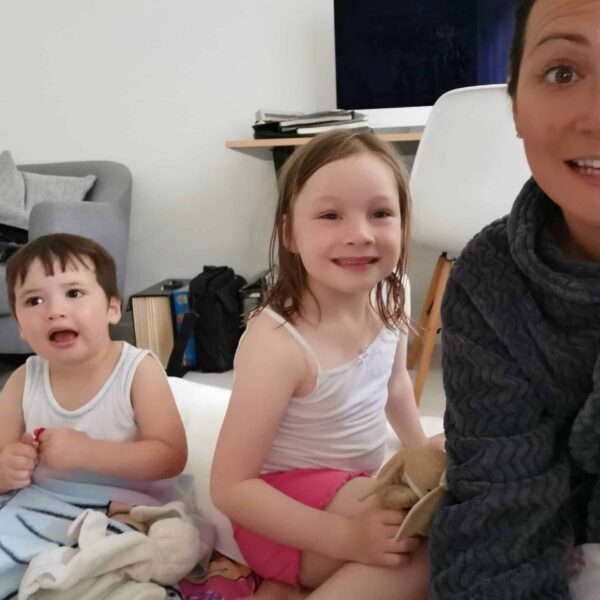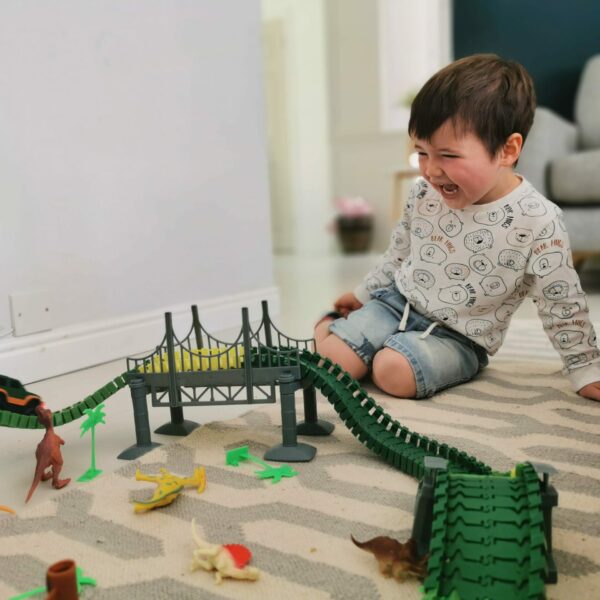 Sofia, Arlo & the hilarious DinoTrax
I got caught up down the Aldi 'Special Buys' aisle and stumbled across this little light up Dino Trax toy. I put it away in the cupboard and forgot about it, but after Arlo did some super good stuff I decided to get it out as a little treat.
It was hilarious watching them set up the track and even more funny watching them almost wet themselves as it struggled up the ramps and bridges. They played together for ages with it, and hearing the full on LOLS coming out of the room was music to any mama's ears!
Amazing weather & three trips to Mudeford […in a week!]
The weather took a bit of a turn for the better towards the end of this month and with the lockdown also easing we headed to the beach. There is something to be said about fresh sea air – the things I definitely used to take for granted, suddenly felt like a huge treat and we had the best day.
We headed to Mudeford on Saturday and had such a good day that I left Stuart at home on Sunday to sort out the garden and I took the kids back – this time we went prepared with crab lines and buckets and spades – we dug holes to bury ourselves in and shared a box of chips, all whilst wrapped in sweatshirts and coats!
Then, later that week we headed back again for a third time for a full day of sea splashing and sunbathing.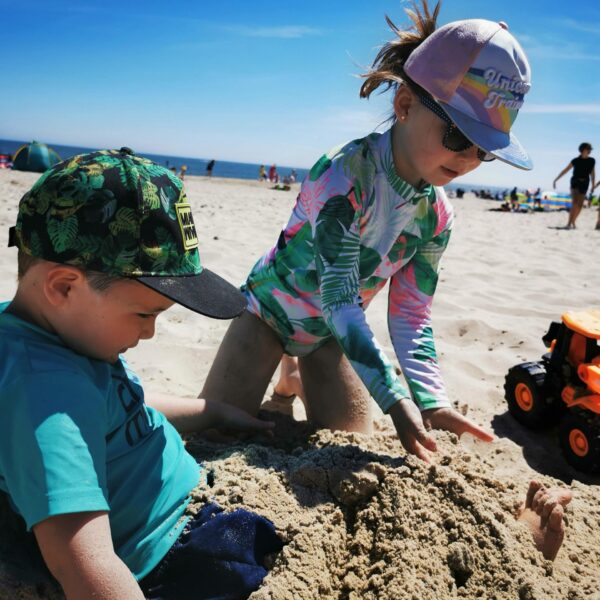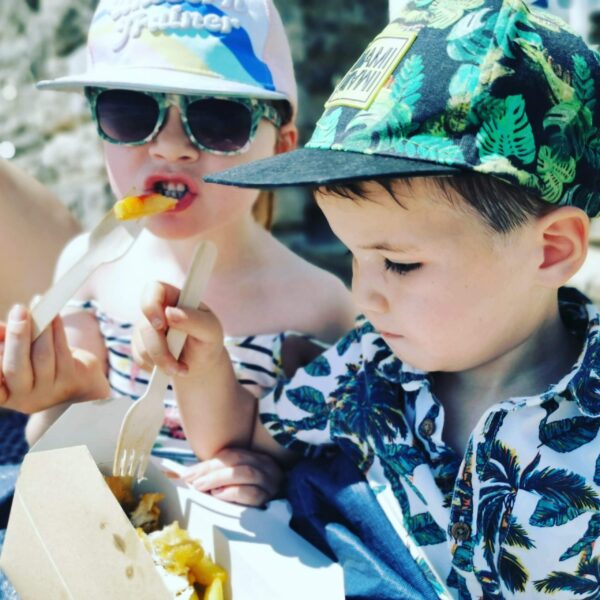 More beach days…discovering Branksome Chine
Last week we had planned to head to Sandbanks beach for a day out, but I think so did the rest of the South Coast so we turned back and ended up discovering a new beach just down the road. Pure sand, gorgeous blue sea and the most delicious fish and chips…followed by the obligatory beach ice cream!
We were thrilled to have discovered a new beach and spent the whole day there in and out of the sea jumping the waves. Arlo was really hesitant at first, a few minutes later he was howling with laughter as the waves came crashing to his shins.
Our IKEA hack!
I'm so pleased with our IKEA hack that it had to have a space on my May moments. With home working looking a little bit more likely for a while, we decided to make Stuart's office into an office for the both of us. I was getting sick of my laptop just being put around the house and me working from the sofa or the end of the kitchen table and my notebooks just dotted around.
So, I googled 'twin desks' as I wanted to have just one long work bench as opposed to us working from two singles and found some amazing Ikea desk 'hacks'. We brought two IKEA side tables and a 200m worktop…and we didn't even divorce during the flatpack process, so I'd call that a win.
I'm really chuffed with the finished result!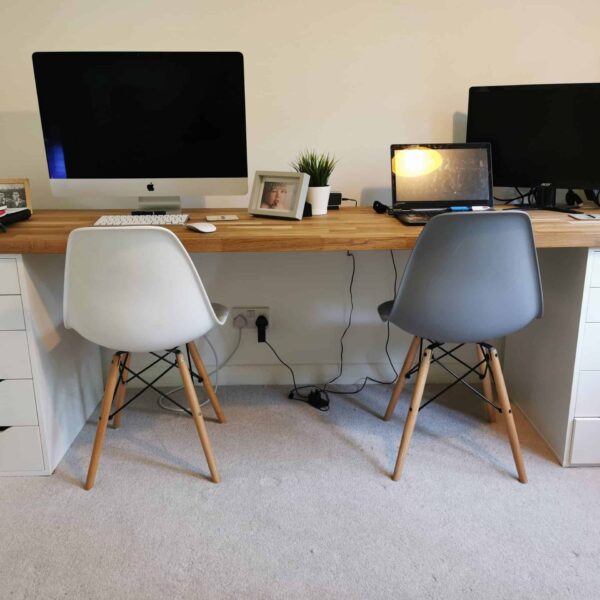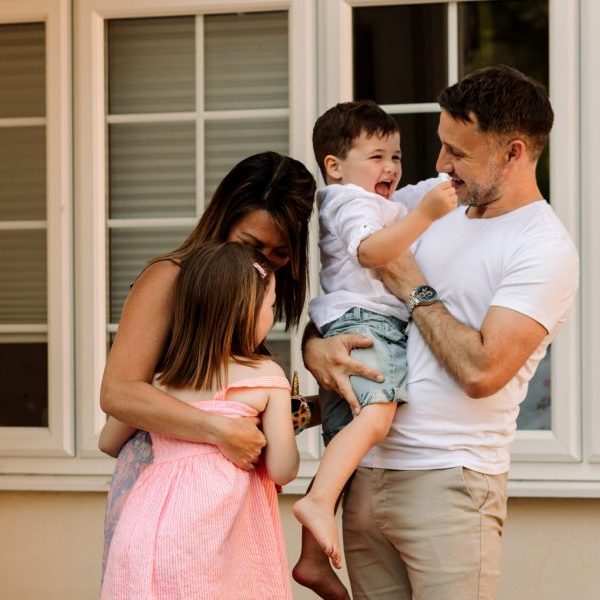 Doorstep Photography
This lockdown is absolutely crazy, but I am determined to remember the good times we've had. I've got a little memory box with all the bits we've been up to in it, little notes we've received, the work we've been doing and the special photos.
We realised we don't really have many pictures of us as a four that's not a selfie so I decided to book a doorstep photo session – much to Stuart's dismay, as he absolutely hates photos. But even he couldn't deny the results were super special and I'm SO glad that we did it.
We used Stephanie Atkins Photography to take them and I highly recommend her if you live in the Hampshire area.