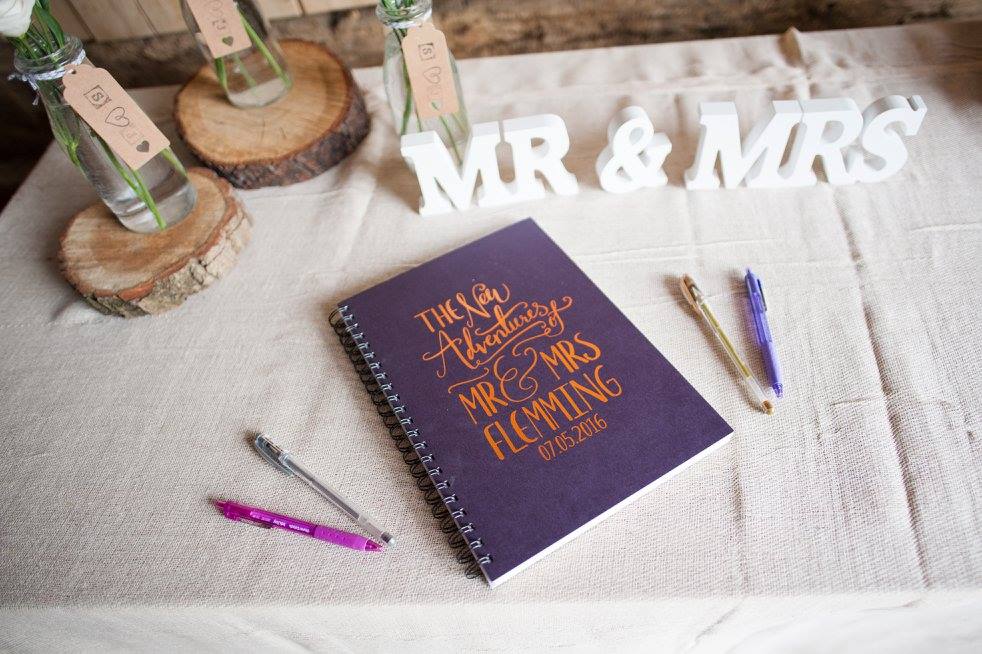 When Prosecco Mum became Prosecco Wife | Our DIY 'shabby chic' Wedding
Now, if you're anything like me you'll love a good nosy at people's wedding albums. So I thought I'd divert away from the no sleep/teething/baby sick style post and instead, share an insight into the day I became Prosecco Wife!
Stuart and I have been together now for over 10 years, I think; there's a bit of discrepancy along the way but it's at least that (for my sins)…our relationship  history was a bit like standing at the bus stop – I waited for what seemed forever for the bling and then when I finally got that, I also got a fertilised egg two months later. I say that flippantly, we'd waited seven months for that fertilisation. Seven loooooong months.
Fast forward 18 months, Sofia was almost a year and Stuart said something about 'another baby', my response was something along the lines of 'no fucking way' and threw in the 'not until we're married as I'm not having a different surname to another child'. Surely that's why you got engaged I hear you cry. Well, no. I think he just asked, purely just to stop me nagging and slowing up at every jewellers we passed. Now there was a baby/wedding loggerhead. I won.
We decided to get hitched on Saturday 7 May 2016, three years after we got engaged.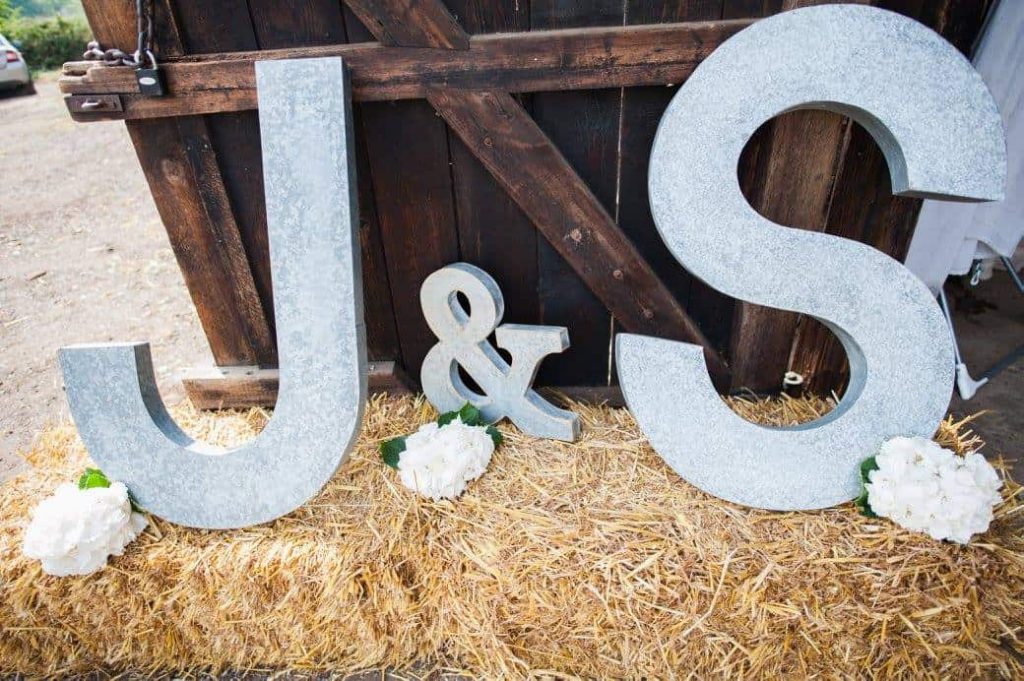 We chose to have our wedding at the stunning Titchfield Great Barn which is in the Segensworth/Whiteley/Fareham sort of area in Hampshire. We were looking for a venue which we could completely make our own and put our own stamp on things and as soon as the doors to the biggest barn in Hampshire flung open we knew we'd found the place. We didn't even look anywhere else!
I stayed at a hotel with my four bridesmaids the night before and in true 'us' style it got to 9pm and we headed out for a McDonald's drive thru, buzzing with nerves and excitement. I couldn't have got through that morning (or life in general) without these four girls. They are out of this world friends and I love each one of them all differently yet the same.


As we were getting married and holding the reception all at the barn, we decided to do the 'getting married' bit at 2pm. To be honest we were both dreading that bit. Me because I had to navigate my way down about one thousand stairs, yes stairs, with everyone staring at my petrified, ugly crying face silently praying I would reach the bottom in one piece, and LagerDad just because he was signing his life away to me.
I walked down the aisle to an old 80's classic – Michael McDonald's Our Love, you can have a little listen here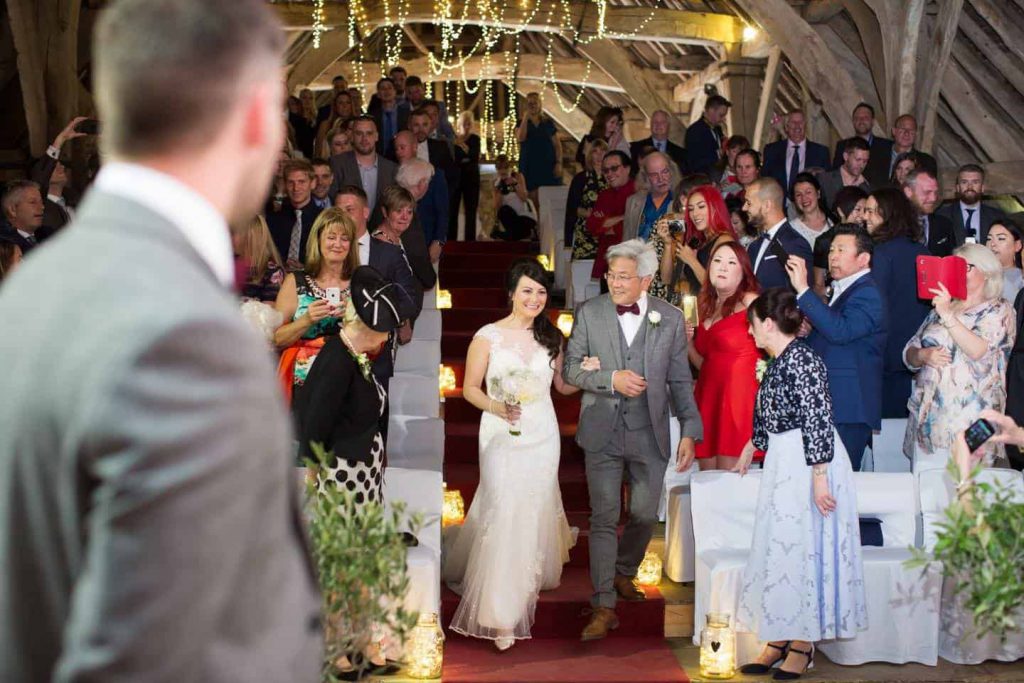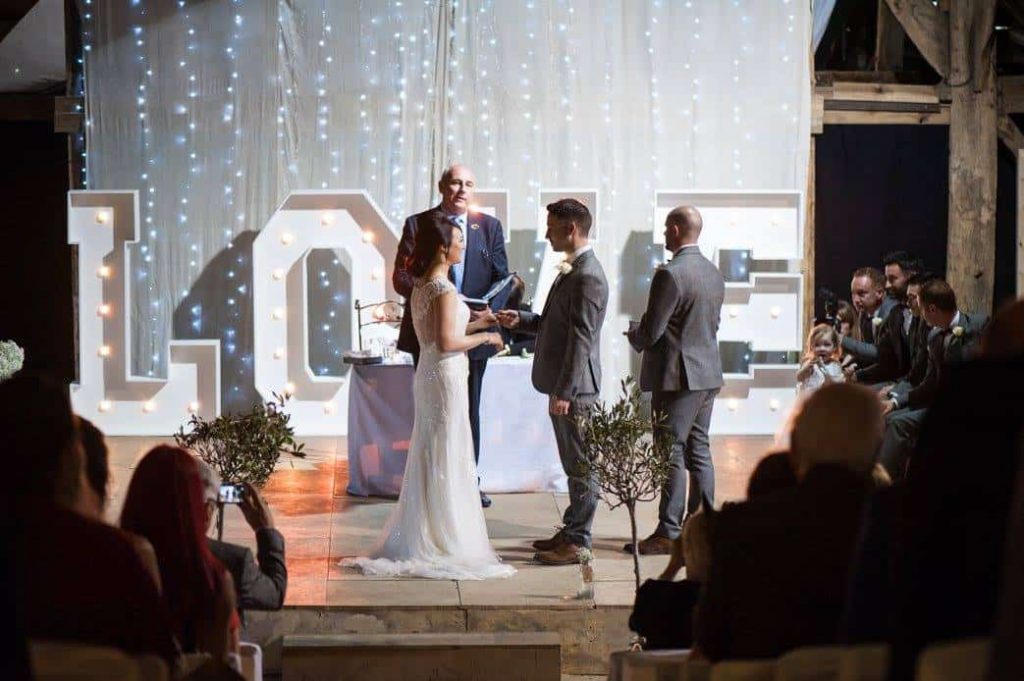 After that part, we mingled outside to some acoustic music which was provided by the fantastic Danielle May and the sun shone brightly, which was amazing as the days leading up to the wedding where bleak and overcast. We all drank far too much prosecco and then it was time for speeches and food. And this was the part that Stuart really was in a state about, the speeches. In fact this is one of the major reasons he didn't want to actually get married – he really did not want to do the speech and this gave him lots of sleepless nights in the run up to it. But, it's amazing what a bit of dutch courage does for people. Once he got up, we couldn't get him off the mic!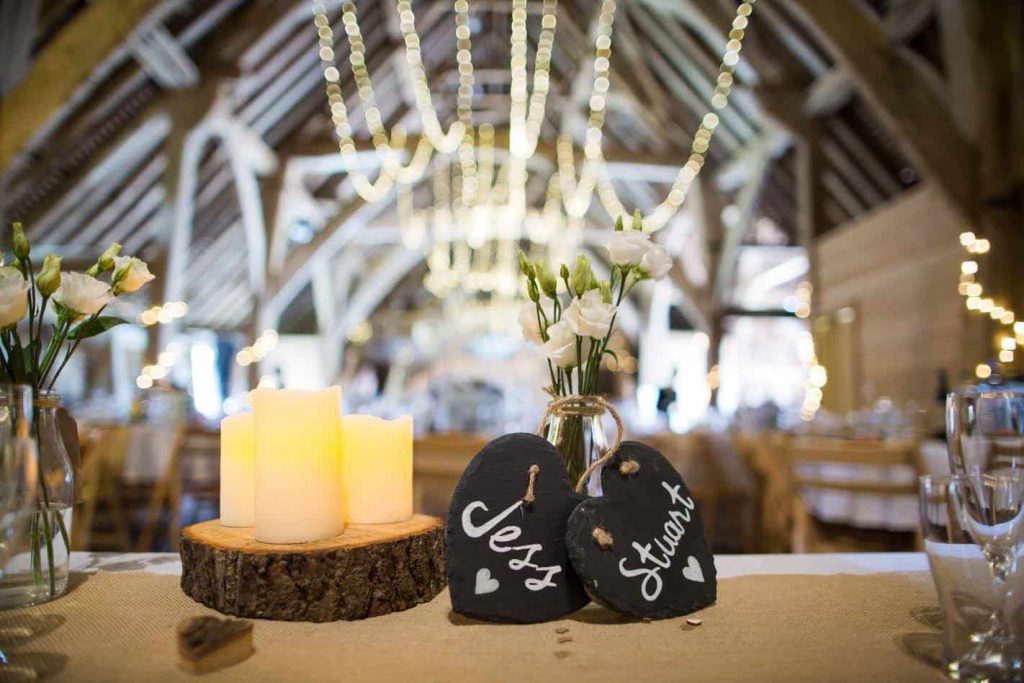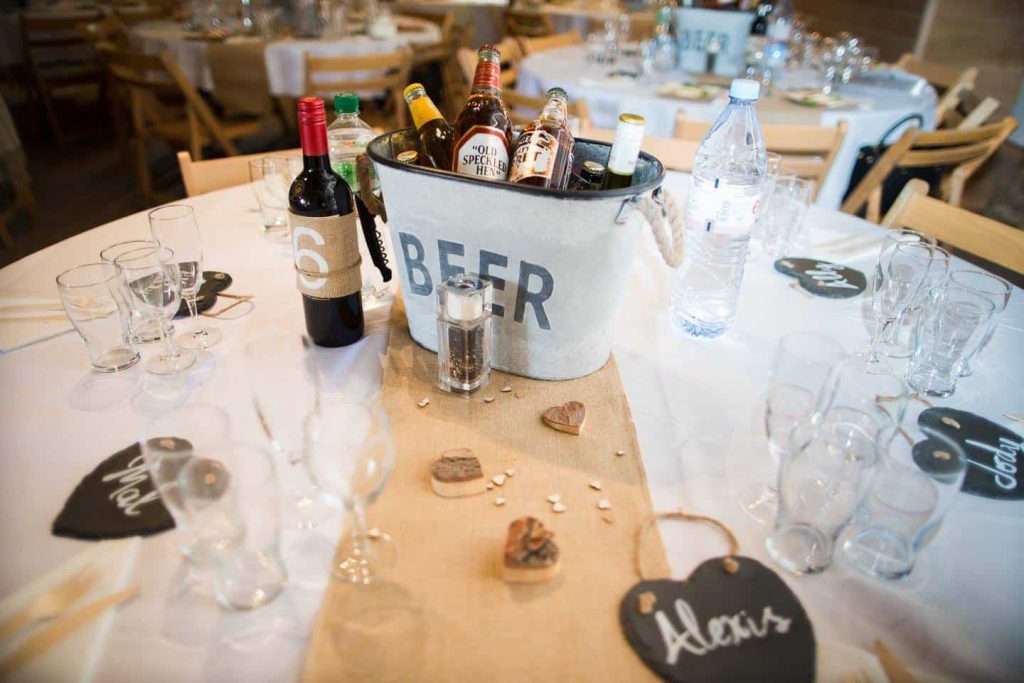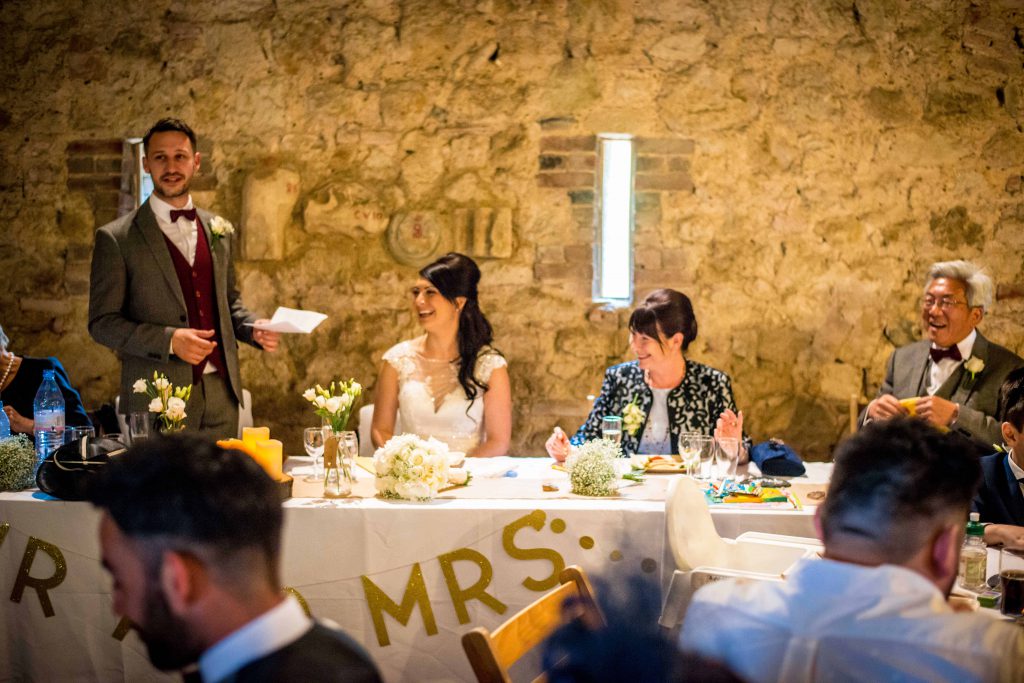 After the speeches, we enjoyed a bit more impromptu music outside from my cousins, The Grimshaws, a jazz/country/bluesy style group who are based on the Isle of Wight but travel all over.
The evening guests all started arriving around 6.30pm and we had our first dance – we chose Ray La Montagne's 'You are the best thing' and held each other up as we swayed away waiting for the other guests to join us after 30 seconds. Thirty long seconds.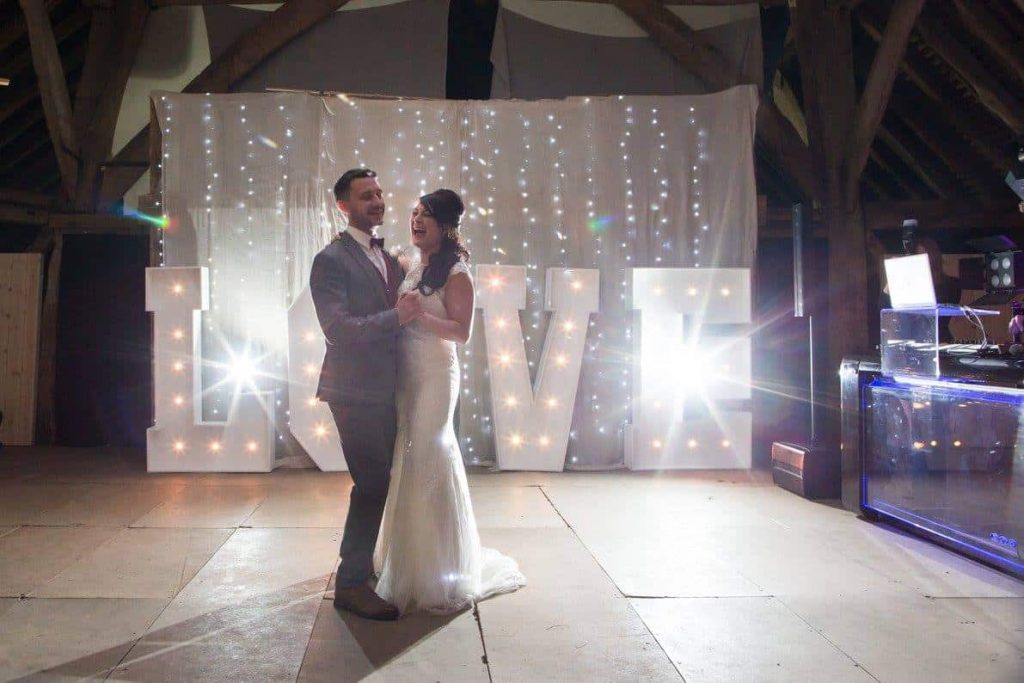 We had always said we wanted a party rather than a wedding and the evening part of our day became just that.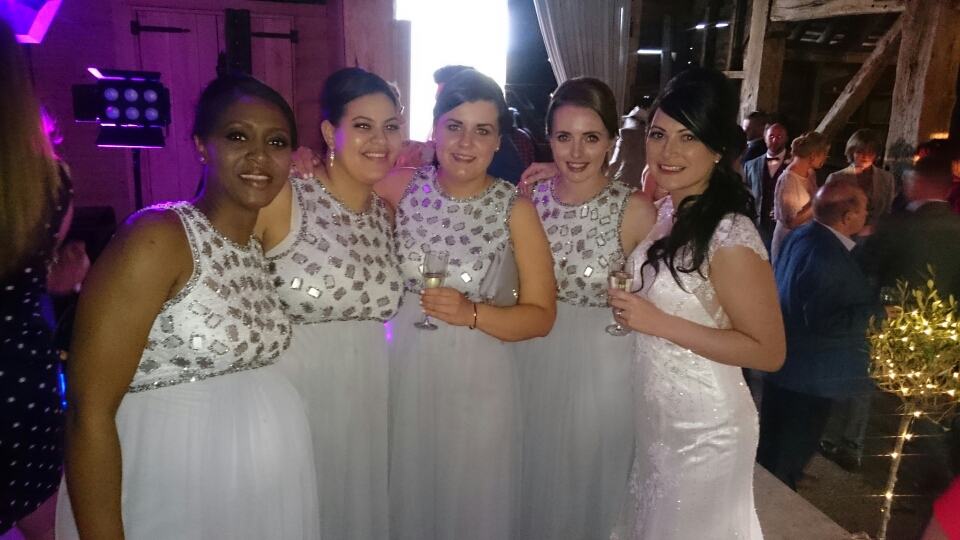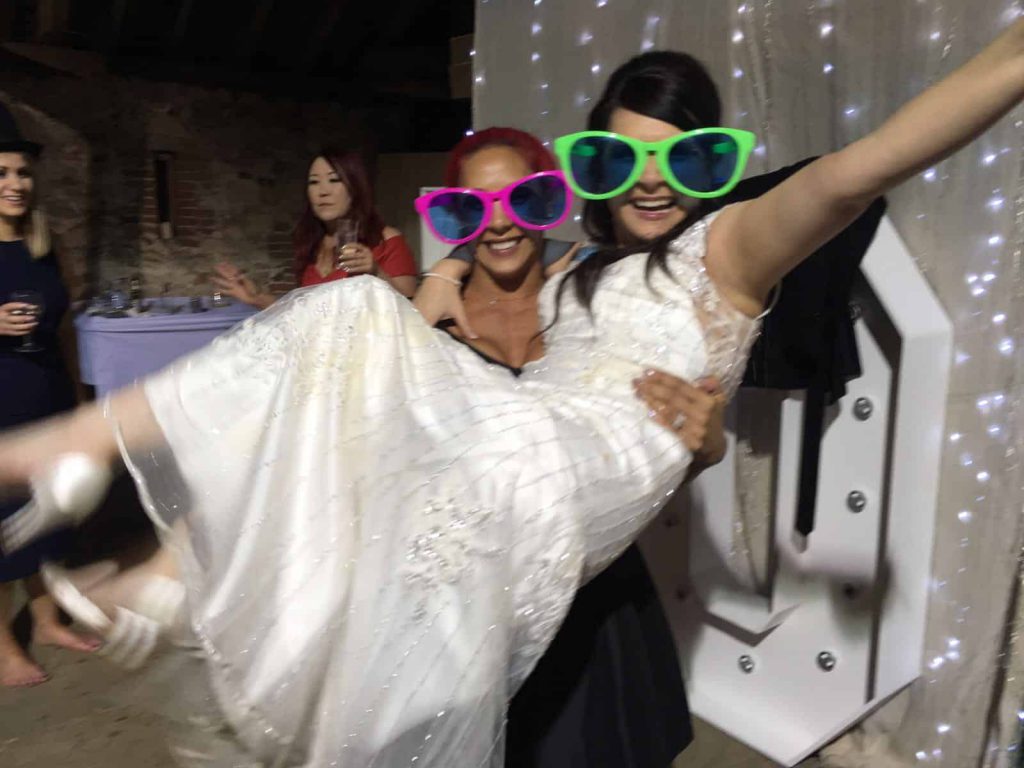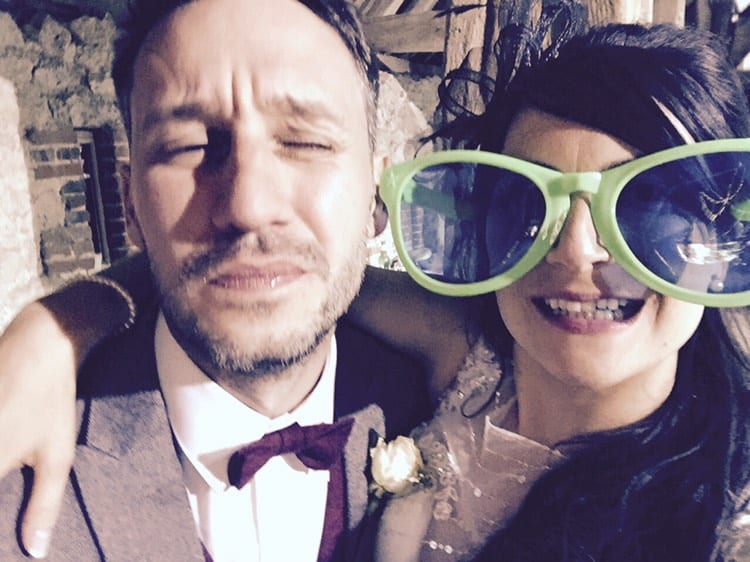 It was amazing to share one day with friends and family, who had travelled from all over the UK- and even the US – who were all there with smiling faces to share a special moment of our lives which really is completely unforgettable.
I'm trying to persuade LagerDad to let us renew our vows every year…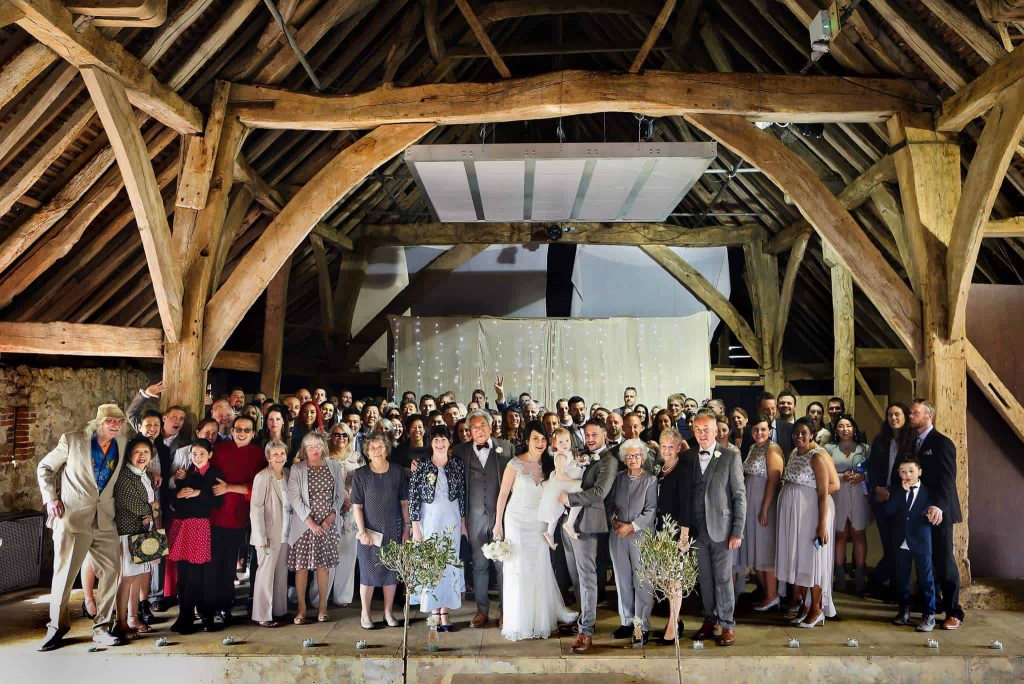 For anyone wondering, my dress was Maggie Sottero and my bridesmaid's frocks were Jenny Packham. Stuart and his groomsmen were let down five days before the wedding with their made-to-measure suits (proper Brideszilla moment that I can only laugh at now…) so theirs are all from Marks and Spencer!
Special mentions for making our day extra amazing have to go to:
Nicola at Behind the Scenes Events – if you're in the Hampshire area and looking for a DIY type wedding, Nicola is amazing and sorts everything out (yes, even the clearing up at the end of the night) – she really was my saviour at making sure that I actually walked down the aisle when I completely froze and felt like I just couldn't do it. The day really would not have run as it did without Nicola and her mum there organising the outside caterers/bar and the general preceedings!
Lucy at Lucy Houghton Make Up – I had a pre-wedding trial with Lucy where I told her what I thought I wanted and then we discussed what I'd have on the day and made some tweaks. I wanted to look natural but still me and I do love a bit of slap so I opted for a smokey eye and highlighting blush. My airbrush make up was so immaculate that I woke up on my first day as a wife and it still looked good! Lucy also did my bridesmaids make up (without a trial) and they looked absolutely stunning.
Clarice did my hair, bridesmaids hair and my lovely mum's too! I had a trial with Clarice a few months before where she trialled a couple of up-do's. I had clip in hair extensions for the day, I didn't want my hair completely up as I never wear it up so still wanted to feel like me but wanted something a bit more special than just 'down'. So I had a bit of a bouff and it tousled to one side. Stuart's first words to me as I met him at the 'altar' was – your hair looks like Amy Winehouse. And yes, I still married him.
Photography by Emma Moore Photography – I'm not sure that there is a lovelier lady on this planet…and as well as being super lovely, she's an amazing photographer and we truly fell in love with every photograph of our big day – even the 'romantic' couple ones, that we originally didn't want, but were persuaded to have!