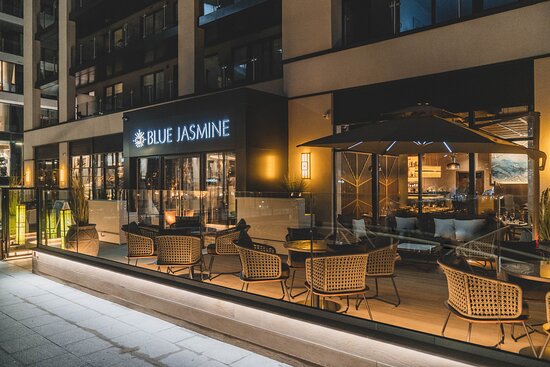 Savouring Christmas at Blue Jasmine, Southampton
Wow! Blue Jasmine, based in Ocean Village, Southampton really is something else. I'd heard people talking about it for months but the right occasion had never arisen. Until, Joe's birthday!
Having a birthday on 21st December is rubbish isn't it? Let's face it by then everyone is Christmas partied out or dashing around the shops getting last minute pressies. So Stuart and I were the lucky recipients of an invite to Blue Jasmine for some contemporary Southeast Asian fine dining, and – spoiler – it did not disappoint.
The venue is exquisite, super stylish, tiled flooring against a contrast of rattan and resin with seating arranged as a mix of open tables and cosy booths. It was a lot bigger than I imagined too. We were greeted at the door by the front of house concierge who took our big winter coats and replaced them with a number to collect them later. We were then walked through the restaurant and taken to our table which was a high backed booth which we were pleased about.
As the four of us were not being very decisive as we pored over the mouthwatering menu, we opted for the Christmas set menu to enable us to get a little taster of everything. The menu is a total fusion of East meets West with local grown produce sourced from Hampshire, the New Forest and the South Downs whilst all of the spices are sourced from within Asia to preserve flavour authenticity.
The waiter/resses were super knowledgable and friendly and really attentive, but not overly so to the point where they start to get on your nerves!
We started our fine dining experience with;

> Grilled lamb salad with mango and kampot pepper in snow plum dressing
> Almond crusted pop corn and black crusted cod with spiced chilli mint
> Five spice pork and taco beancurd roll
> Crispy basil chicken with jackfruit and chilli mango dressing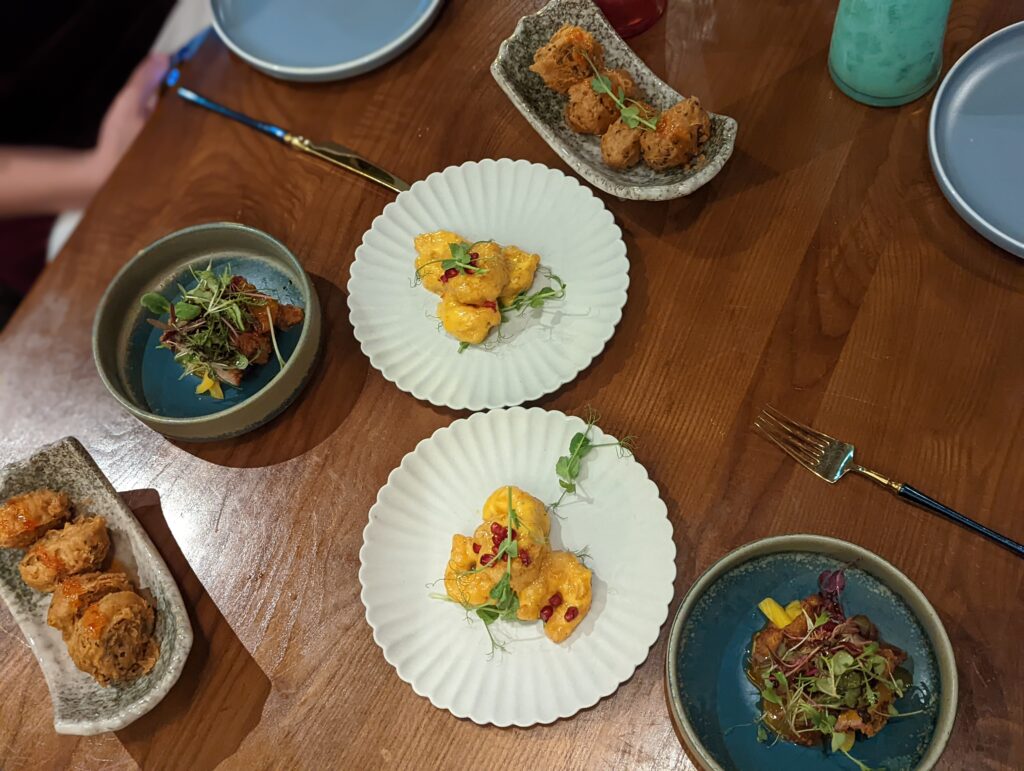 After savouring every bite of our starter plates, we really couldn't wait to get stuck into the main event.
For the bigger main plates, we enjoyed;

– Braised wild giant prawn with green horseradish butter and heritage tomato (they were so big they were like they'd just strolled in from the Solent!)
– Mongolian Hampshire belly pork with apple salsa
– Ivory chicken with snow pea and macadamia
– Steamed okra and salted kale fried jasmine rice with ginger and edamame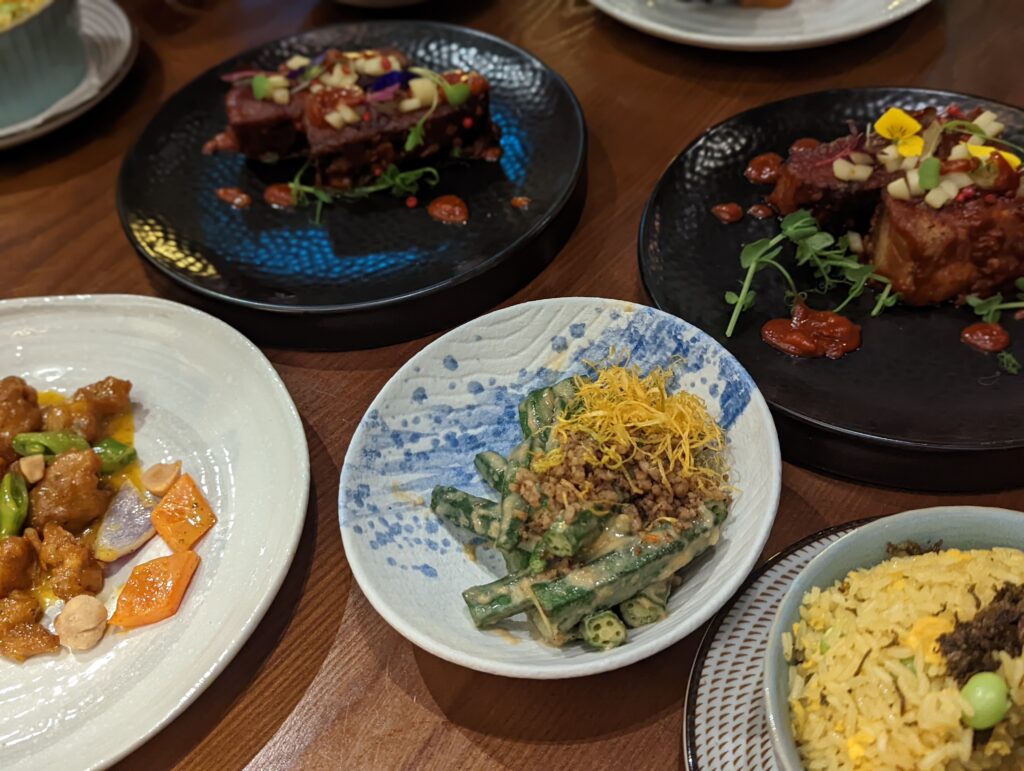 Some of the bigger plate dishes did feature food that I'm not hugely keen on but the flavours and presentation meant I definitely ate with my eyes on this occasion and tried every bit. Except for the okra, I will never be tempted with okra. LOLS.
'Snowman' was the surprise finisher – a beautiful desert comprising of white coffee, chocolate, coconut, pear and raspberry. A true treat for the senses!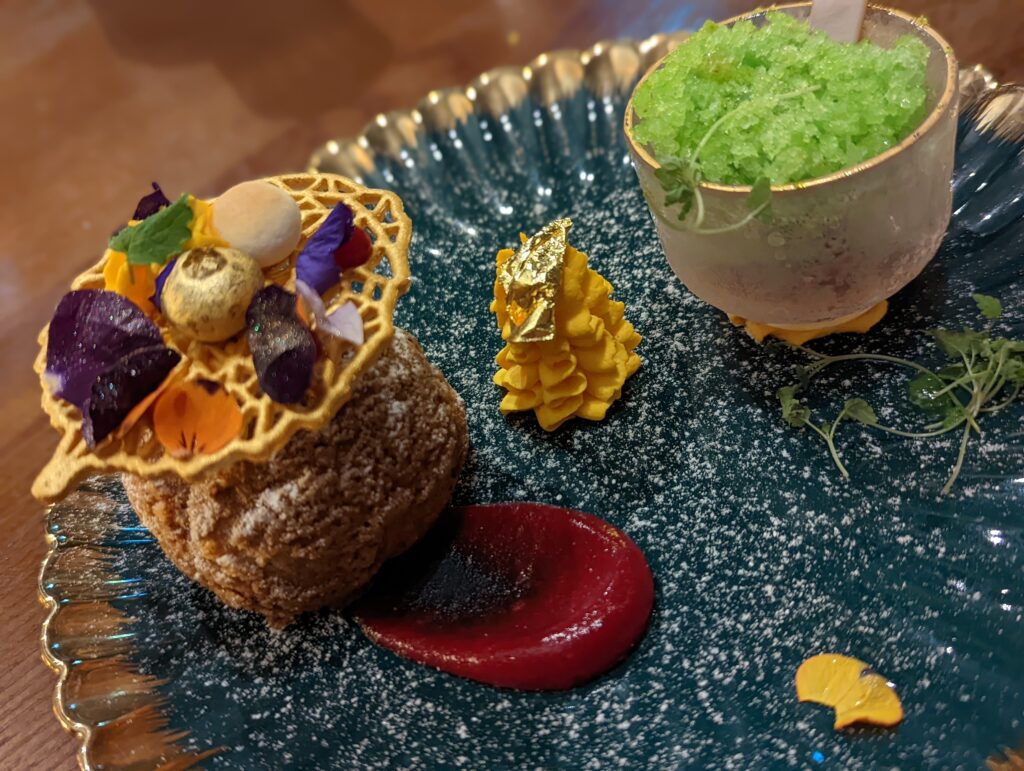 We enjoyed the Blue Jasmine three course set menu which was £89pp, minimum of two people dining. We visited in winter, but during the warmer months the spacious terrace would be a real treat to look out over the marina whilst dining alfresco. For something more special or intimate, Blue Jasmine also have a private dining area.
Open from Tuesday to Sunday for lunch or dinner, there's plenty of opportunity to pop down and give it a try! You can view the Blue Jasmine sample menu here.
Want to see where else we've eaten out in Hampshire? Click here!