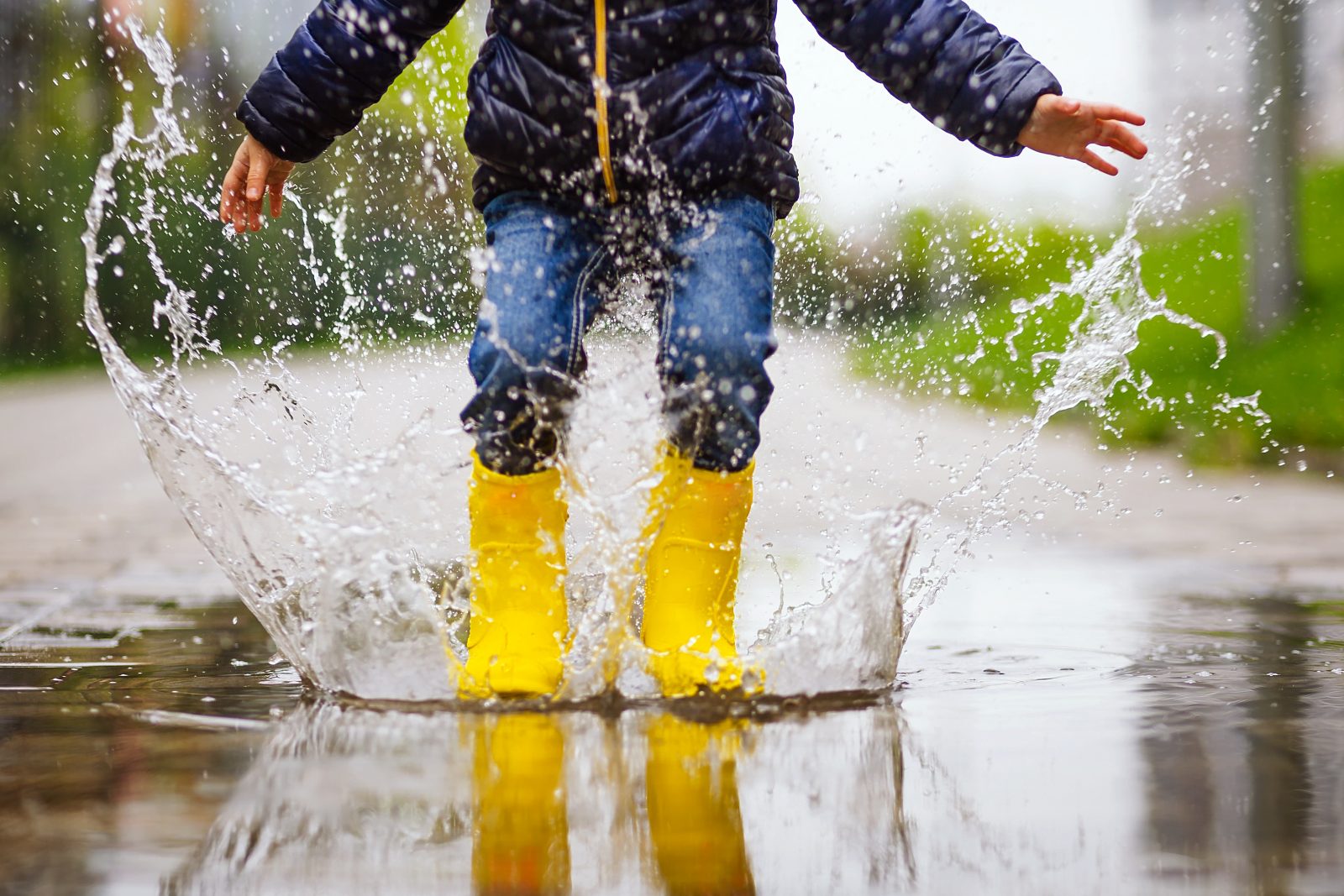 Ten things to do on a rainy day – avoiding soft play!
As the Winter seems to have prematurely rolled into our autumn, I thought doing the school run in my wellies and sleeping bag coat was the worst. But no – the arrival of the rainy days means more thinking is required for places to go where you won't return with pneumonia.
Here's my list of ten things you can do on a rainy day – whilst avoiding the sweaty, germ-ridden hell that is indoor soft play. Thank me later!
Put on the puddle suits and wellies and go Peppa-style puddle jumping!
I'm yet to meet a child that doesn't want to rival daddy pig in his golden boots, jumping up and down in muddy puddles. I recently splashed out (see what I did there) on getting some waterproof trousers for the kids so I don't have to be that fun sponge mum that tells them 'they're not getting soaked and then sitting in my car'. I got them from Decathlon and they were great value!
Set up a treasure hunt
Set up a hunt where they have to go exploring to find 'pieces of nature'; you can add things like pine cones, a massive leaf, a tiny leaf, a feather, a pebble… for added Pinterest mum points, get them to make a picture out of all their finds – when they've dried out! Or set one up indoors with clues, the end result always being to sit and make or play with their finds!
Bake and decorate
We love a bit of baking in our house, I tend to buy those little pre-prepared cupcake boxes though because I'm not the greatest cook/baker. But why not make a recipe from scratch? Do a variety of cupcakes, cookies and muffins and let them free their creativity with the decorating!  

Visit your local library
I recently discovered our local library and I was surprised to see the amount of family friendly activities they hold there and how child-friendly they are too. And everything tends to be free! I even saw an arts and craft table complete with pens, pencils and glue. Crayons and a room full of books? Brave!
Crafting
Set up tables of different craft activities and let them roam free. You can add fluffy pom poms, glitter, stickers and foam pieces into bowls and set them free with the paper and glue. You can get some buttons and string and get them threading bracelets and necklaces. Grandparents always love a handmade gift so now's the perfect time to start making goodies ahead of Christmas.  If you're feeling really brave, how about making slime?
Have a film day
Not the most exciting, but why not watch the film from the comfort of their own self made den/fort. All you need is some big blankets and sheets, lots of pillows and cushions and a big bowl of popcorn for the den makers to tuck into after all their hard work building.
Get active – undercover!
If you want to keep the kids active, whilst wearing them out for an early bedtime too, why not take them bowling, iceskating or laser quest? I'm yet to meet a child who doesn't love at least one of them. And if all else fails, there's usually an arcade at the end with dance mats, driving machines and some air hockey!
Water play
Well, it's chucking it down so they may as well just get out and about in it. If you have a garden, let them loose at the water play table, throw wet sponges at each other or generally just muck about in the rain. You'll earn cool parent points for it! Perhaps aim to do this one just before bath or shower time so they're washing and warming up as soon as they come back in.
Have a boogie
If your kids are anything like mine, they will LOVE music. Sofia has her own Spotify playlist which she loves to practice her 'street dance' moves too. Let them sit and think up their favourite songs, put them into a 'rainy day' album. When it's just too wet to venture out, get all dressed up if they fancy and have an indoor disco!
Play dress up and act out a story 
Get all the fancy dress costumes out and if you're feeling really generous, offer to face paint them up and add some transfer tattoos for full parenting points.  Once their costume is decided, help them act out a story of their choice. It can be a bit of a helicopter story scenario, ensuring everyone can get involved.
What are your favourite rainy day activities?