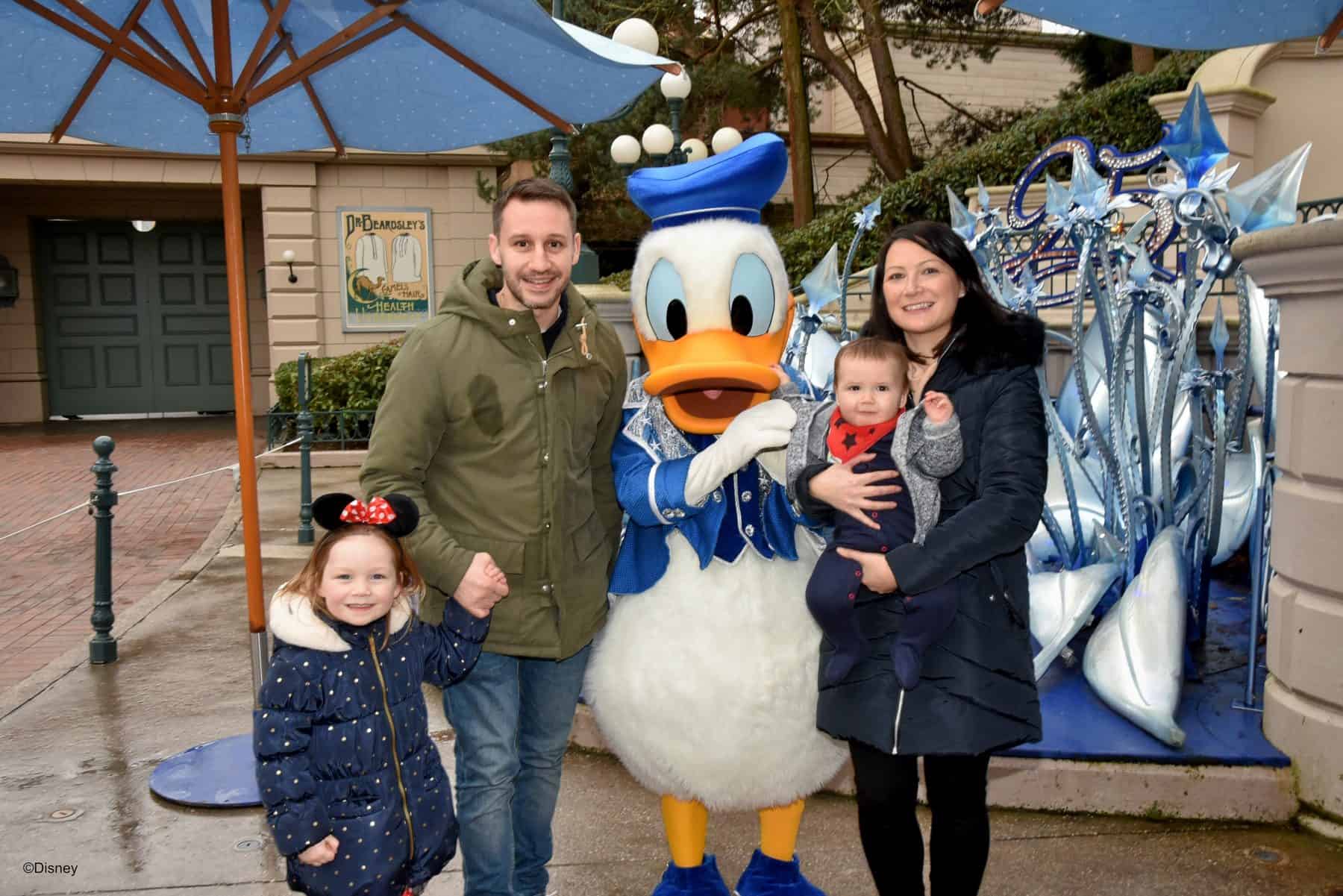 We went to Disneyland Paris!
We've just come back from Disneyland Paris – it was our first time since we were teenagers (a bloody long time ago…and not when we were with each other!) and so we decided to plump for safety in numbers and make it a group event – there were 8 adults and 6 children in total.
How long did we go for?  We went for 5 days and 4 nights. We arrived in Paris on Wednesday at about 9am and departed at 5pm on Sunday. This was a good length of time, it was long enough to not rush to do everything but not too long that we got bored..or broke!
How did we book? Well if truth be told one of our friends handled all the booking and admin for us, so I can't take any credit (thanks Ash!) – we did this through TUI. They handled our travel (flights and transfers), accommodation, food plans and any extras. Though TUI have to call Disney to make reservations and for some of the other more obscure questions we had, it was great doing a face to face booking. A place like Disney can be a bit of a minefield of the what, where's and when – so it was nice to be able to pop into town and check stuff over with an actual person rather than live chats online!
How did we travel? We're lucky that we all live about 10 minutes from the local airport so we decided to fly – it seemed like the easiest and quickest thing to do with the kids. The flight out took 45 minutes and the return journey slightly longer at 55 minutes. I'm thrilled to report that on this occasion Flybe stayed true to its name and didn't go by it's occasional alias of 'Fly-May-Be'.
Upon arrival at Charles De Gaulle airport, we sped through passport control to find our bags, buggies and trunkies were all whirring around the carousel before we had even reached it – it was super quick and slick. A short stroll through the airport – with four super excited kids and two not entirely sure what was going on but were enjoying the snacks we kept giving them – to our pre-booked Magic Shuttle, which picked us up from the bus station and dropped us off at the door of our hotel which was about a pleasant 35 minute journey from the airport. [Note: I'm not sure what was so magical about the shuttle – they didn't even play Disney songs on the stereo or screen movies on a screen, FFS!]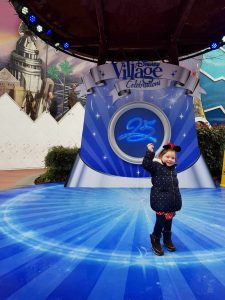 Where did we stay? We opted to stay at the Disney Santa Fe hotel, one of the most budget of the Disney hotels – we knew we were only going to be in there to sleep, and being a Disney hotel we knew the standard would be still great. The hotel is a Santa Fe inspired hotel and the bedrooms are Disney Pixar's Car's themed (anyone else ever showered with a grid pattern shower curtain? No, me neither).
We all had Rio Grande rooms which consisted of two double beds, a small chair, TV and plenty of wardrobe and drawer space. The only thing we struggled with a bit was squeezing and fitting the double buggy into the room – it fit but we had to collapse it down everytime and shove it up behind the door.
One of the definite plus points of the hotel is that the Disney characters come to hotel reception from 8am-11am for selfies or professional pics by a Disney photographer. During our stay we had Pluto, Goofy, Pluto and a visit from Mr Mouse himself!
There was a Starbucks in the main hotel by reception, make sure you remortgage if you want a tea or coffee. [Tip: you can borrow a kettle from reception for the duration of your stay]. I had a kettle to make Arlo's bottles up but after two cups of black teas purchased from Starbucks, I naughtily pocketed a few teabags from breakfast to make my own evening cuppa in my room!
The hotel also has a small gift shop. A shuttle bus does service the hotel but it was a nice 10-15 minute walk and with the buggies we opted to do that instead…and walk off the many pain au chocolaits we devoured at breakfast. The walk is through the hotel grounds, over a short bridge, past some of the rooms of the Disney Cheyenne hotel and into the park via Disney village. There are both body and buggy scans and bag checks at all entrances.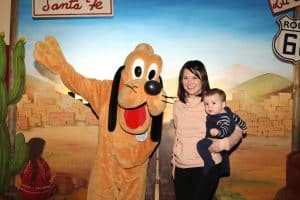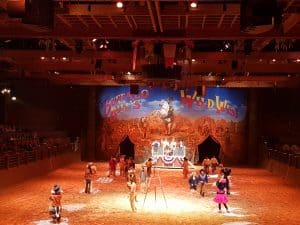 Where did we eat? Well I was dreading a buffet, we all know grubby mitts and food up for grabs can result in germ spreading (eurgh) but I was pleasantly surprised by the food choice on offer and the cleanliness of the restaurant. The first day I dined on fillet steak cut by the chef himself, potato gratin and some green beans for good measure. It was so yummy, I went back for more – minus the potatoes. Second night I had a beef stir fry, which oddly had olives in it but was delicious – I have my suspicions that the beef was actually the steak from the night before, but the flavour was yum!
We upgraded our buffet voucher on the third night and a couple of us went to Buffalo Bills Wild West Show which is located in the Disney village…it was fantastic and I highly recommend it.
Our fourth and final night we ventured out of our hotel and went to another restaurant in the village, which is included in the Meal Plan that we had – Billy Bob's. It was another buffet style restaurant but nice for a change of scenery – there I had the ribs, some filled pasta and then saved myself for the desserts. They had a good cheese selection and too many to choose from desserts! Don't expect Michelin Star gourmet but it's certainly not holiday camp either.
What are my must see's and do's?
I've listed my top Disney tips and 'must sees' here.