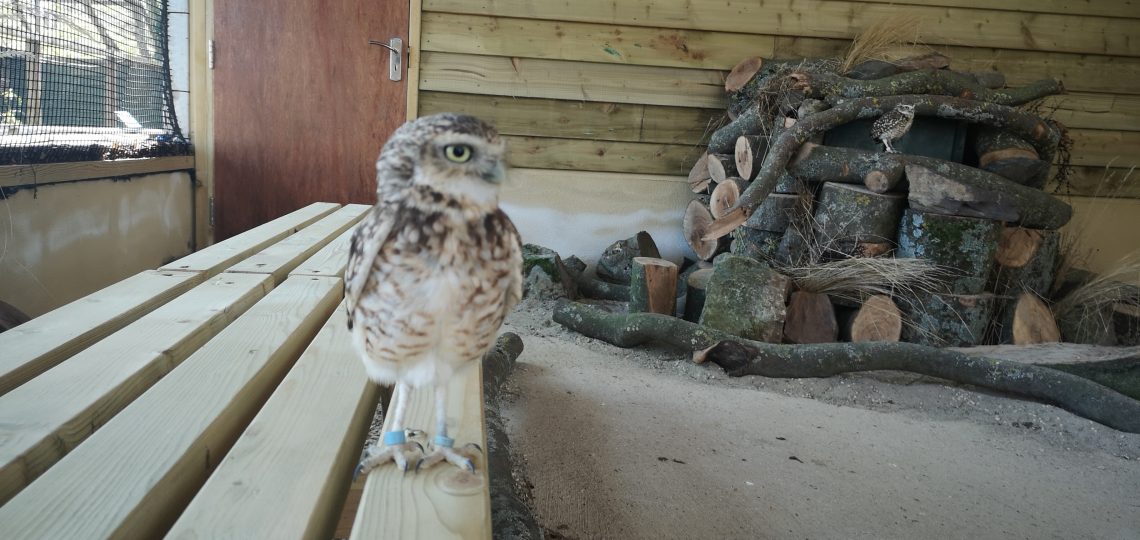 gifted / The Hawk Conservancy Trust
I've seen signs for The Hawk Conservancy Trust on many journeys travelling along the A303, but never had any overwhelming desire to visit; just recently I've heard more and more people talk about how great it is, so when they invited us for a day out – I jumped at the chance to have my mind changed!
We arrived at the trust at around 10.40am, greeted by a lovely lady in the foyer who gave us all the details we need for the day, including map and the Dino Trail and Young Explorer trail guides! She advised that we were just in time for the first talk of the day 'Vulture Restaurant and Keeper Talk', so once inside we headed over.
Here we learnt about cinerous vultures, steps eagles and African white backs – which sadly are a critically endangered species. In fact vultures are the most threatened group of birds on the planet and whilst they don't have the best reputation, they are critical in stopping the spread of disease. The talk was so interesting and Delores (aka 'Boss on the ground') certainly lived up to her reputation. Delores has a bird form of rickets due to lack of calcium, so she can't fly but that doesn't stop her ruling the roost, as she demonstrated throughout the 15 minute talk!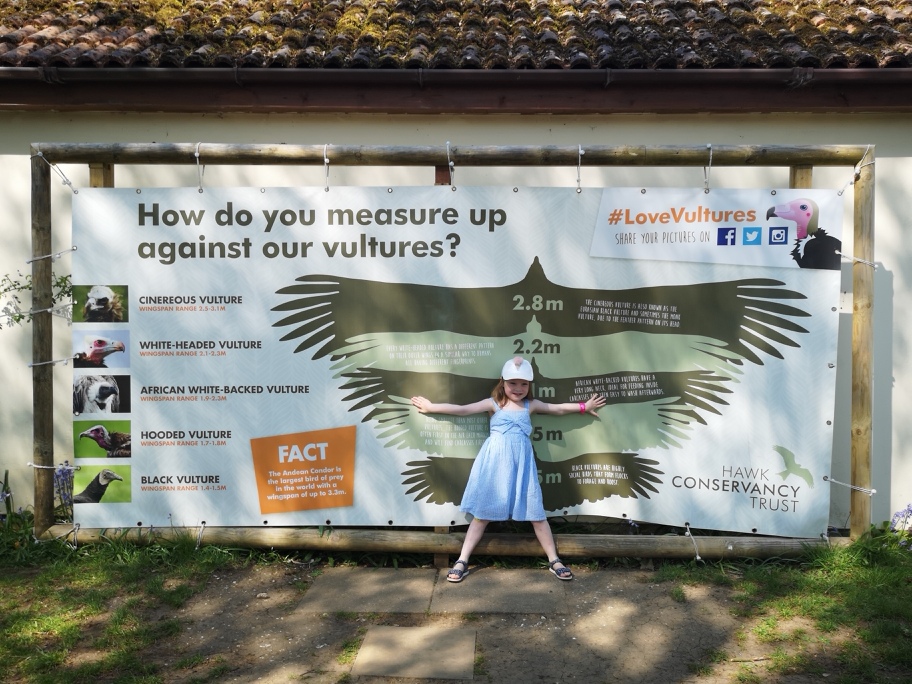 As we were taking part in the Young Explorers Trail (to receive that all important badge at the end!), it gave us a chance to explore whilst hunting out all of the Bird of Prey stamps we needed to collect. There are over 130 birds of prey housed at the trust…luckily for our feet, there weren't that many stamps to collect!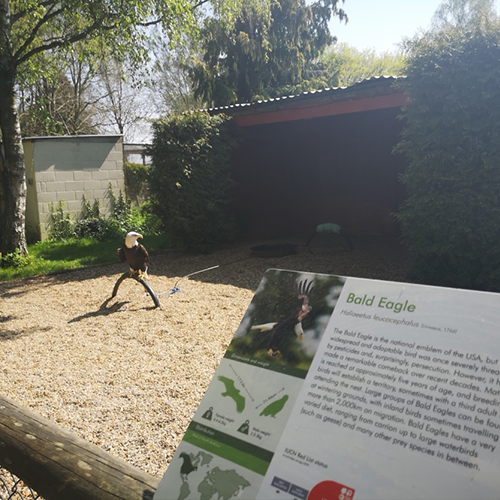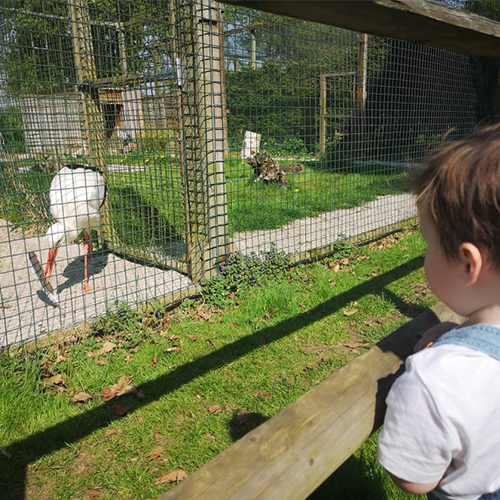 Sofia was desperate to visit the 'Bird Hospital' as she'd seen it from the carpark on the walk in, so we wandered through there. There wasn't anything to see this time but we did find out that The Hawk Conservancy Trust can treat up to 200 sick, injured or orphaned birds of prey each year. As well as taking birds of prey from the public, the trust's hospital is so specialised that it can take Birds of Prey from other wildlife centres too.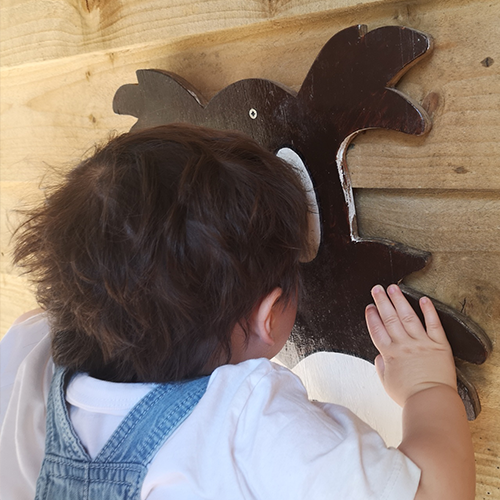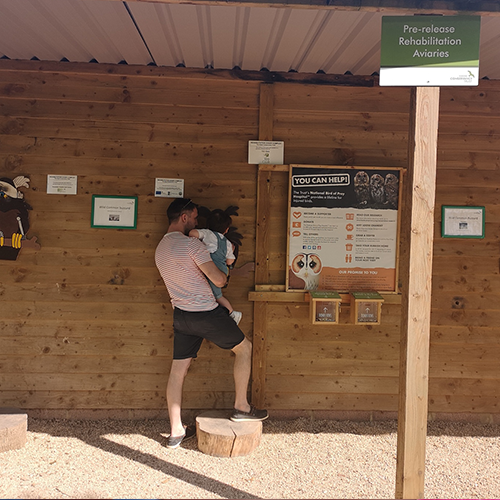 After the Vulture talk, a wrestle on the tug of war and seeing how we measured up against the vultures, we headed over to the Flying Arena for the 'Wings of Africa' display at 11.30am, this was very impressive. Stuart and I were gobsmacked by the professionalism, the relationship between handler and bird and the amount of training that clearly goes on to make these shows run so slick!
We were treated to Tolkien the owl who swooped overhead flying from corner to corner of the arena, followed by Angola the secretary bird who hunts by foot – and does a fantastic snake dance which is hilarious. We then saw Jack Sparrow the Africa hooded vulture do his little performance, before a spectacular bush fire scene played out and a group of Sacred Ibis birds flew overhead in quite an emotive scene.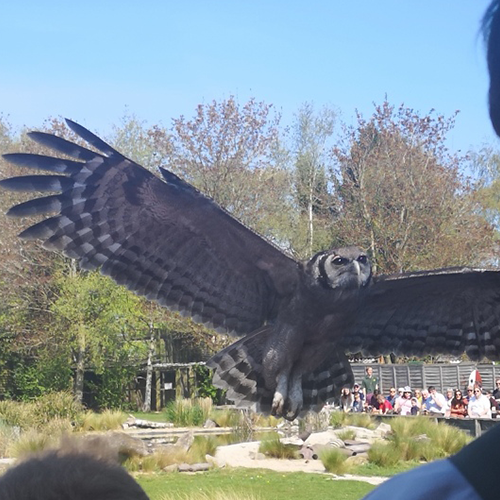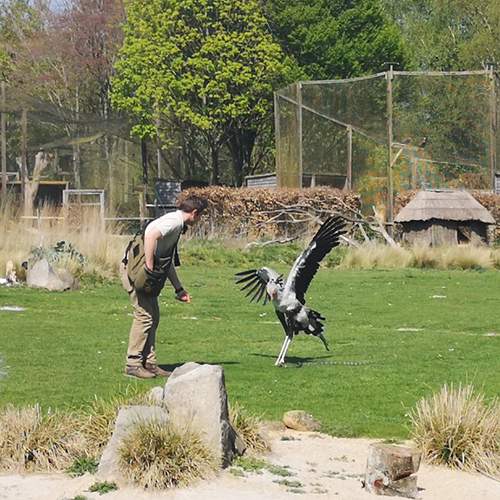 From this show, if you head to the Discovery Barn there's the opportunity to meet a Bird of Prey.
After all the excitement of the show (and the heat!), we headed straight to 'Feathers' for lunch – if you read my blogs, you'll know we usually take a picnic with us on days out as you just never know about queues or quality of food – and I am fussy! However, we decided to try Feathers, and much like the rest of the day, we were really impressed.
There was such a wide range of homemade lunch choices (hot and cold) on offer and where possible, it is locally sourced too. As it was so hot I opted for chicken caesar salad (which came with a whole chicken breast, beautifully cooked), whilst Stuart went for the Ploughmans – the kids had cold boxes which included ham (or cheese) sandwiches, box drink, chocolate bar, Pom Bear crisps and a jelly pouch.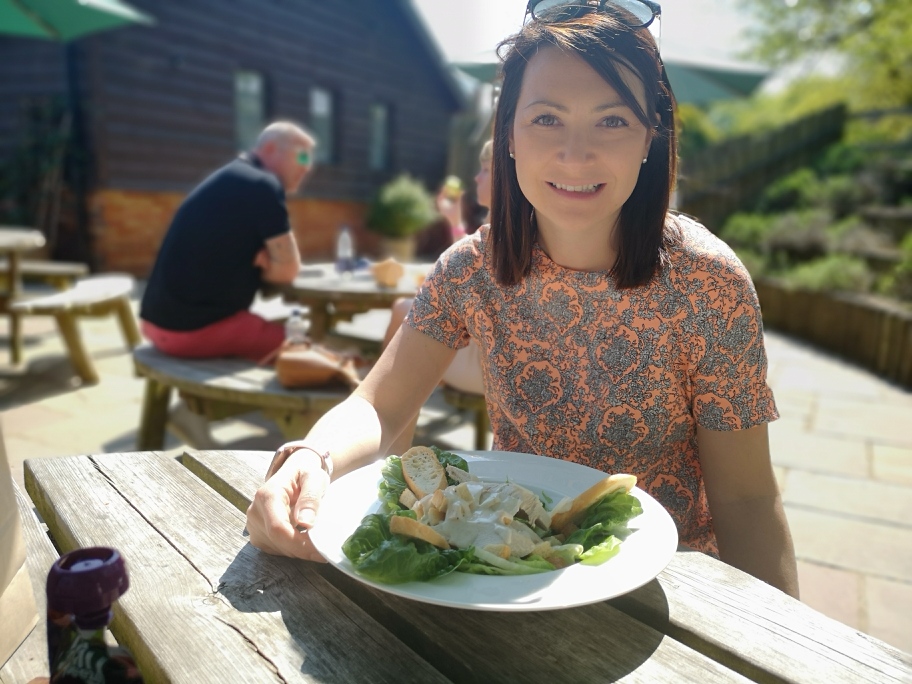 After lunch and an ice-cream, I was booked on to an 'Owl Burrowing' VIP experience – they only run these twice a day (12.30 & 4.30pm) and if you are keen to do this then I would recommend pre-booking. My group was fully booked and there were six of us, me included. Sizes are kept small to not overwhelm the animals, but also to ensure you get maximum interactions with the cute little birds, it's a nice group size to chat to the staff too and find out all about the Burrowers. I was lucky enough to get to not only meet, but also hold, each of the four owls; Cottonmouth, Diamondback, Coral and Sidewinder. I managed to leave unscathed, though one of the other visitors did get pooped on – I hope she brought a lottery ticket that night!
Unfortunately, this experience isn't suitable for under six's so unfortunately Sofia and Arlo had to wait in the wings…boom boom!
It was here that I achieved a first – a selfie with an owl. I was going to attempt an IG live but I wanted to keep my eyes firmly on the beaky ones incase they carried out any funny business.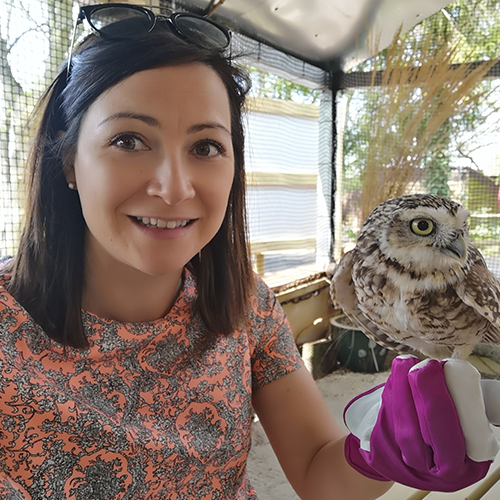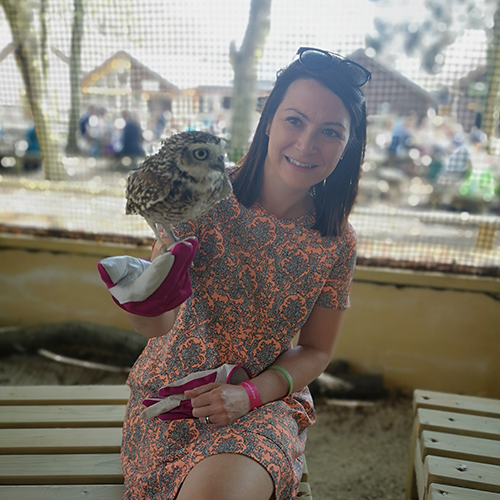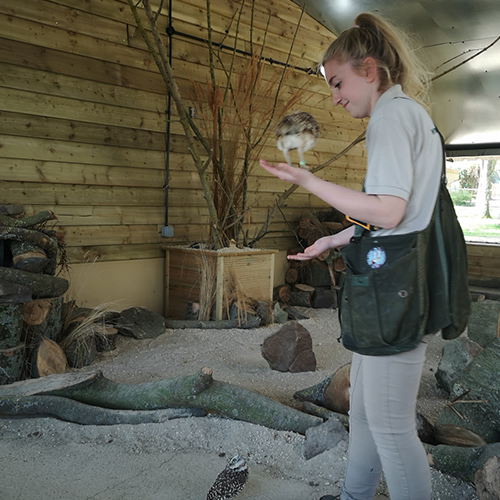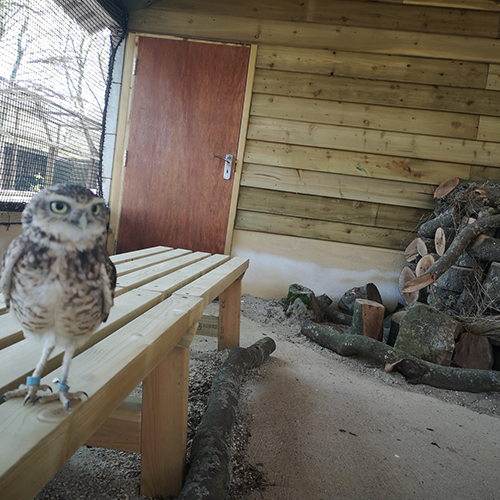 Next up was the Valley of the Eagles show, which is held over at Reg's Wildflower Meadows – this display featured vultures, kestrels, kites and bald American Eagles, as well as Cedric who certainly had his work cut out running up and down the field and circling his arms to entice the birds into the arena!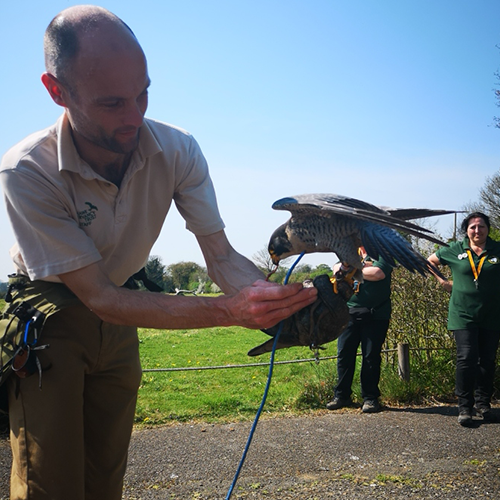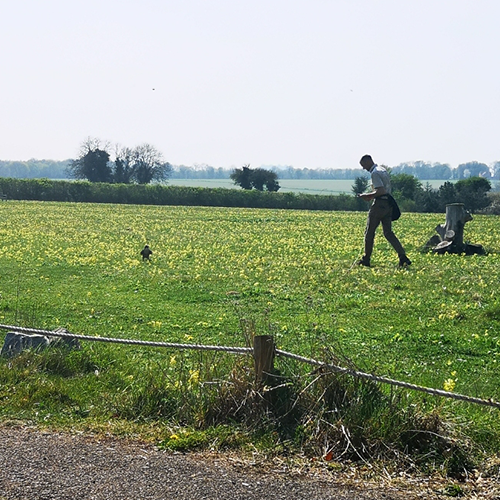 We sat down at 'floor level' because Arlo was in his pushchair, however if you sit in the tiered seating you will experience the vultures up close and very personal as they fly from left to right, literally a wing away from your heads.
The last display of the day was the Woodland Owls, but the weather was so hot and by this point the kids were getting really restless (read: moody) so sadly we missed this and the ferret racing.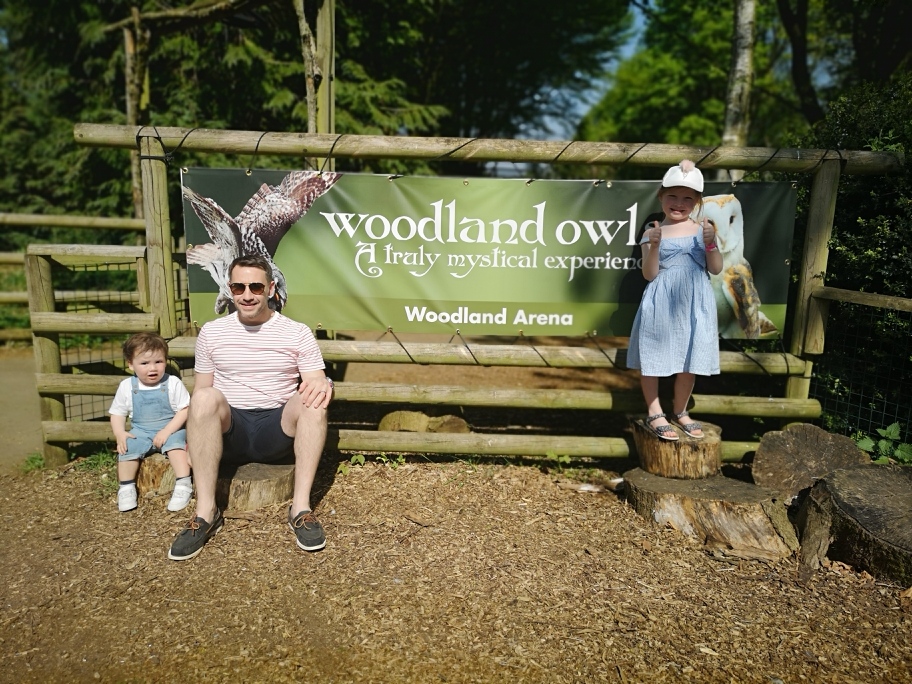 We ended our day at the wooden play park which is, of course, bird themed! The park area is lovely and clean and features an owl rope swing, a nest swing, a bird's nest with a climbing net, fireman's pole, wobbly bridge and slide… and most importantly, those all important benches for us parents to rest our weary legs.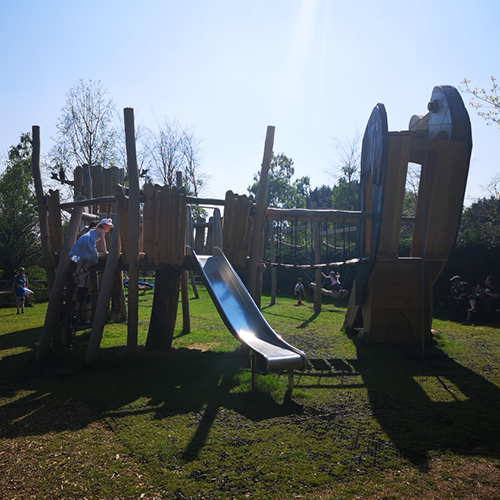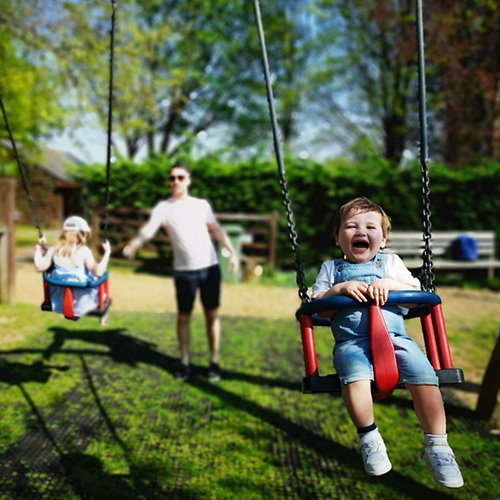 Would I recommend The Hawk Conservancy Trust?
100%. Stuart and I both said we couldn't believe we had driven by so many times and never been. We were really surprised by how great it was, particularly the shows. If truth be told, I was expecting 'birds on a budget', a couple of birds sat on perches at best – but I was pleased to be proven so wrong after witnessing two epic shows with some magnificent birds of prey. We will definitely go back as we didn't get to see and do everything – maybe if we wait a year, Sofia will be able to join us for the Owl Burrowing experience which she is desperate to do!
Have you ever visited the Hawk Conservancy Trust? What were your favourite bits of the day?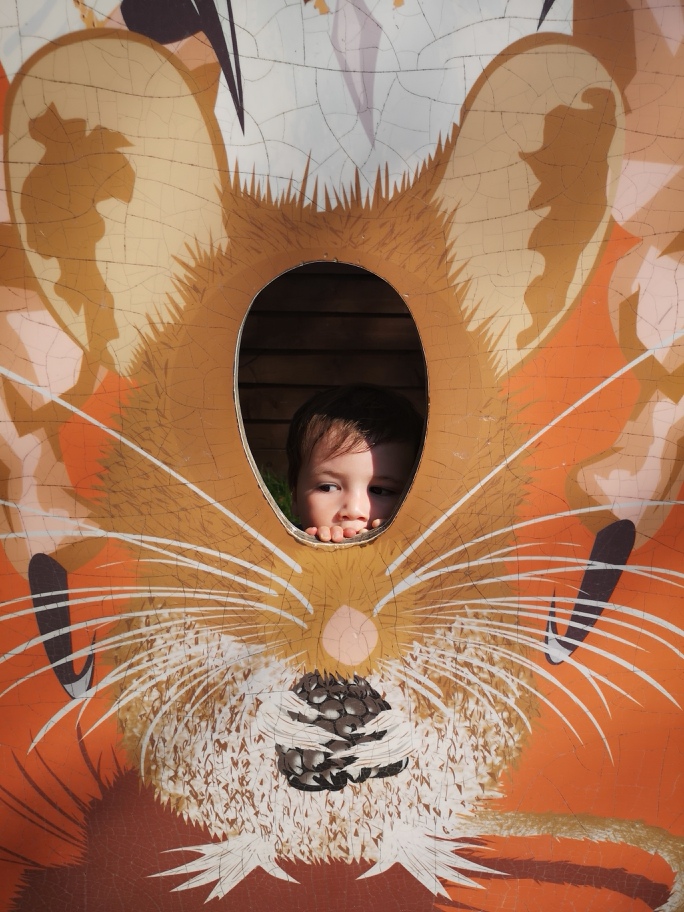 *Our day out at The Hawk Conservancy Trust was gifted, but all thoughts are my own.