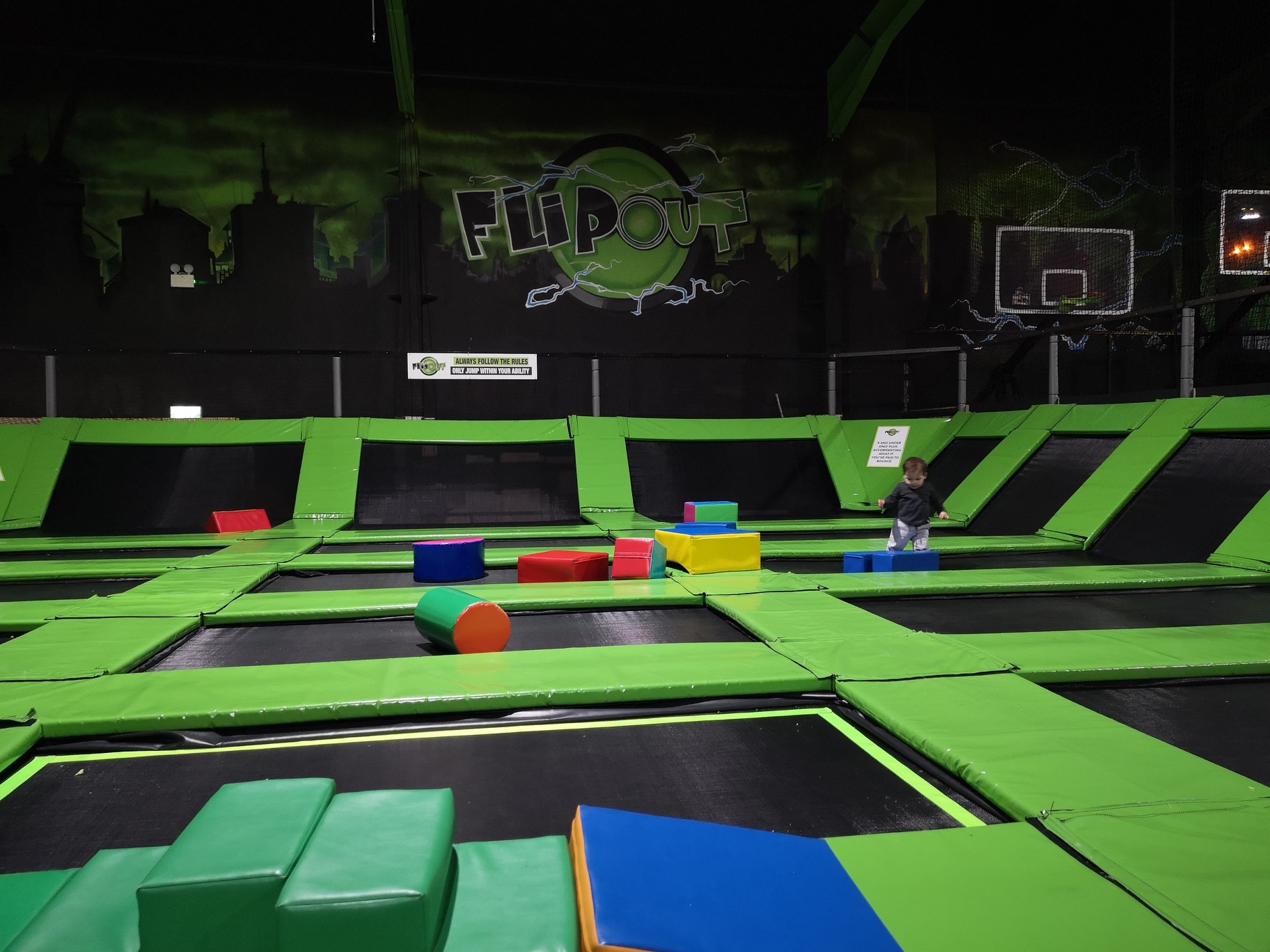 Valentines Day at Flip Out Southampton
We only live around the corner from Flip Out Southampton (which is actually based in Chandlers Ford) and I drive past it almost daily as I work on the same industrial estate. But it's never been one of those places that I have desperately wanted to take the kids. Selfishly, it's probably because I don't trust that my weakened pelvic floor could withstand it.
What is Flip Out?
Flip Out is a trampoline park, which boasts the largest trampolines in the UK. It arrived into the UK around the time when trampoline parks were springing up all over the place (pun intended) – we visited this Flip Out around the time of its opening back in 2016 , but Sofia was really too young and so it was just a place where us mums could go and sample the coffee.
When did we go to Flip Out?
My friend had been to one of their toddler mornings previously and said it was great, so I decided to gate crash the next time she went, which just happened to be Valentine's Day – Flip Out were doing a special pizza making and a jump session for £10.  
Arlo's not quite two and he hasn't quite worked out how to actually 'jump' yet but the thought of a day of entertainment plus a pizza was money well spent. Especially as I didn't have to think up another lunchtime meal which would inevitably be launched on the floor after having all the bets bits taken out of it.
We arrived at 11am – green socks on and waiver signed, we were ready for our safety briefing before throwing ourselves into foam pits, trying to shoot hoops in the basketball court, running across all the trampolines (there are 16 in total) and gazing in amazement at the staff showing off their tricks. Arlo thought it was absolutely hilarious watching them flipping all over the place. I definitely want to go back with Stuart and challenge him to the Total Wipeout style propeller thing they have there too!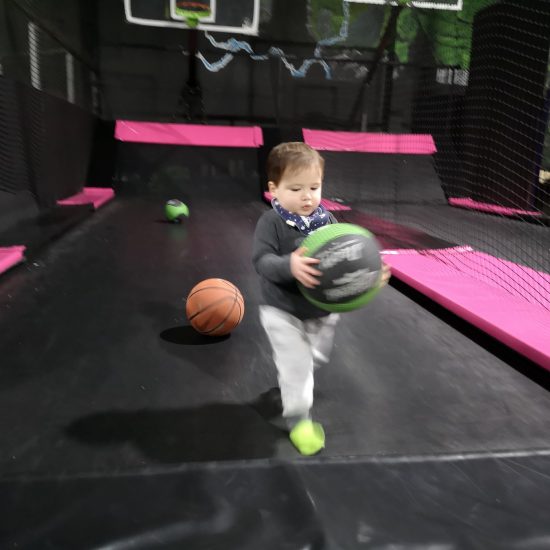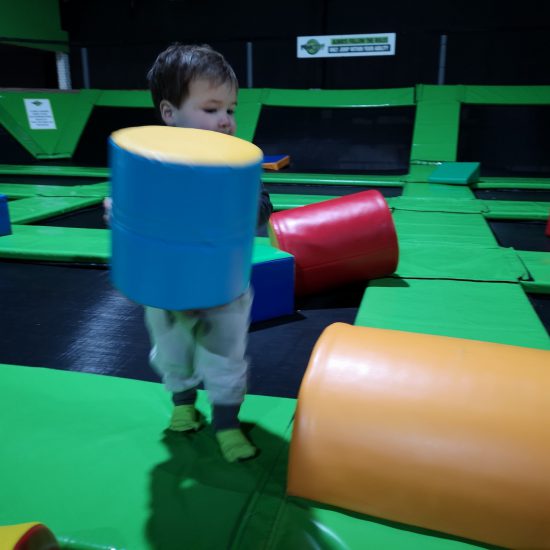 Pizza making!
We headed upstairs (there is a lift to make it easier for prams/wheelchairs etc) to the café around 12.15 and we were put into a little side room away from the main cafe, where we were introduced to our 'expert pizza host', Blade.
Blade brought out the ready rolled pizza bases on individual pizza boards and helped the kids to spread the tomato base (explaining that was the really messy bit – and us mums were only to happy to sit back and watch this part!), next he brought in ready portioned tubs of pepperoni, ham, sweetcorn, pineapple and so much cheese. All of the kids had their own little tubs. Much to my delight.
For a germphobe like me, there is truly nothing worse than a shared food bowl so this set the pizza making off to a relaxing start.
Arlo ate most of the ingredients before they even made it on to the pizza but the portions were generous and as a fussy bugger I was pleased to see that the ham looked (and tasted) like 'proper' ham – no billy bear ham here!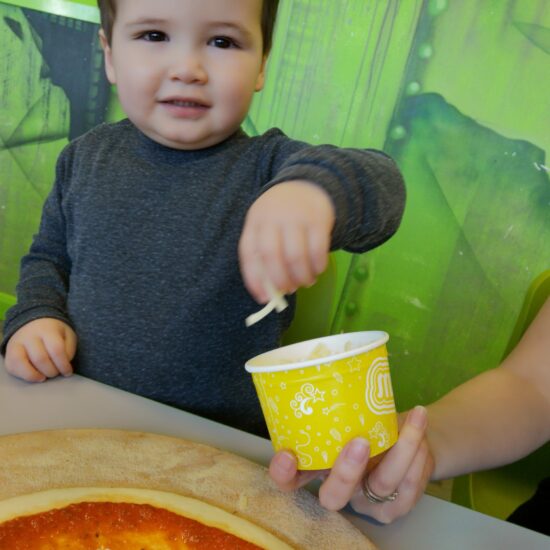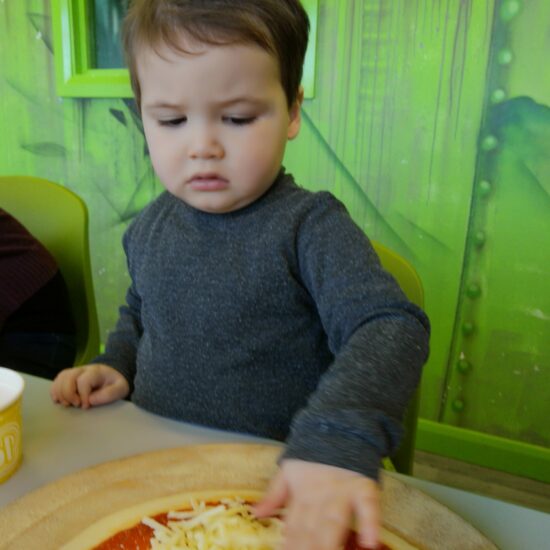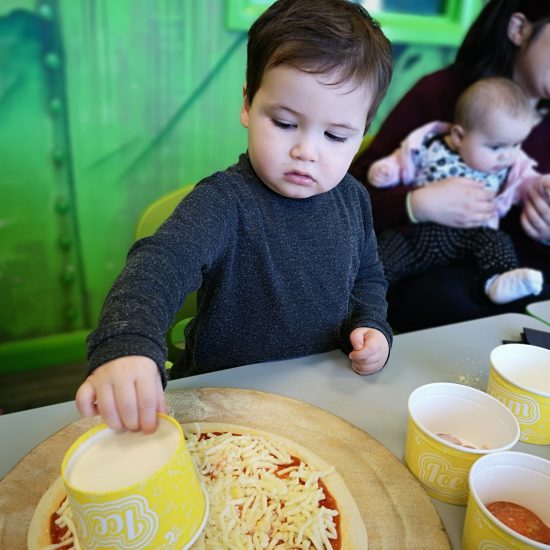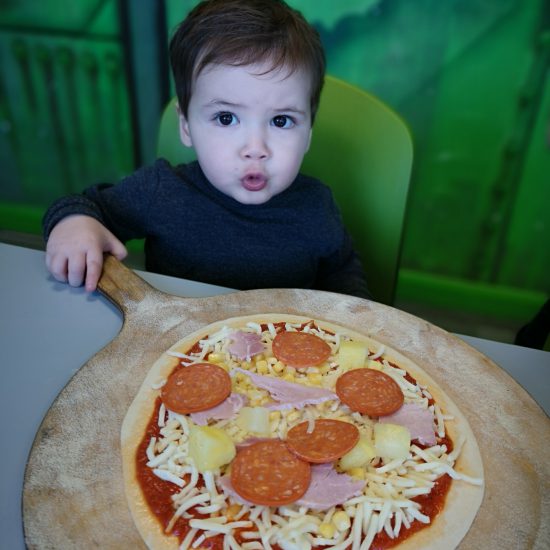 Once the kids had 'decorated' their pizza, they were off to be put into the pizza oven and we were told it takes under five minutes to cook….but not before a quick photo session.
Look at them all proud with their makes!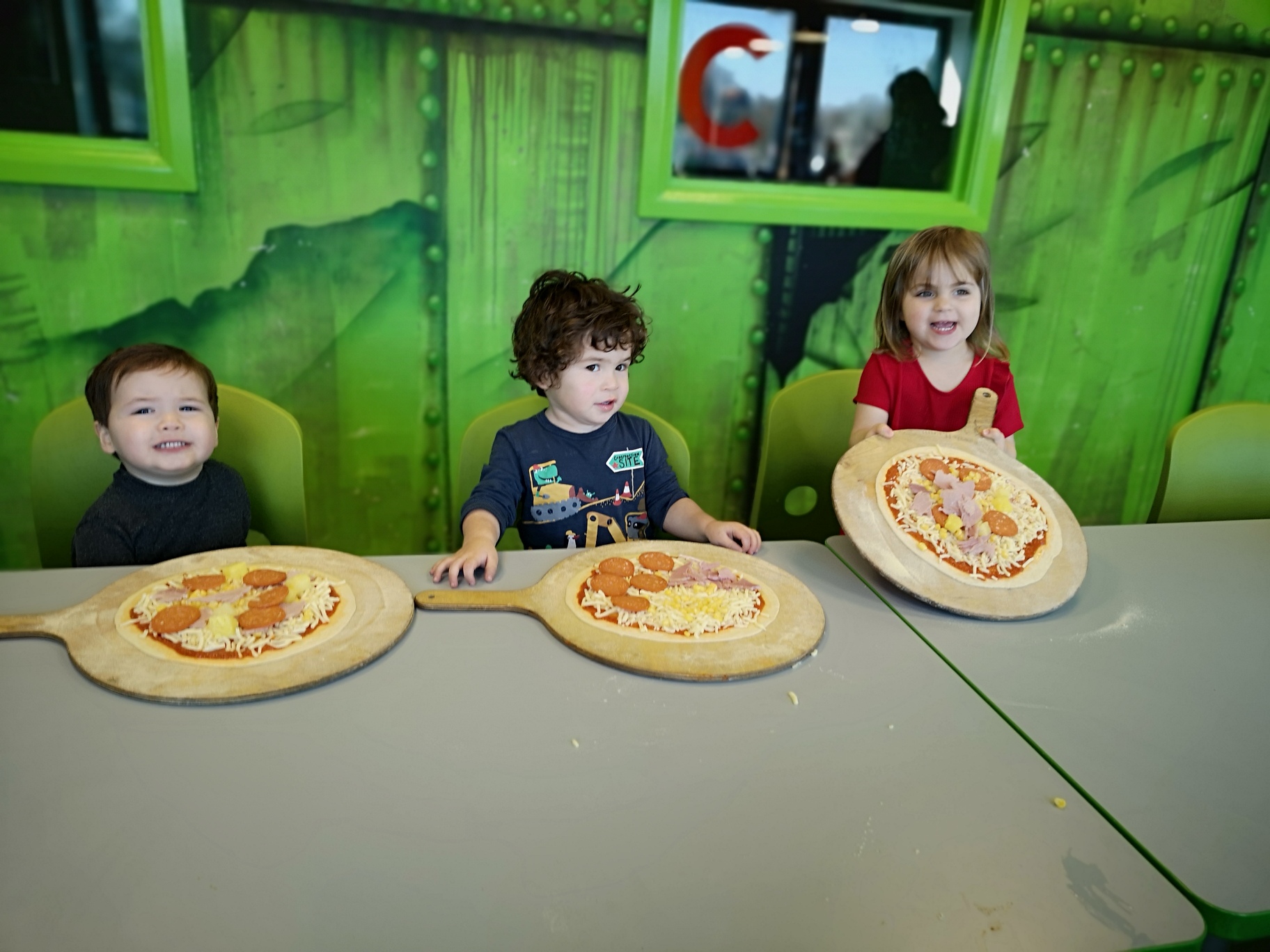 Blade returned back with cooked pizzas and pizza cutters…and lunch was served for our little pizza artists!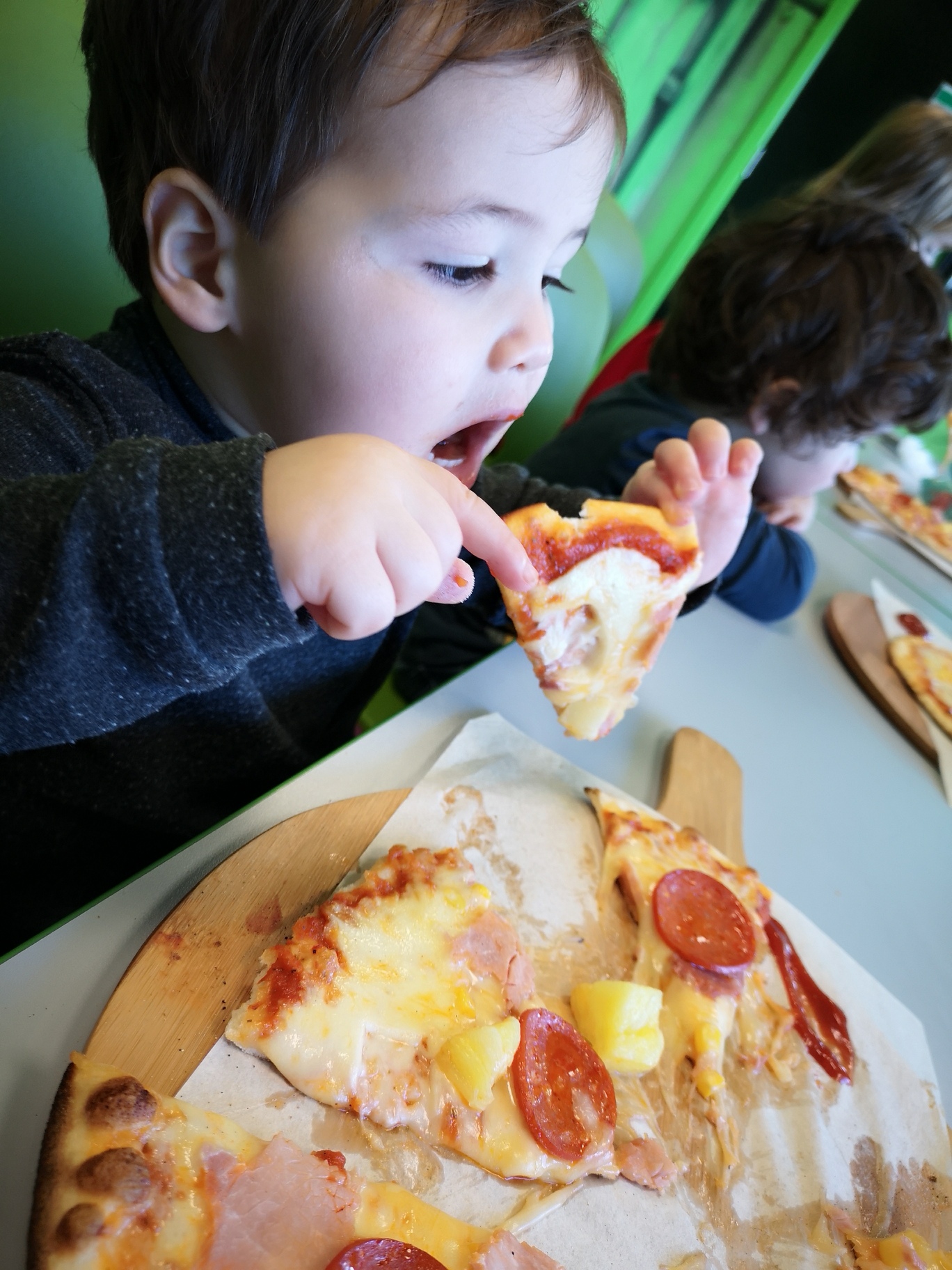 We weren't rushed out of the room or pressured to be moved along quicker – in fact, it was Millie's 3rd birthday and we were able to sing happy birthday to her with a cake that we had brought along, which they were more than happy to let us do and that was a really nice touch!
Do Flip Out do any other 'special days'?
This was a Valentines 'special', but every day during term time Flip Out hold the Under 5's 'Stay and Play' sessions which means you can stay as long as you like between 10am-3pm, they don't do pizza as part of the package but they do kids cold lunch boxes for £2.50…or you can just buy a woodfired pizza from the standard menu (I think they start at about £6, but you would need to check this!). The kids get the run of the park, as well as the designated under 5's area where they bring out all of the soft play style toys and the kids can launch themselves into the foam pit – definitely Arlo's favourite activity there! Being on from 10am-3pm means you don't feel rushed to get there for a certain time, and if you go in the morning there's still time to get them home after a good bounce session for their afternoon nap!
After looking on to the site ready to visit again, I notice that they also hold SEN sessions every Monday at 4pm, which is a really nice idea. You can view their other activities here. 
For the purposes of an honest review, some of the not-so-great things are;
The phone is never answered

The people working there do all look like they should be in school – however, everyone we encountered was friendly and helpful

It is quite dark and dingy in the main hall, but that does add to the 'cool' effect with the graffitti'd walls

By the locker area, there is an arcade section, so try not to loiter there or the bright lights lure the little eyes and a tantrum could ensue
I wasn't sure about advertising this pizza making special for them as it was so good and we all said that we would definitely go back and I don't want it getting too busy, LOLS. Whether it would be as much fun if we didn't have the time slot to ourselves and had to share the room, may be a different story! Blade (yes, it's his real name) was amazing – he was super friendly, great with the kids and an all round lovely guy. He knew what was going on, was really informative and the kids absolutely loved him…there were some pouty lips pointed in his direction (no, they weren't mine!) when we all said goodbye, though he opted for the safety of a high five.
Have you ever visited Flip Out or any other trampoline parks near where you live?