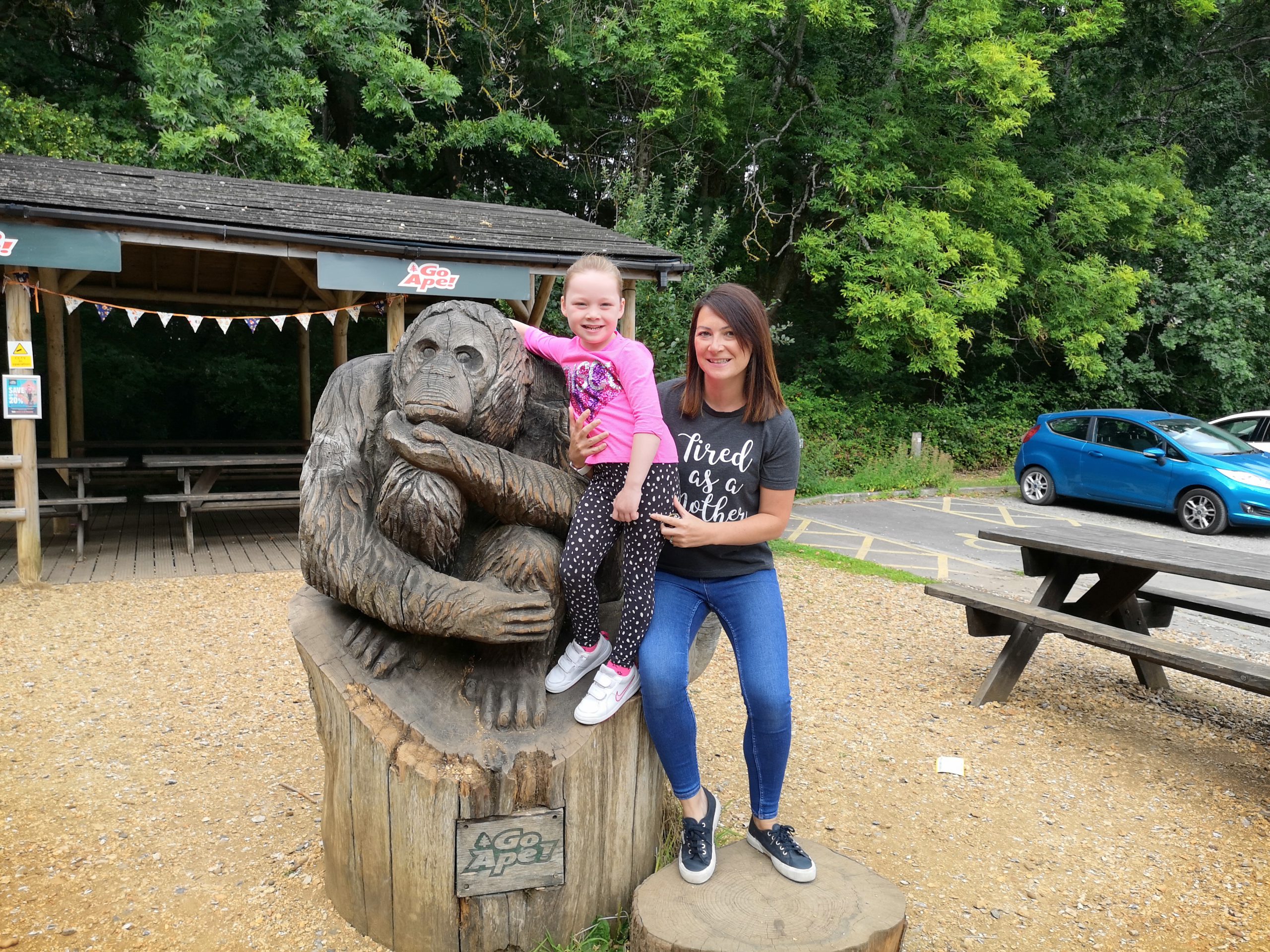 Swinging through the trees at Go Ape Southampton
Over the Summer holidays, I had my two nieces staying with us for a couple of days. They're 7 and 13 and finding something to keep all age groups entertained can be tricky, so I offloaded Arlo and decided we'd go on a tree top adventure and we headed to Go Ape Southampton!
We were signed in and our details taken at the main desk where they gave us our bands and told us to head over to get 'harnessed up' at the entrance.
We were met here by a friendly chap called Ryan who got the little ones harnessed first. They were super excited and slightly nervous – which meant a lot of giggling and questions, which he handled really well.
He also told us to make sure we hold the big metal bit tightly and not to swing it around when it wasn't attached to the overhead wire. There's a picture of Sofia there doing the absolute opposite – and yes, she did get hit on the side of the head with it. Apparently it hurts.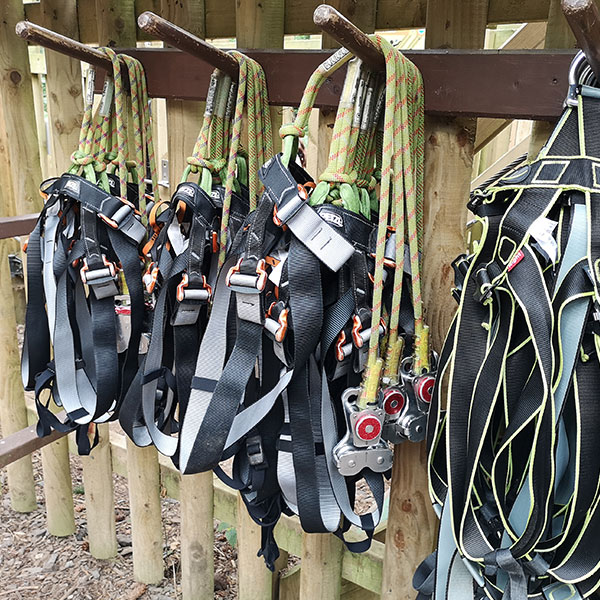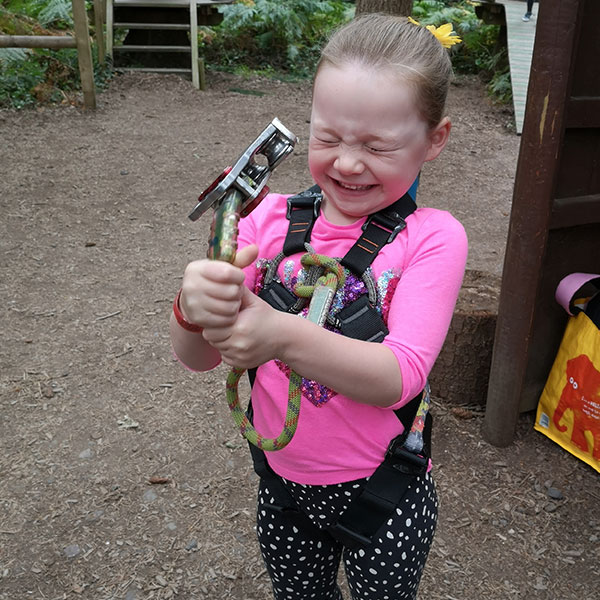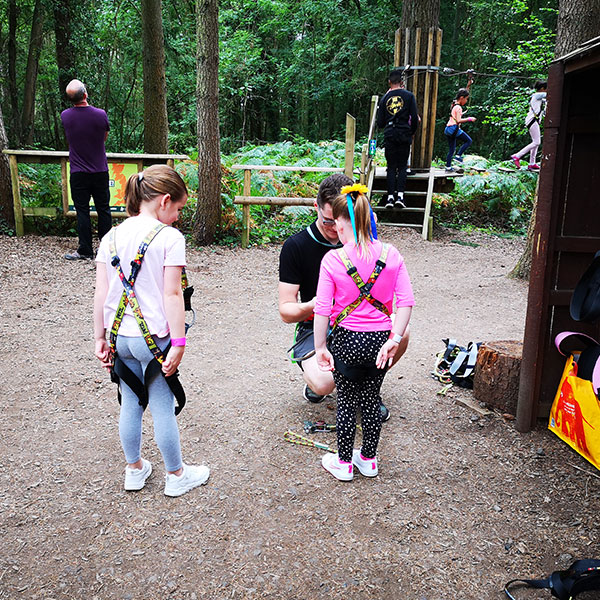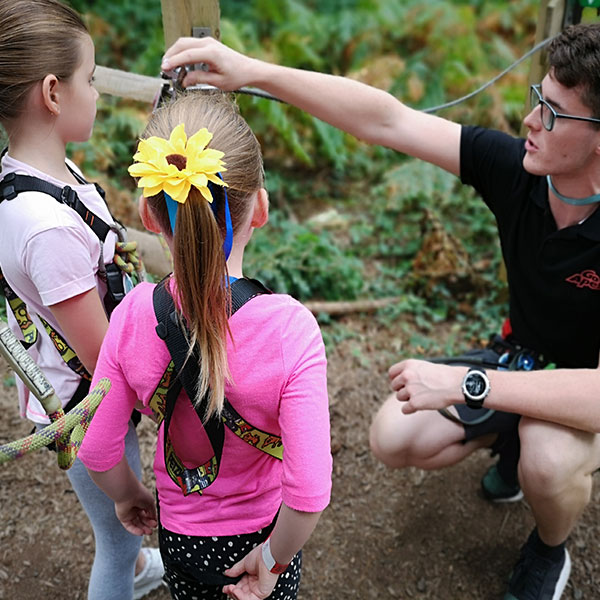 After a 'test' run where you practise walking along on a platform and purposely 'slip' off to show how safe it is if you were to slip underfoot. Perfectly safe, you basically just dangle from the harness like Tinkerbell!
We went through the first course, as soon as the gate is opened you get your time written on your wristband – you get an hour in total, and your mission is to complete the course as many times as you can within that time. Challenge accepted.
We raced around the first course quite quickly, after a few shaky legs and a bit of reassurance we worked our way across the noughts and crosses, the netted log and the criss cross crossing.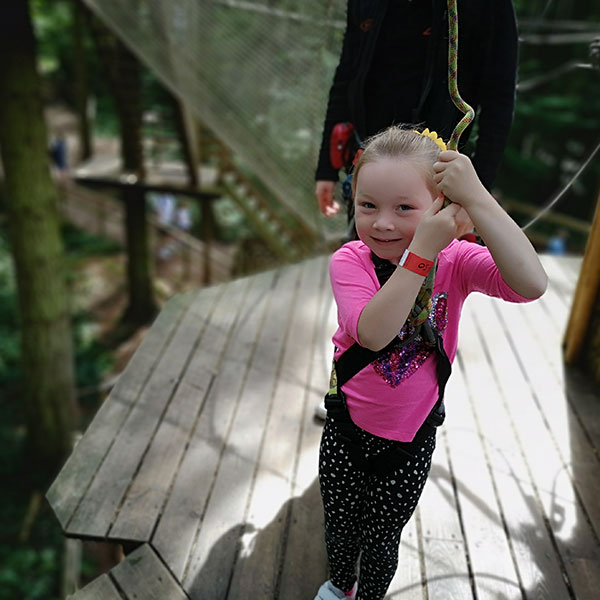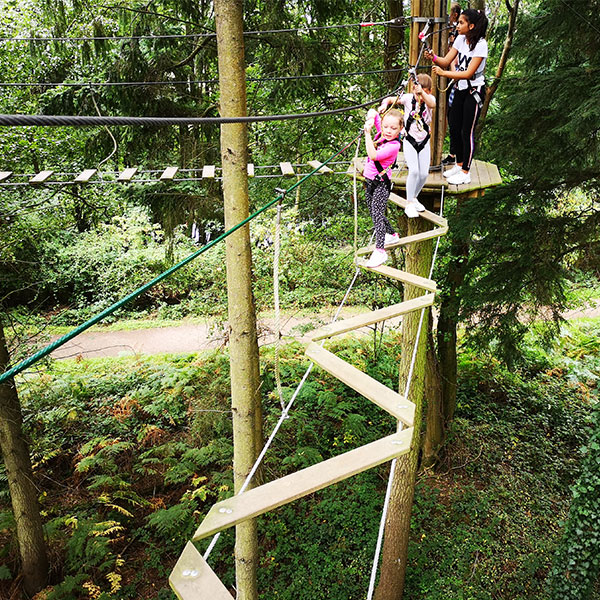 Once we had completed the first course once we decided to try out the second one. As soon as we reached the top of the staircase I could see that this side of the course was a little bit higher, not as many bits to hold on too and more challenging crossings.
I didn't say anything and the two younger ones tentatively crossed the first few, but when we arrived at the 'tightrope' with the overhead swinging ropes, my seven year old niece got complete stage fright.
I was a bit unsure what on earth I could do to help, aside from cuddles and encouragement, as we were on a continuous belay (ie – no way of unhooking from the top wires) and we were about 12ft up!
Luckily one of the Go Ape team noticed our predicament and shouted that they were on their way up. Our real life knight in shining armour was up to offer reassurance within a couple of minutes and guide us across, holding hands and steadying the ropes, until we reached a platform that we could unhook from and descend via the stairs.
Once that minor disaster was averted, we went back over to the initial course leaving my older niece to stay on the higher side – which she whizzed around without a care in the world, not a shaky leg in sight!
There are two courses at Go Ape Southampton; the Tree Top Adventure (for all ages – but must be over 1m), the Tree Top Adventure Plus (6 years + and over 1.2m) and the Tree Top Challenge (10 years + and over 1.4m)
One adult (18+) can supervise up to two children under six years of age, if the adult goes on the course too. One adult (18+) can supervise up to eight children aged 6 to 15 while observing from the ground.
Without hesitation, everyone's favourite part was…the zipwires!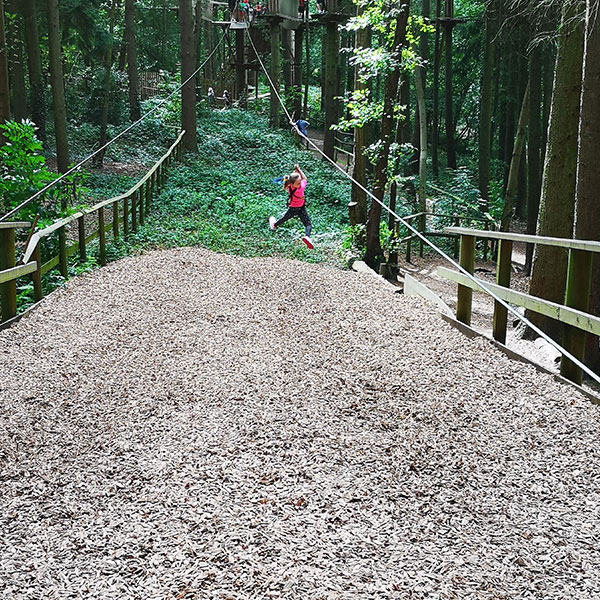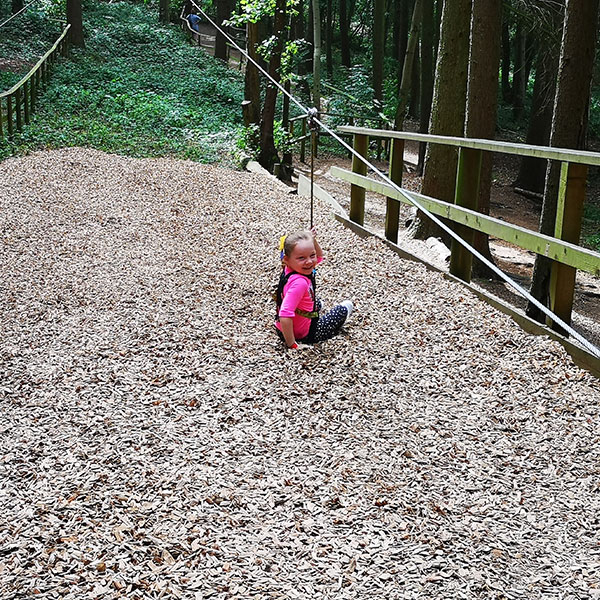 Go Ape Southampton is located in West End at Itchen Valley Country Park, which is quite nice as it means once the course is completed your day isn't over – you can grab something to eat and drink in the cafe, or get rid of some more excess energy at one of the parks or on the play trail.