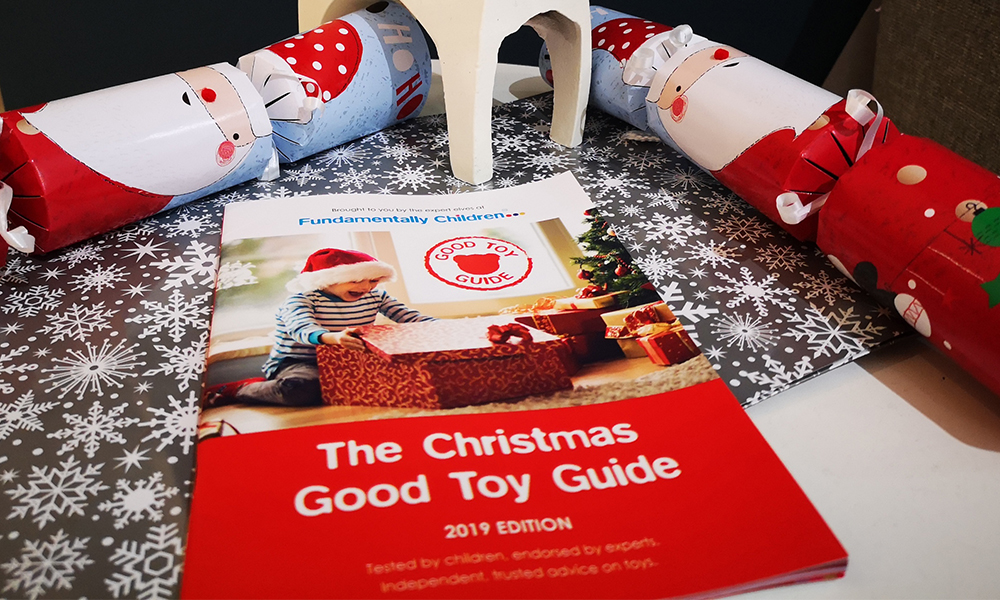 AD / Make an educated choice with the 2019 Christmas Good Toy Guide
How on earth is it nearly Christmas already? It seems like hardly five minutes ago I was scoffing 2018 mince pies and sipping mulled wine and now it's here again! We've had many page corners turned on the Smyths catalogue since it appeared a few months ago and by the looks of it, Santa needs to be working some overtime to even afford a quarter of it.
As Sofia is now in Year 1 at school, I've been more conscious of buying things that she sees are fun but don't involve unwrapping lots of plastic bits to reveal another bit of colourful plastic (LOL dolls I'm talking to you…) but where do you find fun and educational?!
I was thrilled to be asked to review the second ever version, which again includes a wide range of toys all handily arranged by age category, along with expert advice and reviews for each product.
If you read my review last year, you may remember that this handy little A5 guide (it does also have an online version) list their products on a 'fun', 'ease of use' and 'skills developed' ratings scale with each product being tested on different occasions with age-appropriate children. And we all know children are the best testers – out of the mouths of babes and all…
This year it hasn't disappointed. There are toys colour codes and tested in four clear categories; 0-2 years (perfect for Arlo), 3-5 years (perfect for Sofia), 6-8 years and then 9 years and up. All sectioned with under £20 gifts, £20-£50 and if you're feeling particularly flush £50+ too.
The pages are broken up with some other features too, so it's not quite as tiresome as the Smyths sell, sell, sell pages. There is the four gift rule, balanced play, a letter to Santa pull out wishlist and my favourite – 'find some calm this Christmas' because let's face it, the words festive and calm don't usually go hand in hand during silly season do they?!


The nice thing to note is that the Christmas Good Toy Guide is reviews only – Fundamentally Children don't sell any of the products featured. So they're not overly promoting one product over another for their own gain. Which again, is quite a novelty during this season!
As I did last year, I thought it would be a nice touch to pick out some of my favourite items from the 2020 Good Toy Guide.
Babies love to explore the world through their senses and so anything that makes noise (us parents favourites…) lights up or shows their chubby little reflections are always a win.
Before little ones can begin to write, they need to have the skills of coordination (aka fine motor) so items that encourage small movements such as stacking blocks or zips and latches are a great idea. The older end of this category will be getting ready to don their school uniform and as Year R is all about learning through play – choose toys that encourage imagination.
Much like those bits of plastic and the umpteen wrappers, most toys are a fad. What can you gift your impressionable 6-8 year olds that will stand the test of time? I always find crafts and puzzles give a sense of achievement and can be done one on one as well as a family activity of all ages.
The tweenage years – oh how I'm not looking forward to those if my five year olds attitude is anything to go by! Much like flares and platforms, things often go full circle and toys are no different. Retro games are all the rage and ensure that you can join in with your kids activities too. If you can drag them away from Minecraft that is!
The Christmas Good Toy guide has an easy to digest, balanced play theory pyramid which puts screen time in a small bracket and 'in moderation'. I personally like to use my moderation time on Saturday and Sunday mornings to give me an extra half an hour in bed!
To be in with a chance of winning yourself a Christmas lie in, Fundamentally Children are running their annual mega Christmas Good Toy Guide Giveaway from now until Sunday 1st December, where entrants can win a bundle of Good Toys worth over £500! Just click here to enter.

Good luck & wishing you a very fizzy Christmas x