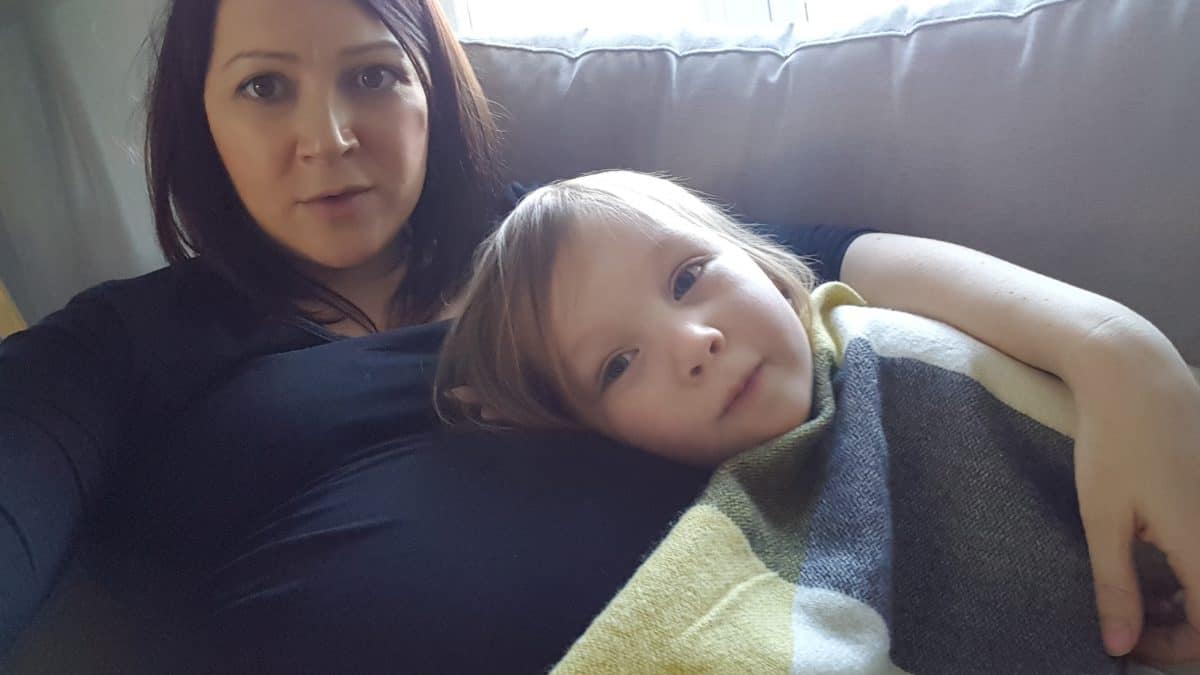 Getting ready for life as a family of four.
As I write this I've got tears streaming down my cheeks as I've just waved my daughter off to nursery and I'm wondering if that's the last time I'll be a mama of one. Will I be picking her up tonight as normal or will one of our standby picker-uppers be doing it as I'll be at the hospital in labour? I watched her eat breakfast this morning and thought when did you grow so fast?
Does she have any idea of what's about to happen when her baby brother arrives? She's so excited for him to 'pop out' but I think that's only because 'he's' buying her a big girls bike complete with 'pedals, a bell and a bike seat for baby Annabell', she thinks its hilarious that the baby will have a willy and will, apparently, 'wee in his own face', we've asked her if she's happy to share her mummy and daddy and she says 'well, I'll cuddle daddy and you can cuddle baby brother and then we can swap' – so she thinks she gets it, she's a pretty resilient little thing but is she ready for a change that not even I can prepare her for, because I can't even prepare myself to the imminent realisation of life as a family of four.
I thought worry was high when we were awaiting our first born, and whilst the worry is still there the second time round, it's completely different feelings. Or for me at least, it's very different.  I haven't focused on the 'oh god, what are we doing' or 'oh shit, how will adding a person into our spontaneous twosome affect our relationship?' because we've already had that culture shock (more about that in another blog) but this time, it's the practicalities and the emotions that come with adding a plus one.
We've been completely involved with our beautiful three year old for 37 months, invested everything into her, she definitely rules the roost in our house (as ashamed as we are to admit it). So, how can I ever love another being, another dependent, as much as I love her? How will they fit into our routine? One that we've perfected over these past three years since we've all been hanging out together.
Whilst we know in later years she will have a companion, a constant playmate around to entertain her (whether she likes it or not!) but initially I feel guilt – guilt that in the very early days our focus will be on raising the new baby who will need us for everything, who won't just be able to toddle over to the TV and navigate their way to put Bananas in Pyjamas on from the planner or selecting a Nickelodeon channel on the sky controller (how do they do this?) or get themselves washed and ready, the new arrival who will no doubt make us happy and feel like a 'completed family' but who inevitably will lead his parents to shed tears, argue, reduce our patience as we go through the sleepless and uninterrupted nights again (shudder).
This team of three is about to become a team of four and whatever way you look at it, our family dynamic is about to change.
We will never have that stage of life back and it's making me reminisce the times that its just been the two or three of us – and sometimes I feel guilty when I think how I've rushed activities she's wanted to do, because I've needed to do something – that looking back, has not really been that important.
I guess on the flip side, ultimately our first born has been the lucky one – she has experienced something that baby number 2 never will – just us.
Sofia made us parents, she turned our world upside down just from her mere arrival and she changed us as people, we went through all the learning, all the mistakes and she had far more gadgets, bottles, teats and grobags than her little brother is ever going to experience!
So, now – a day away from due date – I'm blaming my earlier tears on hormones and panic and hoping that our offspring will grow up to be best buddies who won't resent us for putting them together… and if all else fails, at least child #1 will get her bike with a seat for Annabell and she can cycle herself into the distance away from all the craziness….