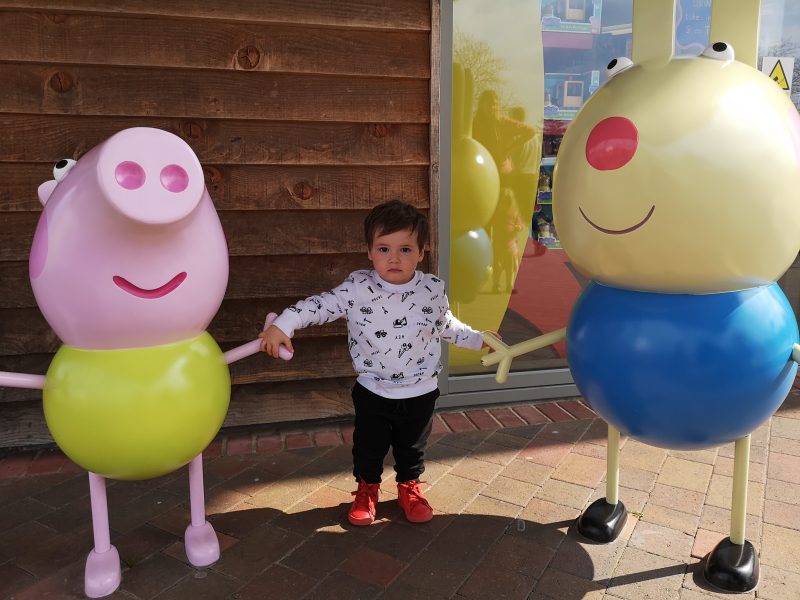 Making the most of your day at Paultons Park/Peppa Pig World
We are so lucky to live where we do; it's one of those things which I take for granted until we go away anywhere and visit the 'tourist attractions' on offer in new areas. I always find myself comparing everything to Paultons Park – or Peppa Pig World as it's more often referred to in our household.
We visit Paultons Park / Peppa Pig World a lot but rather than me just telling you about another jolly day out we've had I thought it'd be more useful to do a bit of a fact finding/top tip guide to ensure you get the most out of your day!
What are Paultons Park opening times?
The park opens at different times, generally though it's 10am-5.30pm. Best to check the day you visit, you can do that here > Paultons Park opening times. 
How much does it cost to visit Paultons?
It's £30.50 a ticket for any one over 1m tall, regardless of age. Though you do save when booking online in advance and for family tickets – up to date ticket pricing can be found here. 
Season tickets are great value for money if you live locally or plan to visit the park more than 3 times a year. You also save a whopping 20% off in food outlets and 10% off in gift shops… which when visiting in the summer,  means you earn money back pretty quick when buying ice creams, drinks and slushies! 
Are there places to eat at Paultons Park?
There are a number of places to grab a bite to eat around the park. The main cafe is as you come into the park; Wild Forest Family Restaurant, which serves breakfast, lunch and dinners and is a mixture of sandwiches, ciabattas, burgers, curries and salad type meals (view a Wild Forest menu here). The Railroad Diner (at the entrance to Peppa Pig World) does fish and chips, whilst Base Camp (in Lost Kingdom) and The Station (also at the entrance to Peppa Pig World) serve quick bites to eats. Most of the kiosks do hot and cold drinks, ice creams and the rollover hot dogs and chips though. So you won't go hungry during your visit! 
Strangely though, no outlet sells the same – for instance Mummy Rabbit does THE best sugar doughnuts but you can only get them there. Equally, Dinosaur World does the best crispy chicken – but you can't get it anywhere else in the park. 
There are lots of places to picnic – both outdoor and undercover, we always take a picnic when we go for ease, less queueing time and money saving!
Are there any height or age restricted rides at Paultons Park? 
Paultons is a 'fun for all the family' type of theme park so most of the 70+ rides are accessible to all. However as newer, bigger rides have been introduced to the park, there are a few where you do need to be a certain age/height – I've listed these below for quick reference:
Teacups – must be over 0.75m
George's Dinosaur – must be over 0.85m
Temple Heights, Pirate Ship, Wave Runner, Dragon Roundabout, Kontiki and Cat-o-Pillar coaster – must be over 0.9m
Raging river ride – must be over 0.95m
Flight of the Pterosaur, Velociraptor and The Sky Swinger  – must be 4 years+ and over 1m
Cobra – must be over 1.1m
Magma – must be 5 years+ and over 1.1m
The Edge – must be 6 years + and over 1.2m
What rides are there in Peppa Pig World?
There are so many rides and attractions in Peppa Pig World and I can bet George's dinosaur that you won't leave that bit of the park without humming or whistling the "do do do do do, dodododo do do do" tune.
Inside this area of the park is; Grandpa Pig's Little Train, Peppa's Big Balloon ride, The Windy Castle ride, George's Dinosaur, Grandpa Pig's Boat Trip, Daddy Pig's Car Ride, Miss Rabbit's Helicopter Flight and the two new rides which arrived last year – The Queens Flying Coach Ride and Grampy Rabbit's Sailing Club.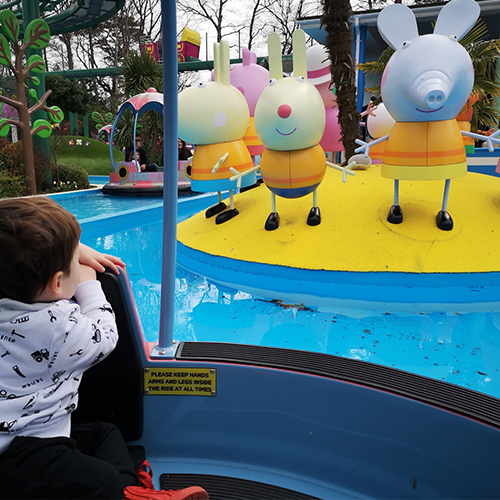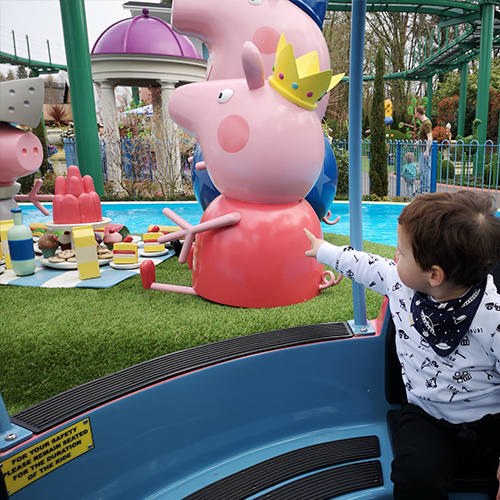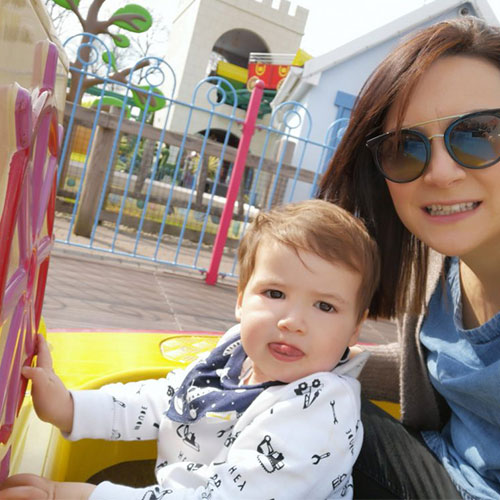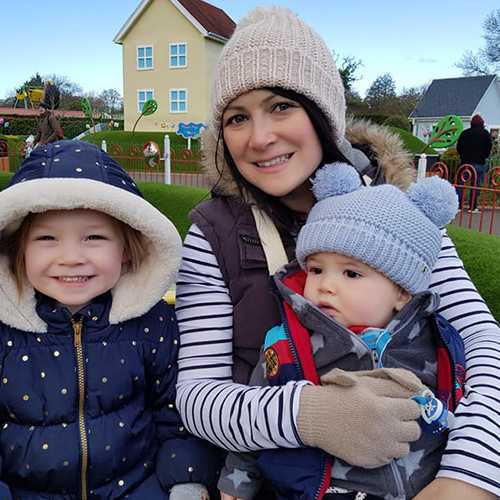 As well as this, there is also Peppa Pig's House for you to go in and see/hear a scene acted out, the duckpond which Sofia and Arlo have both been mesmerised at during many of our trips, the indoor softplay area with different areas and a huge (fast, bum hurting…) slide as well as Mr Potato's Outdoor Adventure Playground and the Muddy Puddles Splashpark.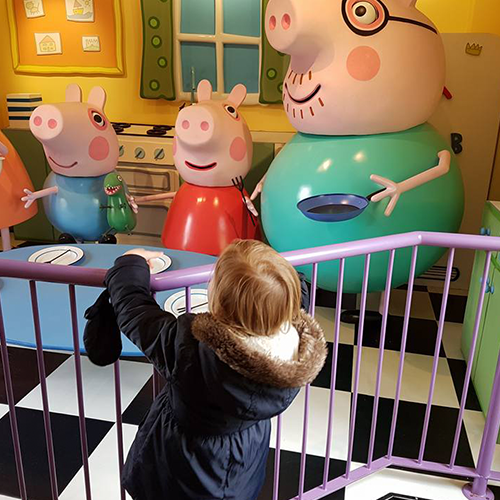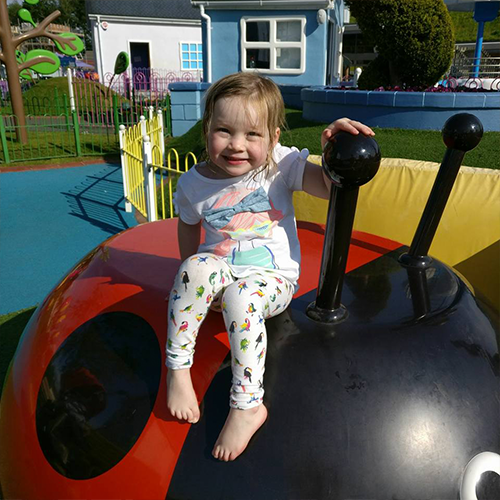 Can I meet Peppa and George in Peppa Pig World?
Yes, there are times throughout the day where Peppa and George make 'appearances' and also times where you can 'Meet and Greet' – be warned though, the queues for this are quite long.
However, it never feels rushed and the 'pig bodyguards' are always more than happy to take photos for you on your own cameras.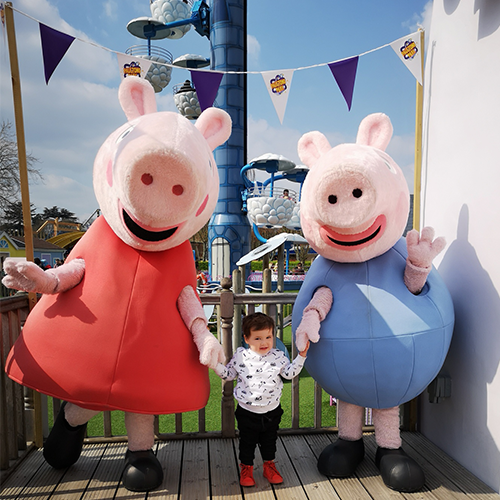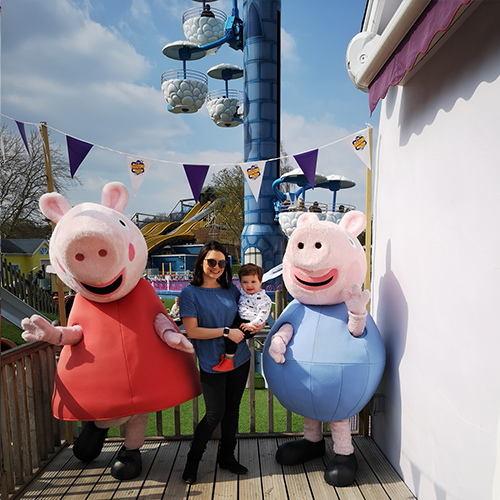 You can also meet 'static' versions of Peppa and all her friends at Madame Gazelle's school house which is a photo opportunity spot. There's also the statues outside the Peppa gift shop and the bronze statues in the water fountain!
What rides are in Lost Kingdom?
Whether your kids love dinosaurs, or even if they don't – there's something for everyone in the Lost Kingdom. Opened 3 years ago, this is the newest area of the park (though there's currently exciting work being done to a brand new section – due to be unveiled next year!)
Pre-teen, teens and adults will enjoy this area as much as the little ones as there is are some of the bigger rides here. For the thrill seekers amongst you there is Flight of the Pterosaur and Velociraptor roller coasters.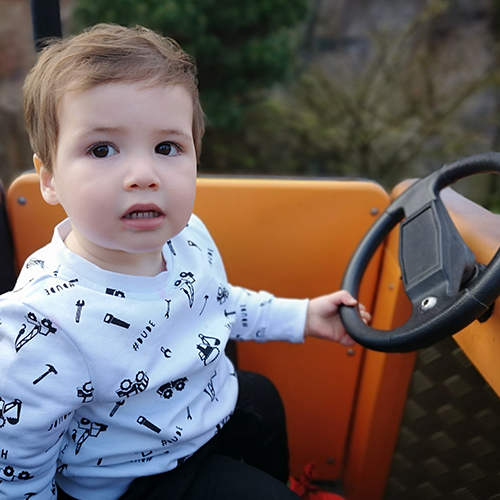 For all the family there's The Dinosaur Tour, Boulder Dash, Dino Chase and Temple Heights as well as the Little Explorers Park where you can dig for bones in the sandpit and just round the corner, you can experience the Dinosaur Encounter!
What are some of our other favourite rides at Paulton's Park?
We love some of the older rides at Paulton's Park – the Trekking Tractors, the Victorian carousel, the Sky Swing and the Seals and Diggers – the latter two being the ones the kids can go on by themselves, and they are never busy so there's very rarely any queues.  In the summer we also love the two big water slides…the first few times I had to lure Sofia on, and now she begs to go on them!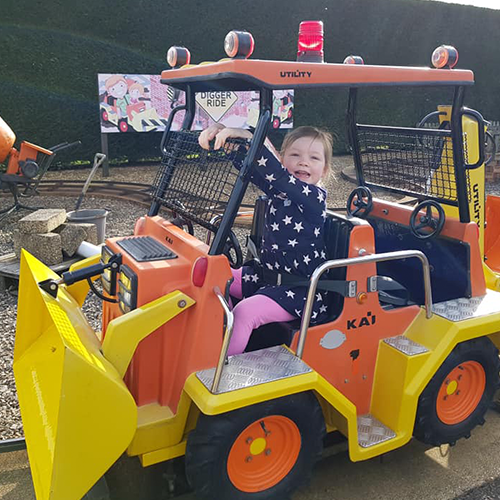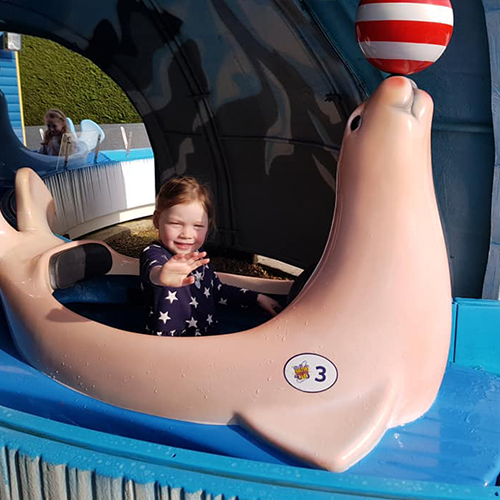 And if all else fails, and the queues get too long, there's always plenty of 'real life' ducks around the park to play with…..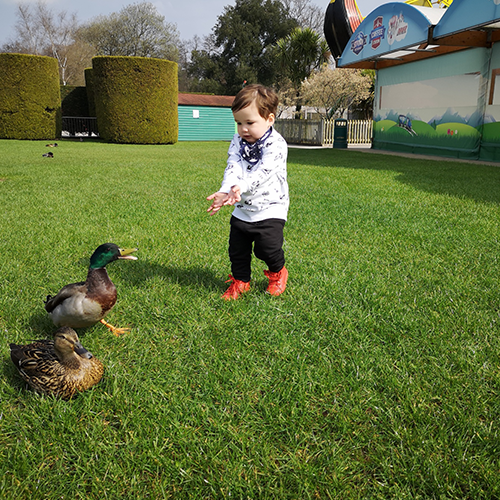 I'm not a huge ride fan. What other things are there to do at Paultons Park?
There's lots of areas to discover at Paultons that don't include rides. Little Africa has a range of animals native to the continent including our favourites; the meerkats! There's also penguin feeding a couple of times a day.
With heaps of green spaces, parks, 3D cinema,trampolines and go-karting, birds of prey and flamingos, a woodland walk and something we've only just discovered… the 150 year old Watermill, you won't get bored.
Any top tips for a day out at Paulton Park?
My top tip would be to do Peppa Pig at the end of the day if you can resist the piggy temptation. It tends to be really busy in the mornings and then empty out as the day goes on.

If you're a season ticket holder did you know you can buy the photo downloads for just £1? You can!
Download the app – it can help you plan your day and put together a personalised itinerary for you, highlights live queue times and show times, guides you around the park with its interactive map feature and pinpoints your location in the park. There's also exclusive offers which you can get straight to your phone as you're walking around the park! You can download for Apple devices here or Android devices here.
Take spare clothes and swimmers – there are two splash parks plus the exciting water rides!
Pack socks if you/the kids aren't wearing them as there are a couple of indoor Softplay areas where they are required
Before you go, check to see if there are any shows on (especially in school holidays) and plan to be near that area of the park as the seats do fill up quickly
For the little ones, two of our favourite rides are some of the originals; the Seals and diggers. Two rides which give kids the independence as they have to ride alone. They're also never busy so no queueing.
Make a full day of it – there's so much to see and do! The park is generally open until 5pm, however in the summer months it's open later and in some special events it's open as late as 8pm – it's always best to check the opening hours before your trip, you can do that here.
Have an amazing time…and don't forget to eat at least two of Mrs Rabbits doughnuts!
Is there anything else you want to know about your upcoming trip to Paulton's Park or do you have any top tips to share that I've missed?