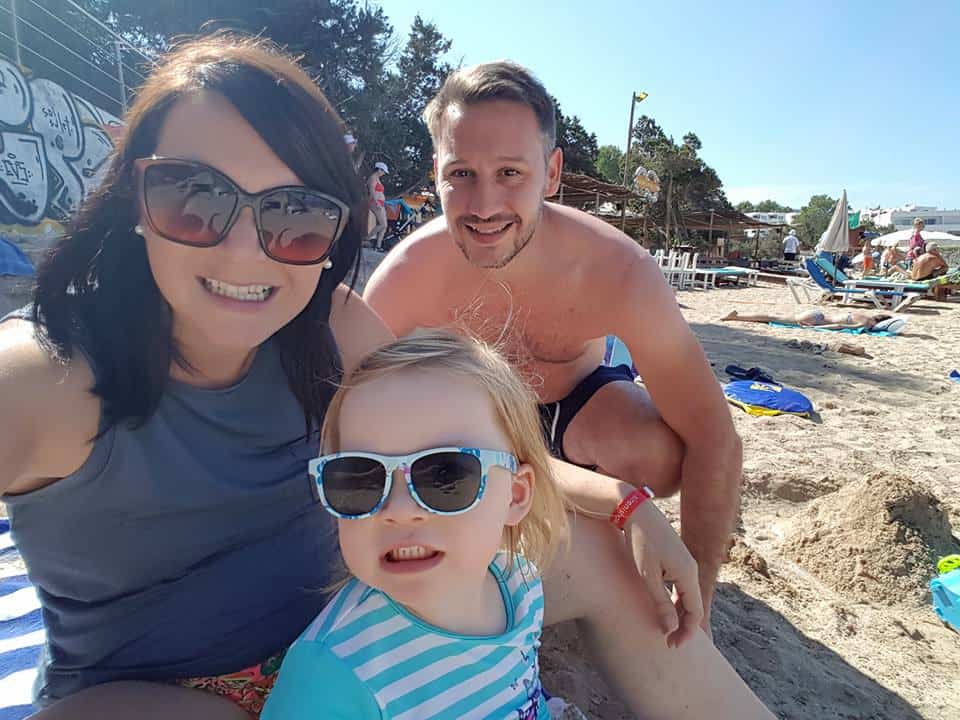 Holidaying with a toddler | Our Ibiza experience at Club Aura
To set the scene, our daughter is a really spoilt child in terms of holidays; we tested the water and went to Cornwall for a week when she was 4 months old, we then visited Dubai when she was 7 months, at 18 months we went to Gran Canaria and then our last break was a year later when she was 2.5 years old and we jetted off to Ibiza.
I'd drafted some blog titles; the best one full of horror stories was bound to be my 'holidaying with a toddler' one where we had a hellish time in 'family friendly' Ibiza – the party island of the Balearic's, LagerDad abandoning us at the resort to reminisce his hedonistic party boy lifestyle of old and not returning for three nights after partying solidly at all the superclubs Ibiza has to offer.
But alas, I'm disappointed – there's no horror stories. And though LagerDad would have loved three nights partying, he would have definitely found divorce papers waiting.
Whether it was the combination of having both of us at her beck and call for a week, the unlimited activities on offer, the sweaty heat or the super-late nights, our usual whingebag turned into a model child – we were having to wake her for breakfast at 9.45am each morning. WTF? She even asked for snoozes and to sit in her buggy!
So, where did we go?
We went to the TUI Family Life Club Aura from 2-9 September 2016. It was our first experience at a family fuelled, all-inclusive holiday and we really didn't know what to expect. Well, upon arrival – we were pleasantly surprised. The flight out went smoothly, we got a 7am flight from London Heathrow, coach transfer was waiting for us in sunny 'Beefa' and we arrived around lunchtime at the Club Aura.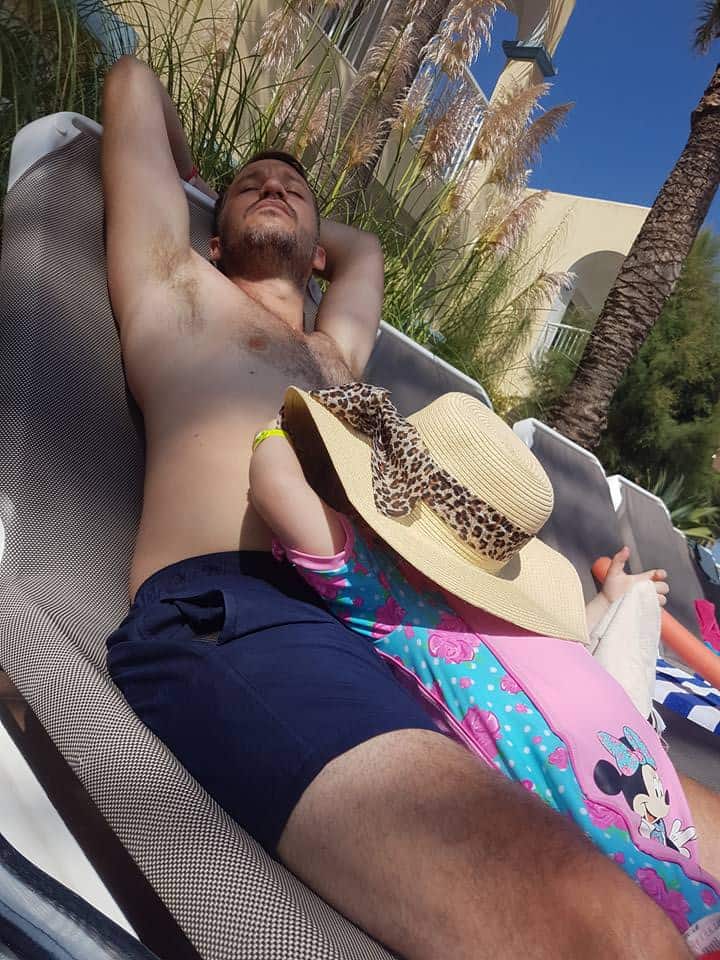 Food quality was a lot better than I was expecting for an all-inclusive holiday and the added bonus is that if you don't fancy queuing up with your trays every night, they give you a choice of two other restaurants to pick from during your week's stay (4 options if staying for two) – we choose the Japanese Teriyaki which was on site and the Greek which was just across the road. Both were definitely a nice change and the teppanyaki was a real experience. They always had a lunch time special at the cafe too which was really good – fresh, traditional paella was one of them and a gorgeous chicken salad was another that I remember.
A big benefit of going all inclusive for us, was the amount you drink when you're in hotter climates soon adds up – so to be able to go and help yourself to a soft drink (or even just a cup of water) was really nice. They also had certain icecreams included in the offer as well as lagers and spirits.
What's around the Port des Torrent area?
The hotel is in a really nice, secluded area right at the end of a road. So unless you are staying down there, or walking up to the beach, there is really no reason to be up at that end so it's fairly quiet. There are a parade of shops opposite where you can get your holiday tat, stock up on food, alcohol and nappy essentials, a doctors surgery and a bit further down the road a little park.
The biggest bonus of all is having the small beach a 3 minute stroll away. It's a lovely sandy beach situated in a bay, there are a number of different restaurants there with different food offerings and every night one of the bars does a firework/light display which is fantastic to watch. And free. It's even better if you're watching it with a cocktail in hand from Deeva beach bar!
Another plus to the hotel is the huge waterpark that is shared with the Holiday Village Seaview Ibiza which is the other side of it – it has something for everyone and you could easily spend the day here sunbathing, paddling or enjoying some of the bigger slides. With Sofia only being two and a half we stayed in the baby splash pool which was great fun for her.
We took the boat ride from Port des Torrent beach (a five minute stroll outside of the hotel) across to San Antonio one of the days for a change of scenery. It's actually quite pleasant in the day as clubbers are generally sleeping off the excesses of the night before. The town is very 'touristy' in terms of every shop sells tat – you know, the I love Ibiza t-shirts, tea towels and canvas bags. But some of the bars are really nice. We walked through the town and decided to go for a bite to eat at Cafe Mambo which is an amazing location for overlooking the water – and I imagine later in the evening, would be perfect viewpoint for watching the sunset.
There is also a tonne of clubs and activities for kids to take part in, but Sofia wasn't keen on doing that and we enjoyed spending the time with her – so unfortunately I can't report back on that side of things from this holiday!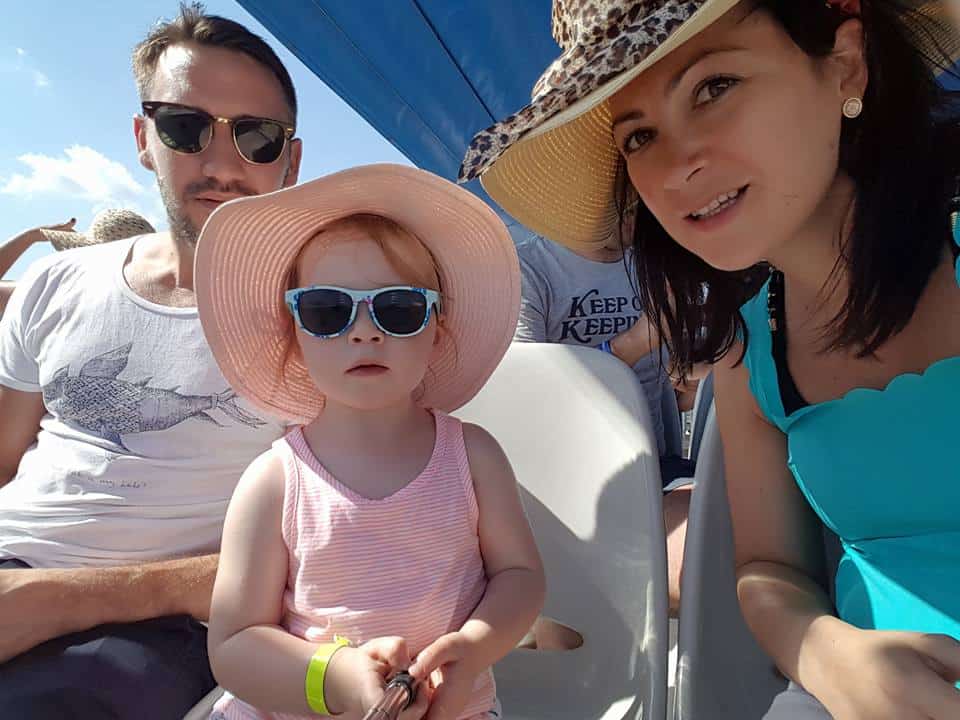 In summary, as our first family-orientated holiday, it was different. If your idea of fun is watching Captain T and the Superdogs 'do their thang' from 7-9pm each night, then this is the place for you! On our first night we looked at each other like what the hell has our life become but actually, it is a nice place. It's really relaxed and do you know those moments at a 'normal' restaurant where your child doesn't want to cooperate, wants to run around or have a meltdown, which can leave you feeling all flustered? They don't happen here! Other parents are experiencing the exact same thing and that's OK because that is what kids do.
It's a friendly, fun atmosphere. The reps go out of their way to get the kids involved and you can see just how much they love their jobs with the interaction they have with the children even when they're 'off duty'.
It's a lovely hotel in a really nice location  and I'd say it's definitely worth a visit! Have you been? What was your favourite part of the holiday?