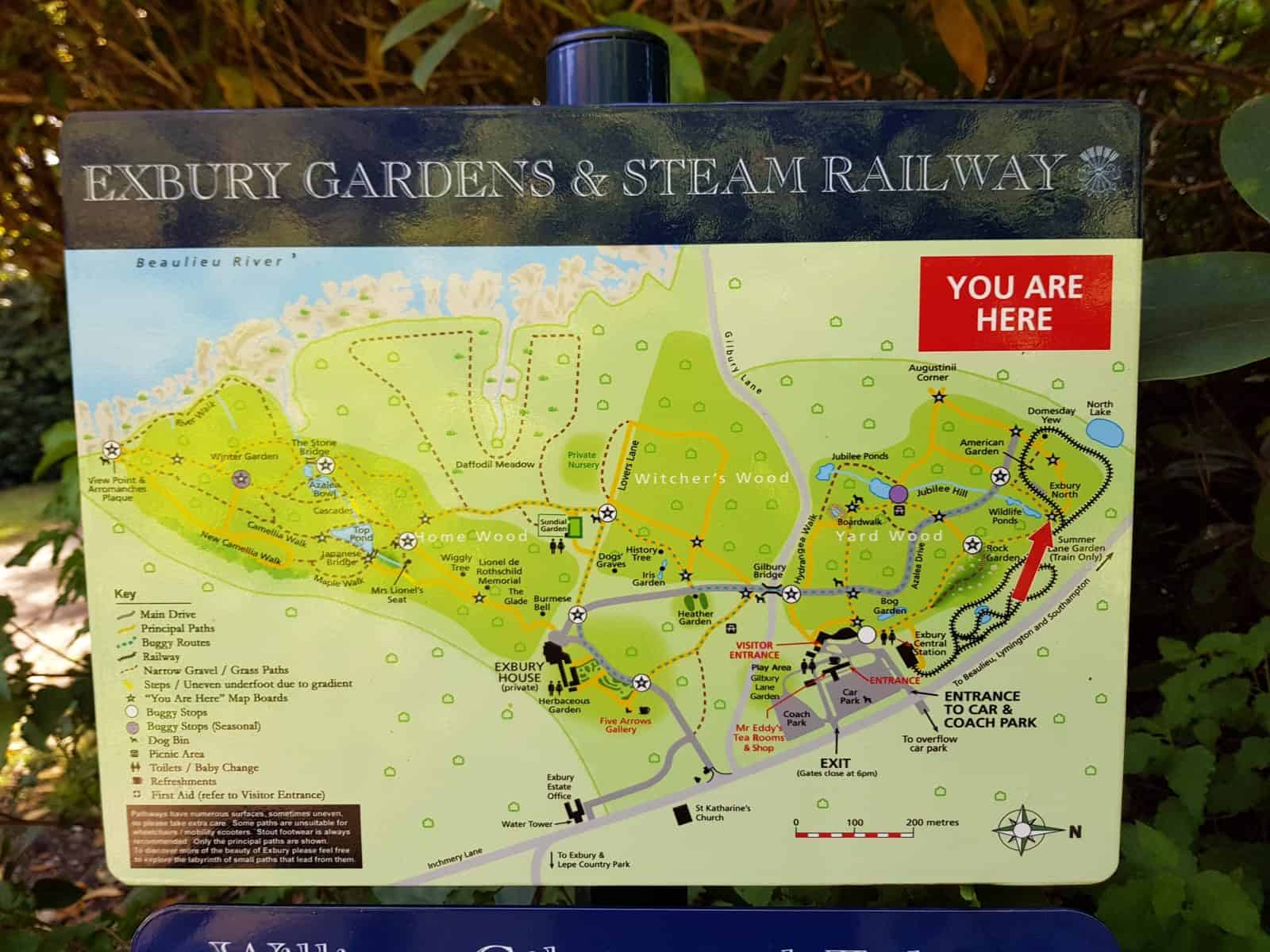 A day at the nature-filled Exbury Gardens
I don't know if it's just me but when you become a parent, the weekends consist of thinking of things to do to keep the kids entertained. So, when my friend mentioned she was hosting an event at Exbury Gardens we decided to pop along and check it out.
We booked our tickets online (£14.40 for adults and £7.34 for children for gardens and rail or £10.35 for adults and £3.29 for children for just the garden – under 3's go free) the day before, which we did think was a little bit pricey but for a whole day out we decided to go for it.
After a little trip through the New Forest, getting stuck behind a few horses and cows along the way, we turned into Exbury and we were instantly impressed. It was really modern, ample parking and it definitely helped that the sun was shining!
We grabbed a map and planned to go for a walk heading towards Jubilee Pond and then loop back round to land back at the cafe. When I say 'we', that was our usual family of four plus baby Annabell in her buggy…which got abandoned about ten minutes into the walk.
We got checked in at the main desk by two lovely ladies who explained there was pebble painting and story time at 2pm and a few other little activities throughout the day, as it was so hot there were also watering cans dotted about for the children to help keep the plants hydrated. We also took part in the Scavenger Hunt which kept Sofia so occupied as she clutched her little brown bag and set about hunting for petals, little leaves, big leaves and acorns with big grand plans of what we would make with all of the items when we got home (clue: nothing).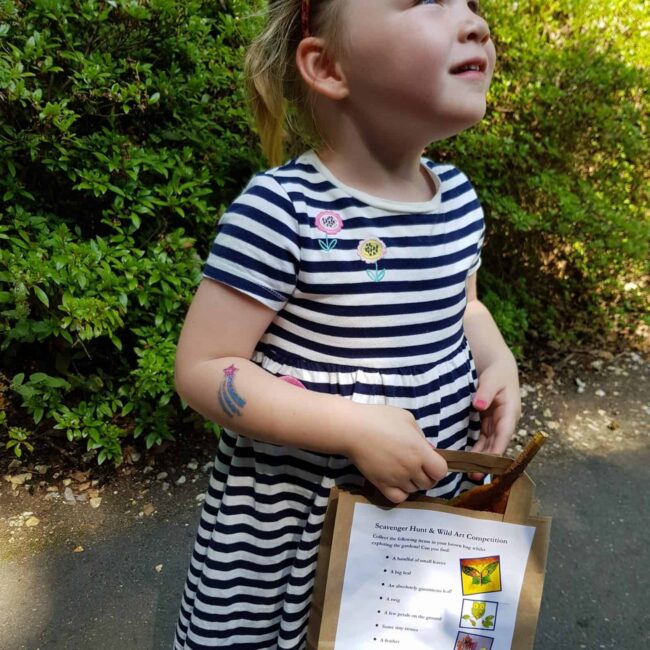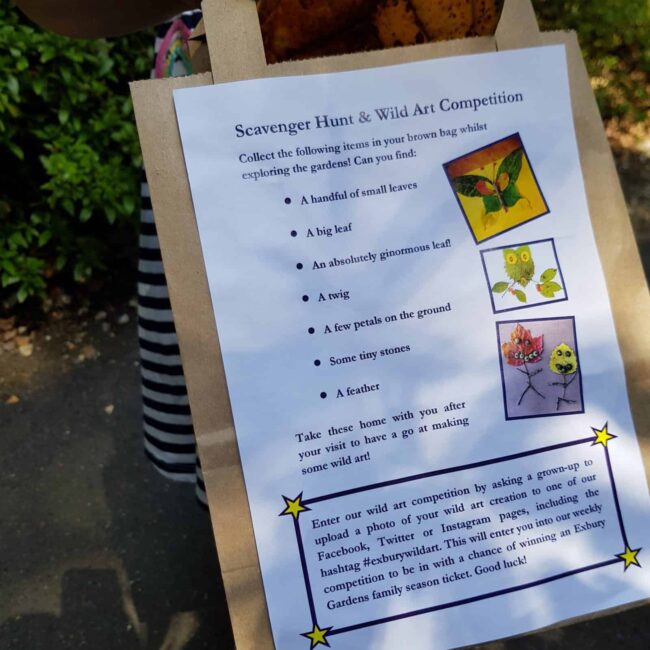 After a long walk round we decided to head towards the tea rooms – which was lovely, they serve a range of hot and cold food as well as cakes. We actually decided to do something we never do – share food. Big relationship step. We chose a tuna and cucumber sandwich which we shared and then a cream tea each – Sofia had the kids box which came with crackers, cheese, raisins and yoghurt so she was pleased with her little snacks.
The train was running on an amber service so there were a few different times we could catch it;  it's really lovely – there are workers dressed in full uniforms and they take your ticket and off you go. It takes you round all the areas of the park in a loop – whilst we were on it we had already decided our next walking route for when we came back again.
The most exciting part for us was that when we stopped at Exbury North the train guard got off and explained a little more about the areas and trees around us before giving Sofia the honour of waving the green flag to signal the driver to set off again. She was thrilled!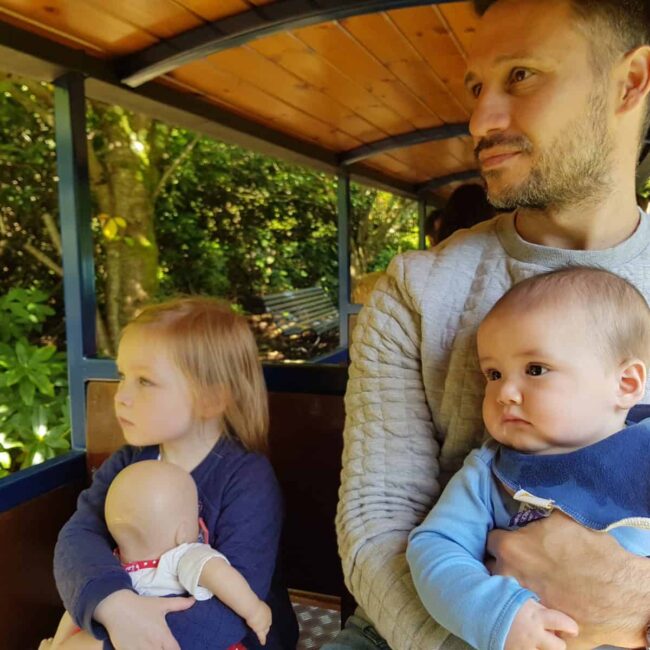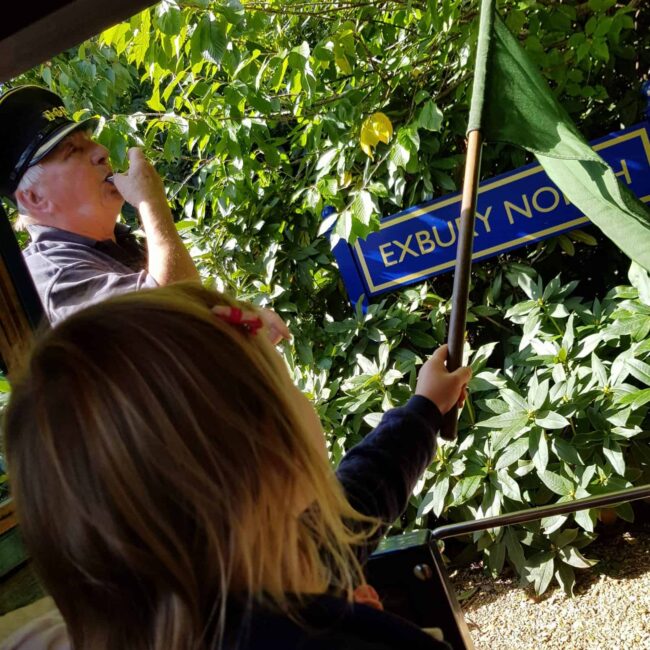 Last stop before we headed home was the wooden play area; this park includes an Explorer Tower, Sky Walk Trail, Bird's Nest Swing, Play Hut, Bucket Swing and Horse Sit-In Springer – Sofia had a go on all of it and really started getting brave. We literally had to drag her out of it as she just didn't want to leave.
We had such a great time that before we left we decide to upgrade to season tickets – I figured it's not only a nice (cheap!) place to go when you get a rare weekend with no plans, but also a place that I could bring the kids on my own and not have to worry that Sofia is going to go missing in a crowd of people or dash out in front of a moving vehicle.
If you're local, or fancy a nice day out in the fresh air, then Exbury Gardens is definitely worth a visit – wear the kids out on the routed walks and reward yourself after with a cream tea!
[*We've been back to Exbury again since the first post so that's why there's a mixture of pictures!]