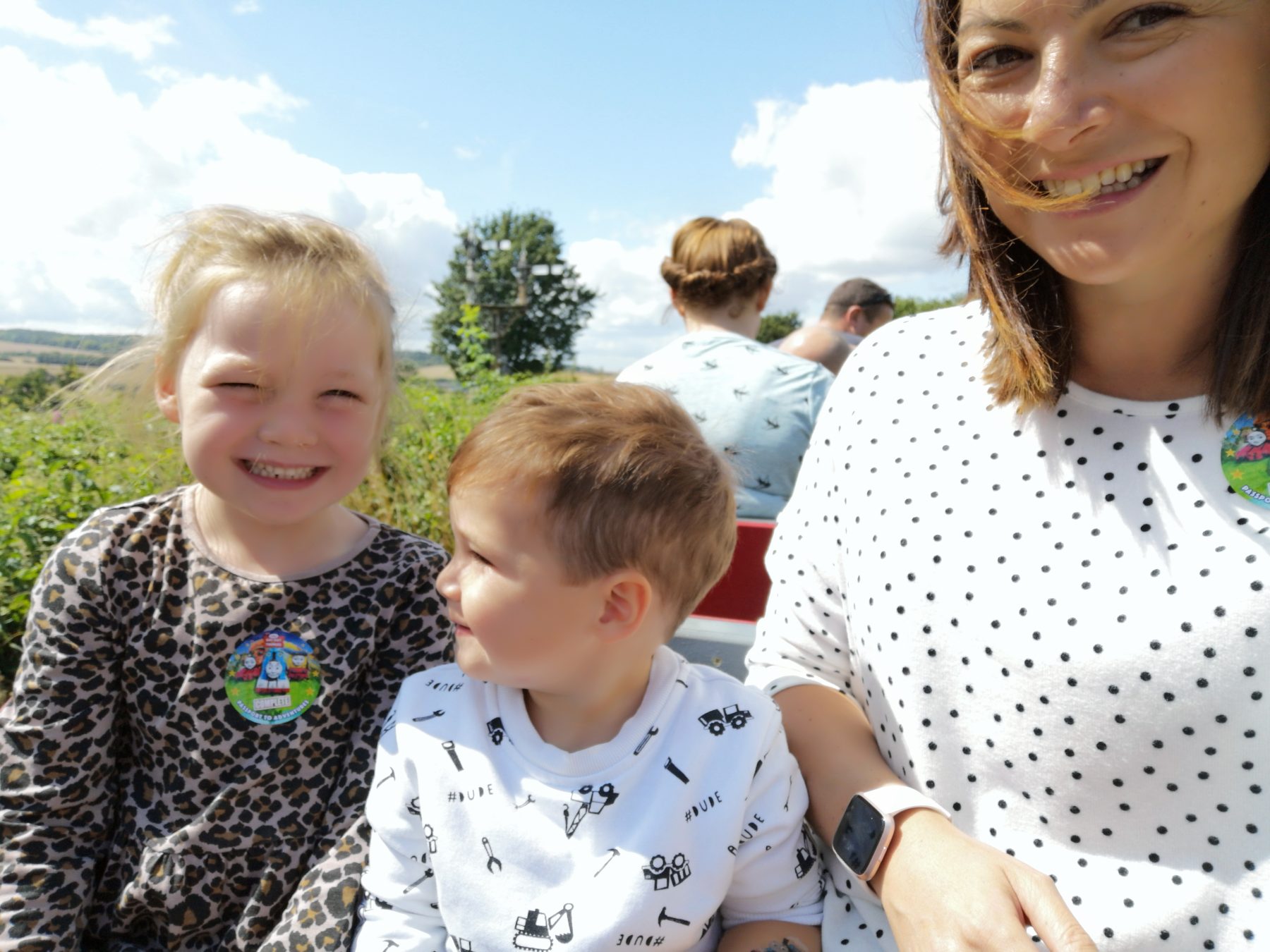 Family Days Out in Hampshire, Dorset and The Isle Of Wight
With the summer holidays in full swing, I've compiled a list of family days out in Hampshire, Dorset and the Isle of Wight to take your little ones to. Here you'll find a mixture of getting out and about in the great outdoors and some undercover places to try out – and there's not a softplay in sight!
Family Days out in Hampshire
Paultons Park
It wouldn't be a 'family day out' guide if I didn't mention the UK's number one theme park would it? We spend a good chunk of our lives at Paultons Park & Peppa Pig World so a bit like Daddy Pig we're experts at it!  – so if you're thinking of going this Summer, read my tips on making the most of your day at Paultons Park.
Marwell Zoo
If you're looking for a full day out then Marwell Zoo is the place to visit. Set in 140 acres, the zoo is home to giraffes, tigers, rhinos, zebras and snow leopards – to name just a few. There's also the very humid ( hello humidity hair!) Tropical House which is the newest (and biggest) exhibit to the zoo and is home to the super cute sloth…if you can spot it! Arriving at the zoo this Summer is the Brickosaurs interactive LEGO experience that see's 50 dinosaur sculptures around the park, including a ginormous 8m moveable T-rex!
Mottisfont National Trust
Mottisfont is the perfect place to run, jump and play in nature. Go on a walk and explore the grounds or take part in the many family friendly activities that the venue has to offer – try out the best balancing acts in the climbing bog, splash around with the pump, pool and paddle or head to the rushing river and play pooh sticks.
For the Summer holidays they have the Beano trail where your little mischief makers can travel through the little menace's history.
Finkley Down Farm
The award winning Finkley Down Farm was one of the first ever farm parks in the country – and 38 years on it's still going strong. There is animal handling and feeding experiences, heaps of outdoor fun and play and a huge indoor play barn with different areas for different age ranges too.  Through the holidays are the numerous Summer Spectacular events. You can read about one of our many days at Finkley Down Farm here.
Longdown Activity Farm
There's always fun at Longdown Farm and the summer is no different, apart from they have even more of an action-packed schedule! There's hands on experiences with bottle feeding baby goats and calves, feeding the ducks and pigs and cuddling the cute chicks and rabbits in the Animal Encounter barn. For the little farmers amongst you, you just have to take a ride on the bumpy tractor and trailer ride too. If it starts to rain outside then that's lots to do inside too – don't forget to visit the farm shop on your way out for some farm fresh produce!
Itchen Valley Country Park
Situated alongside the River Itchen, Itchen Valley Country Park is the perfect place for an outdoor adventure. And it's a fairly low cost day out too – with just the price of parking to pay for if you take your own picnic and snacks! With two big parks to play in, play trail through the woods, wide open fields for ball games and running the energy out you need to add it to your list to visit this Summer. There's also a Go Ape at this location.
Lepe Country Park
Let the kids let off some steam on the adventure playground, fly kites on the cliff top, go swimming in the sea and explore the wild corners of the park. If that's not enough, there's a five mile coast and country walk through Lepe and Exbury. Upon your return, be sure to head to the newly renovated Lookout cafe for a bite to eat or an ice cream.
Manor Farm
As well as the hands on animal experiences and the play parks, Burseldon based Manor Farm are holding a Peter Rabbit and Friends trail from 23 July – 8 September. And if the kids are really missing school then they can pop along and meet the resident Victorian teacher in the school room, and compare modern and victorian school lessons!
New Forest Wildlife Park
If wallabies, wolves and Scottish wildcats are your thing then you need to take a trip to the New Forest Wildlife Park which is home to an abundance of wildlife. With a mini adventure playground as well as a bigger one for the older kids there's enough to spend a good half day here.
Staunton Country Park
Based in Havant, Staunton Country Park is home to many different animals, some of which you can feed if you buy some animal food from the till points. From pigs, sheep, shetland ponies,  chickens as well as llamas, a Poitou donkey and alpacas there's tons to see. When we last visited Autumn had just had her piglets and she was splayed out on her back, teets sucked to within an inch of their lives. So if you do take a trip, hopefully she'll have improved! As well as animals, there's the indoor and outdoor play areas as well as plenty of open spaces to explore.
Go Ape Southampton
Whether you're a Tarzan, a Jane or a quaking on the platform kind of person – Go Ape is a fun, challenging tree top adventure course for all the family….espeically the finale zip wire! [Two local Go Ape courses are situated at Itchen Valley Country Park and also within Moors Valley] I'm due to be visiting the Southampton course soon, so I'll feedback and share our 'family' experience in a separate post.
Royal Victoria Country Park
Another free day out – all you need to do is pay for parking. Once in, there are huge fields so you can play some family games, lie back and relax while the kids run about entertaining themselves, or why not take some paper and crayons and do some tree and leaf rubbings in the nearby woods? Have a walk along the pathway with an icecream overlooking the Southampton Water – and if you really want to make the most of your day out, why not hire one of their BBQs. If you've been recently you probably saw the scaffolding up over the chapel…this has now been refurbished and open to the public.
Furzey Gardens
You will no doubt have heard of Furzey because of the tiny fairy doors that are hidden around the gardens. The intricate doors are around bases of trees and nestled under bushes – being less than a foot high, make sure you've got your best eyes peeled!
Let the kids loose for a couple of hours and watch them play hide and seek around the play park, which is great as it has an additional level which caters for the more adventurous climber. If climbing is their thing, there are two designated climbing trees located near to the play area as well as the lookout tower which you can scramble up and see out across the beautiful treetop view.
Exbury Gardens
Set in a 200 acre site, Exbury is world famous for a number of plants and shrubs. Perhaps not the first place to spring to mind for 'family' day out, it's another one of those sites which are spacious, safe and beautiful to amble around in. There's a lovely wooden play area for kids and of course the renowned Exbury steam train, and through Summer there will be teddy bears picnics, a dog show, tree planting and guided walks for your little explorers.  Read a full post all about our day at Exbury Gardens [we liked it so much we got a membership!]
Hillier Gardens 
The Alphabet Fairies Garden Trail is running until 8th September meaning that the kids get a good long run around whilst you get to enjoy the beautiful scenery.  We did the fairy trail last week and if you've done one of Hillier's trails before you'll be pleased to learn that they've got rid of the ink pads in favour of stampers!
Hawk Conservancy Trust
The Hawk Conservancy is a bird park and conservation charity that cares for and displays birds of prey. I'll be honest, we were sceptical about our visit when we went a few months ago but we didn't need to be – it was fantastic, especially the displays that they run. They are top class and you get so up close with the amazing birds (me even more so as I did a Burrowing Owls experience) We had an amazing day out at The Hawk Conservancy – check it out here!
Seacity Museum
The SeaCity Museum tells the story of the people of our city, exploring their lives and historic connections with Titanic and the sea. They promise to bring maritime history to life through interactive experiences, which are designed for all ages and there's lots of additional bits on during Summer to keep the kids entertained – and learning something new!
Winchester Science Centre & Planetarium 
Two levels of things to 'play' with; twist, turn, pull handles, flick switches and watch various educational films as you go. There's live science experiments as you go around and if you think the kids will sit through it, the Planetarium is definitely worth a visit for a show. We loved our trip – read about it here.
The Watercress Line
This is the ideal family day out – and THE perfect place for train enthusiasts! A day pass gives you unlimited rides all day from station to station. There's also a young engineers trail to keep the little ones minds ticking over! A special famous blue engine will be toot toot'ing between stations from 3rd-11th August and putting on a whole lot of family activity for all age groups… I bet you've got the theme tune in your head now "they're two, they're four, they're six, they're eight….."
Beaulieu 
Beaulieu's National Motor Museum really is a day out for all the family and this year they have the '50 years of Chitty Chitty Bang Bang' exhibition running where you can met costumed characters. If looking at cars might not seem like a full day out, you can explore the house and gardens as well as unlimited rides on the monorail. There might even be a chance to meet Lord Montagu's falconer in Beaulieu Abbey.
Blue Reef Aquarium Portsmouth
If I'm being totally honest, I think this would struggle to be a full day out as the aquarium is quite small – however, it is situated right on the seafront and it's not too long a stroll from the AMAZING Tenth Hole cafe, so plan to be hungry when you leave the centre and head down. If you're feeling really aquatic, stop off for a go on the pedalos on the way!
Portsmouth Historic Dockyard
Explore one of Portsmouth's top family attractions – the Historic Dockyard. Captain Hardy will be there during the summer holidays, so the kids can ask him questions about his past or discovering is more there thing then the Pirate treasure trail will be in full swing as will the Horrible Histories pirate exhibition. Oooh arrr!
Family Days out in Dorset 
Splashdown
Splashdown is based at Tower Park in Poole. Splashdown is a fantastic water park and has more flumes than any other venue in the South West! So if thrill seeking's your thing, then Splashdown is home to 13 indoor and outdoor flume rides and 3 under 5's splash zones.
Moors Valley Country Park
I've included Moors Valley in many a 'things to do with kids' round up because we absolutely love it. It's definitely one of our low cost family days out and we spend all day here whenever we visit! There are two play parks [one for bigger adventurers and the other is for younger children and is a huge sandpit], a play trail which gets you exploring around the 250 acre site, you can hire bikes, walk around the lakes, do one of the Julia Donaldson trails (there's been the Gruffalo, Zog and Highway Rat over the last few years) and take a trip on the steam train – this site also has Go Ape treetop course.
Dorset Heavy Horse Farm Park 
Although the name would suggest otherwise, the heavy horse centre is so much more than just horses! They run a daily schedule to ensure that there's something for all the family – no matter the age or ability. You can expect stable yard tours, farm feeding and egg collecting, tractor and trailer rides plus your chance to drive a real farm tractor – how cool is that!?
Around the farm you'll find alpacas, horses, ponies, owls, turkeys, pigs and sheep…and an adventure park complete with vintage fairground rides!
Snowtrax
Whilst the sun blazes down on us, the last thing you can probably think about is going to the beach to be crammed in with all the other beachgoers. Do the extreme and head to the slopes instead – skiing, ringos and ski bobs are all on offer, and after that there's a fantastic shaded wooden play park and assault course. You may even see us there, we're planning to head back again as we loved our first trip.
Monkeyworld
Monkey World is home to over 260 rescued and endangered primates – and I guarantee you won't stop laughing at their antics throughout the day. We've visited a number of times and every time we have spent so long just watching them swing upside down on tyres, play fight each other and we've even had one doing moonies at the window – you can imagine Sofia's hysterics with that one.
Adventure Wonderland
Situated opposite Bournemouth Airport, Adventure Wonderland has a great range of rides and attractions for all. Alongside resident characters such as Alice, The Mad Hatter and Mr Rabbit – this summer the family theme park will also welcome guest appearances from Bing & Flop, Skye and Marshall and Peppa Pig. With characters, rides and pint sized Shetland ponies to pat – Adventure Wonderland is definitely worth a visit this summer!
Weymouth Sealife Centre
I've been to a few Sealife Centre's and to be honest, I've found them disappointing. I heard quite a few people talk about the Weymouth one and so a while ago we made a trip – wow, it is nothing like the others we've been too. It's a lot bigger, has lots of inside and outside space and loads of different areas to explore too. We stayed for the full day and then when we left we popped into the little race track area next door for a quick lap!
Oceanarium
Situated on Bournemouth seafront, the Oceanarium is a good day out for the kids. Recently refurbished, the centre has lots of different things to keep the kids entertained. Start the day with an Adventure Quiz trail and answer questions as you wander around, there's an under 10's play zone, daily feeding presentations and 12 themed environments.
Swanage Railway
The award-winning Swanage Railway lets visitors experience a unique journey through six miles of beautiful scenery passing the magnificent ruins of Corfe Castle, travelling down to the blue flag beach at Swanage.  Someone really train mad? Treat them to a one hour taster experience where they can drive and fire their own steam train!
Upton Country Park
Upton Country Park has heaps to do over summer! There's the Woodland Play Trail which is made up of ten natural timber play structures, heaps of space for adventuring and exploring, the beautiful walled garden which is ideal for a picnic – or a sunbathe, and all through the holidays the summer splash fountain will be entertaining the children daily (it runs 11am-1pm and 2-5pm).
Family Days Out in the Isle Of Wight
Robin Hill Country Park
Robin Hill Country Park is the perfect destination for visitors of all ages. Offering a fantastic mix of rides, falconry and adventure play alongside relaxing woodland gardens, ponds and walks there's something for everyone and during the summer holidays, the country park puts on Jungle Fever and The Summer Slide events.
Tapnell Farm Park
Tapnell Farm Park is a great mix of indoor and outdoor fun, with both play time and animal encounters. Let the kids go wild on the many activities including a huge 3 storey soft play zone, jumping pillow, pedal go-karts and the longest indoor zip wires on the Island – and plenty of chances to get hands on with daily activity sessions.
Isle of Wight Zoo
The Isle of Wight Zoo is based right in front of Sandown beach and is home to a variety of animals, but they specialise in two particular areas – tigers and lemurs. A trip to the zoo will see monkeys, small mammals, reptiles, birds, farm animals and even bees!
Amazon World Zoo Park
Amazon World Zoo Park is home to some of the worlds most unusual, beautiful and endangered creatures. There are a huge range of animals from the commonly seen marmosets to the more rare Tamandua , Giant Anteaters and Armadillo. There are daily Meet and Greet sessions and a large Jurassic themed adventure playground to play in too!
Monkey Haven
Since opening in 2010, Monkey Haven has rescued hundreds of creatures in need – as well as being animal rescuers, it's also a great day out for all the family. You'll find daily activities such as the reptile rendezvous, monkey brunch, meerkat mayhem, a hoot with the owls and finishes up with monkey supper!
Blackgang Chine
Blackgang Chine in Ventnor is the UK's oldest theme park and has lots to offer for a fun family day out.  I have such a vivid memory from my childhood of being at Blackgang Chine, I was fiddling with a bouncy ball from one of the stalls and it bounced it's way from one end of the room to the other. I need to go back to see if this place is how I remember it! On certain days throughout the summer holidays it will stay open til 9.30pm giving you real value for money on a whole day out.

Where are your favourite places to visit in the region? I'd love to add some new places to my list!