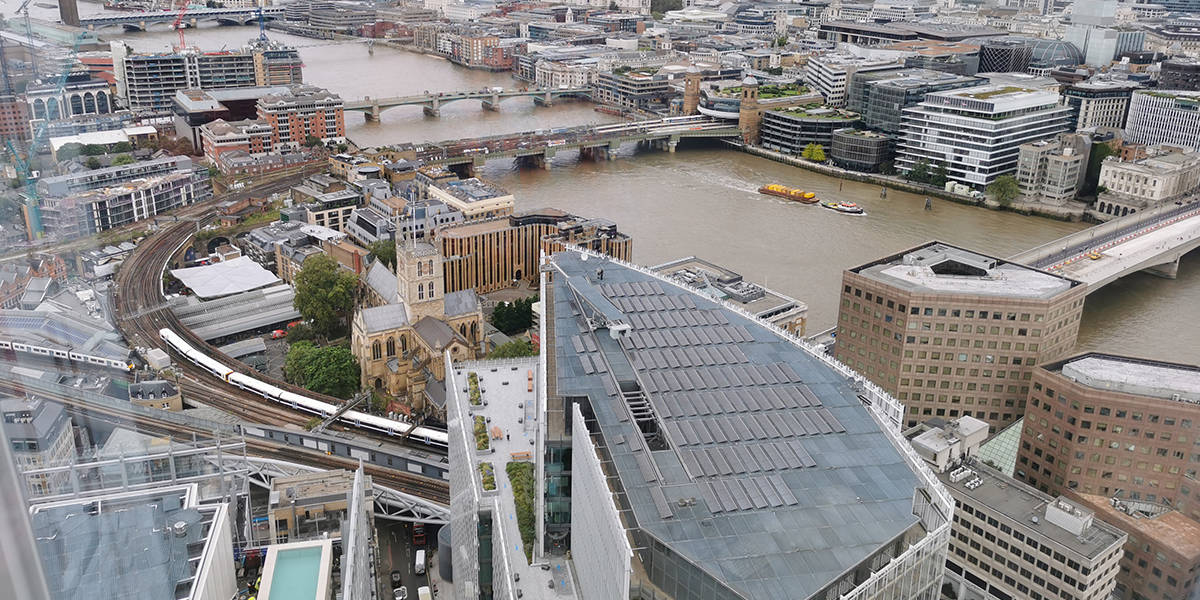 Our overnight stay at The Shangri-La at The Shard
When our family holiday to France was cancelled, we decided to cheer ourselves up with an overnight stay at The Shangri-La Hotel at The Shard – we weren't disappointed!
With covid in full swing, we decided to have a staycation here in the UK. For two of our days we became tourists in our capital city, London. With dreams of sunny days biking around Ile De Re a distant memory we booked a night away in the most impressive building in London – the Shard.
As we had the kids with us, we opted for a suite to house us all. We could see our luxury accommodation from streets away, and pulling up to the front of the building with Ferrari's and Lamborghini's parked up front, I soon worried I really wasn't dressed up enough in my Primark outfit, complete with rucksack full of wipes and bribery snacks.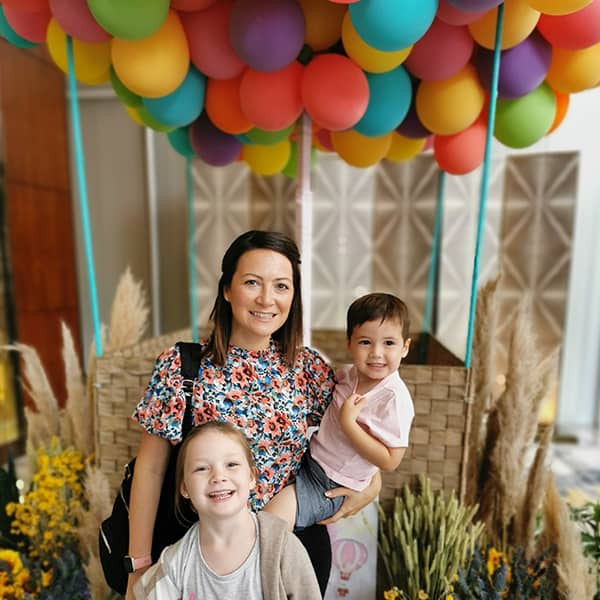 We were met at the front of the building where our car was taken to be parked and our luggage whizzed away leaving us to just get ourselves in. We took the lift up to check in at reception, but not before we'd admired the gorgeous decor along the way.
We arrived around noon, after being told our room would be ready for 11am. Unfortunately it wasn't but we played a quick game of domino's in one of the open communal areas and admired the view from the 36th floor.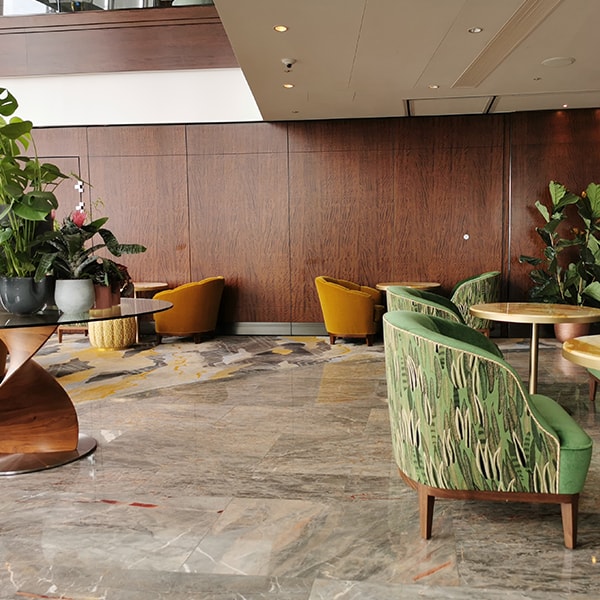 A quick walk out to get our bearings and find a coffee stop, and a text came through to let us know our room was ready. We were on the 43rd floor. Our room was well laid out with a bed put up in the lounge area, and another put up alongside the queen bed in the master bedroom. The kids were more excited to see that the mini bar stocked haribos!
After a while just admiring the view from our floor to ceiling windows we headed out to our pre-booked slot at The Sky Garden (more about that, here) which was a stones throw away.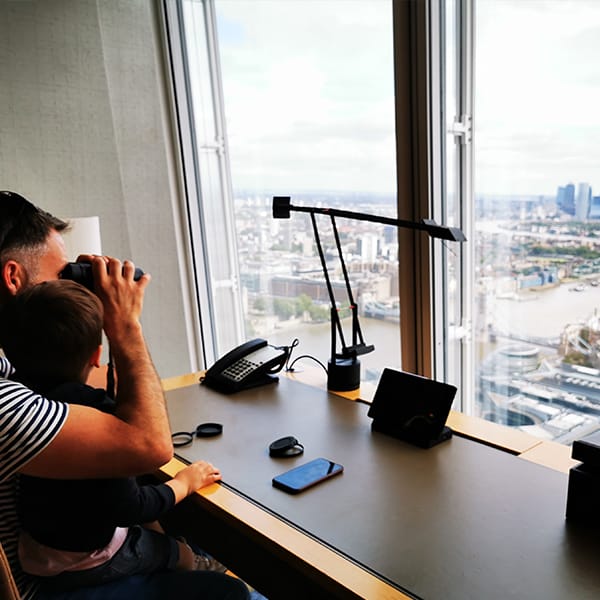 From there we caught the underground into the city where we headed to Selfridges for a trainer, toy and bubble tea session!
Opting not to eat at the hotel that evening, we found a lovely little place nearby – The Folly – where the kids ate burgers and chips and us parents enjoyed a gin. [It's pretty 'grammable' in there, if that's yo' thang]
Heading back to our room, we were welcomed back to a chilled ice bucket of Veuve Cliquot champagne, two glasses, and some sweets for the kids – which was a lovely touch. By this time it was really dark, and watching the trains pull in and out of Waterloo to one side, and cars driving over Tower Bridge to the other, was truly mesmerising. Our room had southerly views and floor to ceiling windows – I honestly could have spent the evening watching the world serenely go by. That view alone was worth the money spent!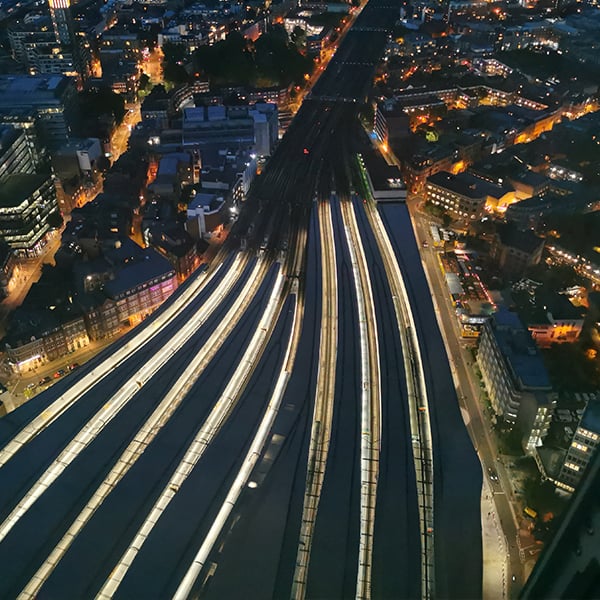 Stuart discovered the toilet not only had heated seats but also jets to wash your bum, y'know just incase wiping it with toilet roll was too much effort. With the kids asleep and our aching legs from heaps of walking, we followed shortly after and had the best night sleep in one of the comfiest beds I've ever slept in!
Morning arrived, and the kids had a bath whilst watching Milkshake on TV and preceded to tell us they really needed a TV in our bathroom at home. The bathroom was pretty impressive with toasty warm heated floors, a powerful rain shower, bath and separate toilet. So if necessary, someone could be in the loo at the same time as another member of the family were in the shower – and still have total privacy.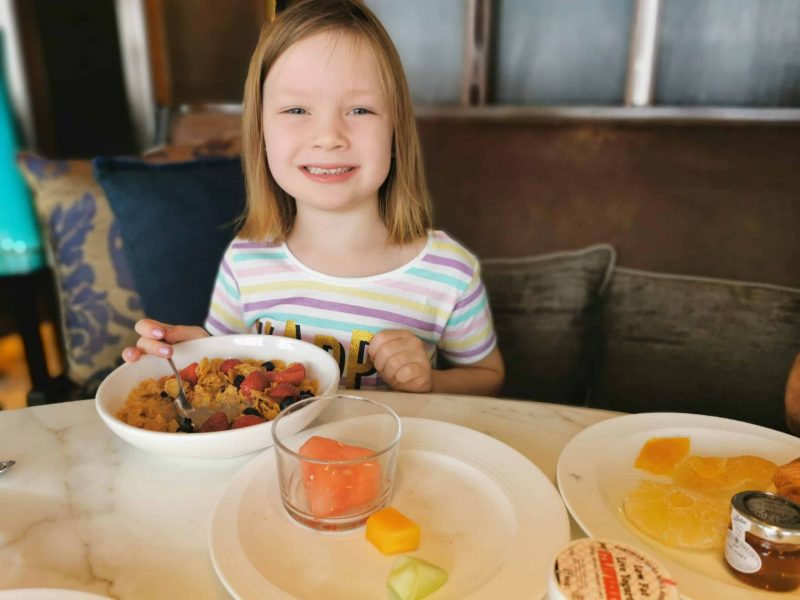 I cannot say how delicious the buffet style breakfast was, which we all thoroughly enjoyed at the Ting restaurant. Any thing you could wish for was on offer – and we sampled most of it. A nice touch is that children under the age of 6 can enjoy buffet meals at no extra cost.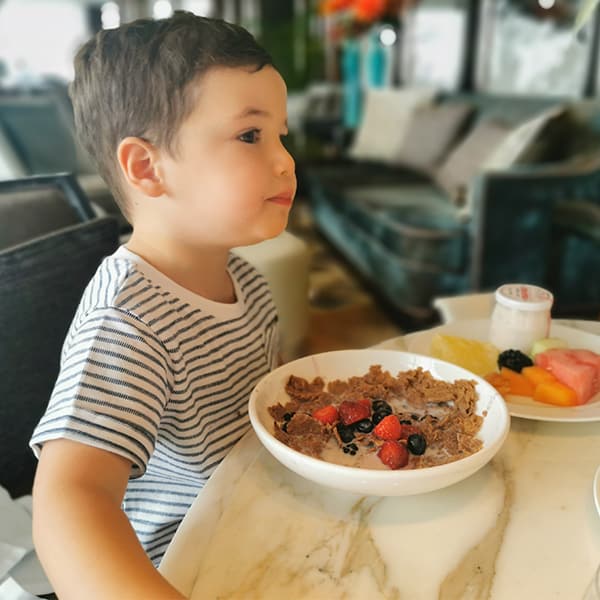 Checking out we vowed to return again, without the kids, so we could enjoy a drink in the amazing adults-only Gong cocktail bar and a promise to remember our swimmers so we could experience the rooftop pool on level 52.
A must do treat experience at least once in your lifetime!
PS – The kids are still waiting for the TV in the bathroom, and Stuart's been brought back to reality now he's had to wipe his own bum again.