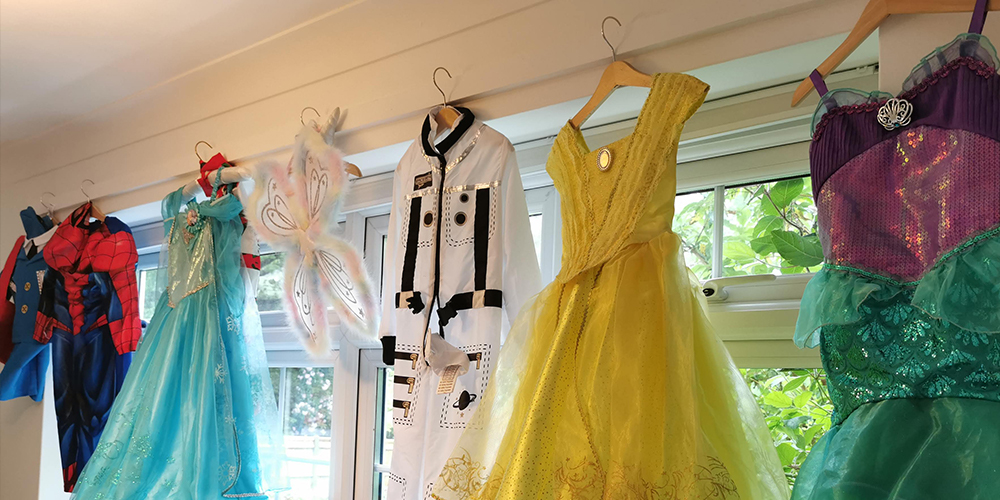 Corners of our home | The Playroom
The next room in our 'Corners of our Home' to have a nosy around is our play room. This room is my saviour – it's the dumping ground for toys, meaning that most are shoved in there with the door firmly shut at the end of each day…
Stuart hates the fact that the kids have the largest downstairs room and yet they never seem to play in it. This room used to be the master bedroom of the previous owner, so when we moved in it made sense to us (as we would all be sleeping upstairs) to make this into the room for the kids. The idea was always to create a room for them where all of their toys and stuff would go and not spill into other rooms.
There wasn't a huge amount to do in here – we re-carpeted, painted the walls back to white and hung standard white blinds too. In effect, making it a blank canvas. And to be honest it's remained a blank canvas. We haven't even added so much as a picture in there!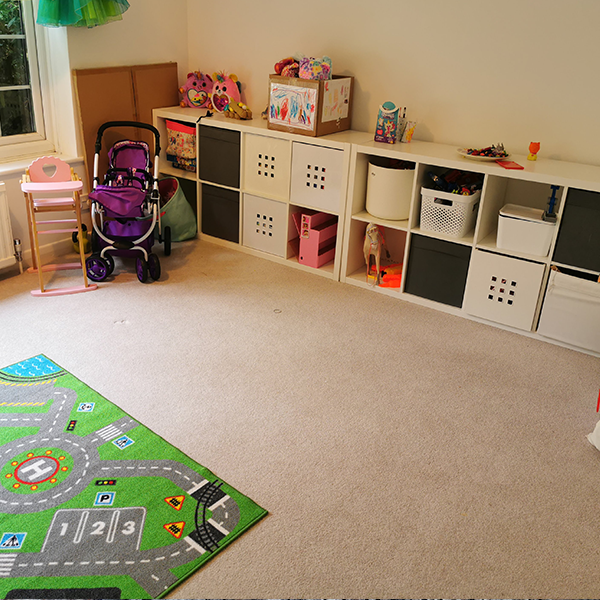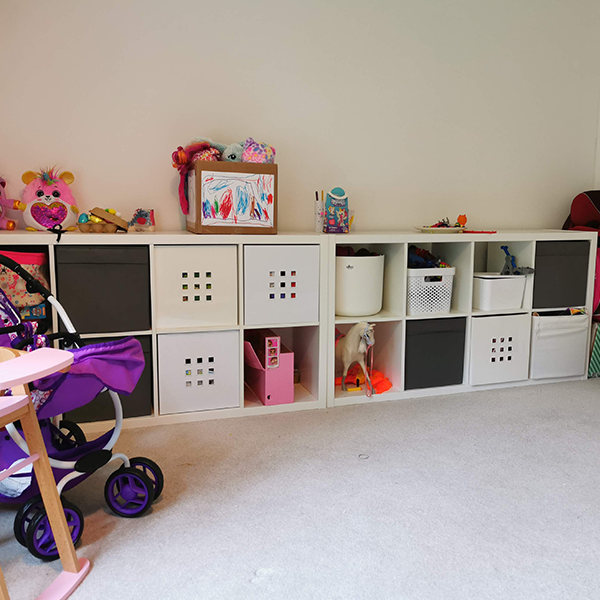 The first purchase was every storage lovers 'must have' – the Ikea Kallax units. We  brought two of these and laid them sideways, I didn't want to pack a box into every hole so we did (originally) have a box, hole, box, hole pattern…but as the years have gone on, the kids tip the contents out and then shove everything back in wherever it fits. It's a great space saver and saves LOLs and Lego from being spilt across every inch of carpet!
Aside from the box toys, there are some big toys that are out on display – the trusty Ikea wooden kitchen, a lovely dolls house that my parents brought for Sofia's first Christmas from John Lewis, train tracks and mat and the Paw Patrol lookout tower. The kids don't have one favourite thing, which is there go-to, which makes doing a big clear out near on impossible as they tell me the 'do play with it sometimes' and then I can't face chucking it!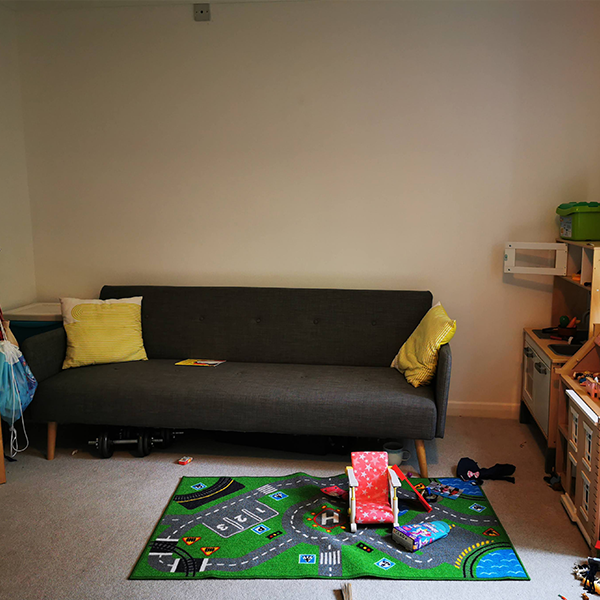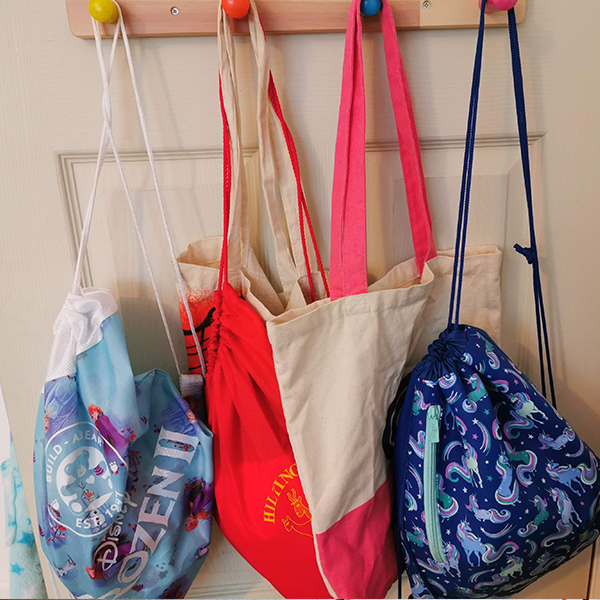 A strange addition to the playroom is this grey sofa/fold down bed from Next. We brought this with us from our previous house where it was the bed for occasional overnight stayers, we didn't really need it here but didn't want to throw it – so it went into the playroom. Occasionally I will sit in there when the kids demand my presence to watch a show, or just be around to referee the sharing of toys. I'm hoping when we get our extension approved that this will be removed and re-homed into another downstairs room!
The only other thing we've added in are the colourful hooks which are on the back of the door. These are for school and nursery coats and bags, so the kids put them on there when they come back and then know where they are in the morning when we need to leave.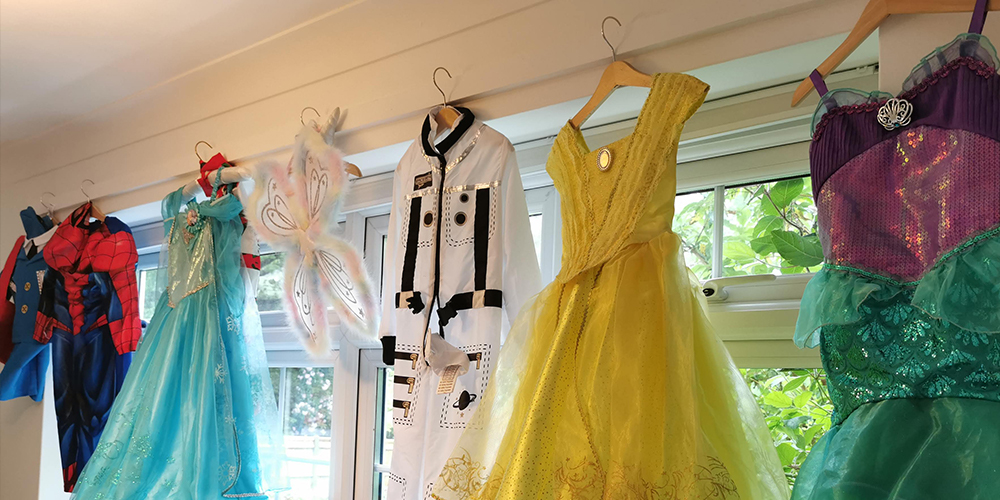 The one little feature I love in the playroom is the dressing up outfits all hung up along the window – they're not used as much anymore but I can't bear to part with them. Who wouldn't want to see Ariel's fishtail or Postman Pat's uniform hanging up?! Where the room isn't yet decorated, it doesn't feel very 'kiddy' so I feel like these add an element of fun into the room.
I'm looking forward to getting this a bit more child-friendly, we have talked about putting a TV up on the wall, big squishy bean bags and a nice rug so it's their own 'grown up' room to go and chill in…so, watch this space!