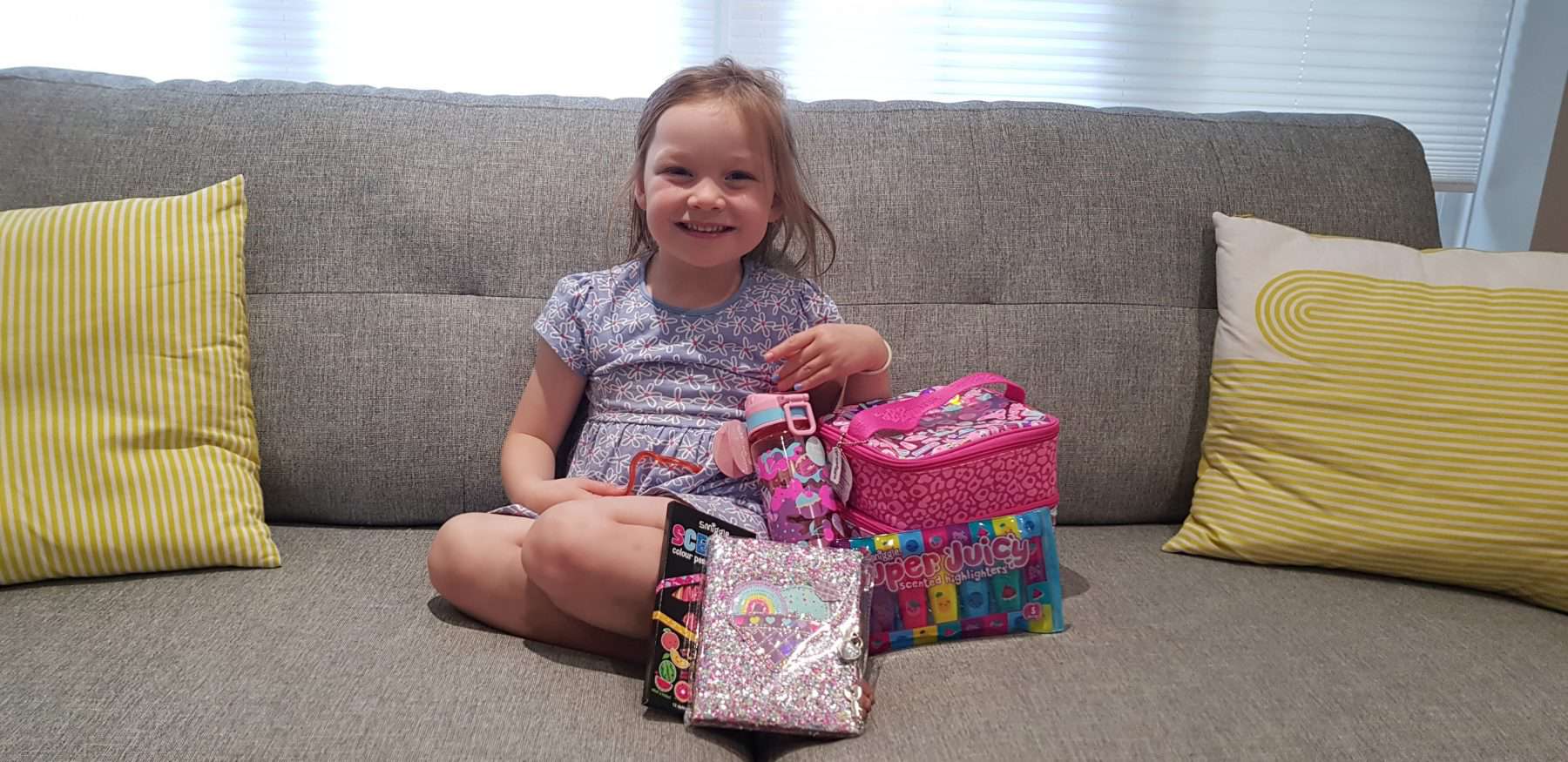 Starting School | Year R School Essentials
I can hardly believe I'm writing this and Sofia is about to start 'big school', as the day gets closer I'm getting more and more nervous about the transition from nursery to Year R at infant school.
It's super exciting but at the same time, it's a big upheaval to life as we know it. For Sofia, she'll not only be 'learning' but she'll be going there five days a week, as opposed to the two days she used to do at nursery – and for me and Arlo, who will we have to pester us on a Thursday and Friday?! It'll be the first time in four and a half years that I've not had my little sidekick with me on the last two days of the working week.
I've made lots of lists and done lots of planning so if you're in the same boat as me – first time school mama, then you may find this useful.
This is my list of Year R essentials…I think!
Uniform
I'll start at the obvious. I didn't know where to even begin for uniform, so I played it safe and got Sofia's from trusty ole M&S. I got the majority of it when they were having the 20% off promotion, which saved us loads on our little navy school haul!
Sofia's uniform is a white polo shirt, navy skirt, dress or trousers, grey or navy tights and a navy cardigan. White round neck t-shirt for PE alongside some navy cycling shorts. I've also got her a summer dress as usually the first few weeks of September can be quite hot.
I brought a couple of 'official' school polo shirts and a cardigan from the school for special days such as special assemblies and school photos…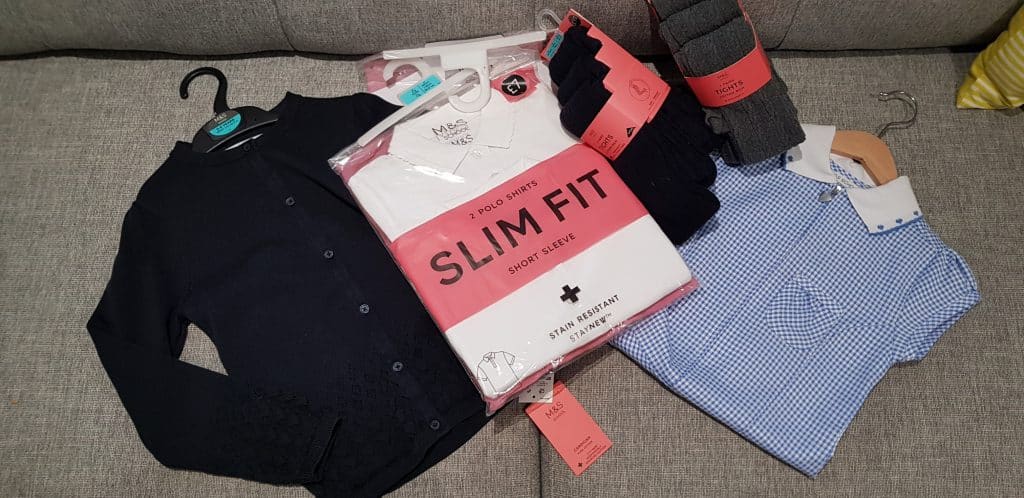 Shoes
Well who knew there were school shoe fitting appointments that were bookable in advance? I didn't until a friend casually mentioned it at the start of the summer holidays…apparently Clarks is the place to hang out over the six week holiday. I've since witnessed people actually queuing out of the door waiting for an appointment!
I've booked Sofia's as close to her first day as I'm sure she's going through a bit of a growth spurt…let's just hope that they've got the ones we want in stock when we go. I've already got my eyes set on these cute patent t-bar shoes, so hoping they'll have them ready and waiting on the shelf for us!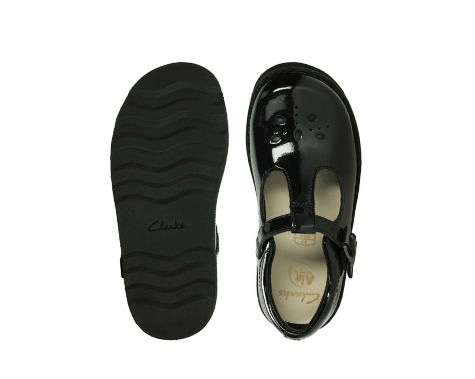 Books

The thought of her starting school is playing havoc with my emotions so god only knows how she is feeling. I'm sure she's starting to feel a bit anxious as she had her nursery graduation a few weeks ago and today she finished nursery. I've noticed that she's started being a bit more clingy with me and is slightly more emotional than usual. She talks a bit about school but she doesn't ever really go into too much detail, though the other day she told me she didn't think she was big enough for 'big school' and I asked her how she felt about it and she just said 'OK'.
So in a bid to get her to not only talking about her emotions, but actually understand them I did a bit of Amazon research and found a book called 'Sometimes I feel Sunny' – we've not been making a big deal of it and just been reading it before bed, at the moment she's telling me she 'feels happy and sunny' so I'm hoping she'll still be feeling that on the first day of school!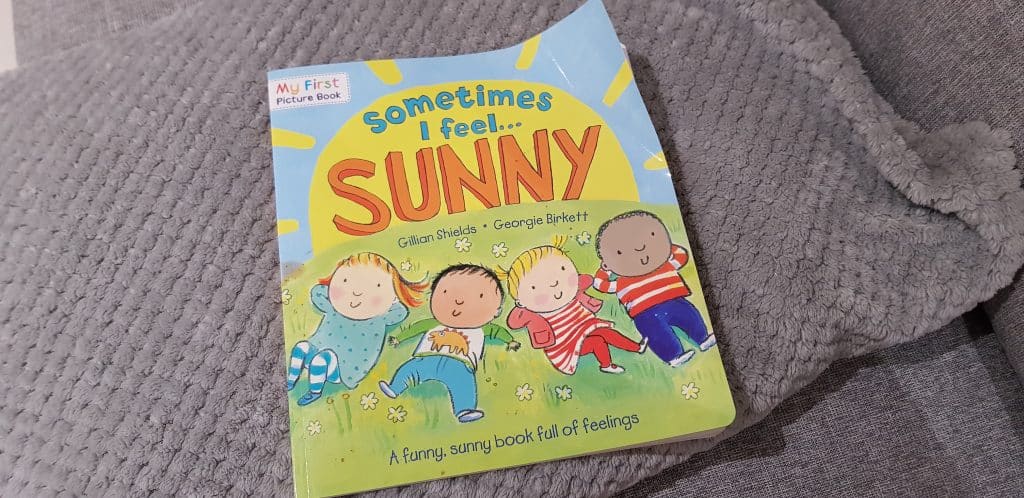 Lunch bag and bottle
She's only four, but already one of Sofia's favourite shops is Smiggle so we couldn't possibly start school without a trip to the only store which gives you a full on blast of multi-colour, fluffy pens, glittery diaries, shimmery lipglosses and the squishiest of squishies.
Sofia is planning on having school dinners, but we picked up a fab two tier lunch pack incase she changes her mind after her first few weeks – and if she doesn't, it's a fab size for our weekend picnics. We also got her a flip top bottle to take her water in and some other 'big girl' goodies for her.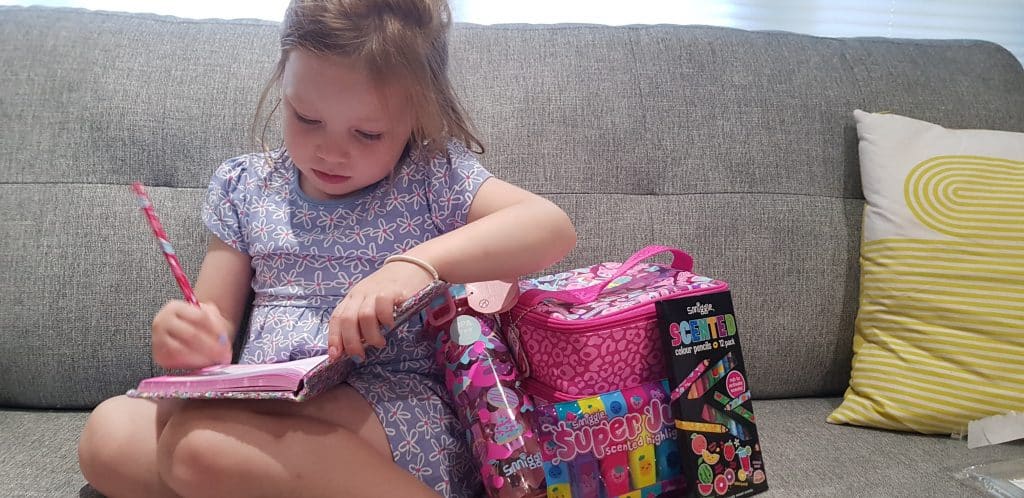 Bum wiping and hand washing
I've drummed it into Sofia that she must wash her hands every time she goes to the toilet, after all regular readers will know that I'm pretty germphobic, so we've cracked that. But we've also been making sure she can wipe herself properly, whether it's a number one or a number two, so as not to leave drips or skids in her new school knicks!
Clothes Labels
I'm fully expecting for a lot of Sofia's bits to end up in the lost property collection, my girl would seriously forget her head if it wasn't screwed on, so I've stocked up on personalised name labels to tag everything. I don't have too much patience so I opted for the stickers as opposed to iron on or sew-on labels – and I'm so glad that I did because the stickers are so easy!
I ordered 56 super pretty pink star labels with a princess crown design from My Nametags – there were so many colours, fonts and designs to choose from. We spent ages together on their site deciding which variation to go for and when they arrived Sofia helped me stick the waterproof stickers over the care labels of half her uniform…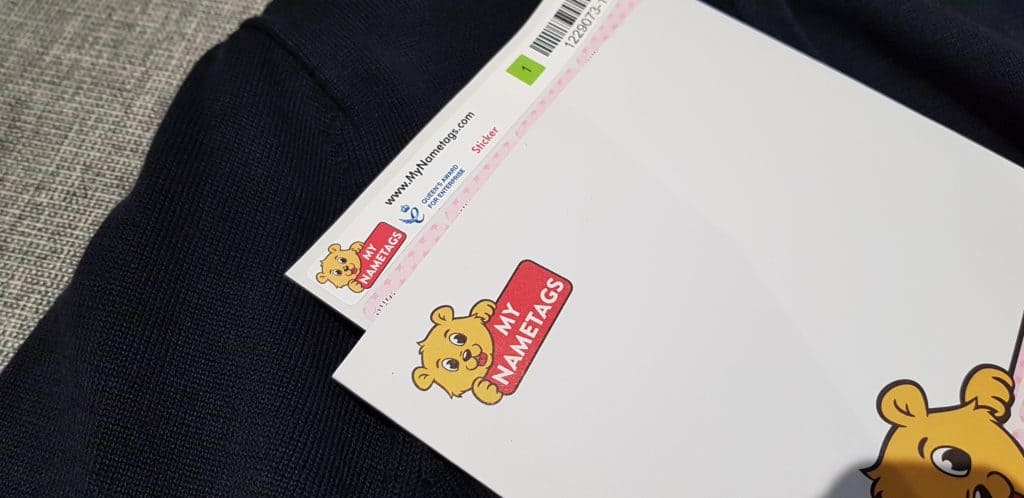 …the other half of her uniform was tagged with Able Labels personalised labels, where again Sofia chose pink, but this time with a butterfly. This item was kindly gifted to us and alongside the labels, the wonderful folk at Able Labels also sent her a personalised kit bag to match the stickers and a really lovely touch was that there was a surprise for Arlo too – some gorgeous personalised muslins. They're (almost) too lovely to use!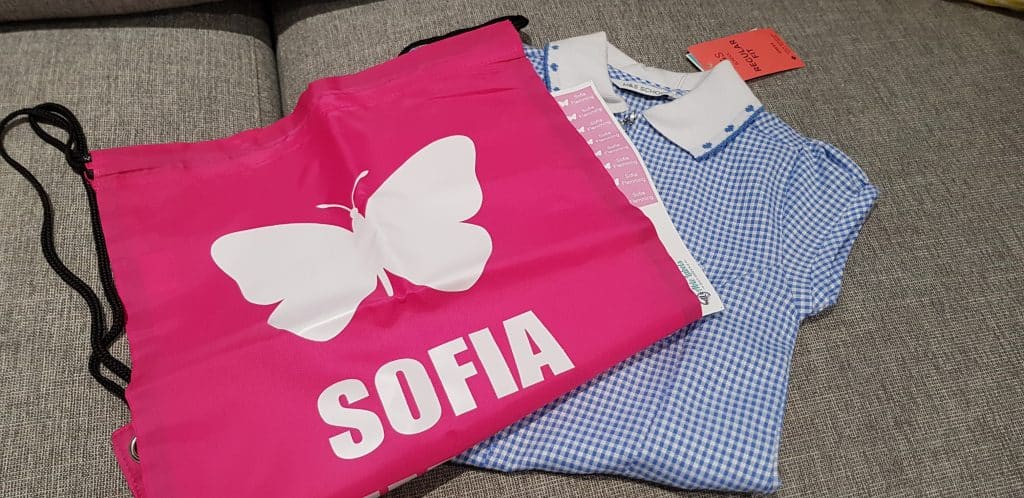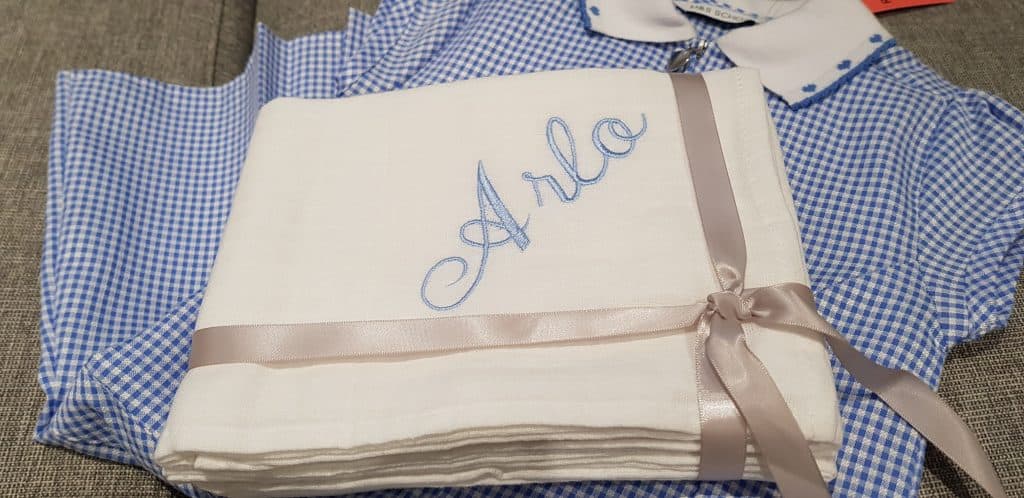 Practising the school run
We can practically see the school from our back garden, so where possible when we go out for a walk, scoot or bike we have started to do the school run route to get her used to the journey and where we will be going everyday. I'm hoping it will then be smooth sailing on the first day as we all know exactly where we're going now and what gate to use to get in!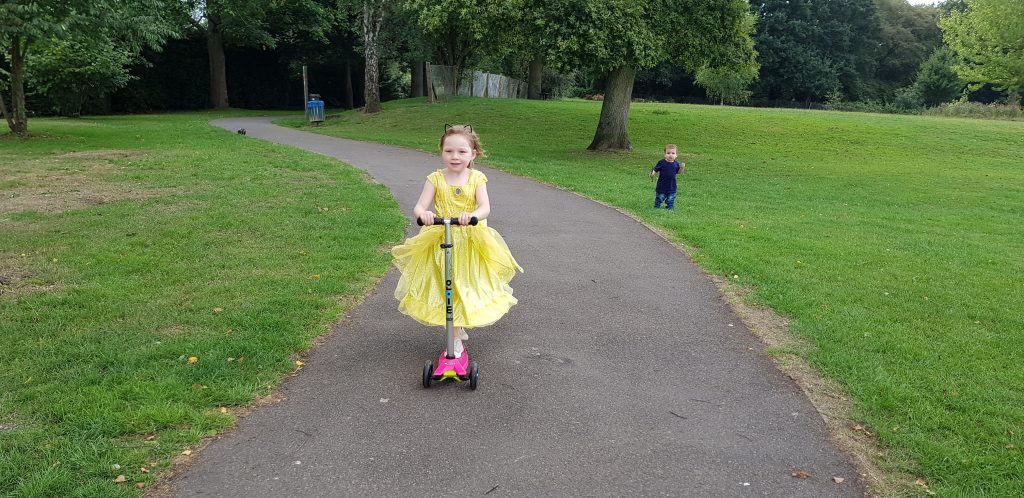 Calming essential oils
I've recently started 'dabbling' in essential oils. Who knew that there is literally an oil for everything? The first little concotion that I decided to try from Young Living is a calming one which has a mix of cedarwood, lavendar and peace and calming with a carrier oil added. Because they are all natural products, it's safe to use on myself and both of the kids.
I've been using it out of my snazzy little roller whenever I feel stressed or know that I've got a busy day ahead – and rolling it on Sofia and Arlo's little stinky feet and neck just before they hit the hay. I'm going to literally slather it on for first day drop off!
I'm looking forward to learning more about the oils and how they can benefit our family – I'll be sure to report back when I've got my head around it all.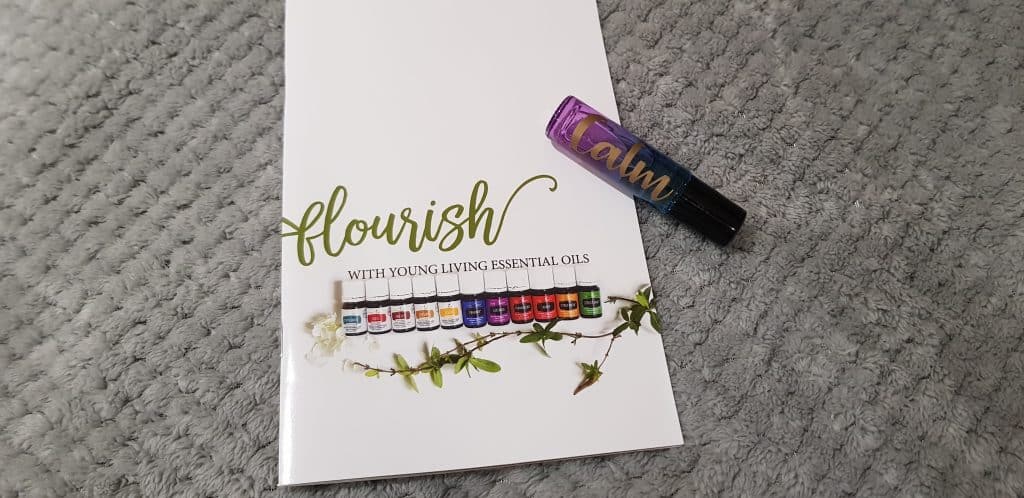 Hair bobbles and bands
Only a little thing, but something that Sofia really fascinates on – her hair bands and bobbles. She would have her own personal hairdresser following her around every hour if she could do. So we've brought her some navy and red hair ties and the same in clips so whether she fancies a 'ballerina bun', a french plait or just a plain and simple pony – we've got it covered!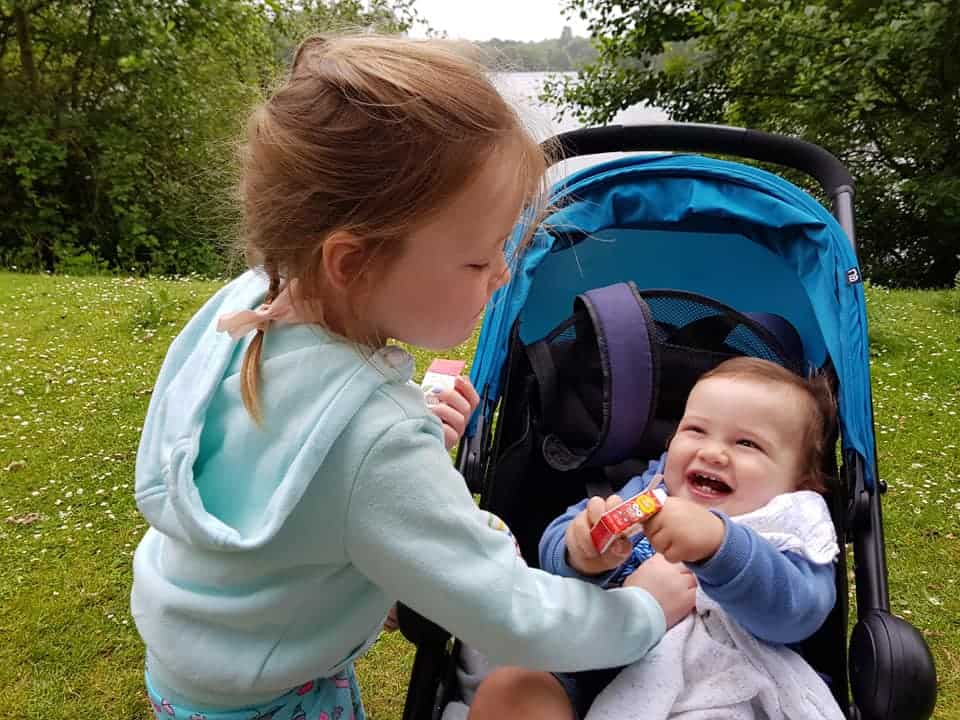 Day out
We do a lot of things with Sofia as Arlo's not really bothered yet, as long as there's an abundance of snacks to keep him happy. However, we do feel like since Arlo's come along she doesn't get the one-on-one time that she had to herself for three years, so Stuart and I are taking the day off and we're going out for a day together – just the three of us. We were thinking Legoland but apparently Sofia wants to go to 'Smiggle, Smyths and the ice cream parlour' – so, we'll report back on that one!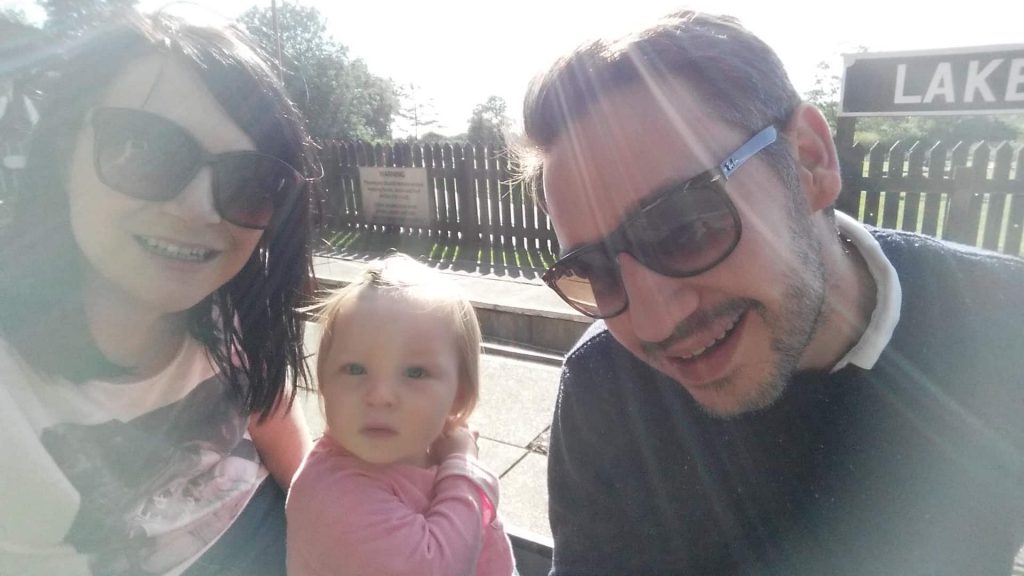 What are your back to school essentials?