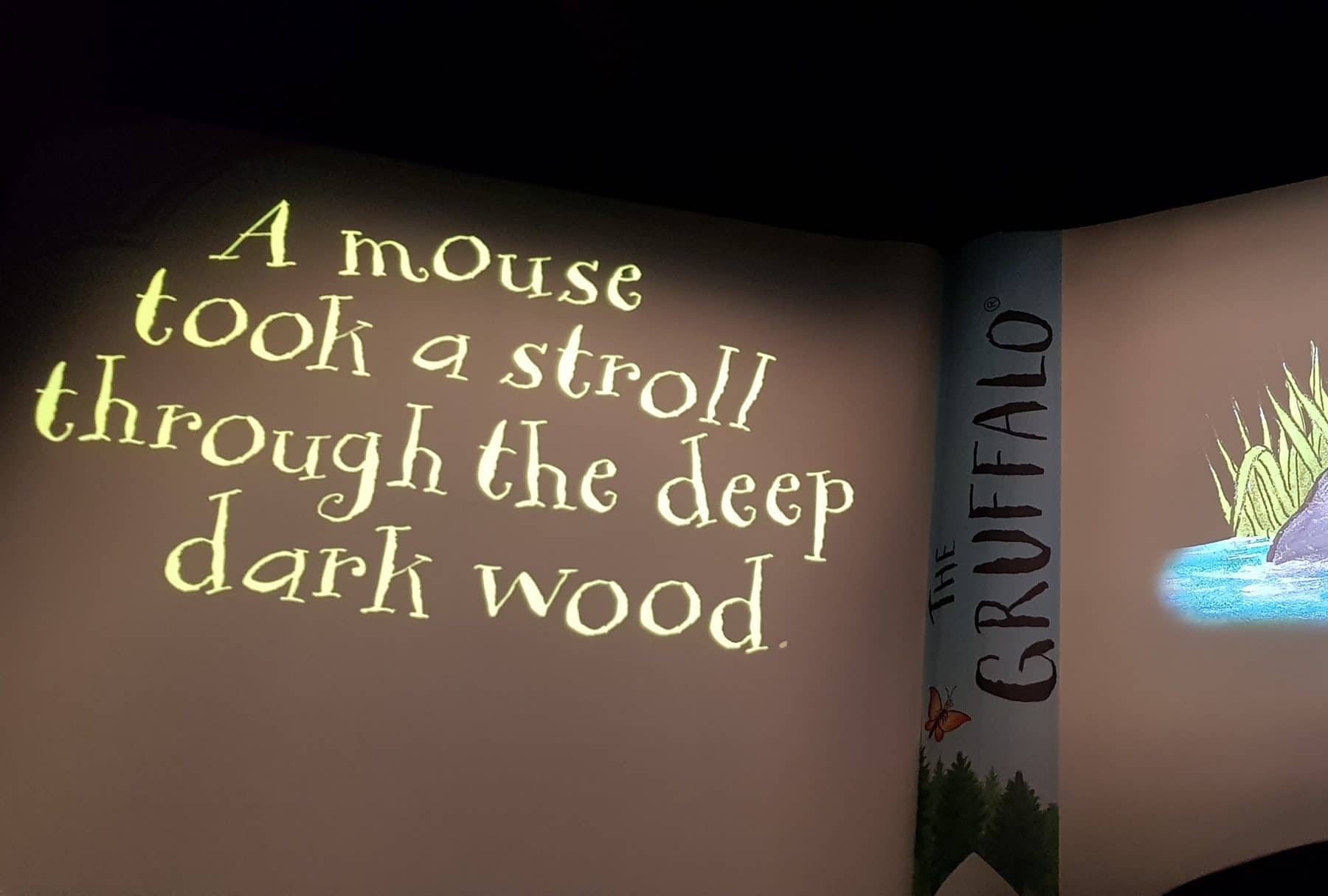 Our action-packed day at Chessington World of Adventures
I haven't been to Chessington World of Adventures since I got my first Nokia 3310 and dropped it in The Bubbleworks, it's one of my vivid childhood disaster memories. So when we decided to head to Chessington on the bank holiday weekend I wasn't sure if I was ready for those devastated teen memories to flood back.
It was a fairly pleasant drive, we live just outside of Southampton and it took us about 1hr 20 which wasn't bad going. We had planned for longer, especially having to do the M25 and being bank holiday – so that was a great start to the day. Top tip would be to use the postcode they show on the site as opposed to following the brown signs as they take you round the houses a bit! Another top tip would be to take a look at the toddler guide before you go if you have littler ones, as a lot of the rides are height restricted; the majority of them seem to be 1.2m and above.
I'd pre-paid for Sofia's ticket online which totalled £36 with the pre-booking discount, I'd also nipped to the shop to grab a box of cereal with the 'Buy one get one free tickets' voucher printed on – the only downside to this is that you couldn't buy online, it had to be done on arrival which meant a short queue but in effect we saved £50 (standard price for adult), so it was worth the short wait.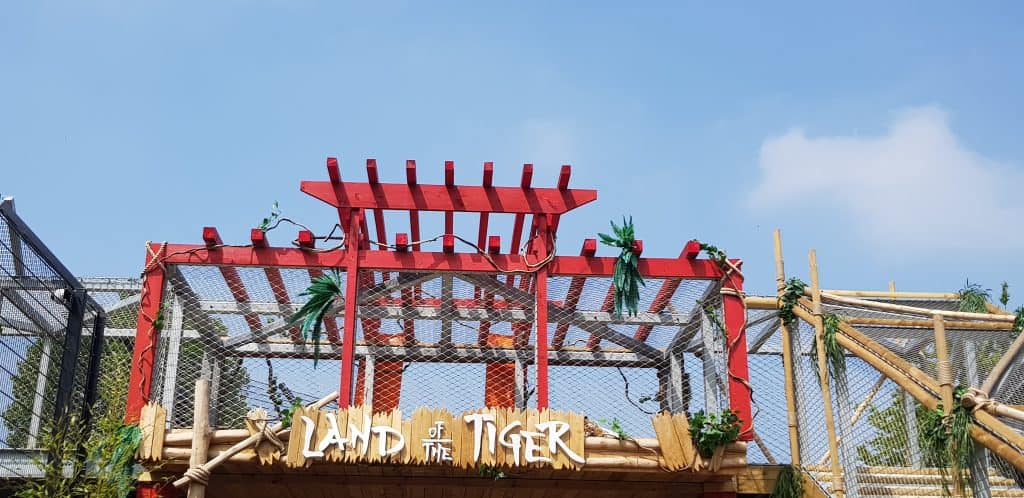 We walked in and it had such a nice feel to it, we immediately headed left without following a map and stumbled across the new 'Land of the Tiger' area which looked amazing, even better that we instantly spotted two of the Amur tigers walking by the huge viewing windows (there are four there in total).


This area has four sections where the tigers can walk around including an overhead platform, this is also home to the Tiger Rock log flume ride which takes you through the centre of the tigers habitat. Unfortunately Sofia wasn't tall enough as height restriction is 1.2m. She was fascinated tiger spotting though and wasn't too concerned to not go on the ride.


We then went and fed the lorikeets which was great fun – it's £2 for a cup of the nectar if you want to feed them. They weren't as frantic as the Longleat lorikeets who literally pounced, these ones are a bit more reserved!


Stuart and Sofia then had a go on tuk tuk fury (think fairground dodgems…) which she absolutely loved!


Then we went on the small Jungle Bus ride which was fun (apart from a little boy behind who kept saying "I feel really sick mum, I want to get off". Brilliant.
Wandering through to the Land of the Dragons we went on the Sea Dragons pirate boat, which we could all go on which was nice as it meant one of us didn't have to wait aside with Arlo.


We had lunch with us and sat outside at one of the picnic benches before planning our next areas. There are heaps of different fast food restaurants on-site but I never really rate attraction food so we often play it safe and take our own! If you did want to eat there, there is a package you can upgrade to when you purchase your tickets which includes food and drink at certain venues. There are also refillable bottles you buy for £8 at the gate and in various shops which gives you free top up soda drinks all day. That felt very America!
After lunch and a Ben and Jerry's ice cream stop, we headed to find the sealions and then continued to the 'Chessington Zoo' area which was fantastic for people wanting to get up close to the animals.
I was fascinated by the lions, we'd arrived just after their feed time (2.30pm) so they were still gnawing on the meat joints but to see them so close was magical. At one point we looked over and 4 or 5 came running out of their locked up area which was amazing!


After watching the lions and tigers for some time we headed up to see the gorillas. There were three of them in the enclosure and they were all a bit subdued, fed up of the heat or just being gawped at – who knows, but they were still fun to watch. Sofia thought it was hilarious that they had 'fingers like us'.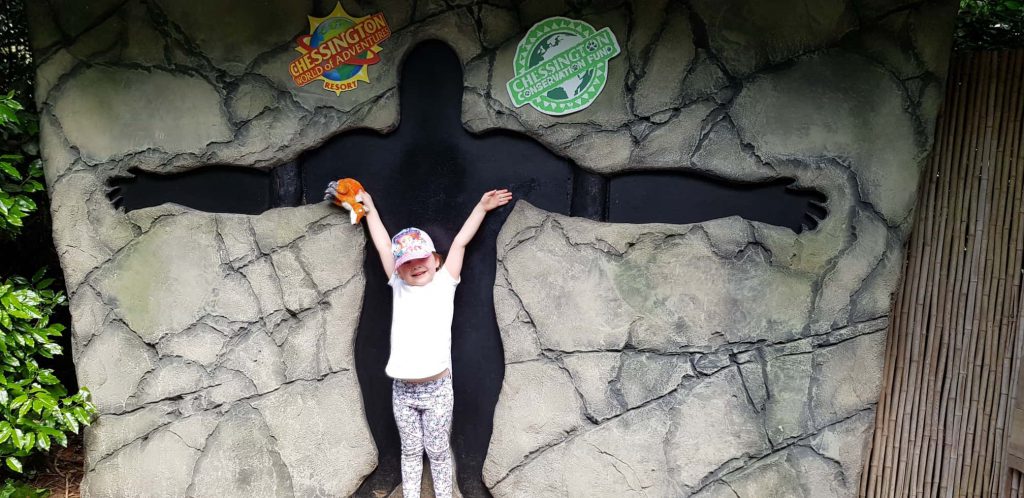 After you've walked through that area, I was amazed to see the penguin zone and a sea life centre! I was really impressed with that, it was lovely and had a 'snail and the whale' quiz to complete as you go round. We also got to be a bit hands on with some shrimp and starfish which was something a bit different.


Coming out of there I headed to get drinks whilst Sofia and Stuart watched an animal display outside of Hocus Pocus Hall…but we had to do a quick stop to say hi to the penguins first!


We then headed to the attraction I'd been waiting for – the Gruffalo River Ride.


It was fantastic and all bad memories of its predecessor (the bubbleworks) disappeared. It was lovely to act out one of our favourite books and Sofia really enjoyed pointing out all the characters and telling us the story.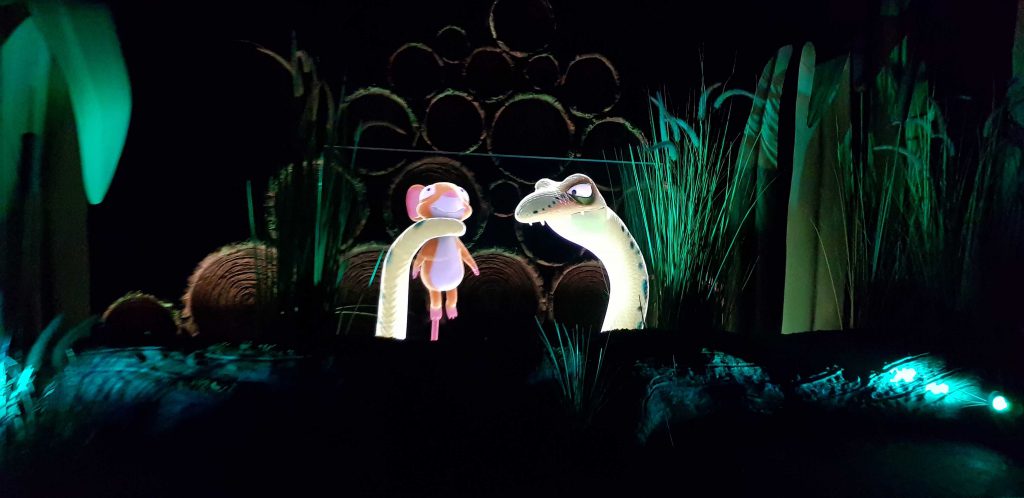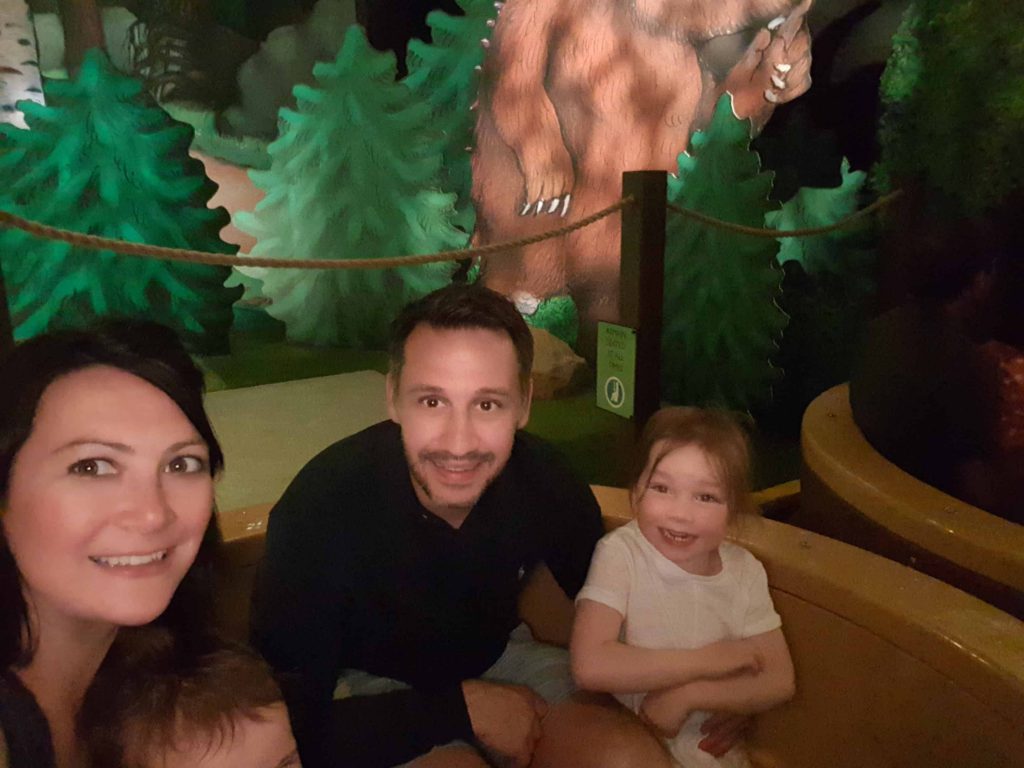 From here we headed for a slush puppie and a boogie at the Gruffalo Groove live stage show (showing every 2 hours) where they sing and dance about and then at the end the Gruffalo makes a guest appearance. Sofia suddenly got a bit worried that he was going to come out into the crowd but he didn't so that panic was averted.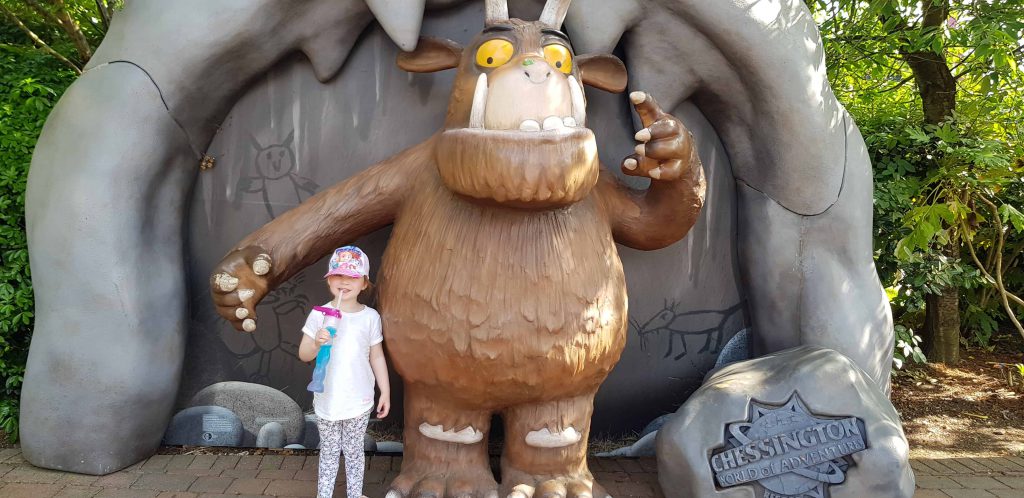 The Canopy Capers trail is brilliant, but there is no order, so it can be intimidating to the littler ones who get pushed aside by the bigger kids charging around it!



There is also the indoor Temple of Mayhem which Sofia absolutely loved, it was basically firing foam balls at all of the other kids running amok inside. We did queue up for the zorbing (£5 for 4 mins) but after about 20 minutes we gave up! This is something that we'll definitely add to the list for our next visit.
Debating whether or not to go as the forecast doesn't look great? Chessington do a 'rainy day guarantee' which we were really impressed with; if it rains for more than an hour consecutively then you get free entry back into the park on another day.
The only downside? To park in a field down a rickety old track costs £3. It left a bit of a bad taste in my mouth as the entry price is enough and I was not expecting to pay to park. It's not as though other people could park and take advantage of walking to somewhere else nearby, there's nothing else around!
With that said though, we will definitely be back…when Sofia is 1.2m tall!