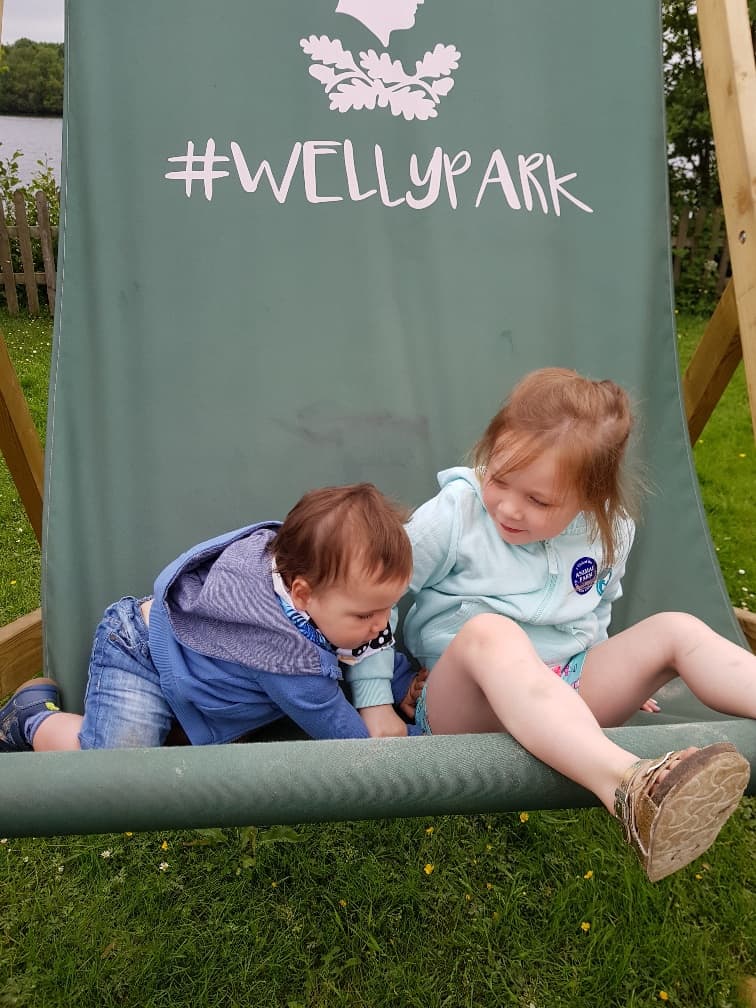 Where we've been today | Wellington Country Park
We're venturing just outside of Hampshire for this 'Where we've been today', as we excitedly visited Wellington Country Park. Twice in one week. Based in Riseley – in between Basingstoke and Reading – the 350 acre country park is warm and welcoming from the moment you step into the entrance.
Friends of ours had mentioned 'Welly Park' a few months ago and as we're always looking for new places to visit for family days, I decided to take the kids when I was flying solo on Monday. We loved it so much we ended up taking daddy back on the Saturday for a visit too.
We arrived around 10.45am after a pleasant journey, the carpark is big with plenty of room to park, which is free – bonus. You do need to pay to get into the park which is £11 for under 5's and £12 for 6 years plus. You can also pick up animal feed at the entrance (£1 a bag) and duck feed (50p a bag). We walked through the entrance eyeing up the snacks and treats the cafe had to offer before heading out into the great outdoors.
I was instantly impressed!
We headed straight to Animal Farm as Sofia was desperate to offload the food that we'd just purchased – enroute we stumbled across lots of ducks gathered around the pond and fed some of them too.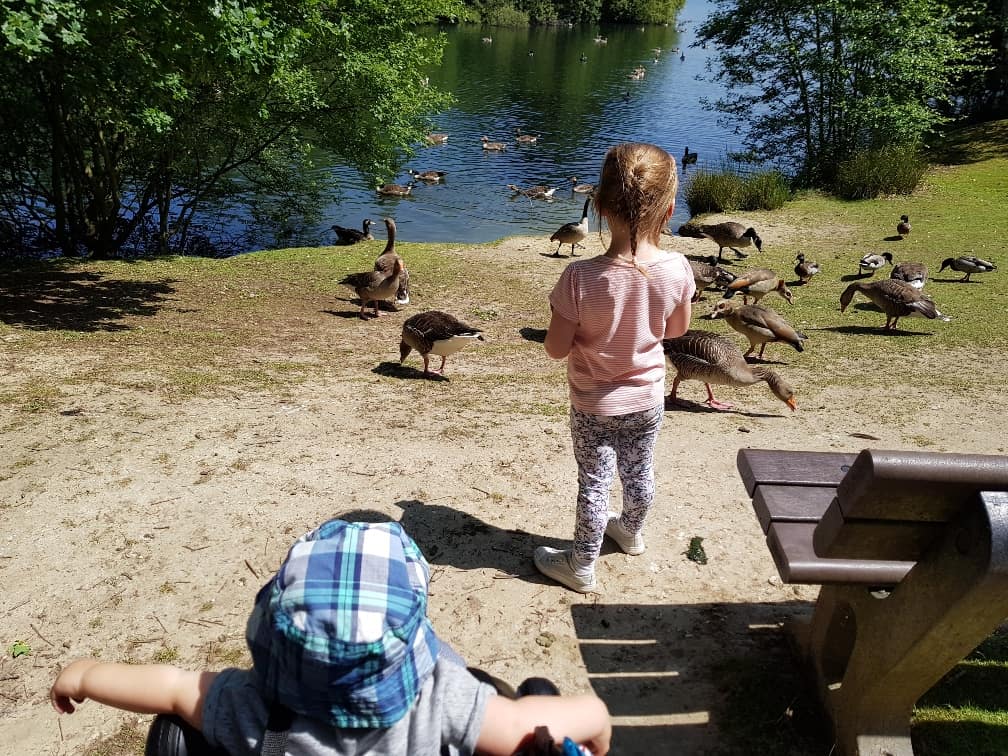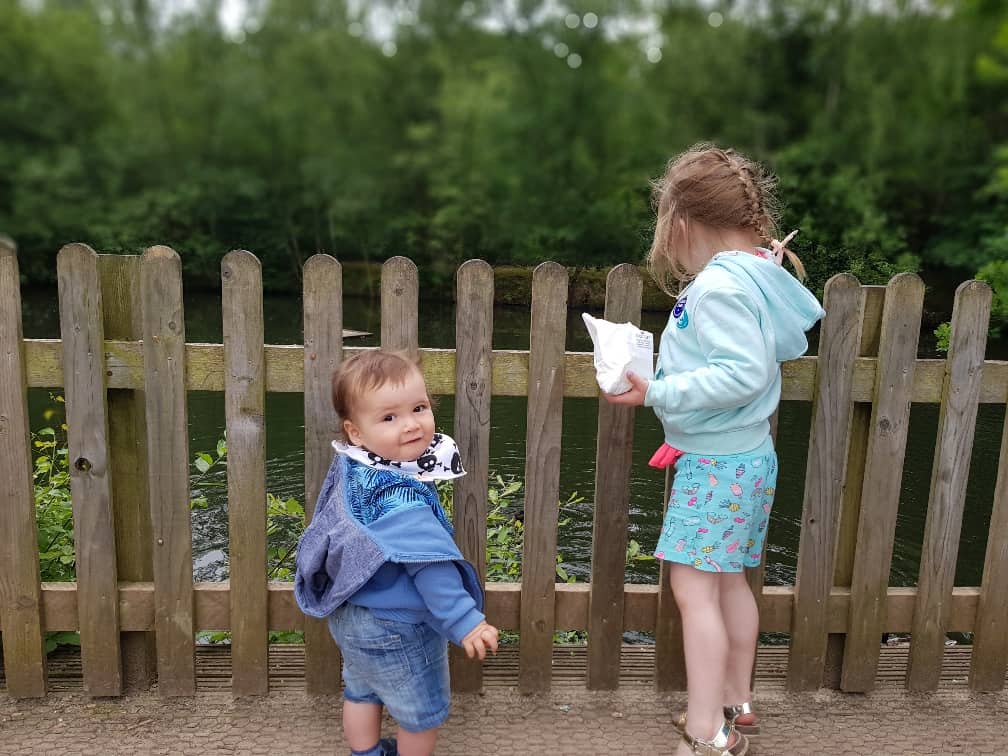 Upon entering the farm, Sofia was beside herself with excitement running all over the show before finally deciding to start at the baby goats  – she was scared at first to actually feed them instead choosing to lob handfuls in behind the bars, she soon plucked up the courage to hand feed them…and then there was no stopping her, she was shoving her hands in every animals mouth that would take the food! The farm is home to goats, ferrets, shetland ponies, donkeys, pigs and chickens and the indoor barn has rats, tortoises and rabbits.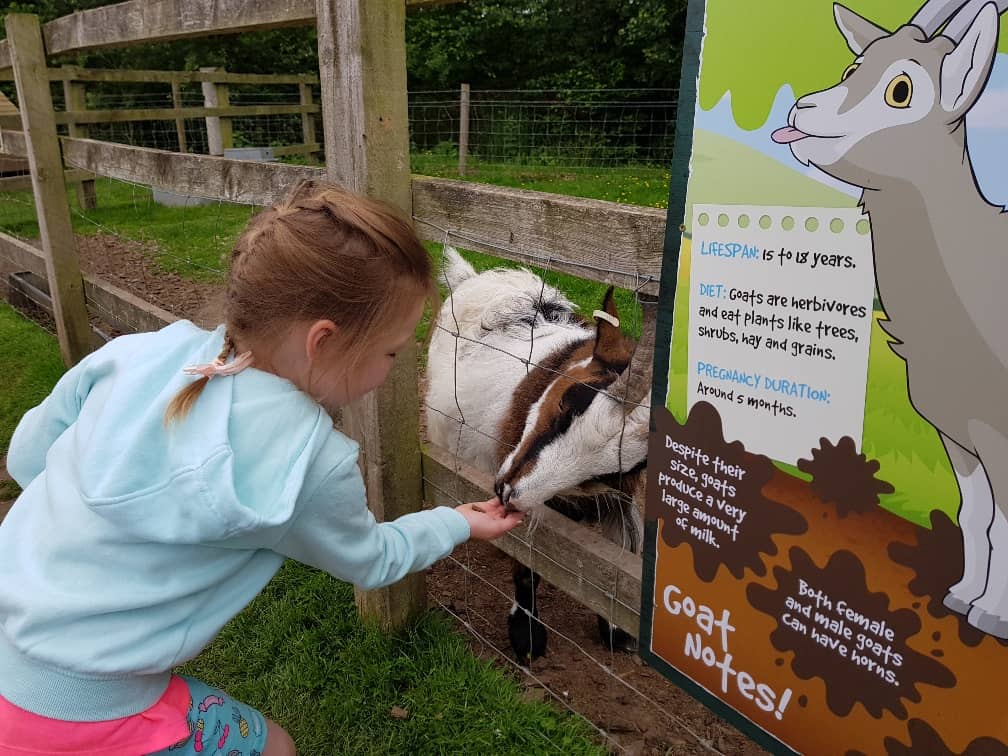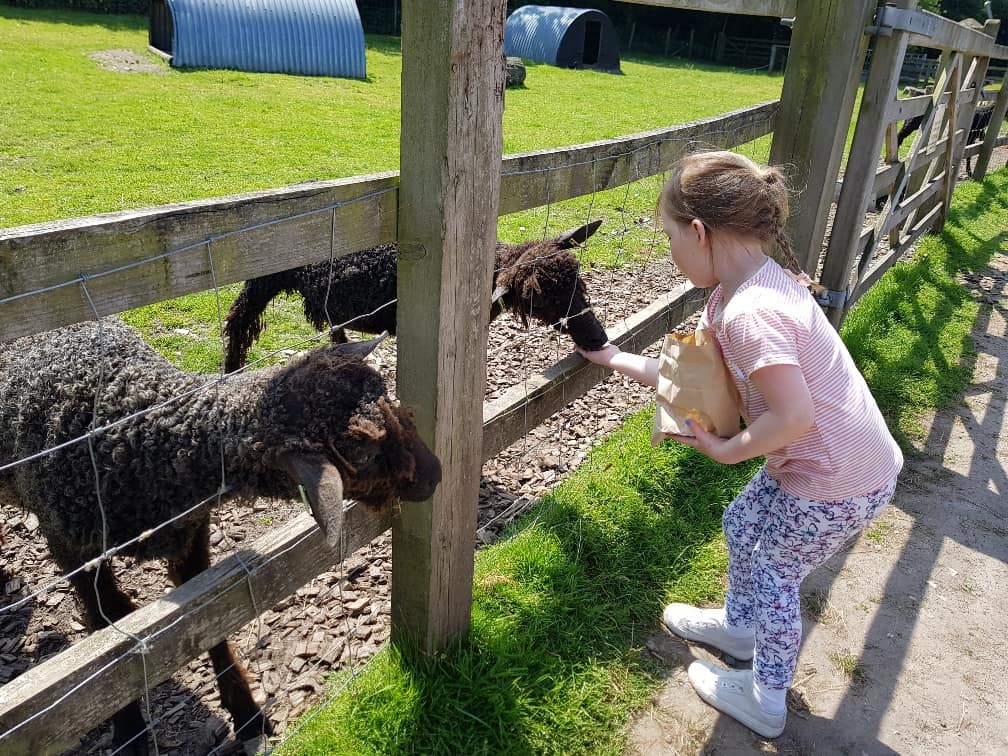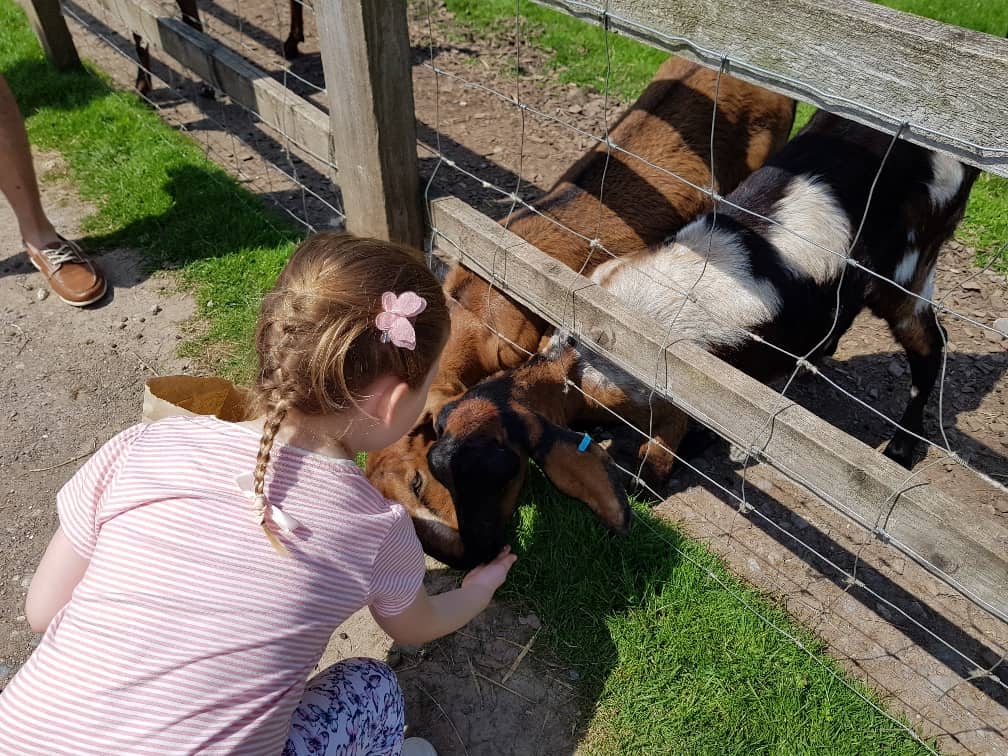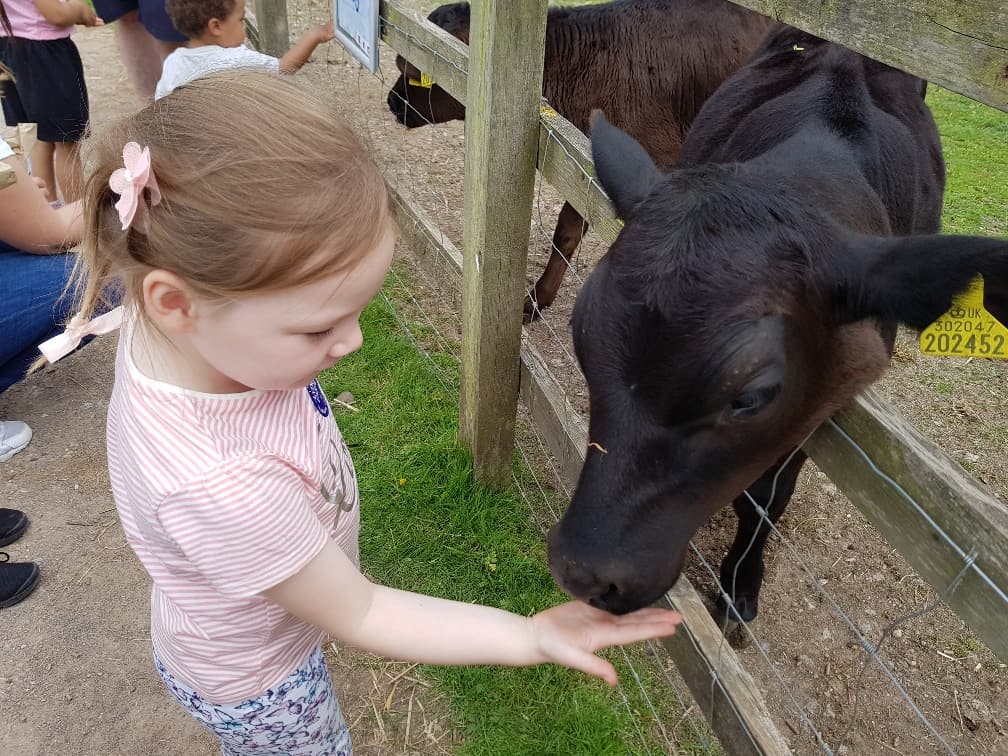 By the time we had fed the animals, it was time for one of their scheduled 'petting' sessions and it so happened to be a giant rabbit 'up for grabs'. They let you in six at a time so as not to overwhelm the animals but also then everyone gets a nice amount of time to talk/stroke/prod the animals.
A bit later we also got the chance to meet the shetland ponies…Sofia was really impressed that the pony had 'plaits just like her'.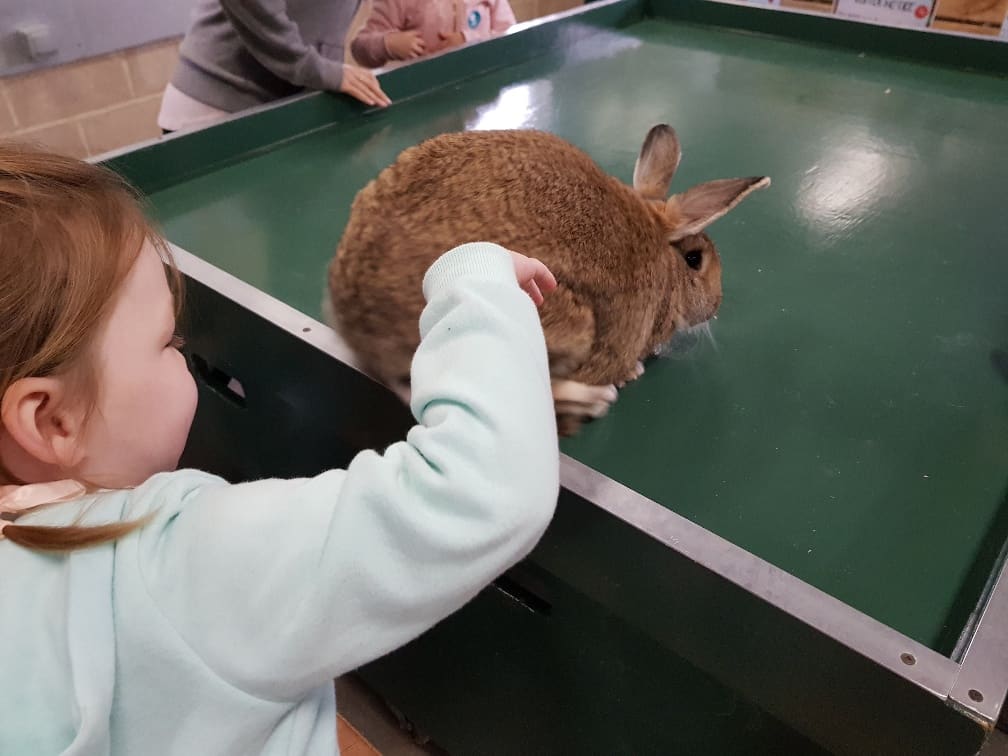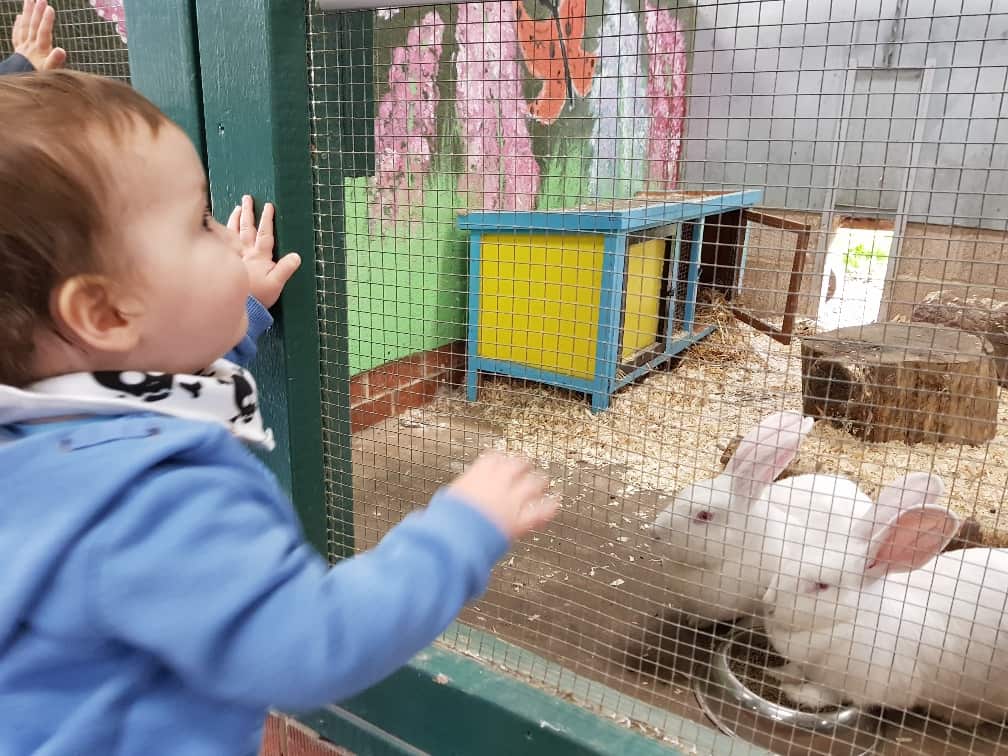 From here we  washed our hands and found a bench for our picnic overlooking the huge lake (there are heaps of picnic places to choose from outside – and you're also free to use the indoor cafe after 'rush hour').
Once we'd finished our picnic we took a slow walk around the lake which took about 20 minutes and we stumbled across the dinosaurs, another play area and the enchanted forest – of course we had a stop off at all of these as Sofia ran from bit to bit, whilst Arlo just pointed and grunted.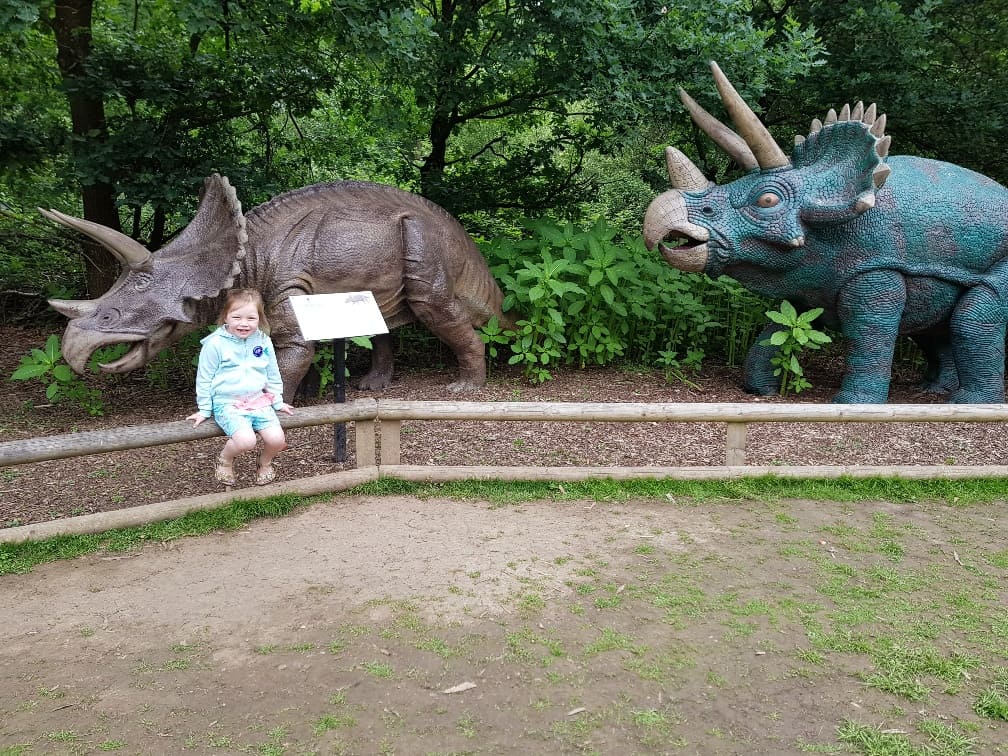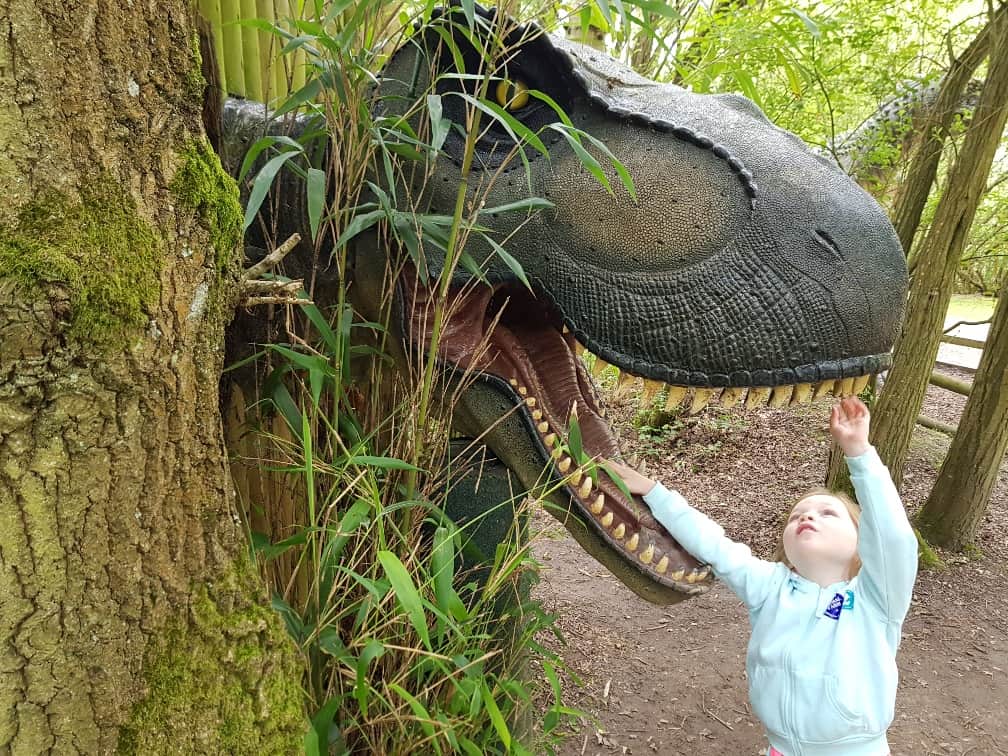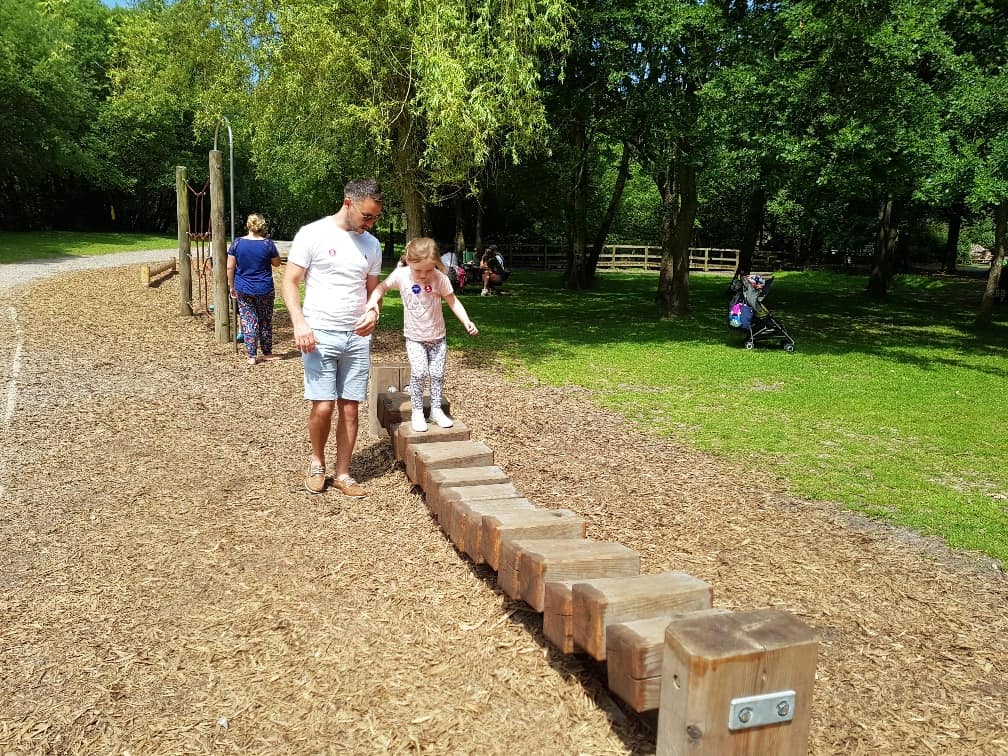 A little walk from here, we discovered the water play and sandpit – it's two separate areas but next to each other which meant both kids could go in each bit and I could keep an equal eye on the pair. Sofia made a little friend in the kitchen and Arlo spent the whole time eating sand. I was chuffed too as there was a cafe where I could get a cuppa and with the kids entertained, I actually managed to drink it whilst it was hot. Worth the entrance fee alone!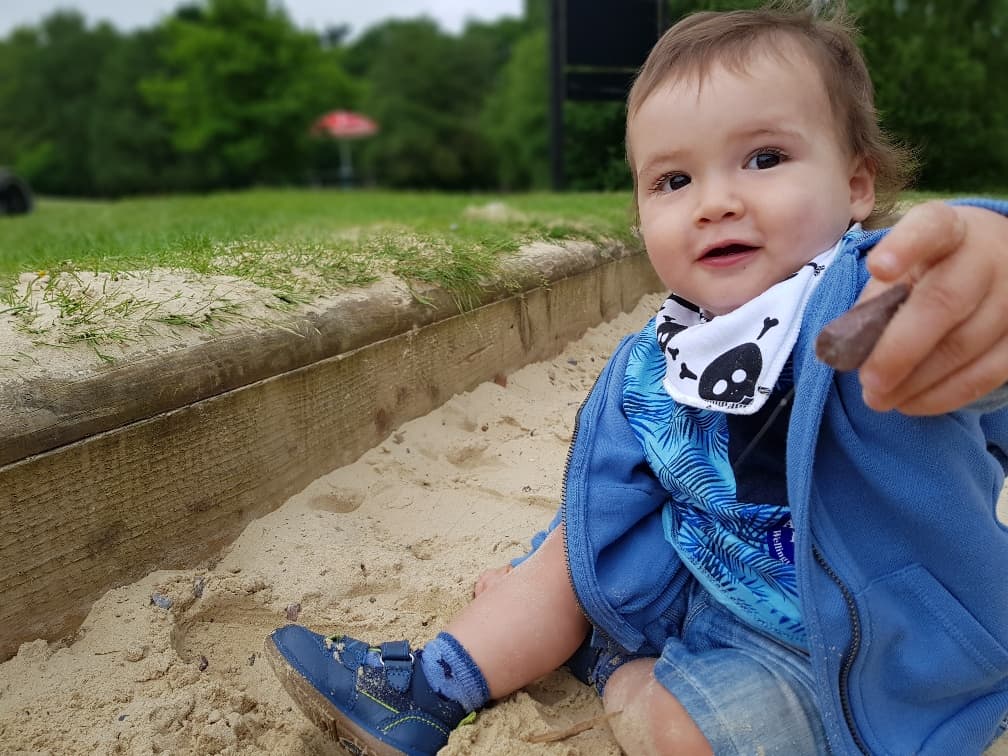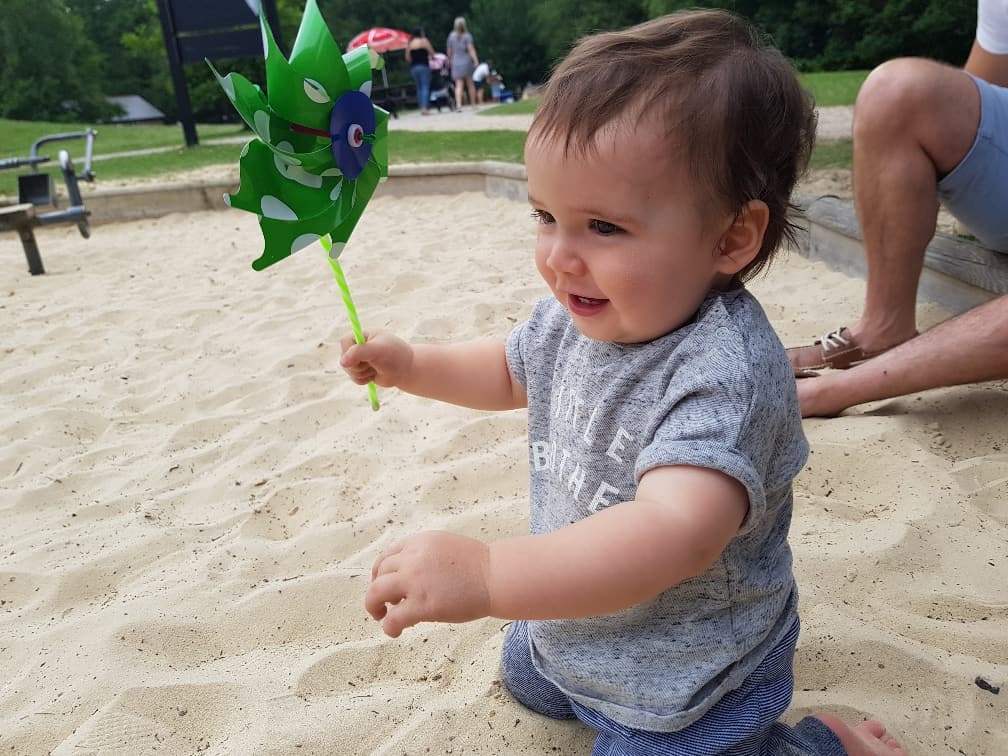 On the Saturday, we took a trip on the miniature railway (£1.50 each) but I wasn't overly wow'd by it, it went off at breakneck speed and because it was so quick you didn't get a chance to see all the little scenes that had been set up along the route. I was surprised I didn't step off with whiplash!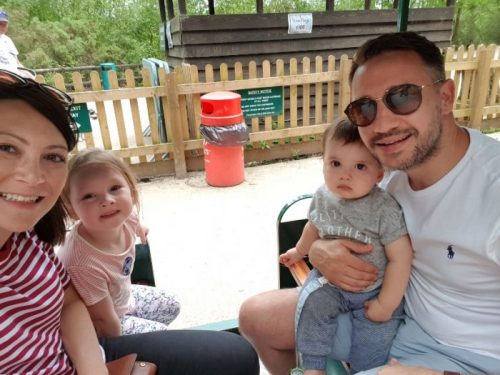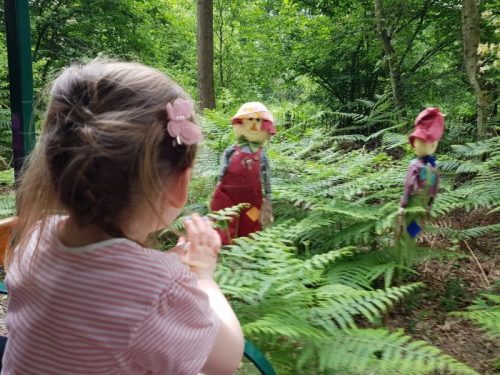 There are also a number of trails to get involved in but we didn't get a chance to try these at our visits. They're top of our list to do when we return though!
What was the highlight of our day/s at Wellington Country Park?
The jumping pillow – this is bloody brilliant! Kids can literally boing their way across the giant colourful jumping pillow.  Sofia went back to this at least three times on our first visit and I had to literally drag her off to leave. The next time we went back, Arlo got involved in the action too – which meant two of them to wrestle off the giant trampoline!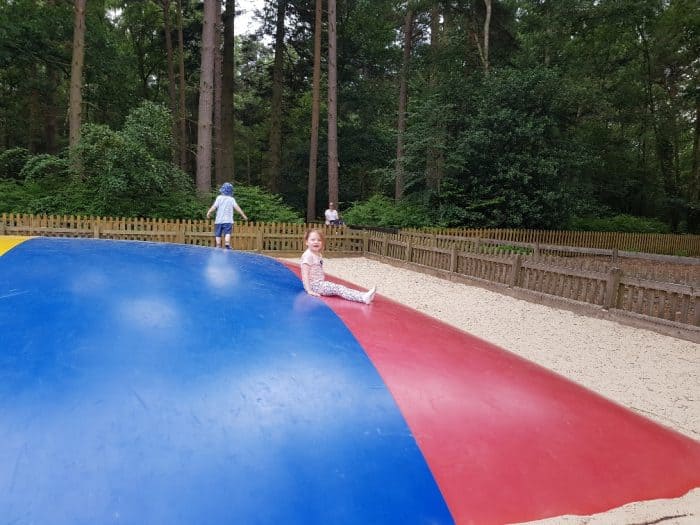 Welly Wheels – this wasn't open when we went on Monday as it's only open during school holidays and weekends. This is a quad bike circuit for kids between 3-10 years – with a simple go & stop pedal the kids take themselves around the woodland circuit.
The guy running it when we went took his job very seriously and when Sofia came back round for her second circuit he did shout and tut at her, but it only added to the humour of her almost wiping out the operator and two other 'quads' parked up in the sidelines. (There is a charge of £4 for this, but in my opinion well worth it)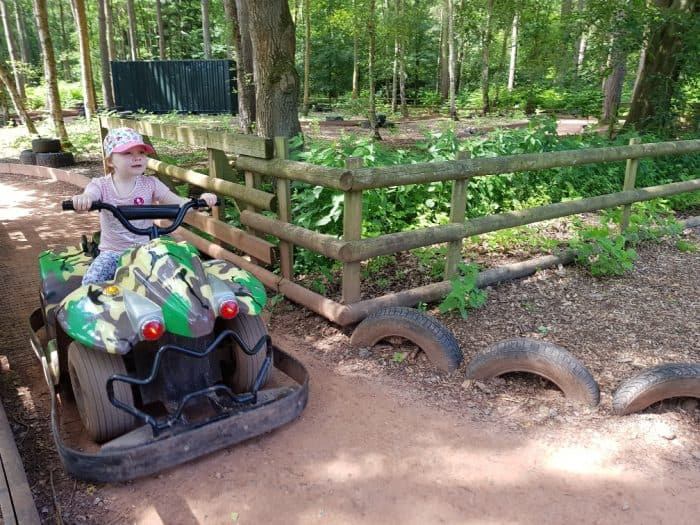 The Adventure Playground  – wow, this is a park and a half!  Wellington Country Park has a number of parks of varying sizes for different ages dotted all around the sprawling space but this one is really something else. It's huge! Big wooden construction with numerous slides and ways to ascend it, swings and a zip wire – as well as park benches for parents to park their bums down with a cuppa.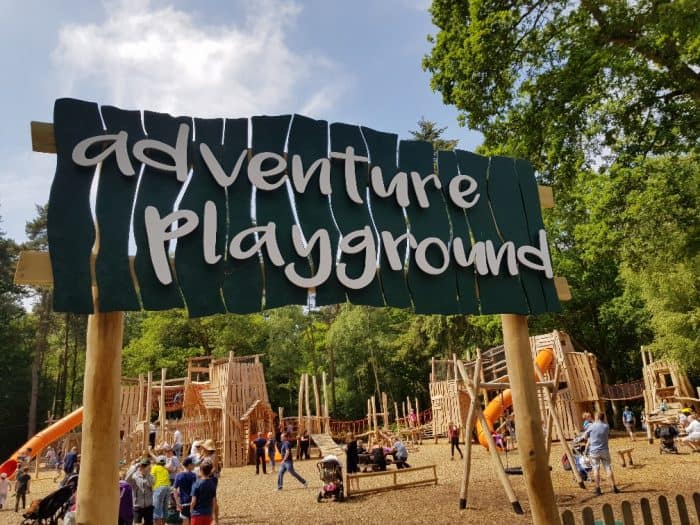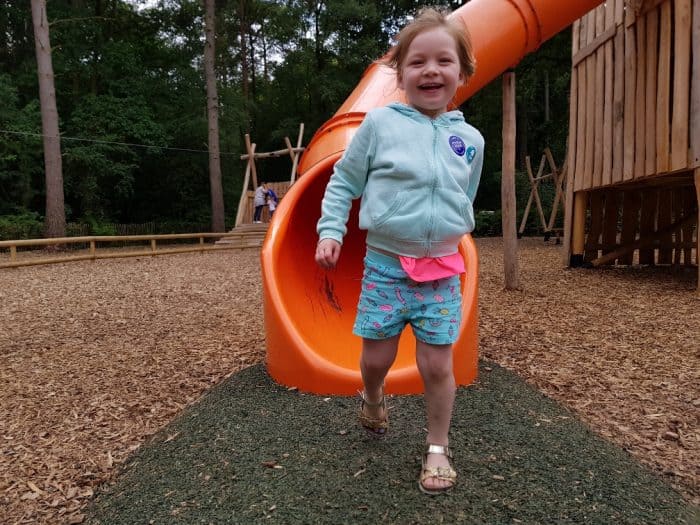 If you want to check out the park and find some routes then you can see the map by clicking here
Have you ever been to Wellington Country Park? If so, what were your favourite bits?