Christmas Gift Guide | Stocking Filler ideas for the kids – under £10
Whether you have one child, two or a full football team, Christmas is such an expensive time of the year – and filled with pressure to get the right gifts from 'Santa'; that fat bastard gets all the credit doesn't he…swooping in on his jingly little sleigh with no mad Christmas Eve Smyth's rush in sight.
I thought I'd put together a list of some of my best stocking filler finds…all under £10.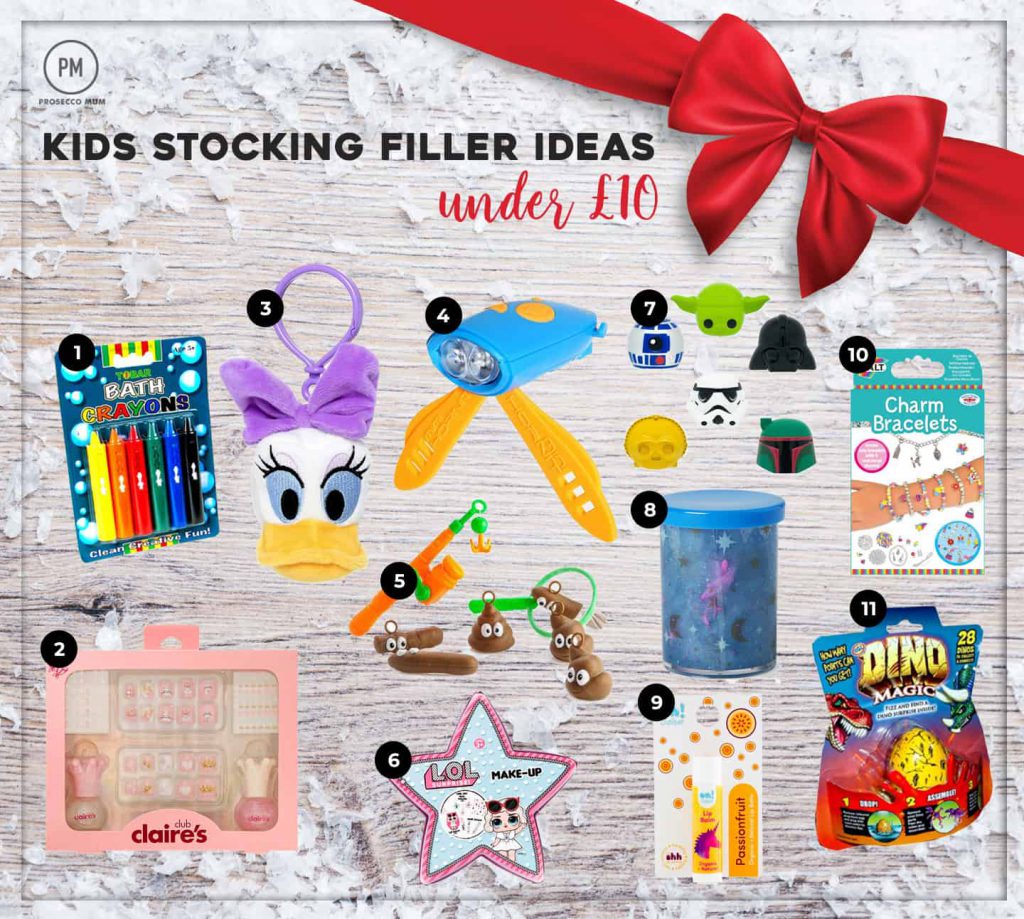 Bath Crayons – what's a bath without a bath bomb, a squirting turtle or some bath crayons? Let them go wild drawing all other themselves and the sides of the bath. These ones are just £2.70  on Amazon. Buy them here!
If your child's anything like mine, anything vaguely princessy/fairy/unicorny is an instant hit. Throw in nail varnish and nail gems and it's a surefire winner. This lovely little set from Claire's is just £8 and you can purchase it here.
Disney Keyring – whether handbag, rucksack or book bag what better way to furnish it than with a Daisy Duck Disney keyring? This is from the Disney range at Primark and is a really reasonable £4.
Mini Hornit Torch and Bell – I featured the Mini Hornit cycle helmet in my Christmas Presents for The Kids post but I couldn't not share this too. This is the ultimate light and sound accessory for your little ones scooter or bike. It has 25 sounds and a combo of white and green lights. Believe me, I've heard all 25 sounds at varying volumes whilst dancing to the flashing lights. It has been great for our late night bike rides home from school.
Fishing for Floaters – what makes kids laugh more than poo? Not much! This bath game is the perfect stocking filler; so release the turds and then enjoy watching them splash about whilst catching the floaters in the net. You can pick this up here for just under £8.
LOL Surprise! Make Up  – if you've got little ones who love unwrapping secret surprises then you've no doubt been LOL'd, these little surprise make up stars feature lip balm, tattoos, nail polish, shimmer spray and other pretty bits. Not bad for £3.49.
Mash'ems – Star Wars, Justice League, Thomas the Tank, Peppa. PJ Masks or Disney emoji – there's a mashem for everyone. And at around £3 a go, you could get a couple for their Christmas stocking.
Glitter Slime – Flying Tiger (previously Tiger!) are selling these little pots of glittery slime for just £2. What child of the moment doesn't love gloopy slime stretched out between their widespread little fingers – and what parent doesn't pray that's not going to stick all over the sofa?
On! Juniper Lipbalm – This award winning lip balm is not only super cool and fun for the kids, but it's also made from organic and natural ingredients – perfect for keeping those little lips moisturised. The biggest decision is which flavour (chocolate, cherry, mint, bubblegum, cola or passionfruit) and packaging wrapper to choose – there's unicorn, skull and bones, mermaid, wolf, flamingos or hummingbird and we haven't even discussed the dangly lid charm! You can get your hands on one of the award winners here.
Galt Charm Bracelets – Make seven cool bracelets with varying metal charms and over 300 coloured beads. Then sit back on Christmas Day and enjoy some peace as they make you a bracelet for every day of the week! They're a steal at just £6 too. A perfect stocking filler!
Dino Magic – Treat your little ones to this magic dinosaur egg. To help the dinosaur make its escape, put the egg into warm water and watch it fizz and dissolve to free one of the surprise dinosaurs – there's 28 to collect in total. You can get this from Find Me A Gift for just £4.99.
Happy shopping!